Acer Predator 17 (G9-791) review – the Predator has what it takes to challenge the high-end gaming notebooks

It's virtually impossible not to hear about the new high-end gaming Predator line from Acer, this is, of course, if you like gaming hardware. The focus of this review is the Predator gaming notebook, more precisely the 17.3-inch variant. This is the first attempt of the company to enter this segment of the market which is reigned by ASUS with its ROG (Republic of Gamers) series and Dell with the Alienware notebooks. Maybe Acer had a boost of confidence after their successful launch of the Aspire V15 Nitro Black Edition laptops, but rumor has it that the company has actually planned this for years. They've spent more than 3 years in development to bring this.
Spec-wise, the notebook offers top-shelf hardware – Core i7-6700HQ and NVIDIA GeForce GTX 980M that matches most of the high-end competitors on the market except for the ultra-pricy offerings from Alienware with SLI and CrossFire configurations. So what's actually the key selling point of this notebook and what are the features that distinguish it from the rest? We will find out in our in-depth review that will emphasize mostly on display tests, temperatures, performance, and overall stability.
You can check the current price of Acer Predator 17 here:
http://amzn.to/21rbrAo
Contents
Video review
Retail package
Matching the size of the notebook, the box contains a fair amount of stuff like user manuals, a list of features, AC cable and charger, and most importantly – a fan module for hot swapping it with the optical drive, but we will talk about that later.
Design and construction
As expected, the Predator comes in a big, heavy and thick chassis that houses all this powerful hardware. It's a necessity for almost all notebooks from this class and it will take some time for the OEMs to start building slimmer machines. The notebook feels really sturdy, solid and has great design, at least in our opinion.

Starting with the lid, its surface is covered in soft-touch, black, matte plastic with two red stripes with LED backlight and the Predator logo in the middle, which is also backlit. It features several curves and linings giving a distinguished and aggressive looks. It doesn't bend under pressure and the hinge feels just fine – it's not overtightened and the lid can be opened with just one hand. The bottom part of the notebook consists of the same materials, but after the disassembly we found out to be reinforced with thick layer of aluminum and due to that it feels pretty solid and can't be twisted even when big pressure is applied. Other than that, the lower part of the chassis has several vent openings for better airflow and can be paired with external cooling pad. You'll also notice the subwoofer and two openings for the loudspeakers that are paired into groups of two making a total of four loudspeakers.
EDIT: We received valuable information about the build of the machine and it turns out that the rigidness we've talked about in the paragraph above is due to a glass fiber construction. The main body is made of plastic (polycarbonate) and 40% glass fiber in a 1.8 mm layer. The glass fiber properties assure more lightweight and tougher construction than a normal aluminum composite. While the aluminum bends a tad easier, the glass fiber is more rigid and unbendable.
As you can see from the image below, the properties of the fiber glass are pretty useful in this situation and it's a better option compared to other alternatives that are oftenly used in this industry.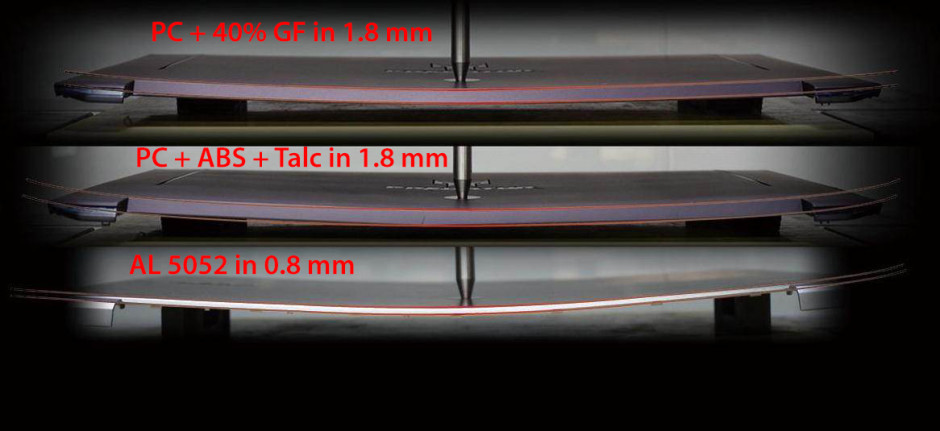 As we mentioned in our first impressions article, the sides of the machine kind of reminds us of Dell's Alienware offerings due to their flat design. That's not necessarily a bad thing, though. The left side contains the DC charging port, two USB 3.0 ports, one SD card reader and two 3.5 mm audio and microphone jacks. There's also the swappable optical drive that can be replaced with the additional fan module. We do have to address our concerns on that one because at times the fan module doesn't fit as it should and you should pop it in with some extra force. Nothing too serious, though. Continuing with the right side where another two USB 3.0 ports reside along with an additional USB Type-C connector. Interestingly, Acer has included not only one HDMI port but also a DisplayPort for better 4K gaming with an external monitor. The LAN port isn't left out as well. Moving to the back we see the main exhaust vents that are made of plastic, but look pretty nice. In fact, it looks so nice that can be easily mistaken with a sports car, for example. And at the same time, it continues the aggressive design signature blending with the rest of the chassis. The front, however, only has two grills intended for the two pairs of loudspeakers.
The interior, on the other hand, is where actually the Predator shines. We absolutely fell in love with the keyboard – it offers good tactile feedback with long key travel and it even mimicks a traditional mechanical keyboard. And as we all know, mechanical keyboards are perfect for gaming. The presented keyboard here is not only suitable for gaming but for typing as well. The LED backlight is separated into two zones – one for the main keyboard and one for the NumPad as the latter's light is in blue. Moreover, the arrow keys and WASD keys are well separated from the rest of the buttons and the extra space for the palm rest comes in handy.
Basically, the keyboard is placed a little closer to the screen in order to provide bigger palm rest area and we really liked it. The macro keys appear to be a bit small, but you'll get used to it quickly. Another thing worth mentioning are the functional keys for adjusting the volume and media player buttons. They are all too far from the "Fn" button and both hands are needed when hitting play or adjusting the volume for example. It's a small and negligible issue for some, though.
As for the trackpad – it's flawless as expected. It's rare to come across a bad touchpad at this price range and we are happy with the performance. The dedicated mouse buttons offer long key travel while the touch panel is responsive and accurate. There's a small button with red LED indicating that the touchpad is active and you can disable it with one press during gaming to eliminate unintentional touches. It's rather strange when the button is green when the touchpad is inactive and red when it's active.
We are happy with the design and construction presented in this notebook. It looks and feels like a high-end machine offering enough sturdiness and aggressive looks. And as expected, the notebook's weight is a bit high and the thick profile suggest the same. Still, this is quite normal for a notebook in this category. While the overall design of the chassis is rigid and the matte, soft-touch plastic surface used for the making of this laptop feels great, we have concerns about its durability. In the long run, the surface's properties might wear off and scratches and dents will be more noticeable. We've addressed this issue on other notebooks as well, including the ASUS ROG G751 and Lenovo Y50.
Disassembly and upgrade options
The teardown of the notebook is rather easy and the upgrade is even easier. Only one service cover gains access to the most commonly upgraded hardware – 2.5-inch HDD/SSD slot, two M.2 SSD slots with one being 2280 and the other 22110, 2 RAM slots, and another two on the other side of the motherboard. You can read about the disassembly in detail in our dedicated article here: http://laptopmedia.com/highlights/inside-acer-predator-g9-791-disassembly-internal-photos-and-upgrade-options/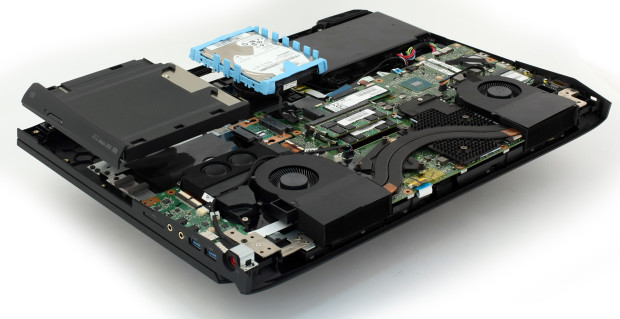 Display and sound
For our tests results on the Full HD (1920×1080) version of the display, click here. You will also find detailed comparison between the two panels – the Full HD and the Ultra HD displays.
Acer Predator's display uses Ultra HD IPS panel with matte finish and the model of the matrix is AUO B173ZAN01_0. The diagonal is 17.3 inches with 3840 x 2160 resolution leading to a pixel density of 255 PPI with 16:9 aspect ratio and 0.0997 x 0.0997 pixel pitch. The screen can be considered as "Retina" when viewed from a distance equal to or greater than 33 cm.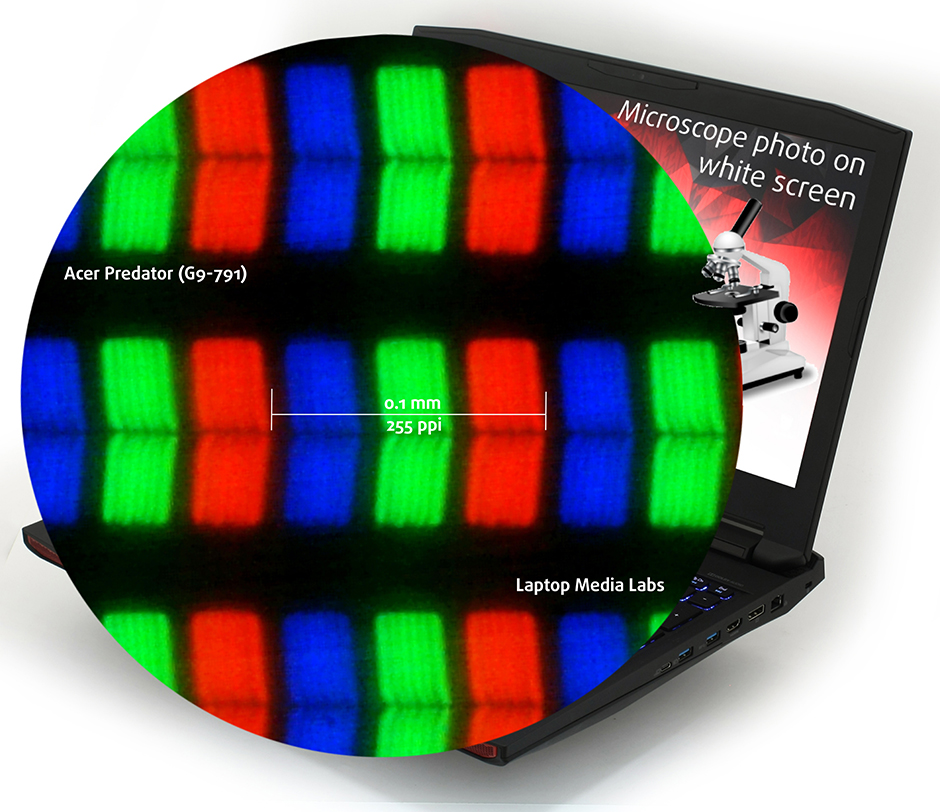 Due to the IPS panel used in this machine, viewing angles are excellent and the image below proves it. The shot has been taken from a 45-degree viewing angle.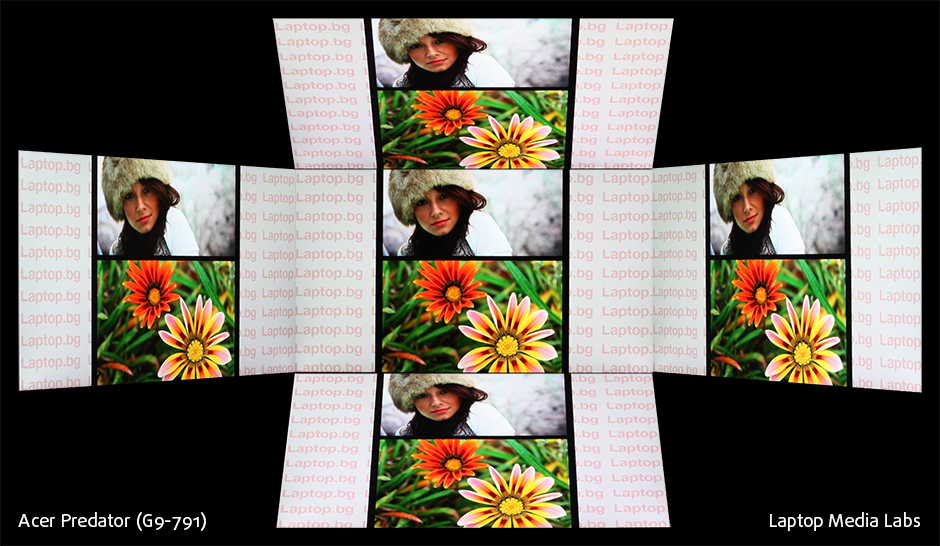 The maximum brightness of the display is 359 cd/m2 with a deviation of only 7%. The average color temperature on the surface is 6830K which is pretty close to the optimal one of 6500K(D65).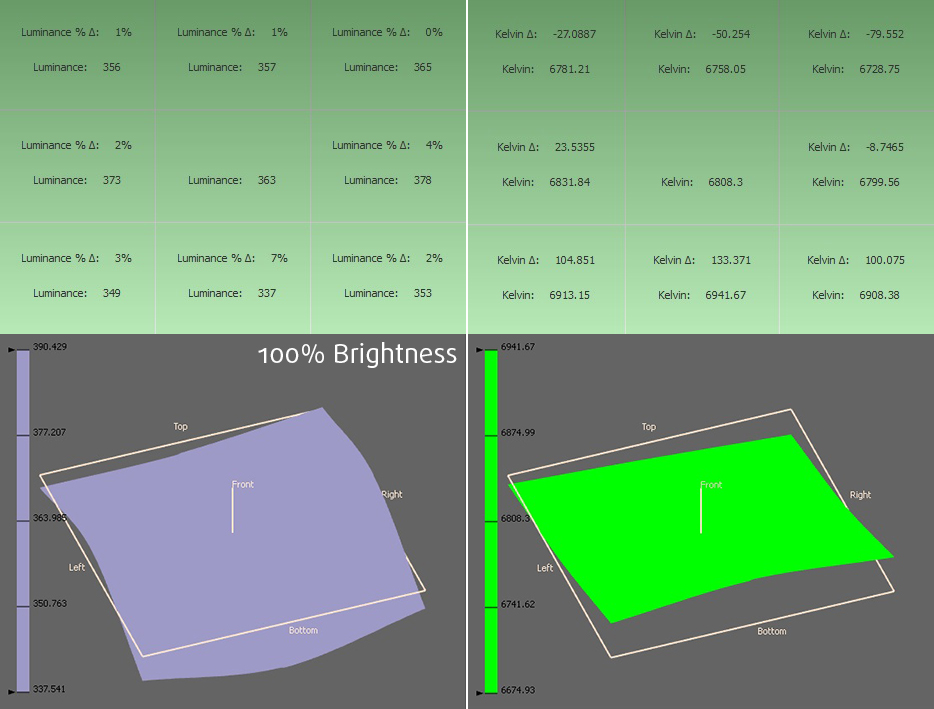 Color reproduction
To make sure we are on the same page, we would like to give you a little introduction of the sRGB color gamut and the Adobe RGB. Starting with the CIE 1976 Uniform Chromaticity Diagram that represents the visible specter of colors by the human eye giving you a better perception of the color gamut coverage and the color accuracy. Inside the black triangle, you will see the standard color gamut (sRGB) that has been used by millions of people in HDTV and the Web. As for the Adobe RGB, this is used by professional cameras, monitors and etc. used for printing. Basically, colors inside the black triangle are used by everyone and this is the essential part of the color quality and color accuracy.
The yellow triangle on the picture below represents the area which the Predator's display covers. The results are astonishing – 100% sRGB and 100% Adobe RGB color gamut coverage, which is comparable to most professional monitors for video and photo editing.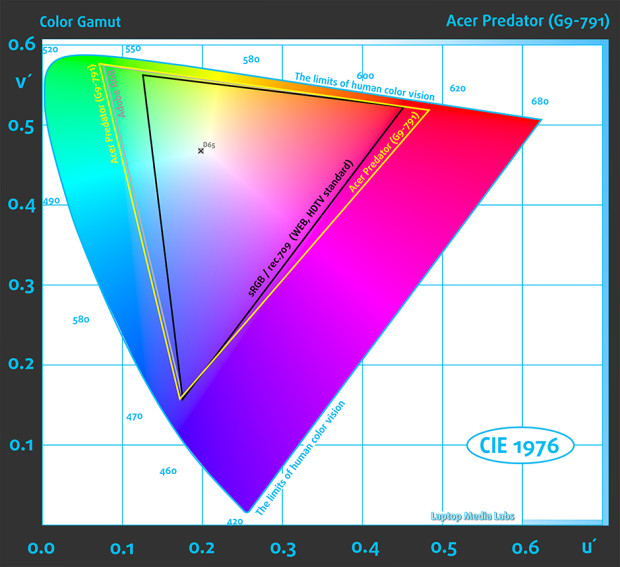 Below you will see practically the same image, but we've adjusted the screen brightness to 140 cd/m2. Color circles represent the reference colors and white circles being the result. You can see main and additional colors with 100% and 50% saturation inside the sRGB gamut.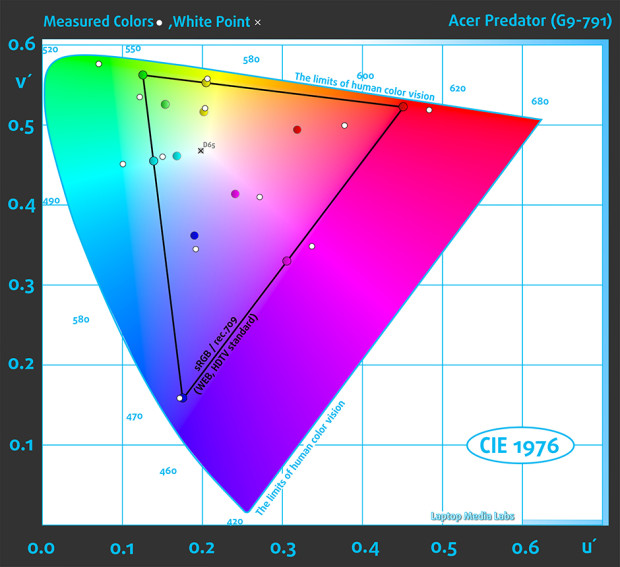 After we've set 140 cd/m2 screen brightness, we've set the display at 6500K color temperature.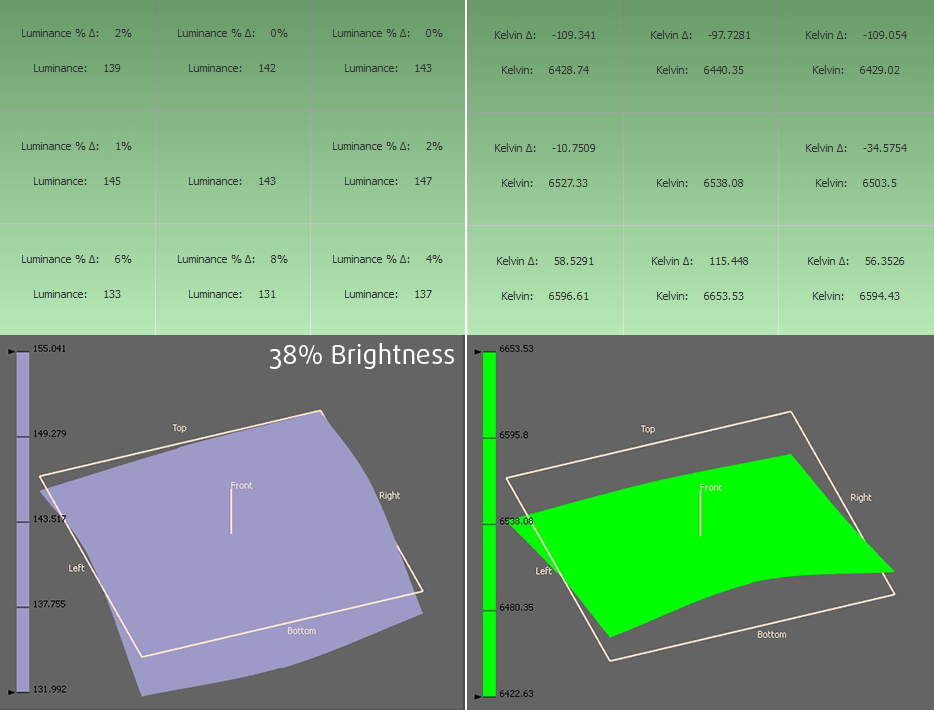 For calibration purposes, we used X-Rite i1Display Pro.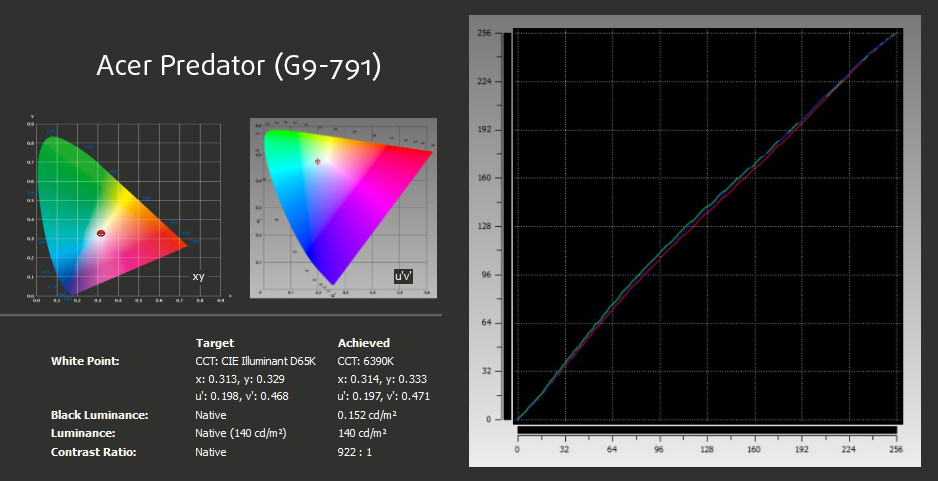 We measured the color accuracy thanks to 24 commonly used colors like light and dark human skin, blue sky, green grass etc. After profiling, we got the following readings: DeltaE 2000 = 0.32 and contrast ratio equal to 922:1. Those results are flawless, especially when considering the fact that anything below 1 DeltaE 2000 is unnoticeable by the human eye. We've got precise and accurate color reproduction.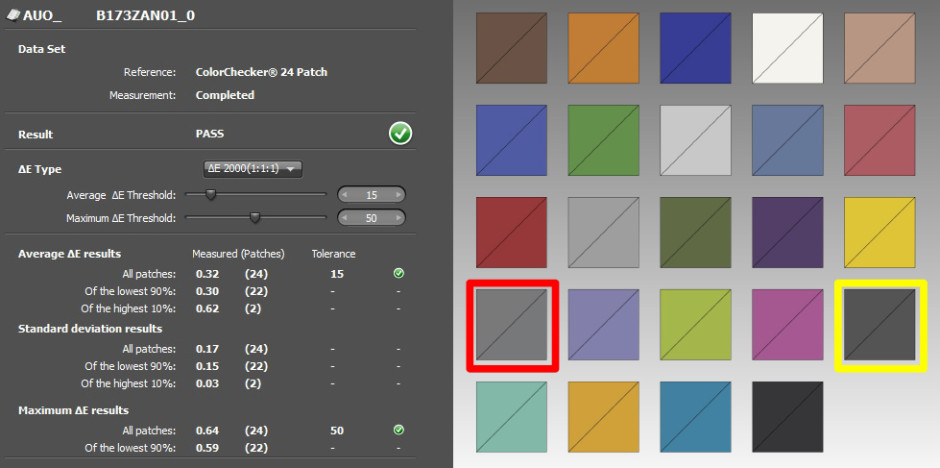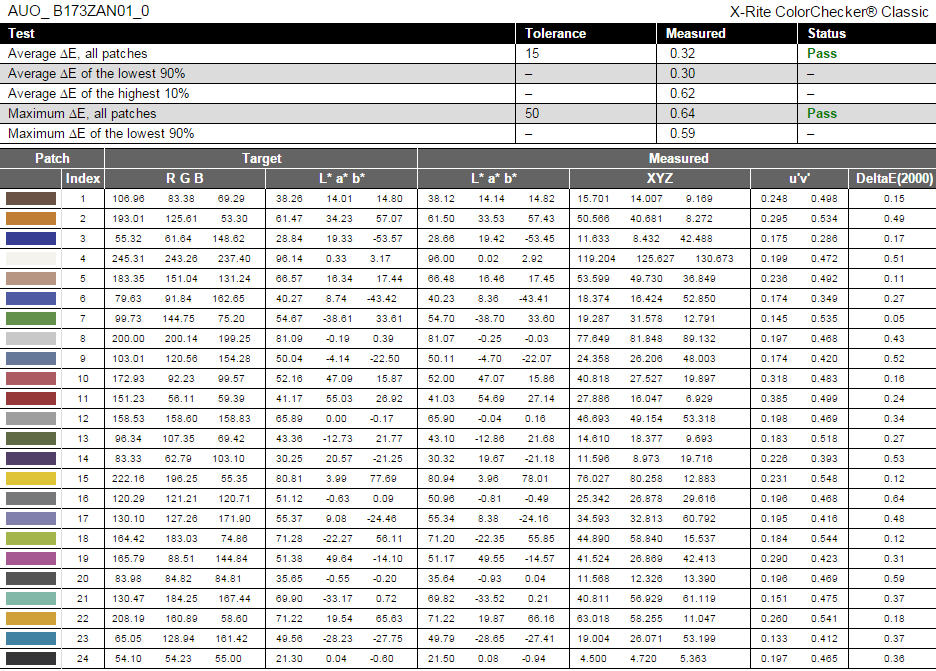 And here's another batch of colors we used for measuring the accuracy of the display.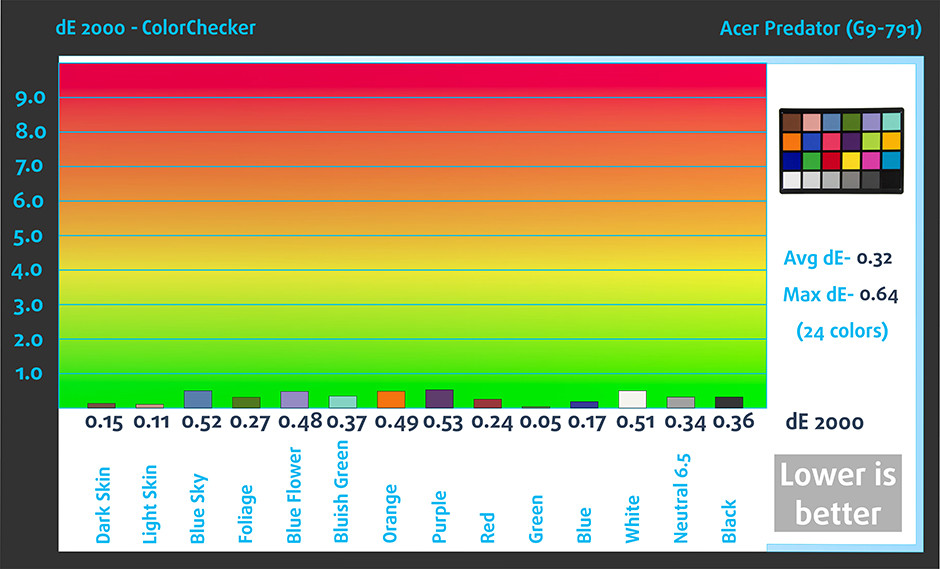 The gamma aligns almost perfectly to the optimal one of 2.2.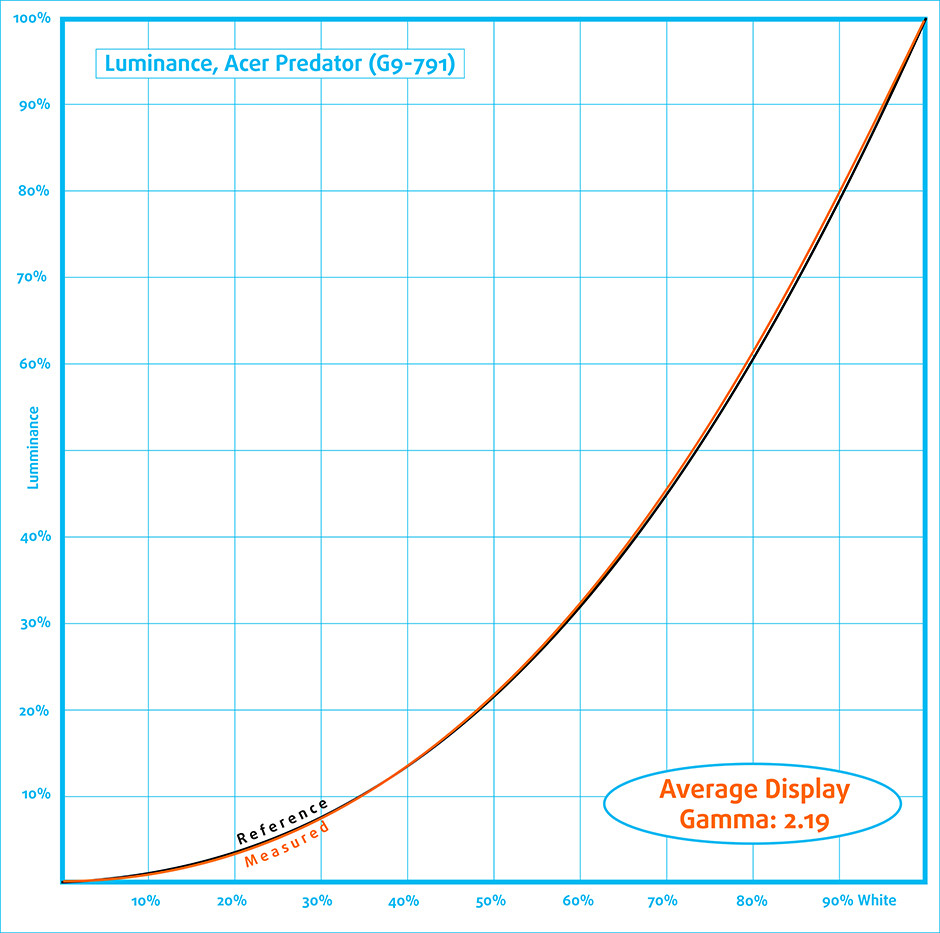 Pulse-width modulation (PWM, Screen flickering)
Again flawless performance in this test. The display doesn't use PWM, no matter the brightness level and thus we can conclude that it's user-friendly.

Conclusion
There's nothing much we can say about this notebook's display properties as the digits speak for themselves. The AUO panel offers high maximum brightness, color temperature and gamma close to the optimal one, extremely accurate color reproduction, 100% sRGB and Adobe RGB color gamut coverage and can be even used for professional video and photo editing. Last, but not least, the panel doesn't use PWM for adjusting brightness levels and thus it's harmless to human eyes. And all of this is packed inside an UHD (3840×2160) panel offering detailed and crisp image quality.
EDIT: It has come to our attention that the Predator 17 doesn't support natively G-Sync on the integrated display. This means that the G-Sync chip is missing and you can take advantage of the technology only if you connect the laptop to an external G-Sync-enabled monitor using DisplayPort.
Screen comparison
If we assume a distance of 58cm (~23in) between the human eye and the notebook monitor, then normal (20/20) vision would require a pixel density of at least 150ppi in order to interpret an image as perfectly detailed.
Laptop
Results
Result
difference
Price
Price
difference
Acer Predator 17 (G9-791) 17.3-inch, AUO B173ZAN01_0, 3840 x 2160 pixels
254.67
ASUS G751JY (+G-Sync) 17.3-inch, LG, 1920 x 1080 pixels
127.34
-50%
Gigabyte P34W v3 14.0-inch, AU Optronics B140HAN, 1920 x 1080 pixels
157.35
-38.21%
Dell Alienware 15 (GeForce GTX 965M) 15.6-inch, 1920 x 1080 pixels
141.21
-44.55%
Alienware M17X R5 17.3-inch, 1920 x 1080 pixels
127.34
-50%
Higher panel brightness is of key importance for visual comfort when working outside or in a brightly lit room.
Laptop
Results
Result
difference
Price
Price
difference
Acer Predator 17 (G9-791) 17.3-inch, AUO B173ZAN01_0, 3840 x 2160 pixels
359
ASUS G751JY (+G-Sync) 17.3-inch, LG, 1920 x 1080 pixels
337
-6.13%
Gigabyte P34W v3 14.0-inch, AU Optronics B140HAN, 1920 x 1080 pixels
336
-6.41%
Dell Alienware 15 (GeForce GTX 965M) 15.6-inch, 1920 x 1080 pixels
-
Alienware M17X R5 17.3-inch, 1920 x 1080 pixels
-
Delta E is a CIE measurement unit of color difference. Higher values indicate that the display produces less accurate colors. (lower results are desirable).
Laptop
Results
Result
difference
Price
Price
difference
Acer Predator 17 (G9-791) 17.3-inch, AUO B173ZAN01_0, 3840 x 2160 pixels
0.32
ASUS G751JY (+G-Sync) 17.3-inch, LG, 1920 x 1080 pixels
1.29
+303.13%
Gigabyte P34W v3 14.0-inch, AU Optronics B140HAN, 1920 x 1080 pixels
0.61
+90.63%
Dell Alienware 15 (GeForce GTX 965M) 15.6-inch, 1920 x 1080 pixels
-
Alienware M17X R5 17.3-inch, 1920 x 1080 pixels
-
The sRGB color gamut, introduced as a standard for the Web, shows the percentage of colors used on the Web that can be displayed on the screen of the device being tested (higher values are better).
Laptop
Results
Result
difference
Price
Price
difference
Acer Predator 17 (G9-791) 17.3-inch, AUO B173ZAN01_0, 3840 x 2160 pixels
100
ASUS G751JY (+G-Sync) 17.3-inch, LG, 1920 x 1080 pixels
93
-7%
Gigabyte P34W v3 14.0-inch, AU Optronics B140HAN, 1920 x 1080 pixels
94
-6%
Dell Alienware 15 (GeForce GTX 965M) 15.6-inch, 1920 x 1080 pixels
-
Alienware M17X R5 17.3-inch, 1920 x 1080 pixels
-
Sound
Thanks to the four loudspeakers and subwoofer, the notebook is capable of reproducing high-quality sound no matter the volume and the height of the tones. The sound quality remains well balanced whether you are watching a movie, playing a game or listening to music mainly due to the Dolby Audio optimization. The sound quality is comparable to small external sound systems. You can gather more information from the graph below.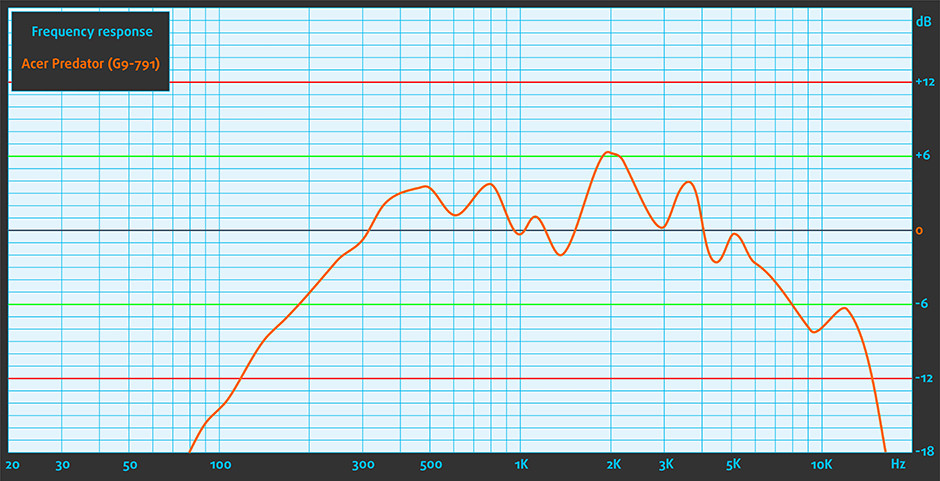 Specs sheet
The specs sheet provided below is for this model only and may vary depending on your region or configuration.

CPU
Intel Core i7-6700HQ (4-core, 2.60-3.50 GHz, 6MB cache)
RAM
64GB (4x 16384MB) – DDR4, 2133MHz
GPU
NVIDIA GeForce GTX 980M (4GB GDDR5)
HDD/SSD
500GB M.2 SATA SSD + 2TB HDD
Display
17.3-inch Ultra HD (3840×2160) IPS, matte (optional)
Optical Drive
Yes
Connectivity
LAN 10/100/1000 Mbps, Wi-Fi, Bluetooth 4.0
Other features

4x USB 3.0
1x USB 3.1 Type-C
LED keyboard backlight with different zones
HDMI
DisplayPort
RJ-45
SD card reader
3.5 mm jacks for microphone and headphones
6 programmable macro keys
4x built-in loudspeakers + subwoofer

Battery
88.8Wh / 6000 mAh
Acer Predator 17 (G9-791) configurations
Software
The unit came with pre-installed Windows 10 (64-bit) and until the writing of this review Acer has not released the official drivers.

Battery
As usual, we cannot expect any good readings on the battery tests since the machine features extremely powerful hardware that takes a toll on battery life. We've got quad-core Core i7-6700HQ processor with 45W TDP on board paired with the power-hungry NVIDIA GeForce GTX 980M along with 17.3-inch UHD screen and as you all know, those extra pixels drain the battery like crazy. On the other hand, Acer has included a huge 88.8Wh battery inside that should keep the show running for quite some time. All tests share the same conditions – Wi-Fi turned on, power saver mode on and screen brightness set to 120 cd/m2.
Web browsing
In order to simulate real-life conditions, we used our own script for automatic web browsing through over 70 websites.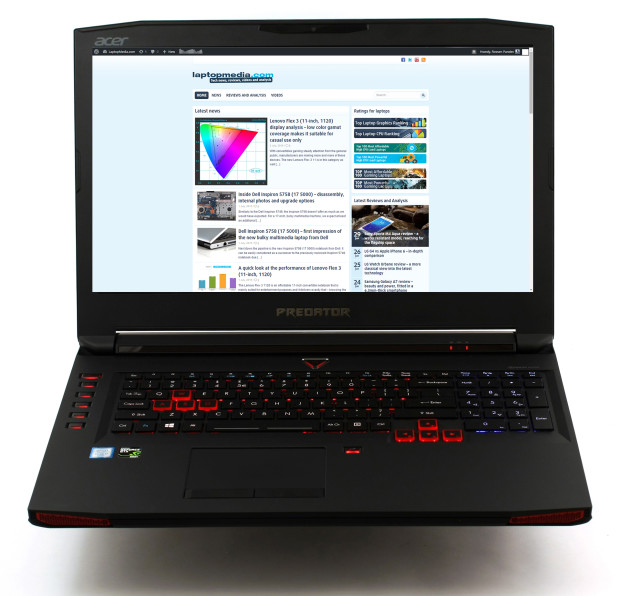 Probably the most important test and the score here is surprisingly good – 315 minutes (5 hours and 15 minutes).
Video playback
For every test like this, we use the same video in HD.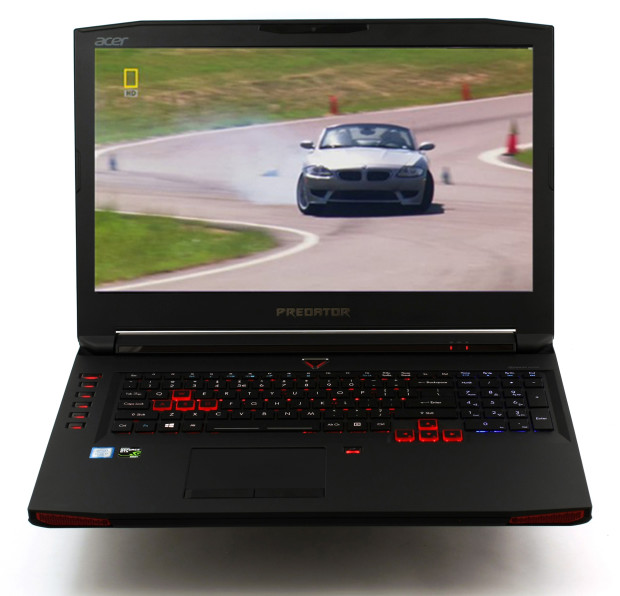 Another great result despite the power-hungry hardware – 273 minutes (4 hours and 33 minutes). That should be more than enough for a full movie.
Gaming
For accurate simulation, we used the Metro: Last Light benchmark running on a loop with graphic settings set to minimum.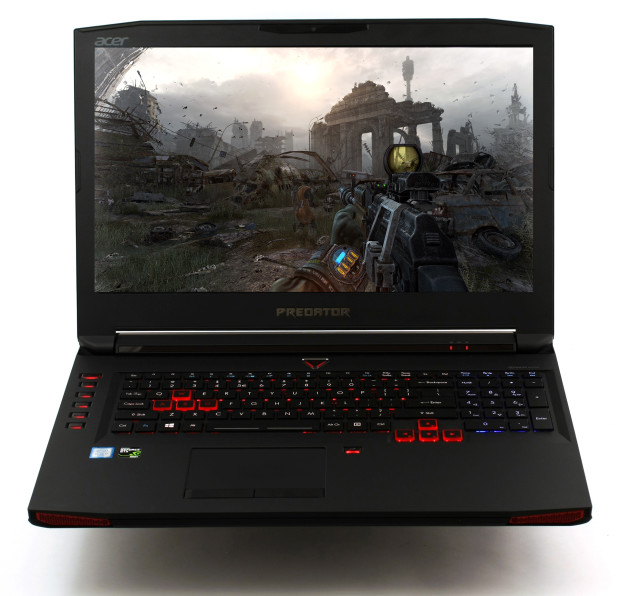 It's quite unlikely that you will start a gaming session without being close to a power source, but it's good to know that you can play for more than two hours – 150 minutes (2 hours and 30 minutes).

CPU
Intel Core i7-6700HQ represents the Skylake H family and it's considered as a high-performance chip with high voltage – 45W TDP. This is a step down from its direct predecessor – Core i7-4700HQ but matches its short-lived predecessor Core i7-5700HQ. The Core i7-6700HQ has four cores ticking at 2.6GHz and can go up to 3.5 GHz for one active core and 3.1 GHz for four active cores. The silicon supports the so-called Hyper-Threading technology that emulates one virtual core for each physical and thus establishing a total of 8 threads.
Furthermore, the chip is manufactured using 14nm FinFET process and integrates Intel HD Graphics 530 GPU with 24 EU (Executable Units) clocked at 350 – 1050 MHz. The memory controller supports up to 64GB of DDR3 or DDR4 RAM at 1600 or 2133 MHz respectively. The CPU is suitable for heavy applications and gaming.
You can browse through our top CPUs ranking: http://laptopmedia.com/top-laptop-cpu-ranking/
Here you will find other useful information and every notebook we've tested with this processor: http://laptopmedia.com/processor/intel-core-i7-6700hq/
Results are from our Photoshop benchmark test (the lower the score, the better)
Results are from the Fritz chess benchmark (the higher the score, the better)
Fritz
Fritz is a chess benchmark that tests the computing capabilities of the CPU with various chess moves. The Intel Core i7-6700HQ managed to get 12.317 million moves per second. For comparison, one of the most powerful PCs, Deep(er) Blue, was able to squeeze out 200 million moves per second. In 1997 Deep(er) Blue even beat the famous Garry Kasparov with 3.5 to 2.5.

GPU
NVIDIA GeForce GTX 980M is a high-end graphics chip, announced on October 7, 2014. It will be available in models with up to 8GB of GDDR5 memory. NVIDIA GeForce GTX 980M uses the Maxwell GM204 architecture and has 1536 CUDA cores. All of them operate at 1038MHz, but NVIDIA's GPU Boost 2.0 can dynamically increase that frequency.
The graphics card has a 256bit bus and supports DirectX 11.2, Pixel Shader 5.0, Optimus, SLI, PhysX, OpenCL 1.1, OpenGL 4.4, DirectCompute, CUDA, Blu-Ray 3D and 3D Vision. Memory bandwidth is 160GB/sec. Max resolutions (WxH) are 3840×2160 digital and 2048×1536 analog.
You can browse through our GPU ranking to see where the NVIDIA GeForce GTX 980M (4GB GDDR5) stands: http://laptopmedia.com/top-laptop-graphics-ranking/
For more information about the GPU, follow this link: http://laptopmedia.com/video-card/nvidia-geforce-gtx-980m-4gb-gddr5/
3DMark (Fire Strike)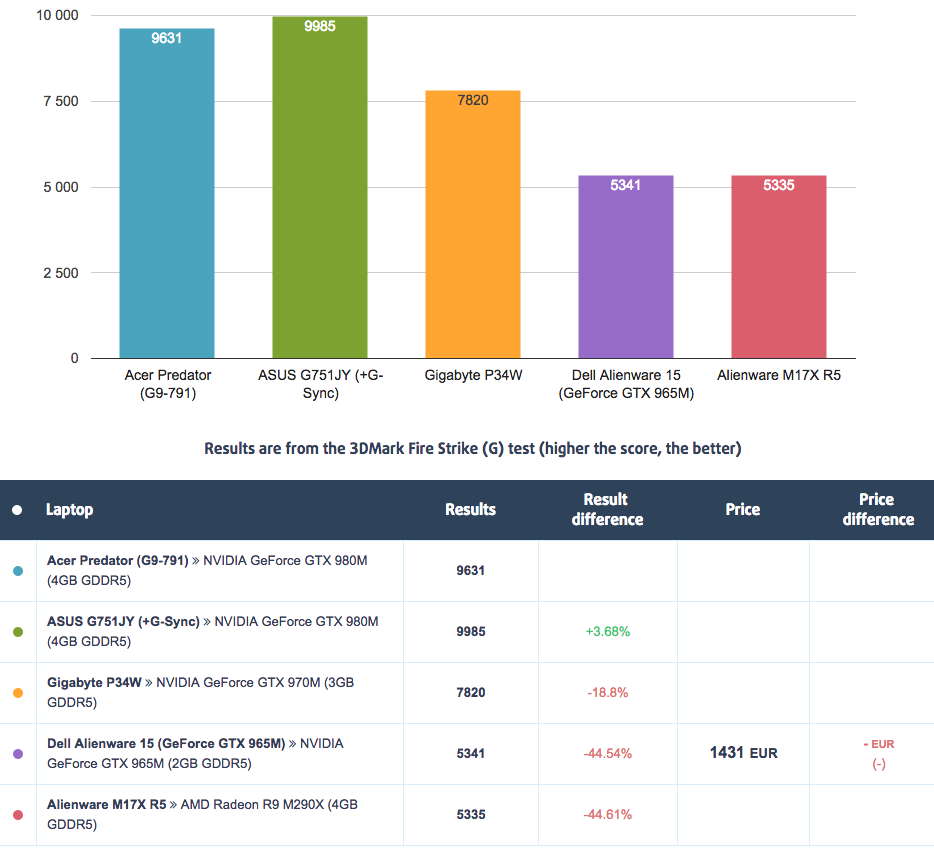 3DMark (Skye Diver)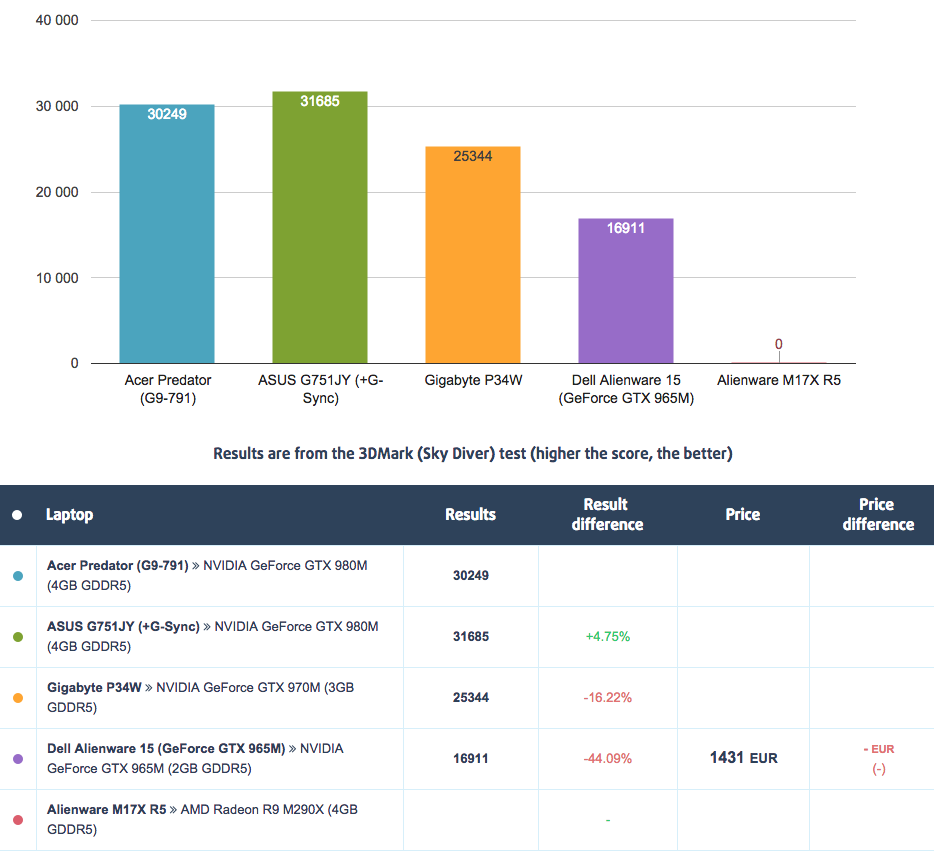 Unigine Heaven 3.0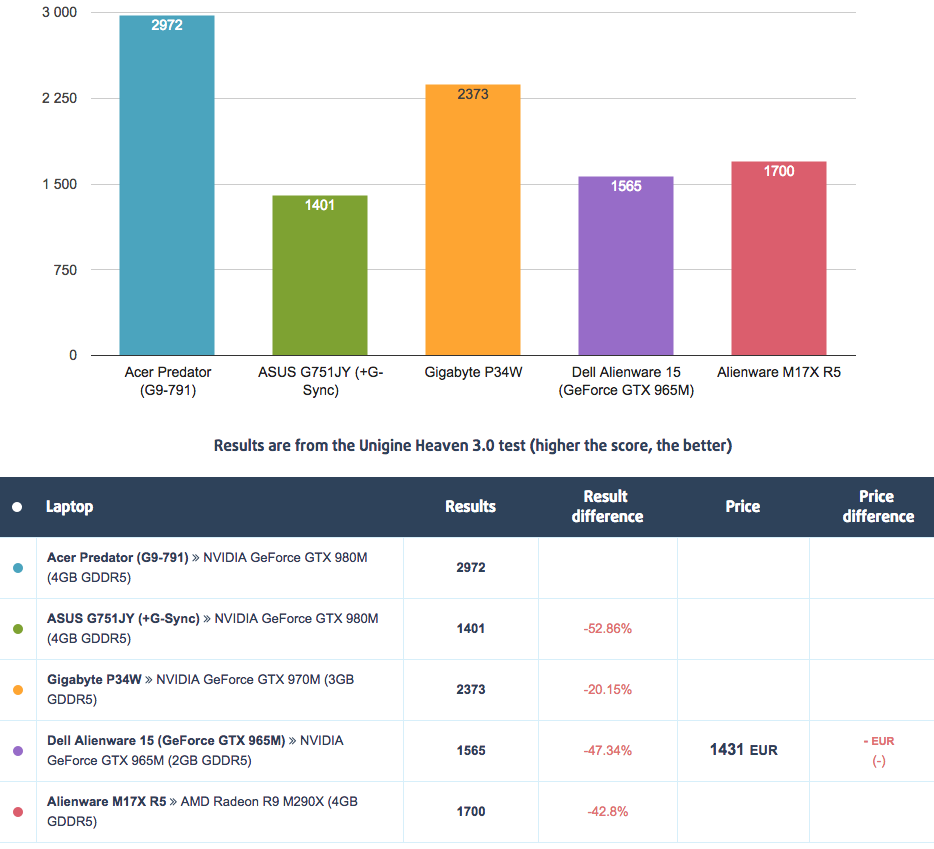 Gaming tests


| | Tomb Raider (Low) | Tomb Raider (Medium) | Tomb Raider (Max) |
| --- | --- | --- | --- |
| UHD (3840×2160) | 94 fps | 47 fps | 24 fps |
| FHD (1920×1080) | 252 fps | 149 fps | 71 fps |


| | F1 2015 (Low) | F1 2015 (Medium) | F1 2015 (Max) |
| --- | --- | --- | --- |
| UHD (3840×2160) | 39 fps | 30 fps | 23 fps |
| FHD (1920×1080) | 105 fps | 90 fps | 70 fps |


| | Thief (Low) | Thief (Medium) | Thief (Max) |
| --- | --- | --- | --- |
| UHD (3840×2160) | 42 fps | 37 fps | 22 fps |
| FHD (1920×1080) | 58 fps | 55 fps | 51 fps |


| | GTA 5 (Low) | GTA 5 (Medium) | GTA 5 (Max) |
| --- | --- | --- | --- |
| UHD (3840×2160) | 80 fps | 23 fps | X fps |
| FHD (1920×1080) | 123 fps | 72 fps | 34 fps |
Temperatures
On the temperature front, the notebook performs excellently. We've already done a thorough research on how the system handles heavy load and higher temperatures and even included the extra vent into the equation. And as you can see from the image below, there's no throttling and CPU's temperatures are extremely low in idle but go pretty high under 100% CPU load. The red line represents the temperatures while the green one stands for the CPU load.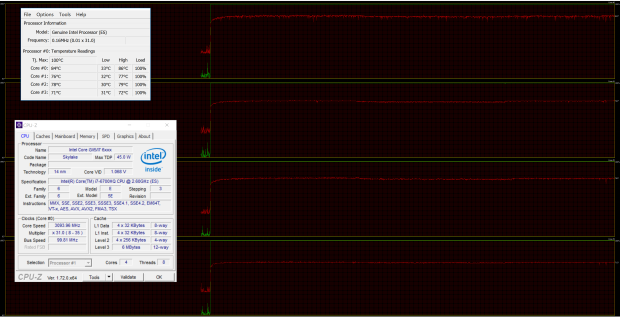 After an hour or so, we've included the GPU stress test as well and temperatures rose a bit, but still far away from the maximum operating temperatures. Still no throttling occurred and the GPU's temperatures were oddly low at 100% GPU load. Again we are happy with the results from this test and the digits prove that the system is reliable and can take a beating. But it's important to note that the extra fan module doesn't actually improve the temperatures.
The thing that distinguishes the notebook from other gaming solutions on the market is a small, but effective, change in the construction of the fans. Firstly, the propellers are built entirely out of aluminum and are attached to the casing of the fan only on one side. So when the fans start to spin faster and hit higher RPM, they change the angle in order to achieve higher CFM (cubic feet per minute). This way the internals get more airflow and during long gaming sessions you can easily know when the angle of the propellers has changed just by listening to the buzzing sound. This doesn't mean the notebook is too loud, though.
However, we suggest reading our dedicated article about the temperature tests and the cooling system here: http://laptopmedia.com/highlights/how-acer-predator-g9-791-notebook-deals-with-the-extra-heat/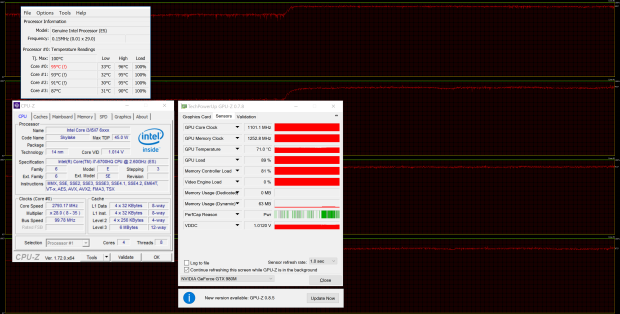 Besides the internal temperatures, it's really important that the notebook keeps the chassis cool enough for comfortable use. You can see on the heat map below that the interior remained cool throughout all tests and the user won't feel the excessive heat coming out of the notebook. It looks like Acer has put some effort into the cooling system and the new fan design does its job pretty well. We are extremely satisfied with the cooling system's performance.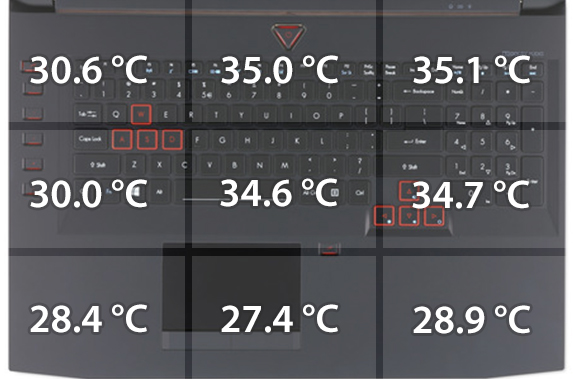 Verdict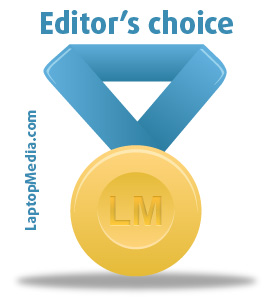 Acer has been long been associated with lower-end and mid-range devices, but in the last couple of years it proved that the high-end segment isn't something new to the company and their latest top-shelf laptop, Predator G9-791, is the living proof. It has it all – stylish design, aggressive looks suitable for gamers, sturdy and rigid construction and beastly hardware. Speaking of which, it's on par with some of the offerings from ASUS (ROG G751 in particular) Dell (Alienware). We are yet to see the asking price of the notebook, but we will make a wild guess that it will be priced little above ASUS ROG G751 and lower than the Alienware counterpart. Mainly because the storage upgrades on the Predator are somehow more expensive or premium, as we may say. While the G751 offers one M.2 SSD slot paired with two 2.5-inch SSD/HDD slots, the Predator has only one 2.5-inch slot and two M.2 SSD slots – one supports 2280 and the other supports 22110 standard.
However, some features and results from our tests suggest that the higher price is somehow justified. The screen quality noticeably better than the displays we've tested on some Alienware and ASUS ROG machines. Don't get us wrong, though, all of the aforementioned gaming laptops have excellent screens, but the Predator goes beyond that. It's not only detailed with UHD resolution, but it also offers high maximum brightness, close to optimal color temperature and tone response curve, extremely accurate color reproduction, 100% sRGB and 100% Adobe RGB color gamut coverage, and last, but not least, no PWM across all brightness levels. It's even suitable for professional use like design work and photo and video editing. Its properties are comparable to some professional offerings on the market and we can easily say that this notebook has the best display we've tested so far, without any "buts" or "ifs".
From a gamer's perspective, the keyboard and touchpad are excellent as well. The cooling system is just flawless, but we do have to mention that the additional fan module isn't contributing to excellent results. The cooling system is fine as it is and the Cooler Master fan included in the package isn't needed for excellent gaming experience. The Predator G9-791 is one of the best gaming offerings on the market and the pricing will be crucial for the sales since it offers overall better performance than the ASUS ROG G751 and even some Alienware competitors. But the more expensive storage options and the G-Sync will surely increase the price a lot and it will be hard for gamers to choose between better screen quality or G-Sync-enabled configuration. So the price will be a deal-breaker.
You can check the current price of Acer Predator 17 here:
http://amzn.to/21rbrAo
Pros
Appealing, sleek and aggressive design with premium materials
Solid construction
Excellent cooling system
Perfect display suitable not only for gaming, but for professional photo and video editing as well
Comfortable keyboard and touchpad
A wide variety of storage options
High-quality sound
Pretty good battery life for a gaming notebook
Cons
Bulky and heavy (4.163 kg)
The additional fan module doesn't do anything
Doesn't support G-Sync on the integrated display