Alienware 17 R3 (Late 2015) review – when you want the best gaming notebook, no matter what

Now that we've put the new Alienware 15 (R2, Late 2015) to the test, it's time to do the same with its bigger sibling – the 17-inch Alienware R3. Make no mistake, it's the same Skylake / GTX 9xx / DDR4 generation, the difference being maximized screen estate. There is an 18-inch model as well, but Alienware hasn't updated it yet with the 6th generation Intel Core processors (it offers dual GTX 980M, though). The latter also can't take advantage of the Alienware Graphics Amplifier, which provides you with the option of enjoying desktop graphics performance when you get home with your Alienware laptop. Unfortunately, asymmetrical SLI is out of the question, but more about this later.
So let's see what we've got here – our unit sports Intel Core i7-6820HK, GeForce GTX 980M with 4GB GDDR5, 12GB DDR4 RAM at 2133MHz and a 17-inch UHD IPS IGZO screen. In other words – one of the fastest mobile CPUs out there, the most powerful mobile GPU, next-generation RAM technology and the best screen possible. And that's just the beginning. This is going to be an interesting review.
You can check the current price of Alienware 17 R3 here: http://amzn.to/1JjnvZn
Contents
What's in the box?
We will probably not surprise you with this one, but Alienware 17's package looks like a parcel that's, well, out of this world. Except for a small Alienware inscription on one of the sides, it has nothing but a big Alien head – the logo of the company. While opening it, you'll notice the attention to detail on part of Alienware that's there to give you the best experience in the first couple of minutes with your new machine.
You'll be welcomed to the Alien community with a special "Thank You" note from the team and, of course, a Quick Start guide which you'll instantly ignore, but nobody can judge you, given the fact that you've got an Alienware 17 R3 in front of you.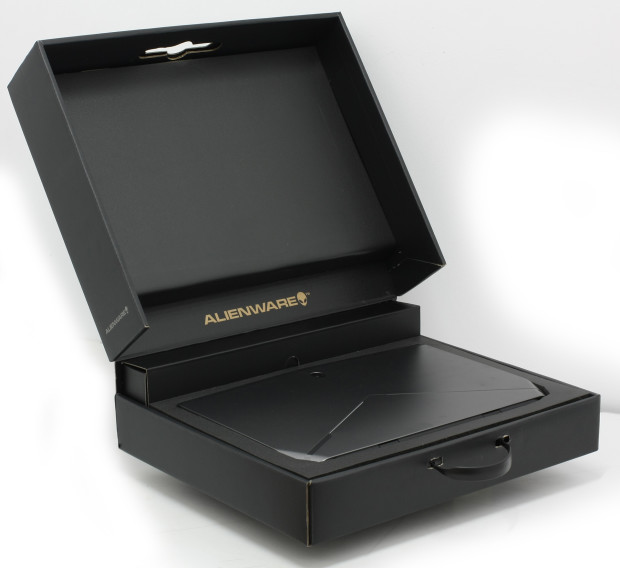 The charger is made by Flextronics – GA240P1-00 and it's 240W.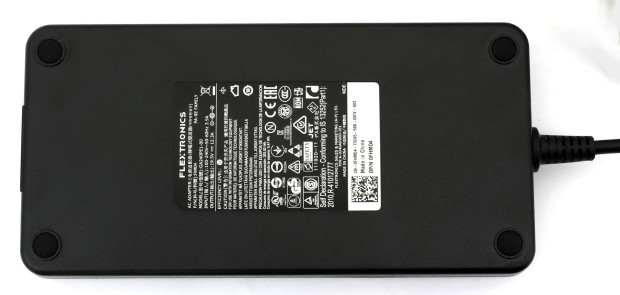 Design and construction
The new Alienware 17 R3 is the thinnest and lightest 17-inch Alienware ever but don't expect much since its cooling system has to handle a 100W GeForce GPU and a Core i7 processor with TDP of 45W. R3's is 34.4mm high and the weighs 3715g, which doesn't sound very low but is in fact much lighter than its Haswell-based 4250g predecessor.
It wouldn't be an Alienware if it didn't have aggressive design language, sharp lines and assertive backlight on the logos, keyboard and even touchpad. The latter can be turned off if you don't like it, because it's definitely an attention-grabber – the trackpad's whole surface lights up when you use it. The palm rest area is coated with matte soft rubber and the keyboard has the now familiar TactX construction used in previous generations – it's not "Island Style", but it's pretty comfortable not just for gaming but for prolonged typing sessions as well. There is a NumPad panel on the right, so those of you that work with numbers frequently will take advantage of that too.
Above the NumPad are four Macro keys, which can be assigned to run applications of your choice through the AlienFX software. That's also where the backlight is controlled – you can choose from numerous combinations of lights and colors. There are another six macro keys on the left side of the keyboard, and you'll need some time to get used to Macro X replacing 'Esc' at the the top left. Just above the macro keys are four LED indicators, and in the center glows the Alienware logo.
The hinges that hold the 17.3-inch IPS 4K panel feel pretty solid – you have to use both hands when opening the lid. Actually, the whole construction provides the sturdiness and rigidity we look for when we are reviewing high-class notebooks. That's to be expected though, given the fact that Alienware has used an anodized aluminum shell and carbon fiber composites in 17 R3's enclosure. Even behind the TactX keyboard, there is a reinforced steel plate protecting the internals.
Alienware claims that the construction is tested to stand up to tens of thousands of power button pushes, hinges opening and closing, twists, turns, and up to 1 million touchpad strokes. We don't know how exactly these tests are conducted, but it's evident that Alienware has put a lot of thinking into that.
On the left we have the Power-adapter port, Security-cable slot, USB 3.0 port with PowerShare, standard USB 3.0 port, Microphone/Headphone port and Headset port. The right is populated by a 3-in-1 Media-card reader, USB Type-C port (40Gbps Thunderbolt 3 / DisplayPort), another USB 3.0 port and a RJ-45 Network port.
The back has an External Graphics Port (for Alienware Graphics Amplifier) and HDMI 2.0 port.
Display and Sound
Alienware 17 R3 (Late 2015) has a 4K Ultra HD IPS IGZO panel with matte coating. Its exact model is 2DK4K-B173ZAN and it's made by AU Optronics. It has a 17.3-inch (43.94 cm) diagonal and a resolution of 3840 x 2160 pixels (255 PPI). That makes 2DK4K-B173ZAN "Retina" when viewed from a distance equal to, or larger than 33 cm ("normal" 20/20 eyesight wouldn't be able to discern the individual pixels). Having in mind that one generally keeps the laptop display at a distance of around 60 cm, we can say that in terms of resolution and details, Alienware 17's screen is flawless. Let's check what the situation is in the other tests…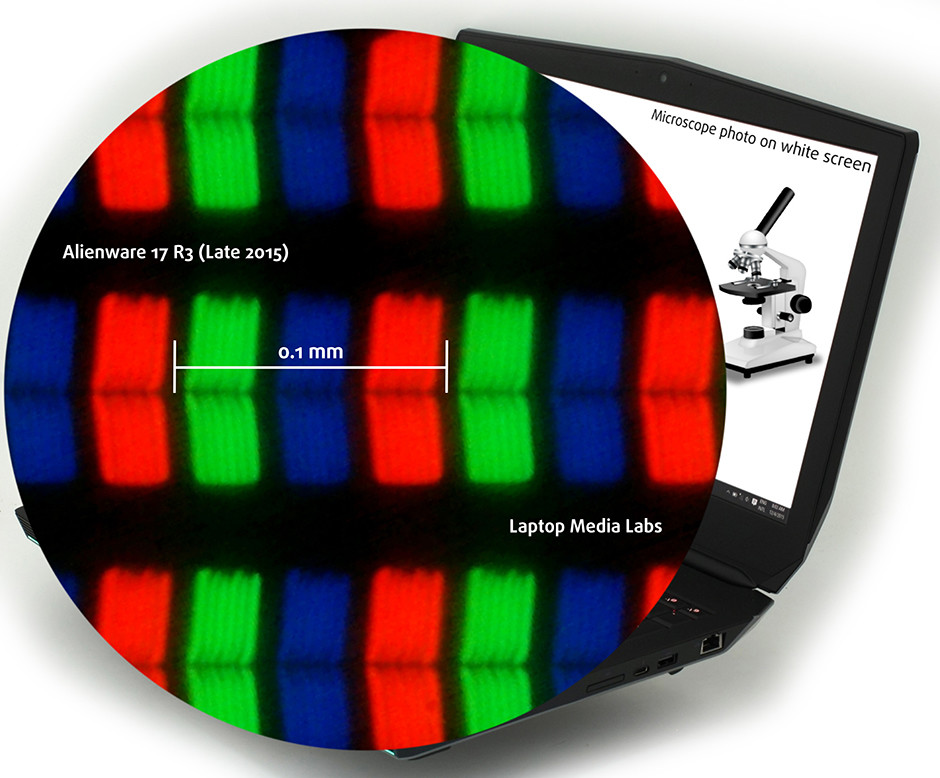 Alienware 17 R3 (Late 2015) has excellent viewing angles. The image below illustrates how the screen looks when viewed at a 45° angle.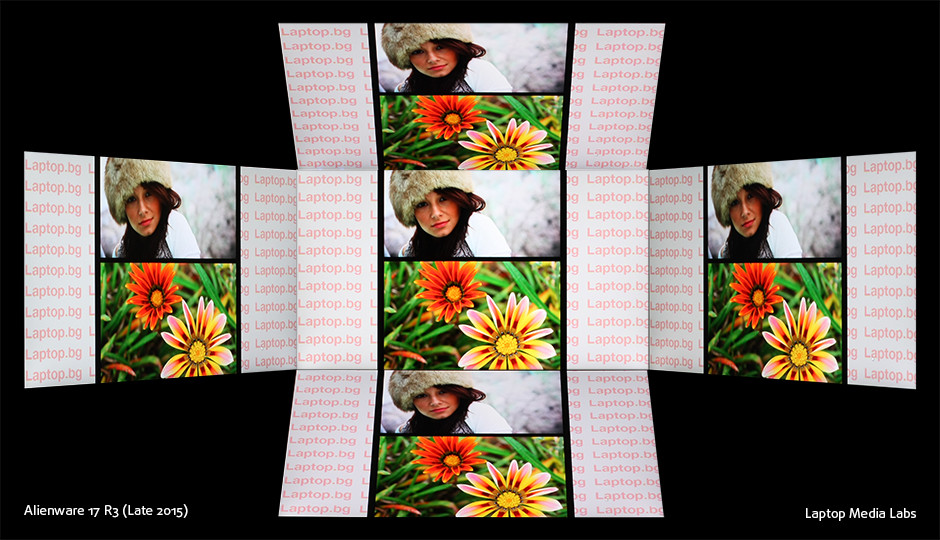 The mean maximum brightness (measured at 9 sectors of the screen), before profiling is very high – 352 cd/m2. The maximum deviation is just 4%. The average color temperature of a white screen at max brightness is 6970K – daylight type, slightly colder than the optimum of 6500K.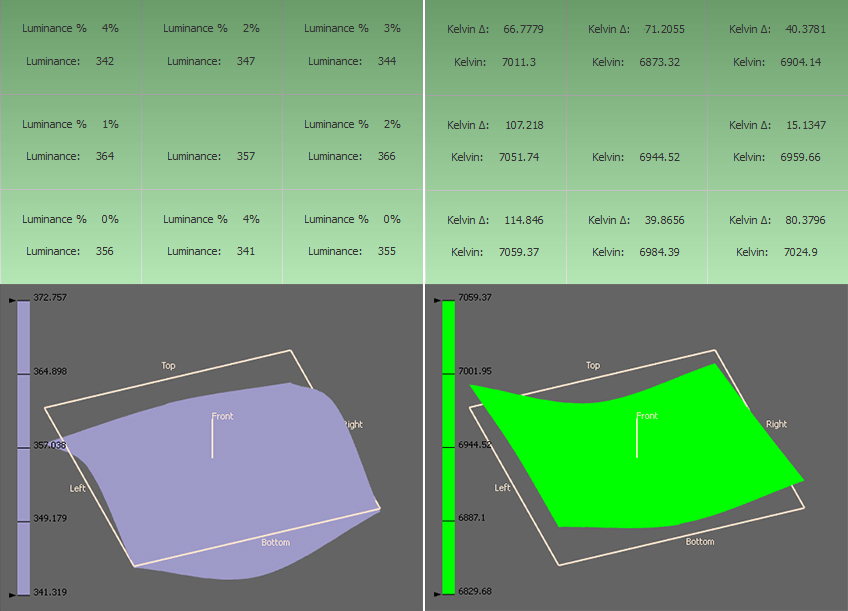 Color reproduction
To make sure we are on the same page, let's have a little introduction into the sRGB and Adobe RGB color gamuts. The CIE 1976 Uniform Chromaticity Diagram represents the spectrum of colors visible to the human eye, thus giving you a better perception of color gamut coverage and color accuracy. Inside the black triangle, you will see the standard color gamut (sRGB), used by millions of people in HDTV and on the Web. As for Adobe RGB, it is used to work with professional cameras and monitors when preparing print. Basically, colors inside the black triangle are used by everyone, and so reproducing them accurately is key in a quality display.
The black dashed line triangle represents a new standard – Rec.2020 for UHDTV. The space is defined by three main monochrome colors with wave lengths of 630 nm, 532 nm and 467 nm. The yellow triangle represents the possibilities of Alienware 17 R3 (Late 2015). Having in mind that most laptops on the market can't even cover half of the sRGB space, you can make conclusions for yourself what the difference will be in terms of saturation and picture quality.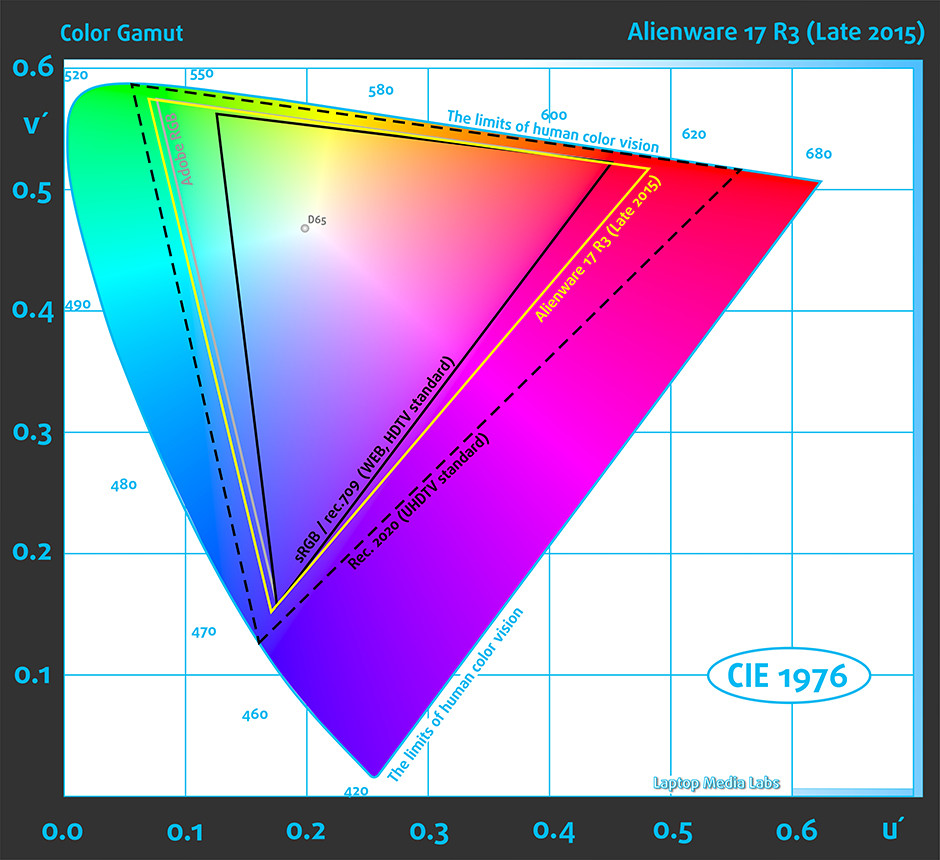 The figure below is practically the same but marked with our measurements before calibration. The colored dots are the colors with 100 and 50 percent saturation in the new Rec.2020 (UHDTV) color gamut. The white dots are the ones provided by Alienware 17 R3 (Late 2015).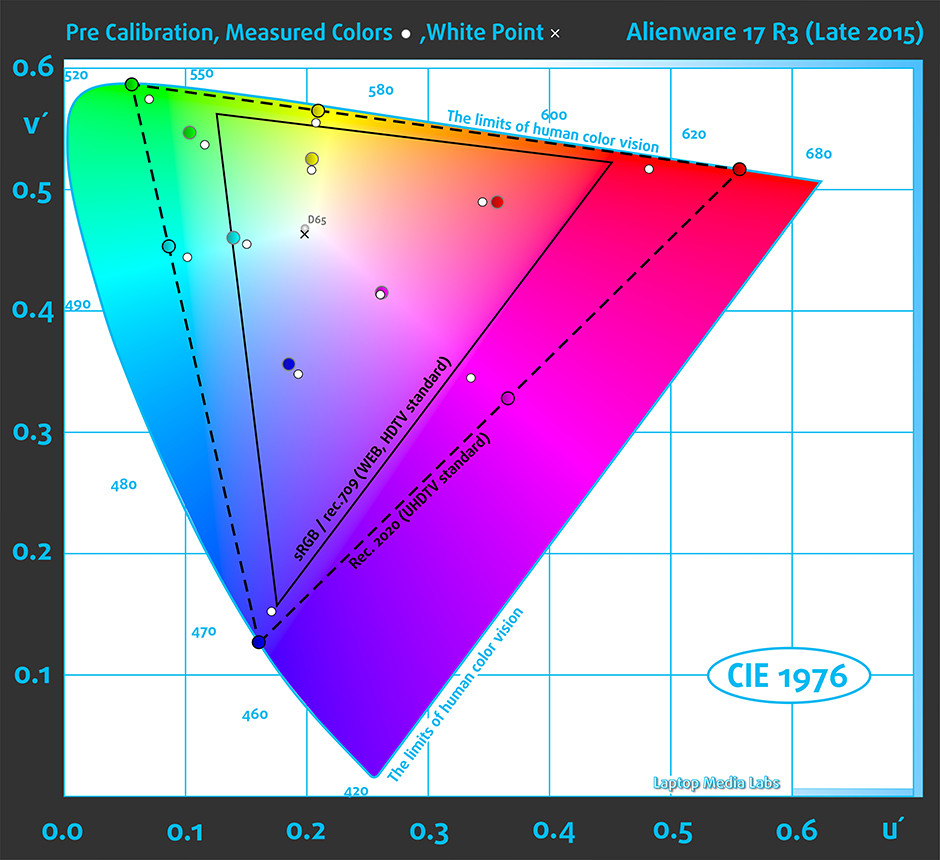 We profiled the screen at 140 cd/m2 brightness level and target color temperature of 6500K. Our tool was X-Rite i1Display Pro.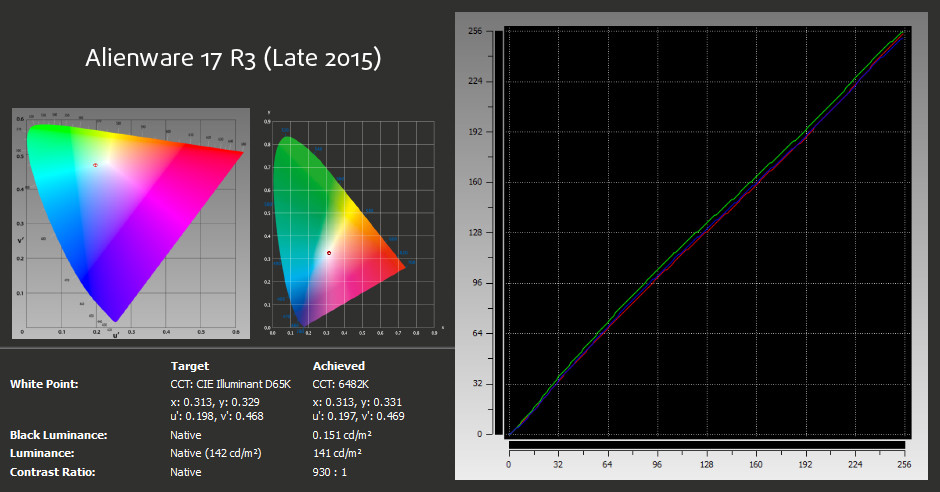 We tested the screen using 24 samples of the most commonly occurring colors and ones that are easily distinguished by your eyes – dark and light skin, blue sky, grass green, orange. The accuracy is incredible – the average DeltaE 2000 = 0.37. Values below 1.00 can't be differentiated by the naked eye. The contrast is 940:1 before and 930:1 after profiling.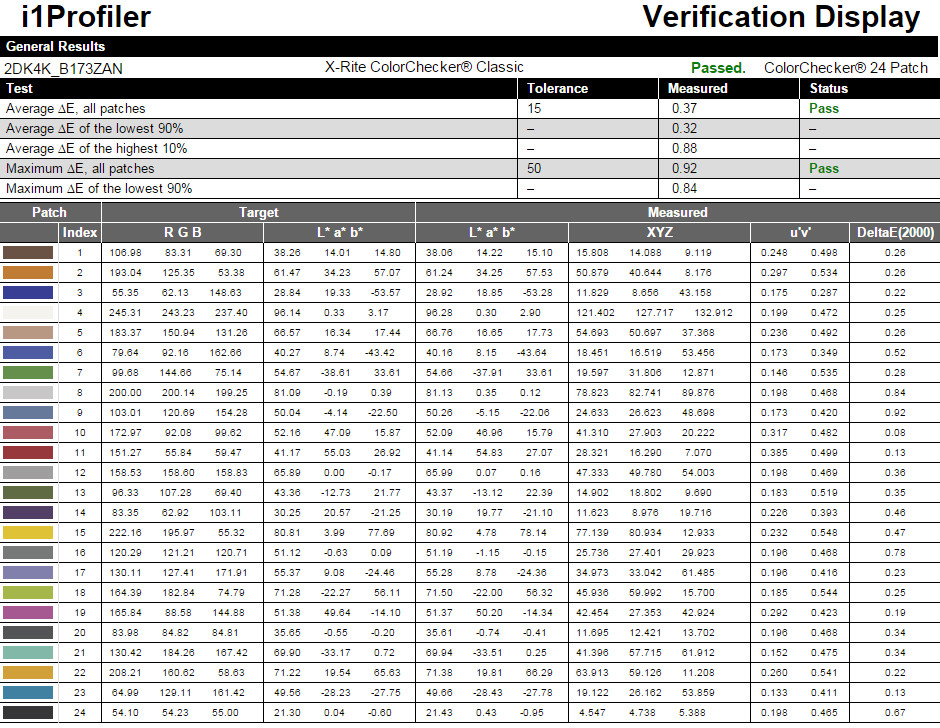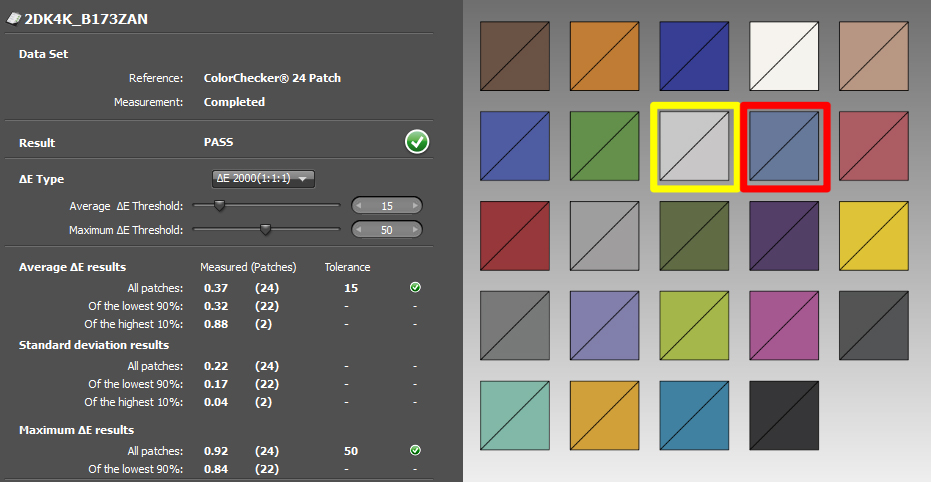 The histogram below shows part of the colors in the verification report.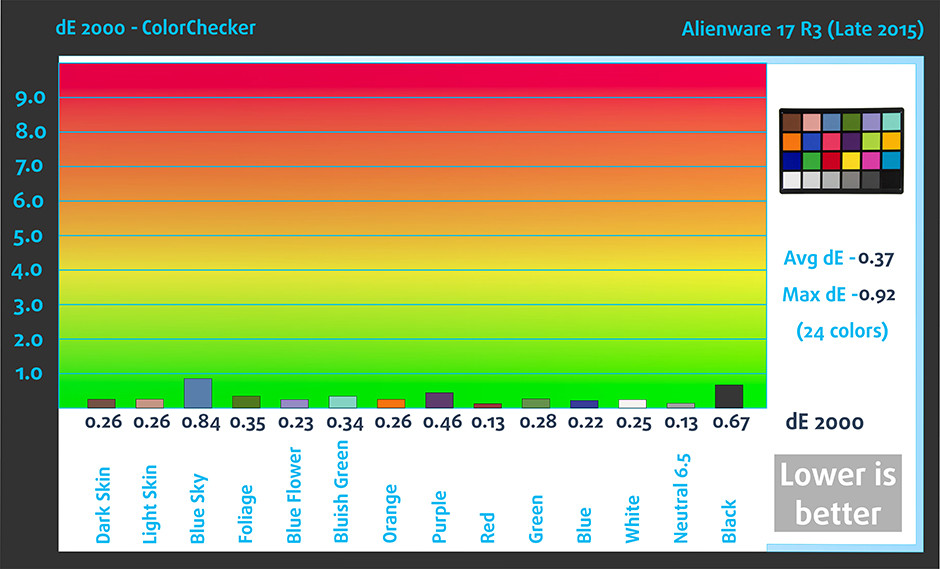 PWM (Screen flickering, Pulse-Width Modulation)
Alienware 17 R3's display doesn't use PWM for brightness control. This makes it suitable for continuous gaming sessions.

Display verdict
The screen of Alienware 17 R3 (Late 2015) goes to a whole new level in the evolution of laptop displays. It has amazing details, full sRGB coverage and excellent viewing angles. The maximum brightness is high and it doesn't cause eye fatigue even in prolonged use, since it doesn't make use of Pulse-Width Modulation for controlling brightness. We can't really say anything negative about the AUO 2DK4K-B173ZAN screen in Alienware 17 R3.

Sound
Alienware 17 R3 (Late 2015) has very good stereo sound quality. The low and medium frequencies are clear, but the highs have somewhat metallic-sounding distortions. The speakers are very loud.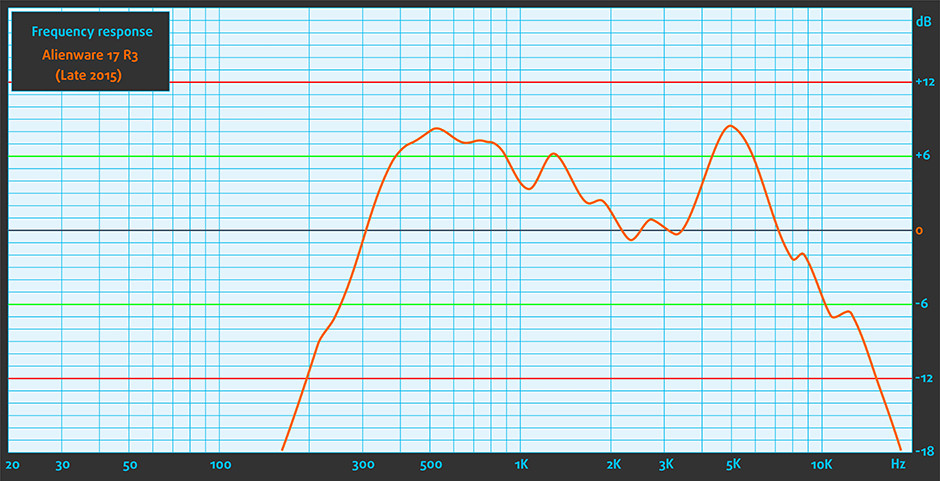 Specs sheet
These technical specifications refer only to the particular device being tested in this review. Laptops from the same series could have different characteristics and features.
| | |
| --- | --- |
| CPU | Intel Core i7-6820HK (4-core, 2.70 – 3.60 GHz, 8MB cache) |
| RAM | 12GB (1x 4096MB + 1x 8192MB) – DDR4, 2133Mhz |
| GPU | NVIDIA GeForce GTX 980M (4GB GDDR5) |
| HDD/SSD | 256GB SSD + 1TB HDD |
| Display | 17.3-inch (43.94 cm) – 3840 x 2160 pixels (UHD/4K), IPS, IGZO, matte |
| Optical Drive | – |
| Connectivity | LAN 10/100/1000 Mbit/sec, Killer 1535 802.11ac 2×2 WiFi, Bluetooth 4.1 |
| Features | 3-in-1 card reader, backlit keyboard/touchpad, 3x USB 3.0 ports, 1x USB Type-C (Thunderbolt / DisplayPort), HD Web Camera, HDMI 2.0, 2.1 speakers + Subwoofer (Klipsch) |
| Battery | 92 WHr |
| Height | 34.40 mm (1.35") |
| Weight (with the battery) | 3715 g |
Alienware 17 R3 configurations
Drivers
The configuration we tested came with Windows 10 (64-bit) pre-installed, and Alienware isn't currently planning on selling their notebooks OS-free. If you still need drivers, you should check the official support page:
http://support.alienware.com/Support_Pages/Restricted_Pages/driver_downloads.aspx

Battery Life
92Wh should be enough for decent battery life of Alienware 17 R3, even though it has a powerful 6820K processor (rather energy-efficient, though), GeForce GTX 980M (the fastest single mobile GPU) and 4K IPS screen. To make sure, we're going to check on that by using our standard battery tests including Surfing the Web, Video Playback and Gaming.
We conduct all tests with Wi-Fi connected, 120 cd/m2 brightness and Power Saver mode.

Web Surfing
As usual, we start with Web browsing, where we use a custom script to automatically load different popular pages.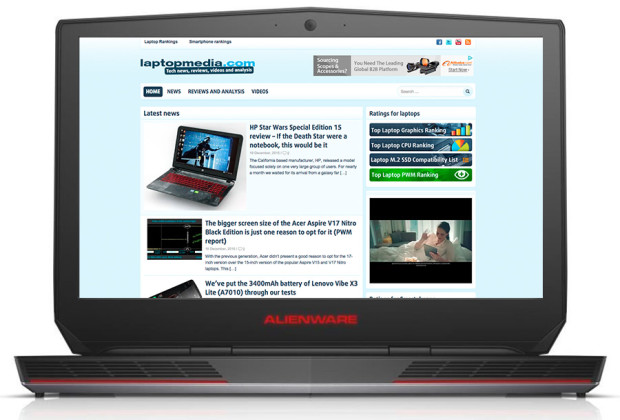 312 minutes in one charge (5 hours and 12 minutes) is a pretty impressive result, almost identical to the one reached by Acer Predator 17 (315 minutes).

Video Playback
For our Video playback test we use a 720p HD movie.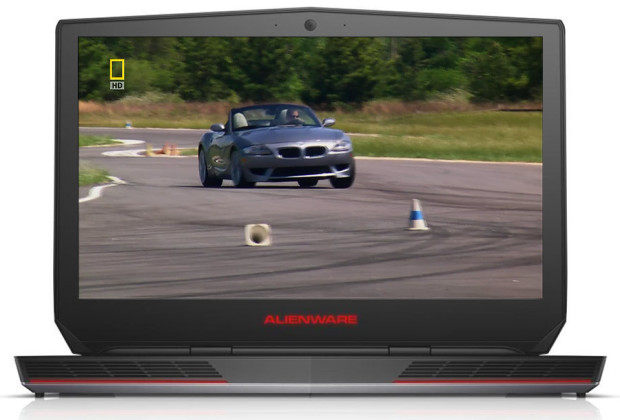 Alienware 17's video playback endurance result is even higher than the Predator's – 356 minutes (5 hours and 56 minutes).

3D Gaming
For accurate simulation, we used the Metro: Last Light benchmark running on a loop with graphic settings set to minimum.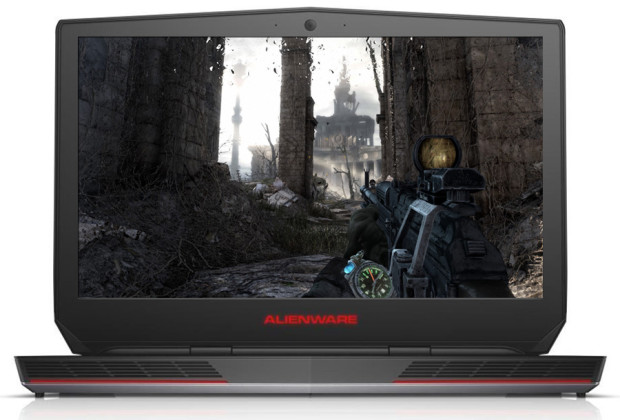 You wouldn't go playing outside with your Alienware 17 without a charger, right? We wouldn't recommend it, in any case. You'll run out of battery juice in just 79 minutes.

CPU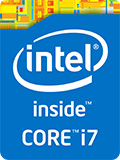 Intel Core i7-6820HK represents the Skylake H family and it's considered a high-performance chip with relatively high consumption – 45W TDP, which matches its little sibling i7-6700HQ. The Core i7-6820HK has four cores ticking at 2.7GHz and can go up to 3.6 GHz for one active core, 3.4GHz for two active cores and 3.2 GHz for four active cores. It has 8 MB Intel Smart Cache, which is the other notable difference when compared to 6700HQ (with 6MB Smart Cache). The silicon supports the so-called Hyper-Threading technology that emulates one virtual core for each physical, thus establishing a total of 8 threads.
Furthermore, the chip is manufactured using a 14nm FinFET process and integrates Intel HD Graphics 530 GPU with 24 EU (Executable Units) clocked at 350 – 1050 MHz. The memory controller supports up to 64GB of DDR3 or DDR4 RAM at 1600 or 2133 MHz respectively. The CPU is suitable for heavy applications and gaming.
The official Intel Core i7-6820HK web page can be found here:
http://ark.intel.com/products/88969/Intel-Core-i7-6820HK-Processor-8M-Cache-up-to-3_60-GHz
You can take a look at our CPU rating system, to see which place the Core i7-6820HK gets:
http://laptopmedia.com/top-laptop-cpu-ranking/
Results are from our Photoshop benchmark test (the lower the score, the better)
Results are from the Fritz chess benchmark (the higher the score, the better)
Fritz
Fritz is a chess benchmark that tests the computing capabilities of the CPU with various chess moves. The Intel Core i7-6820HK managed to get 12.861 million moves per second. In comparison, one of the most powerful chess computers, Deep(er) Blue, was able to squeeze out 200 million moves per second. In 1997 Deep(er) Blue even beat the famous Garry Kasparov with 3.5 to 2.5.

GPU
NVIDIA GeForce GTX 980M is a high-end graphics chip, announced on October 7, 2014. It will be available in models with up to 8GB of GDDR5 memory. NVIDIA GeForce GTX 980M uses the Maxwell GM204 architecture and has 1536 CUDA cores. All of them operate at 1038MHz, but NVIDIA's GPU Boost 2.0 can dynamically increase that frequency.
The graphics card has a 256bit bus and supports DirectX 11.2, Pixel Shader 5.0, Optimus, SLI, PhysX, OpenCL 1.1, OpenGL 4.4, DirectCompute, CUDA, Blu-Ray 3D and 3D Vision. Memory bandwidth is 160GB/sec. Max resolutions (WxH) are 3840×2160 digital and 2048×1536 analog.
You can browse through our GPU ranking to see where the NVIDIA GeForce GTX 980M (4GB GDDR5) stands: http://laptopmedia.com/top-laptop-graphics-ranking/
For more information about the GPU, follow this link: http://laptopmedia.com/video-card/nvidia-geforce-gtx-980m-4gb-gddr5/
Results are from the 3DMark: Fire Strike (Graphics) benchmark (higher the score, the better)
Results are from the Unigine Heaven 3.0 benchmark (higher the score, the better)
Results are from the Unigine Heaven 4.0 benchmark (higher the score, the better)
Alienware 17 R3 GPU variants
Here you can see an approximate comparison between the GPUs that can be found in the Alienware 17 R3 models on the market. This way you can decide for yourself which Alienware 17 R3 model is the best bang for your buck.
Note: The chart shows the cheapest different GPU configurations so you should check what the other specifications of these laptops are by clicking on the laptop's name / GPU.
Results are from the 3DMark: Fire Strike (Graphics) benchmark (higher the score, the better)
Results are from the Unigine Heaven 3.0 benchmark (higher the score, the better)
Results are from the Unigine Heaven 4.0 benchmark (higher the score, the better)
Gaming Tests
We conducted the gaming tests in three resolutions – 1366 x 768 (HD), 1920 x 1080 (Full HD) and 3840 x 2160 (4K, UltraHD). We used the 359.00 driver version.


| Tomb Raider | Low | Medium | Max |
| --- | --- | --- | --- |
| HD (768p) | 332 fps | 223 fps | 102 fps |
| Full HD (1080p) | 254 fps | 145 fps | 71 fps |
| 4K, Ultra HD (2160p) | 94 fps | 46 fps | 23 fps |


| F1 2015 | Low | Medium | Max |
| --- | --- | --- | --- |
| HD (768p) | 117 fps | 108 fps | 97 fps |
| Full HD (1080p) | 106 fps | 87 fps | 66 fps |
| 4K, Ultra HD (2160p) | 29 fps | 27 fps | 21 fps |

| GTA V | Low | Medium | Max |
| --- | --- | --- | --- |
| HD (768p) | 137 fps | 99 fps | 48 fps |
| Full HD (1080p) | 128 fps | 69 fps | 32 fps |
| 4K, Ultra HD (2160p) | 78 fps | 22 fps | – |

| Thief | Low | Medium | Max |
| --- | --- | --- | --- |
| HD (768p) | 69 fps | 68 fps | 66 fps |
| Full HD (1080p) | 68 fps | 66 fps | 59 fps |
| 4K, Ultra HD (2160p) | 43 fps | 37 fps | 21 fps |
Temperatures, Comfort and Stability
For the ultimate gaming experience temperature stability is more than important, and a high-end model like the Alienware 17 should undoubtedly provide that. That's why we're going to run some heavy torture tests, trying to spot weaknesses (if there are any).
We start with 100% CPU load which, apparently, doesn't bother our Alienware 17 R3 the slightest –  its Core i7-6820HK runs at around 70°C. Half an hour later things are pretty much the same – 71-74°C temperature and a remarkable frequency of 3.2GHz, which is the maximum Turbo Boost for this processor.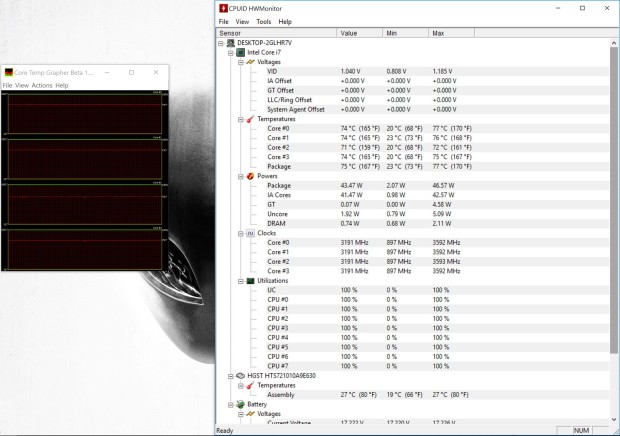 Take a look at the graph below – it indicates the CPU's temperature and its frequencies around the half hour mark.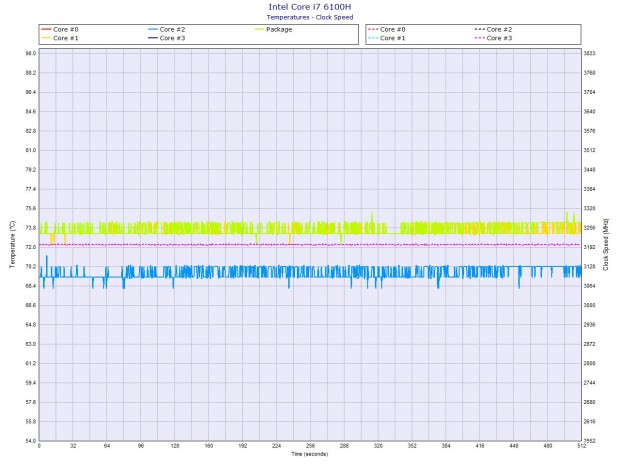 Without cutting off the CPU load, we're adding 100% GPU load to Alienware 17 R3's NVIDIA GeForce GTX 980M. It almost immediately reached 73°C, which is a good result. It's also good that the notebook stays quiet even when tested to its limits.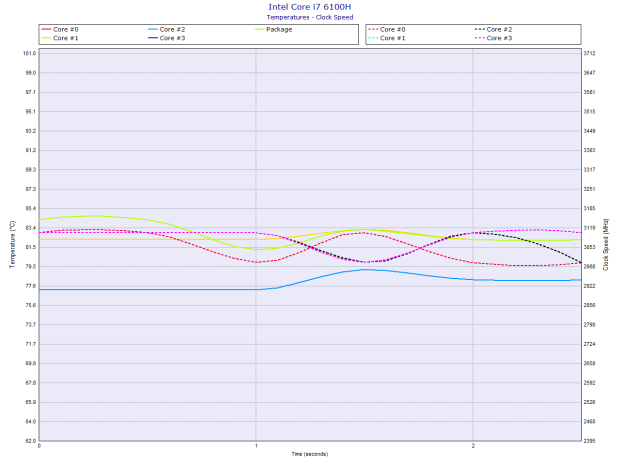 After 2 hours of maximum CPU and GPU load, we're measure the outside surface temperatures of the notebook. It's nice to see that, even in conditions which don't represent real life usage (it's nearly impossible to achieve this kind of load without synthetic software), Alienware 17 R3 keeps relatively low on the temp scale, not just internally, but on the outside as well. The hottest point is near the air vents (55°C) but this isn't an area that you'll be concerned with while working. The hottest point on the keyboard is ~50-52°C around the P and O keys. In other words, Alienware 17 won't cause you any discomfort even during long gaming sessions.
Conclusion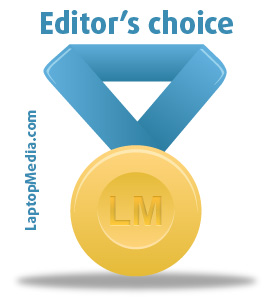 What a notebook! We'll start with its flaws because they're very simple to enumerate – Alienware 17 R3's price renders it day-dream territory for 99% of all users. And we're not even going to bother discussing the Alienware Graphics Amplifier bundle. Actually, we don't recommend the latter because in our tests, it didn't seem to provide a big FPS advantage in most of the games -we'll share a detailed test report in a dedicated article.
Let's talk about the notebook itself – it has great CPU and GPU performance (Intel Core i7-6820HK, GeForce GTX 980M) and blazing fast storage (NVMe SSD). It feels and looks alien… in a good way. It has aggressive design with sharp lines and glowing elements, and its construction is so rigid, we doubt you'd stumble upon any problems in the years following the purchase.
Alienware 17 R3 has a 4K Ultra HD IPS IGZO display, which is the best notebook display we've tested ever – it covers 100% of the sRGB and AdobeRGB color gamuts, has high brightness and good contrast, and most importantly – it doesn't use Pulse-Width Modulation across all brightness levels. Despite its more than 8 million pixels, R3's battery provides over 5 hours of Web Surfing in one charge.
Last but not least, Alienware 17 R3 has great thermal management and even when its CPU and GPU are loaded to the maximum, you won't experience any discomfort or tangible throttling.
You can check the current price of Alienware 17 R3 here: http://amzn.to/1JjnvZn
Pros
Enormous CPU/GPU/Storage performance
Nice looking, aggressive design
Lighter body than its predecessors
Sturdy construction
Comfortable TactX keyboard with numerous backlight combinations
Alienware Graphics Amplifier, HDMI 2.0 and USB Type-C ports
4K Ultra HD IPS IGZO screen with 100% sRGB and 100% AdobeRGB coverage, high brightness and good contrast
No PWM across all brightness levels
Great battery life for a gaming notebook
Superb thermal management and temperature stability under high load
Cons
High price
Alienware Graphics Amplifier doesn't support "asymmetrical" SLI configurations