Apple Mac mini (M1, 2020) review – could it possibly replace the Mac Pro?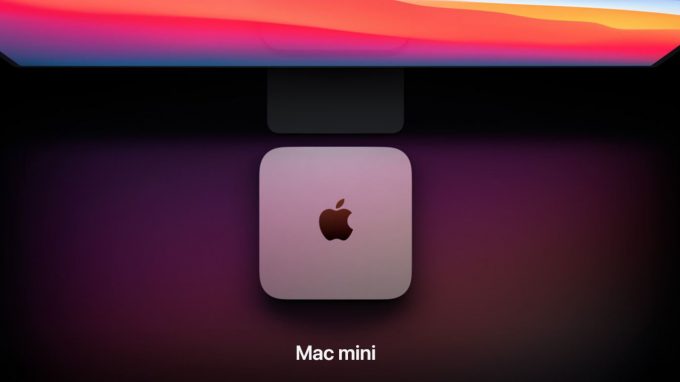 Previously when someone said Mac mini, the first thing that came into your mind would be a small-sized desktop computer. However, as Apple moved to the ARM chips, and the components inside became smaller than ever, the category for this piece of machinery became quite different. Although it can do everything your old Mac mini can, the M1-powered device looks more like a laptop without a screen… or a battery, to say the least.
However, because of the energy-efficient SoC, it is now virtually silent, even under heavy loads like video rendering, 3D modeling, and such. Well, at least that's what Apple wants us to believe, and we are surely going to test that. Nevertheless, based on what we saw on the MacBook Air and MacBook Pro a month ago, we are keen to believe in Apple's promises. Not only because of the immense power this little ARM chip delivers but also because of the quite bigger headroom for cooling, the Mac mini offers.
In the following lines, we will discuss how good of an office and desktop machine this device actually is and is it a good starting platform for some people to switch to macOS.
You can check the current price of Apple Mac mini (M1, 2020) here: Buy from Amazon.com (#CommissionsEarned)
Contents
Specs Sheet
| | Apple Mac mini (M1, 2020) |
| --- | --- |
| Dimensions | 197 x 197 x 36mm / 1.2 kg |
| SoC | Apple M1 (8CPU/8GPU cores) |
| Configurations | 8/16GB RAM; 256GB/512GB/1TB/2TB storage |
| Software | macOS Big Sur and newer |
| Ports and features | 2 Thunderbolt 3, 2 USB Type-A 3.2 (Gen. 2), HDMI 2.0, RJ-45, 3.5mm audio jack, Wi-Fi 6, Bluetooth 5.0, Gigabit Ethernet, Rosetta 2.0 |
| Price | Buy from Amazon.com (#CommissionsEarned) |
What's in the box?
Inside the package, you get the Mac mini, itself, as well as some paperwork, and a dual-pin power cable. Nothing unexpected from Apple, as they are generally lean on accessories.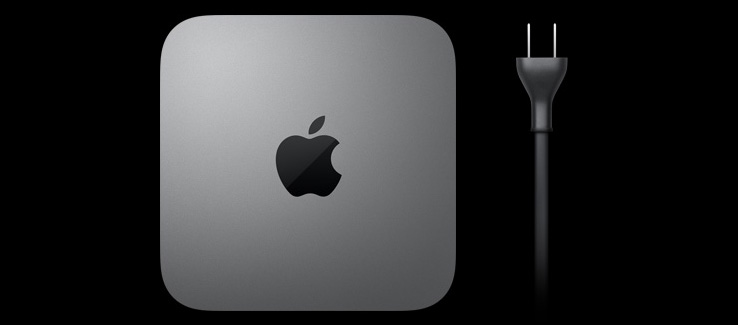 Design and construction
Undoubtedly, the Mac mini (M1, 2020) is a very tiny device if it is to be considered as a desktop. It measures 3.6 cm in profile and its sides are 19.7 cm wide. Its square shape is complemented by rounded side edges and a 90-degree dropoff from the top to the sides. Well, it weighs 1.20 kg (compared to 1.30 kg for the Intel version), and honestly, it shares the design of its older siblings.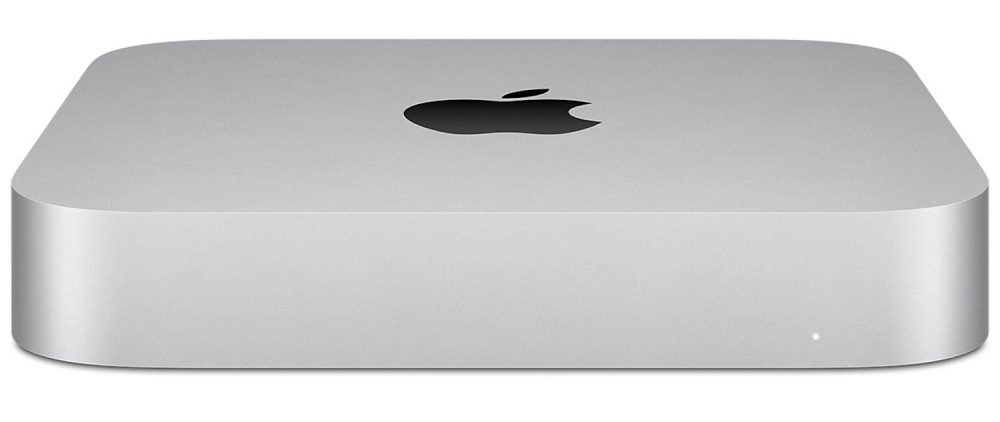 We see no issue with that, of course, as the small form factor still bests pretty much all ITX cases on the market.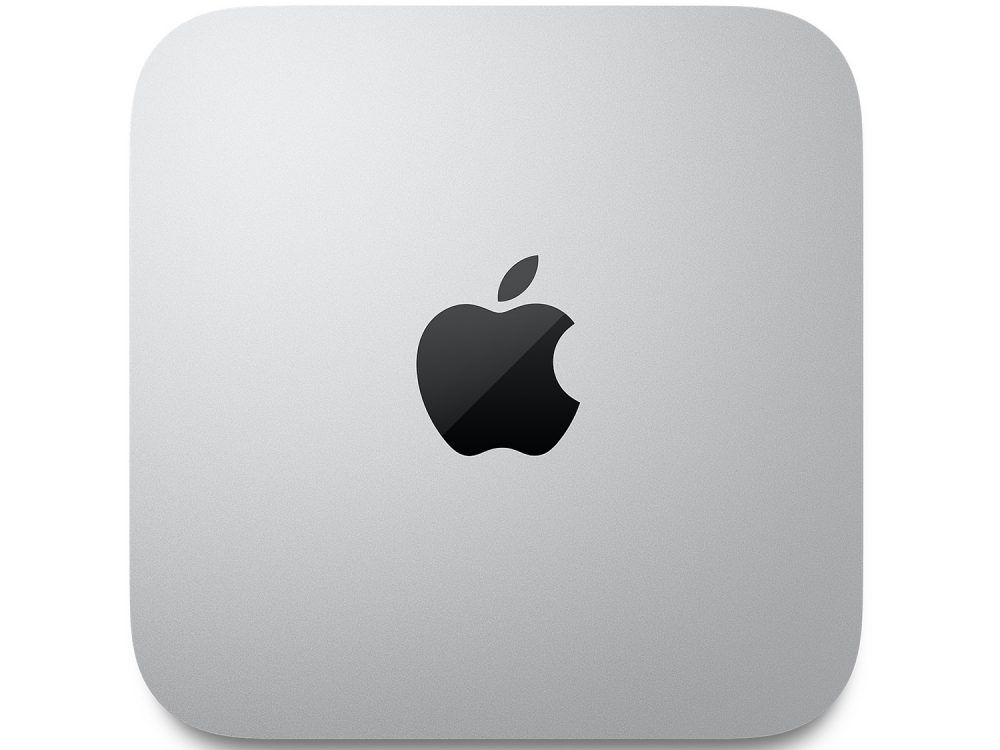 In terms of build quality, expect nothing but the best, as it has an entirely aluminum enclosure with plastic only found at the foot and the I/O shroud.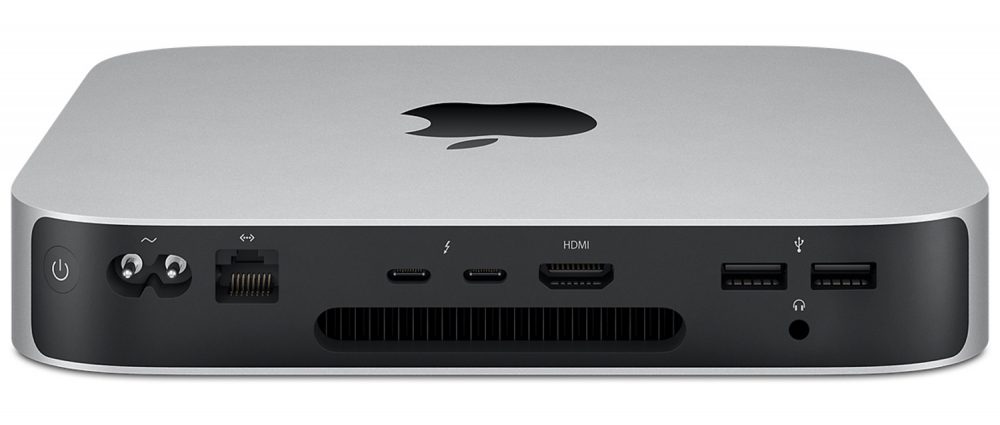 Ports
In contrast to the MacBooks of the last couple of years, the Mac mini actually packs a decent I/O selection. There are two USB Type-A 3.2 (Gen. 2) ports, an HDMI 2.0 connector, two Thunderbolt 3 connectors, an Ethernet jack, and the dual-pin power cable plug. This is also where you will find the Power button.

Disassembly, upgrade options, and maintenance
The first thing you need to do is to remove the plastic shroud on the bottom. Get a plastic tool and pry it away. After that, there are six Torx six screws you need to undo. Be careful, as the Wi-Fi antenna is attached to the motherboard, and you need to undo a further one Torx six screw to take it away.
The next thing in line is the cooling fan. To take it out, undo all four screws with the same screwdriver you've used until now. Then, disconnect the cable from the motherboard by lifting it away.
Before you do anything, unplug the power connector, as well as the connector next to the fan header. To do so, you need to remove some tape from the former and pop a clip on the latter. If your goal is to take the motherboard out of the chassis, there are only two Torx head screws you need to undo. This time, you need a Torx ten screwdriver. Keep in mind that you need to use some force, as they are tightened quite a bit. After you're done, just push on the heat sink to slide the motherboard away from the body. And this is how it looks. Sadly, all of the memory and storage is soldered, so you won't be able to upgrade anything internally.

Software
This Mac mini comes with a preinstalled version of the macOS Big Sur. Of course, all updates are done automatically, and you can configure when, and how to be implemented from the OS, itself. However, the biggest and most interesting feature of the software this device comes with, is undoubtedly the Rosseta 2. This is a real-time code translator, which lets you run x86 apps on your ARM processor. And this is exactly what makes the new MacBooks based on the M1 chip so special, as it provides almost full support for most Intel-based macOS programs.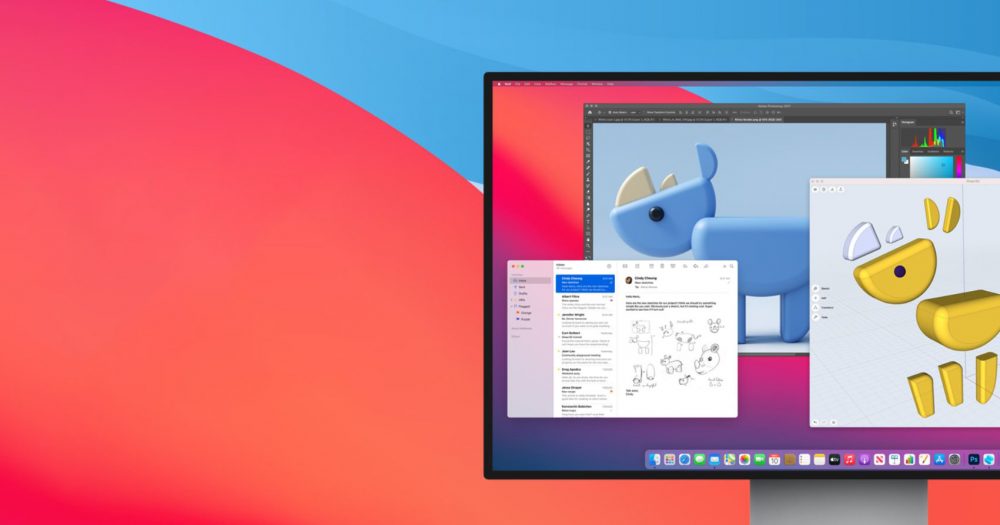 CPU/GPU – Apple M1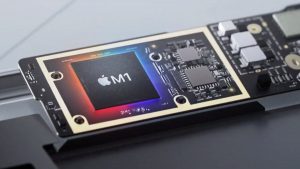 Apple's engineers have made their first-ever SoC that is to be used for desktop Mac and Macbooks. It is a statement that shows that Apple is relieving Intel and AMD from their duties of supplying chips for them since 2006 and that the Cupertino-based company is ready to dominate on the CPU/GPU hardware front, same as how they have been really dominant in the laptop, desktop, and smartphone markets as well.
As this is an SoC, it packs all the necessary components that a PC needs in one package, like the CPU, GPU, and RAM or as Apple refers to it, the Unified memory, which includes both the GPU VRAM and the CPU RAM.
Apple has also added a Neural Engine, to tackle AI, Apple's very own Secure Enclave, the SSD and USB controllers as well as the Image signal unit, and more.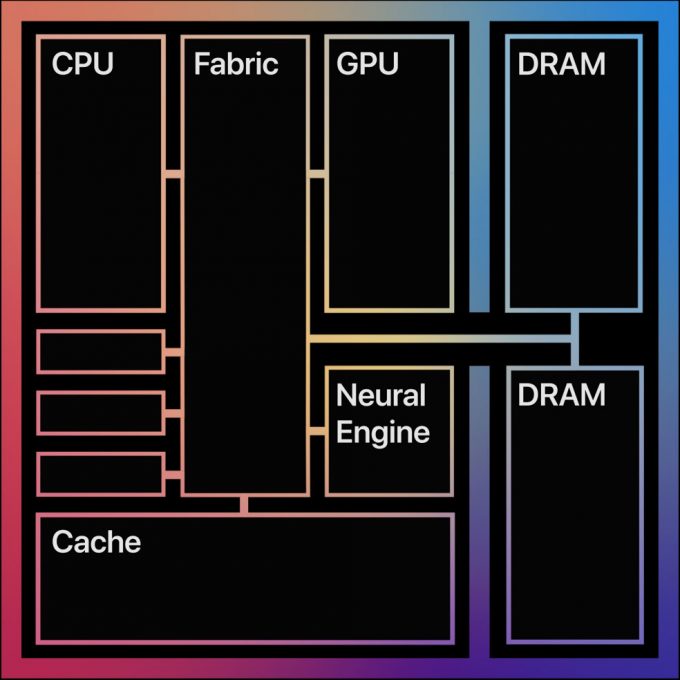 Before that, Macbooks and the Mac mini have relied on multiple processors to handle different work, and all those different chips have had to communicate with each other through long distances and access different memory that at the end of the day slows down the machine and hinders it from reaching its potential to the fullest.
Apple's Unified Memory Architecture places all of that needed memory in one place, that is next to the chips themselves, meaning that the distance that the signals have to travel is basically eliminated and that the processors inside don't have to go through different memory pools.
The M1 SoC has in itself an 8-core CPU that utilizes the big.LITTLE architecture, which has been a mainstay in smartphone chips since forever. The cores are divided into two pairs of four, with four high-power cores that kick in when performance is needed and four low-powered cores for power efficiency that are there to handle background tasks and other processes that don't require huge computing power. The combination of both ensure that power is there when needed, but in a way that doesn't compromise the power efficiency of the device.
The high powered cores, which have the codename "Firestorm"(don't worry, they don't get as hot as the name suggests), can work either alone, delivering great single-thread performance or in tandem, where they share the same memory and do a great job in multi-threaded tasks as well. Moving over to the power-efficient quartet, codenamed "Icestorm", which Apple says offers the performance of a previous generation dual-core MacBook Air, but with much lower power consumption.
To go a bit deeper, we would like to show you an X-Ray and CT scan of the M1 chip. The X-ray plus CT scan can give us detailed imaging for analysis as well as an inside look and an understanding of the complex system structures that were used in the creation of the SoC. From the scans, they identified the integration of two silicon decoupling capacitors in the M1. One that is embedded on the surface and one on the substrate. We can also take a look at the processor die, which uses a mind-blowing number of 16 billion transistors.
| CPU Benchmarks | single/multi Geekbench 5 |
| --- | --- |
| Apple Mac mini (M1, 2020) | 1747/7711 |
| Apple MacBook Pro 13 M1 | 1727/7564 |
| Apple MacBook Air M1 | 1732/7574 |
| Apple iPad Pro 11 2020 | 1118/4636 |
| | Cinebench R23 |
| --- | --- |
| AMD Ryzen 7 4800H | 10590 |
| AMD Ryzen 7 4800U | 10156 |
| AMD Ryzen 5 4600H | 8934 |
| AMD Ryzen 5 4600U | 8044 |
| Apple M1 (Apple Mac mini (M1, 2020)) | 7823 |
| Apple M1 (Apple MacBook Pro 13 (Late 2020)) | 7782 |
| Apple M1 (Apple MacBook Air (Late 2020)) | 7688 |
| Intel Core i7-10750H | 7314 |
| Intel Core i7-1185G7 | 6264 |
| Intel Core i5-8500B (Apple Mac mini (2018)) | 5612 |
Continuing with the iGPU inside the Apple M1, there are two distinct versions of the M1's GPU. One has all of the 8-cores enabled and will be used for high-end devices such as the MacBook Pro, Mac mini, and some configurations of the MacBook Air. The other version has one of the GPU cores disabled and its clock speeds lowered. With that, Apple has also shaved off some bucks off of the devices that will feature this version of the M1, mainly the MacBook Air.
| GPU Benchmarks | 3DMark Wildlife | GFXBench Manhattan 3.0 (1080p offscreen) | GFXBench Manhattan 3.1 (1080p offscreen) | GFXBench Aztec Ruins OpenGL (1080p offscreen) |
| --- | --- | --- | --- | --- |
| Apple Mac mini (M1, 2020) | 18085 | 407 fps | 275 fps | 217 fps |
| Apple MacBook Pro 13 M1 | 17752 | 407 fps | 274 fps | 215 fps |
| Apple MacBook Air M1 | 17698 | 404 fps | 273 fps | 214 fps |
| Apple iPad Pro 11 2020 | 13357 | 186 fps | 130 fps | 110 fps |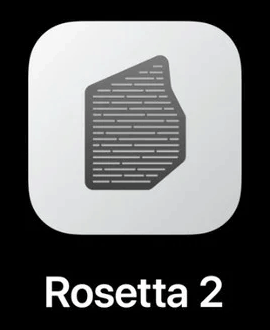 One new addition to the M1, which not many CPUs on the market have is a Neural Engine, which is implemented heavily in Apple's other SoCs inside their iPhones. The Neural Engine is specially designed to handle Artificial Intelligence and machine learning tasks, across various applications such as video analysis, voice recognition, and image processing.
Moving to one of the most important factors as to if the M1 will be successful and that is the architecture and the possibility of running apps on the M1. For that purpose, Apple has built various tools to help developers make apps that can run both on Intel and Apple Silicon chips. In addition to that, they have developed a new translation layer, called Rosetta 2, to allow x86 based apps to run on the M1. With this new translation layer, apps, that were previously designed to run on Intel CPUs, will be able to run on this new Apple SoC.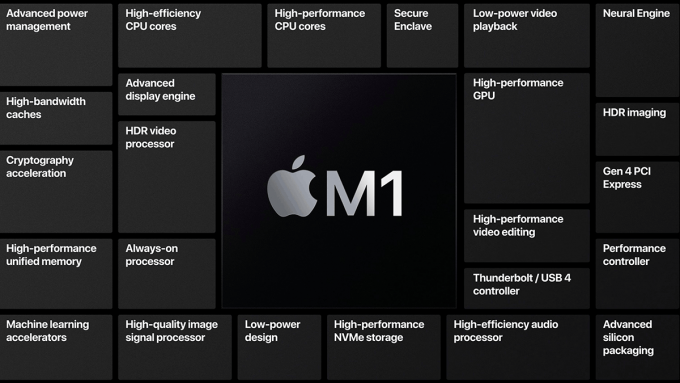 Storage
Our device was equipped with a 512GB NVMe SSD. We tested its speed with the Black Magic Disk Speed Test software. As you can see, it reaches 2901.8 MB/s Read and 2824.3 MB/s Write speeds.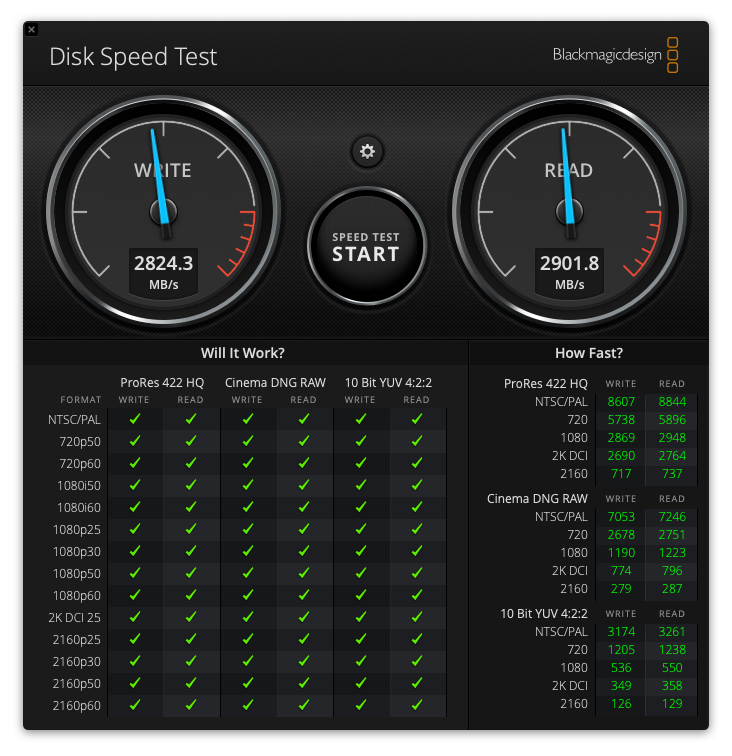 Temperatures and comfort
Max CPU load
In this test we use 100% on the CPU cores, using Cinebench R23 in loop mode. Keep in mind that because of Apple's limitations we weren't able to monitor the frequency of the Core. However, to assess the stability of the machine in the long runs, we took the results it posted in the first, middle, and the last test it ran.
CPU temp.
| Apple M1 | 0:02 – 0:10 sec | 0:15 – 0:30 sec | 10:00 – 15:00 min |
| --- | --- | --- | --- |
| Apple Mac mini (M1, 2020) | 35°C | 38°C | 53°C |
| Apple MacBook Pro 13 (Late 2020) | 38°C | 48°C | 71°C |
| Apple MacBook Air (Late 2020) | 45°C | 56°C | 79°C |
Stability
| Apple M1 | First run | Middle run | Last run | Amount of runs | Score |
| --- | --- | --- | --- | --- | --- |
| Apple Mac mini (M1, 2020) | 7810 | 7806 | 7810 | 18 | 7807 |
| Apple MacBook Pro 13 (Late 2020) | 7591 | 7659 | 7631 | 18 | 7648 |
| Apple MacBook Air (Late 2020) | 7688 | 6823 | 6660 | 16 | 6905 |
In comparison to the other two devices, released with the Apple M1 chip, the Mac mini arguably performs the best. It is to be expected, thanks to its far more superior cooling setup, but indeed – our tests show minor performance and stability increase, and a significantly lower temperature under load.
Comfort during full load
During the entire test, the fan of the Mac mini M1 was barely spinning. Thanks to the low TDP of the M1 chip, the device was barely audible, if not virtually silent.

Verdict
Well, there, for a starting price of $699 the Mac mini (M1, 2020) is probably the best way to start your journey into the Apple ecosystem. Thanks to the new Apple silicon it is extremely capable, even for professional work, and Rossetta 2 actually makes your experience effortless.
Keep in mind that the brand new Ryzen 5000 processors were just released, and they will probably provide better performance than the M1 in some scenarios. However, with a performance-per-watt this high, the Mac mini M1 is definitely a contented.
In terms of I/O we see something relatively decent, as you get two Thunderbolt 3 ports, two USB Type-A 3.2 (Gen. 2) ports, an HDMI connector, an Ethernet jack, and an audio jack. Well, we've seen laptops with a better port selection, and if this device classifies as a desktop, it looks petty. However, if we look at the Apple MacBooks of the past couple of years, we have to get at least some consolation.
And although the machine is extremely quiet and very cool even under extreme workloads, and long video rendering sessions, we have to note that the lack of upgradeability will definitely be a problem. Despite the fact that the MacOS needs a lot less RAM than Windows, the fact that even the storage is soldered is a bit troubling. Yet again, you can attach an external drive, but it will take some of the already slim I/O selection. And if you opt for a server, you have to note that the RJ-45 connector is only limited to 1Gbit speeds.
So, at the end of the day, the choice is in your hands. This desktop/laptop/mini PC abomination is outrageous in some ways, and completely brilliant in others.
Pros
Exceptional performance from the Apple M1 SoC
Arguably affordable
Extremely cool and quiet even under heavy load
Supports Wi-Fi 6 and features two Thunderbolt 3 ports
Great build quality
Cons
Ethernet is limited to 1Gbit
Soldered RAM and storage
You can check the current price of Apple Mac mini M1 (2020) here: Buy from Amazon.com (#CommissionsEarned)