ASUS Vivobook Pro 15 OLED (M3500) review – OLED panel and 45W CPU options in one place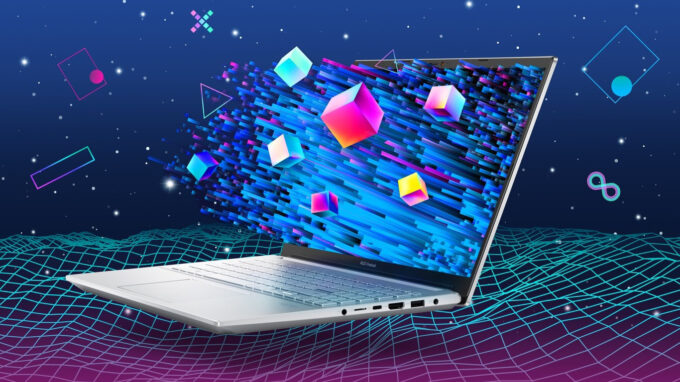 Not so long ago, we have reviewed another ASUS VivoVook laptop with an OLED panel (ASUS VivoBook 15 OLED K513), and today we're going to examine the ASUS Vivobook Pro 15 OLED (M3500). Just like the abovementioned sibling, the OLED panel is optional but of course, we've got a configuration with it for our review.
Alright, so, what's new? Well, the ASUS Vivobook Pro 15 OLED (M3500) can be configured with CPUs from the AMD Zen 3 platform which is a great choice when it comes to power and efficiency in one place. Actually, you can configure this laptop with an AMD Ryzen 9 5900HX – a slim device with one of the most powerful mobile processors sounds tempting. The notebook we've bought comes with an AMD Ryzen 5 5600H which should be "people's choice".
Specs-wise, everything looks more than fine – powerful CPU variants, optional NVIDIA GeForce RTX 3050 (50W), slot for NVMe drives, Wi-Fi 6 support, backlit keyboard, Web camera with privacy shutter, fingerprint reader, etc.
This machine seems like a great laptop that has powerful hardware under the bonnet and is portable at the same time. Let's not waste more time and we'll see if it's worthy or not.
You can check the prices and configurations in our Specs System: https://laptopmedia.com/series/asus-vivobook-pro-15-oled-m3500/
Contents
Specs Sheet
Samsung ATNA56YX03-0 (SDC4161)
HDD/SSD
up to 1000GB SSD
OS
Windows 10 Home, Windows 11 Home, No OS
Battery
63Wh, 3-cell, 63.5Wh, 63.3Wh
Body material
Plastic / Polycarbonate, Aluminum
Dimensions
359.8 x 235.3 x 18.9 ~ 19.9 mm (14.17" x 9.26" x 0.74")
1x USB Type-A
3.2 Gen 1 (5 Gbps)
1x USB Type-C
3.2 Gen 1 (5 Gbps)
Audio jack
3.5mm Combo Jack
Fingerprint reader
optional
Microphone
Array Microphone
Speakers
Speakers by Harman Kardon
All ASUS VivoBook Pro 15 OLED (M3500) configurations
#CommissionsEarned
What's in the box?
The package is standard – you'll find a laptop, protective cloth, manuals, and a 90W power adapter (the more powerful versions come with a 120W adapter).
Design and construction
This notebook is offered in two color options – Quiet Blue and Cool Silver. Our laptop comes in a Quiet Blue color. The good news is we have a machine that weighs 1.65 kg and its profile is 18.9 ~ 19.9 mm – not bad at all. Sure, the profile could be even thinner but this device comes with 45W CPUs and these chips need more space for proper "breathing" (as well as a beefier cooling solution). The notebook looks modern, the lid is made of aluminum while the rest is plastic. Still, the build quality is fine for this price range.
The lid can be opened with a single hand and it's a bit bouncy when you release it. The bezels around the panel are thin but we've seen thinner. The Web camera has a hardware shutter which is a nice touch.

As we said earlier, the base is made of plastic but luckily it's rigid. The keyboard has a backlight that can help you in a darker environment while the keycaps provide decent travel and clicky feedback. Overall, this unit is good for typing. Still, we like the presence of the NumberPad but its keys are narrower and the Arrow keys are too small for comfortable use.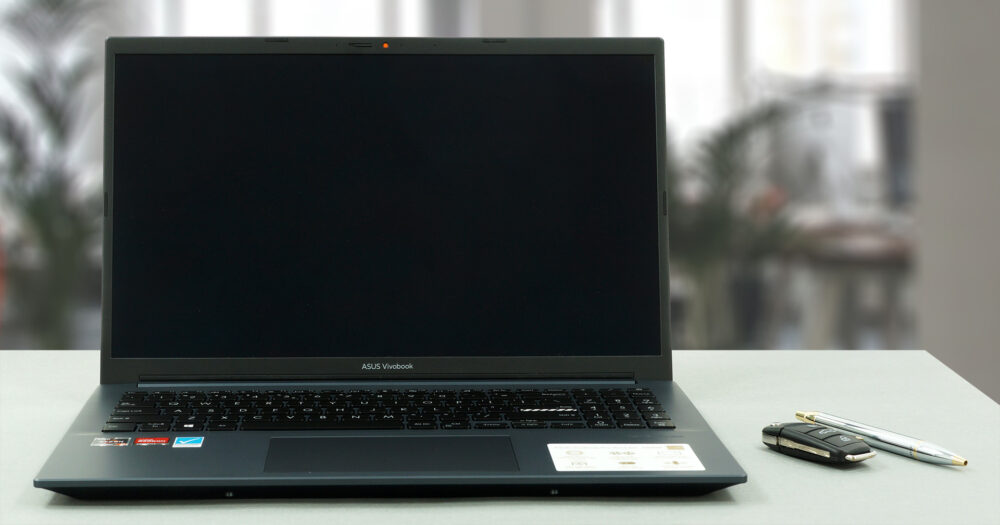 The touchpad is a large unit that is made of plastic but its surface offers good gliding and decent accuracy.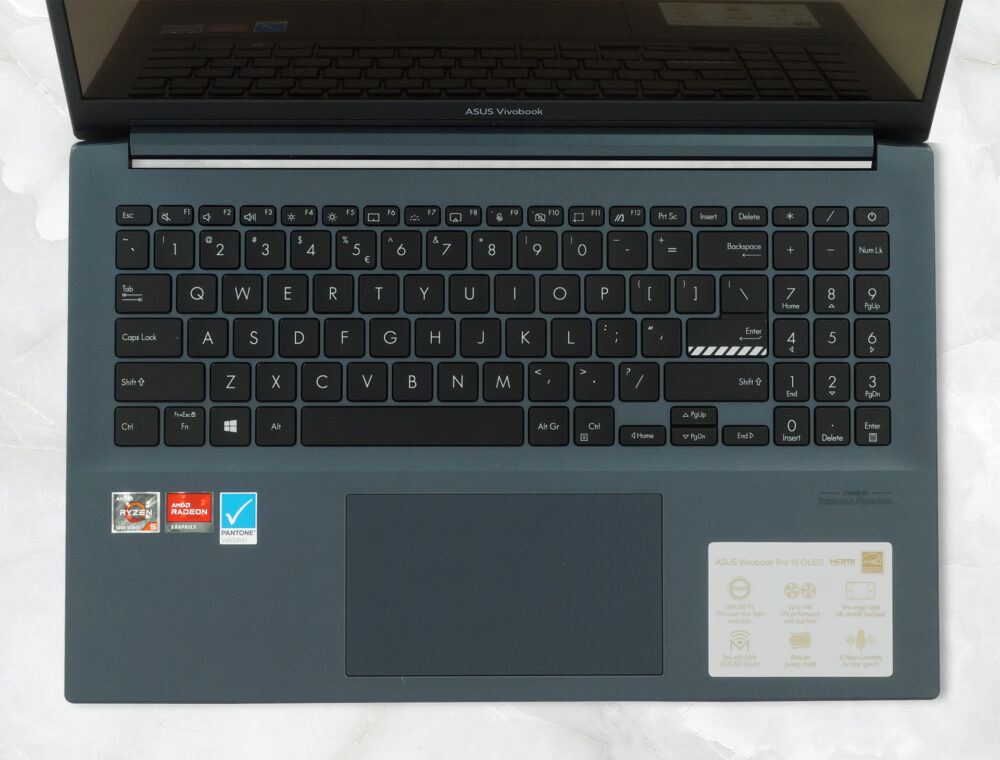 At the bottom plate, you can see cutouts for the speakers as well as a big ventilation grille. The hot air is exhausted from the back of the laptop and from the area between the base and the lid.

Ports
The left side of the laptop has just two USB Type-A 2.0 ports (really?!). Most of the ports are placed on the right side and it has a power plug, HDMI 1.4 port, USB Type-A 3.2 (Gen. 1) port, one Type-C 3.2 (Gen. 1) port, MicroSD card reader, and an audio jack.
Disassembly, upgrade options and maintenance
For removing the bottom plate you have to unscrew 10 Torx head screws. Then, you can remove the bottom panel from the chassis with the aid of a plastic pry tool.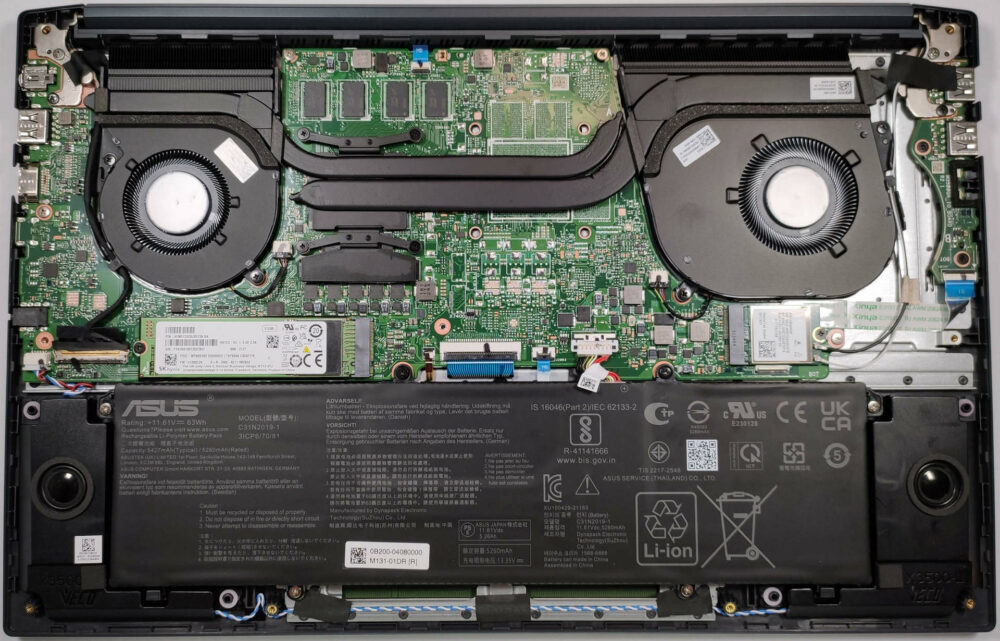 Here, we have a 63Wh battery unit – a normal capacity for this kind of screen size.

Upgradability-wise, this device is a bit of a disappointment. You can have it with 8GB or 16GB soldered memory so yes, future RAM upgrades are impossible. There is just a single M.2 slot for NVMe drives and that's all.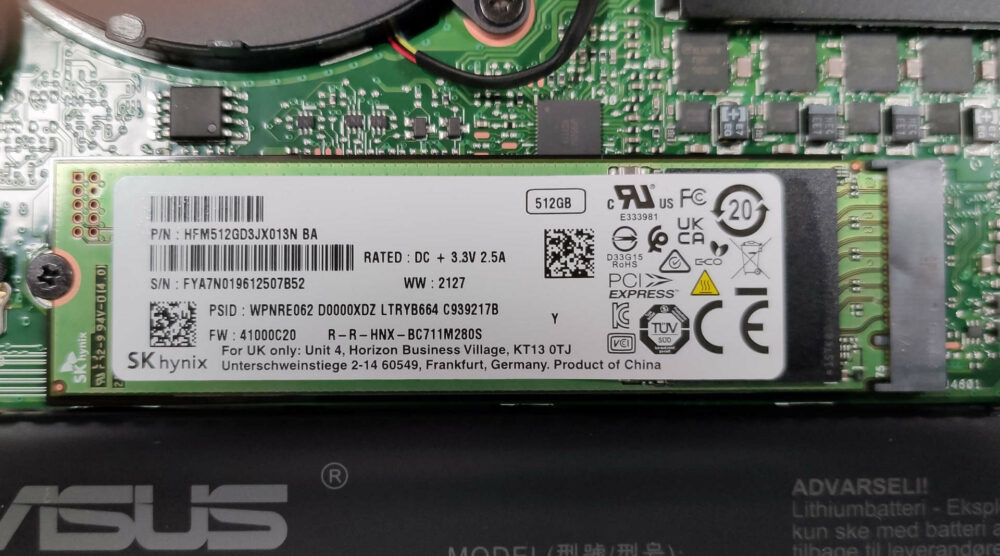 The cooling solution looks decent – it has two fans, two heat pipes (one of them is significantly bigger compared to the other), and two heat sinks.

Display quality
Our ASUS Vivobook Pro 15 OLED (M3500) is equipped with a Samsung AMOLED panel with a model number ATNA56YX03-0 (SDC4161). Its diagonal is 15.6-inch (39.62 cm), and the resolution is 1920 x 1080p. Additionally, the screen ratio is 16:9, the pixel density – 142 ppi, their pitch – 0.18 x 0.18 mm. The screen can be considered Retina when viewed from at least 60 cm (from this distance, the average human eye can't see the individual pixels).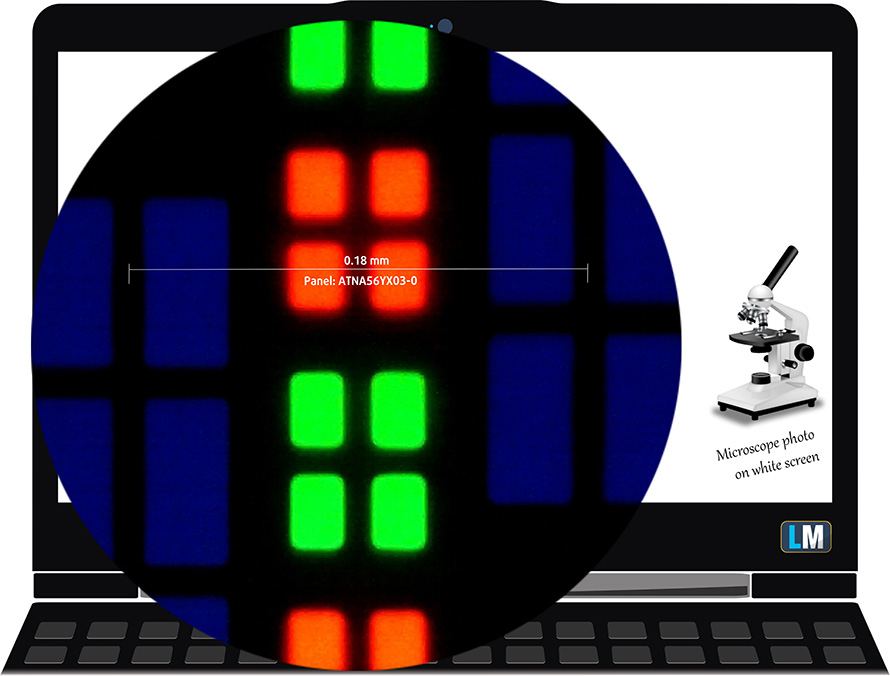 The viewing angles are good. We offer images at different angles to evaluate the quality.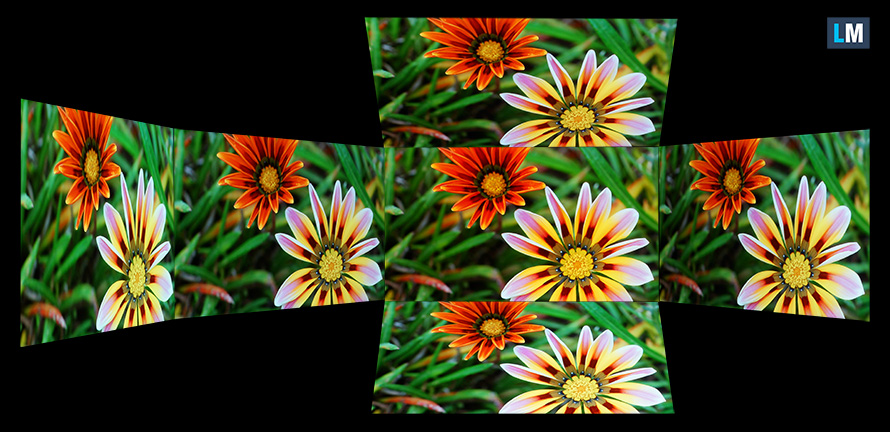 Also, a video with locked focus and exposure.
The maximum measured brightness is 383 nits (cd/m2) in the middle of the screen (HDR off). The Correlated Color Temperature on a white screen and at maximum brightness is 6440K – almost matching the 6500K temperature for sRGB.
In the illustration below you can see how the display performs from a uniformity perspective.
Values of dE2000 over 4.0 should not occur, and this parameter is one of the first you should check if you intend to use the laptop for color-sensitive work (a maximum tolerance of 2.0 ). The contrast ratio here is incomparably better than that of the IPS and TN panels and is mathematically infinite because when the display is showing black color, the diodes are going off.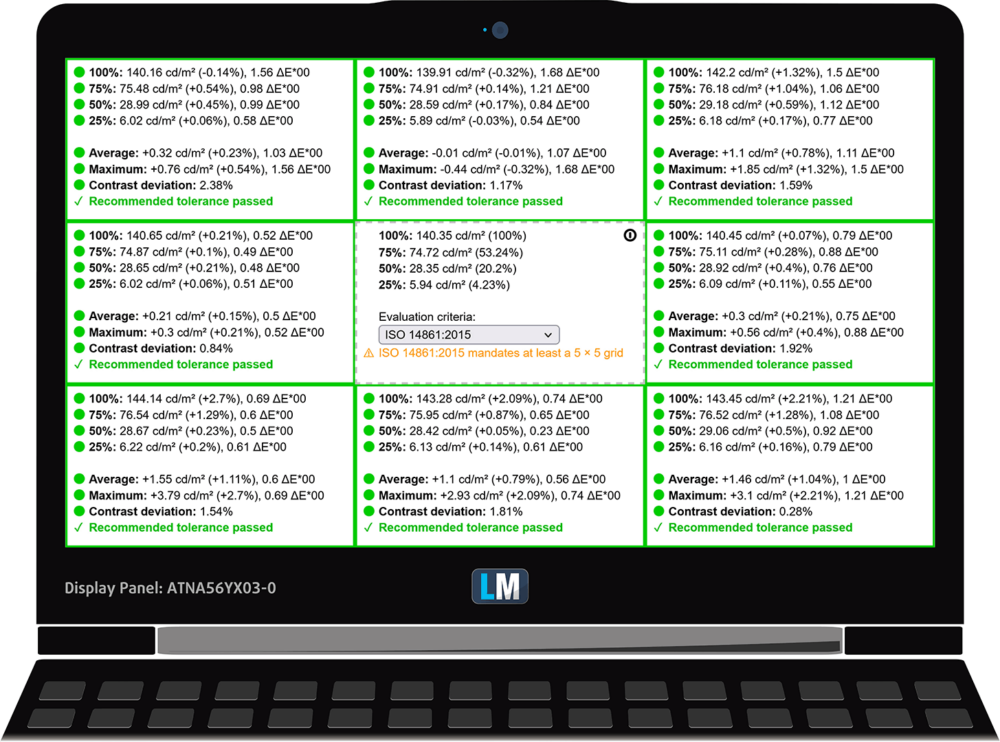 To make sure we are on the same page, we would like to give you a little introduction to the sRGB color gamut and the Adobe RGB. To start, there's the CIE 1976 Uniform Chromaticity Diagram that represents the visible specter of colors by the human eye, giving you a better perception of the color gamut coverage and the color accuracy.
Inside the black triangle, you will see the standard color gamut (sRGB) that is being used by millions of people on HDTV and on the web. As for the Adobe RGB, this is used in professional cameras, monitors, etc for printing. Basically, colors inside the black triangle are used by everyone and this is the essential part of the color quality and color accuracy of a mainstream notebook.
Still, we've included other color spaces like the famous DCI-P3 standard used by movie studios, as well as the digital UHD Rec.2020 standard. Rec.2020, however, is still a thing of the future and it's difficult for today's displays to cover that well. We've also included the so-called Michael Pointer gamut, or Pointer's gamut, which represents the colors that naturally occur around us every day.
The yellow dotted line shows ASUS Vivobook Pro 15 OLED (M3500)'s color gamut coverage.
Its display covers 100% of the sRGB/ITU-R BT.709 (web/HDTV standard) in CIE1976 and 100% of DCI-P3 providing a punchy and vibrant image.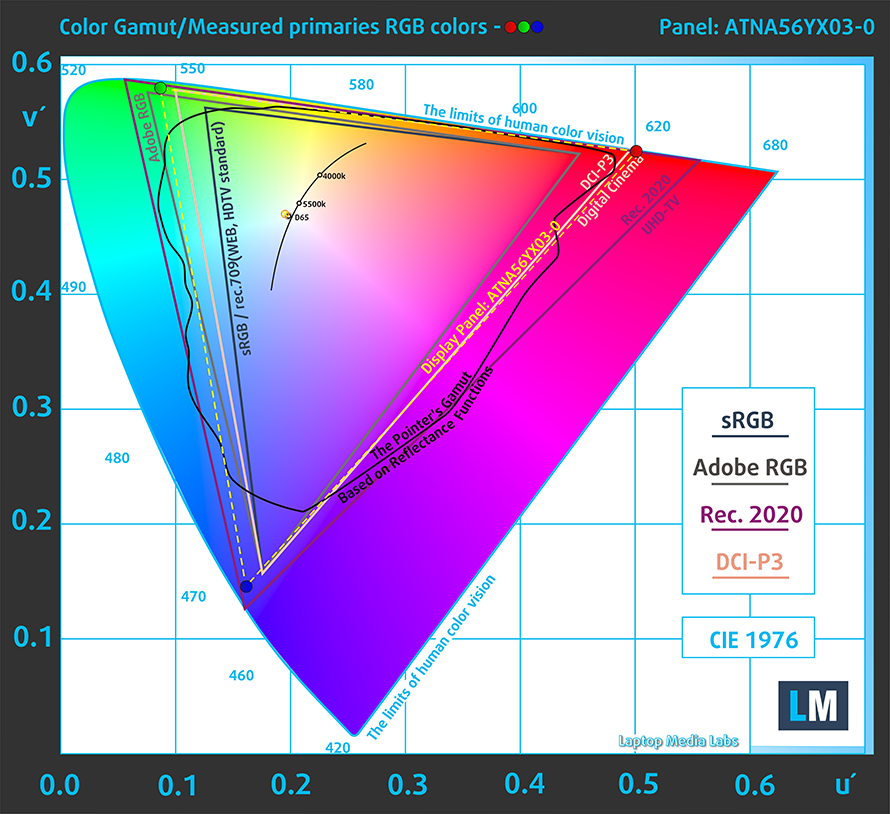 Our "Design and Gaming" profile delivers optimal color temperature (6500K) at 140 cd/m2 luminance and sRGB gamma mode.
We tested the accuracy of the display with 24 commonly used colors like light and dark human skin, blue sky, green grass, orange, etc. You can check out the results at factory condition and also, with the "Design and Gaming" profile.
Below you can compare the scores of ASUS Vivobook Pro 15 OLED (M3500) with the default settings (left), and with the "Gaming and Web design" profile (right).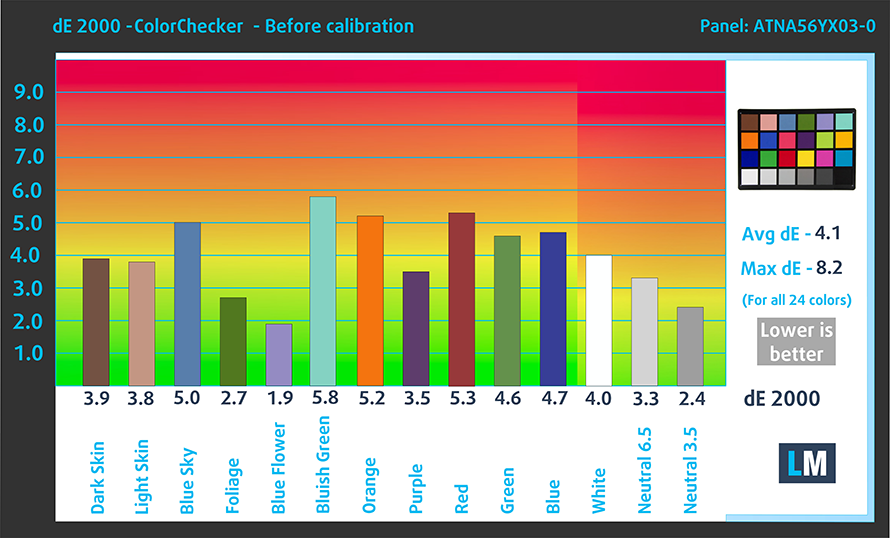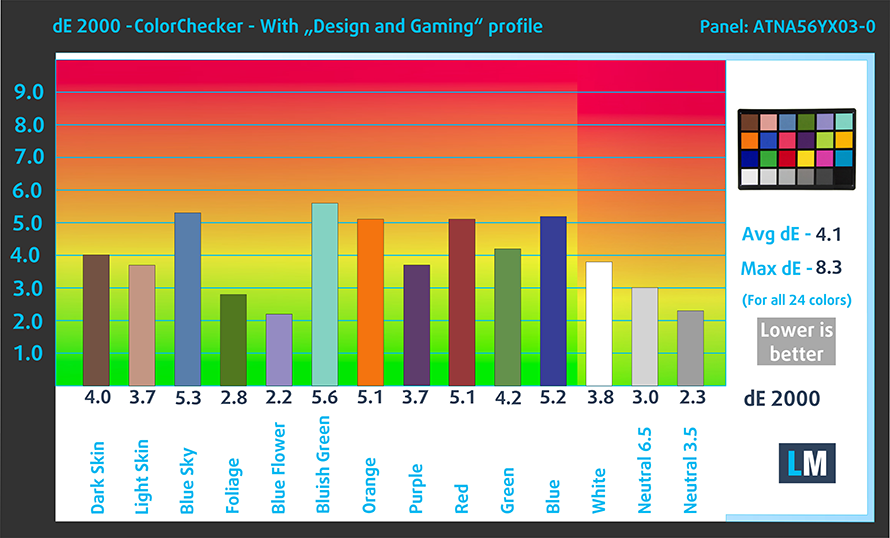 Response time (Gaming capabilities)
We test the reaction time of the pixels with the usual "black-to-white" and "white-to-black" method from 10% to 90% and vice versa.
We recorded Fall Time + Rise Time = 2.6 ms – now, that's fast.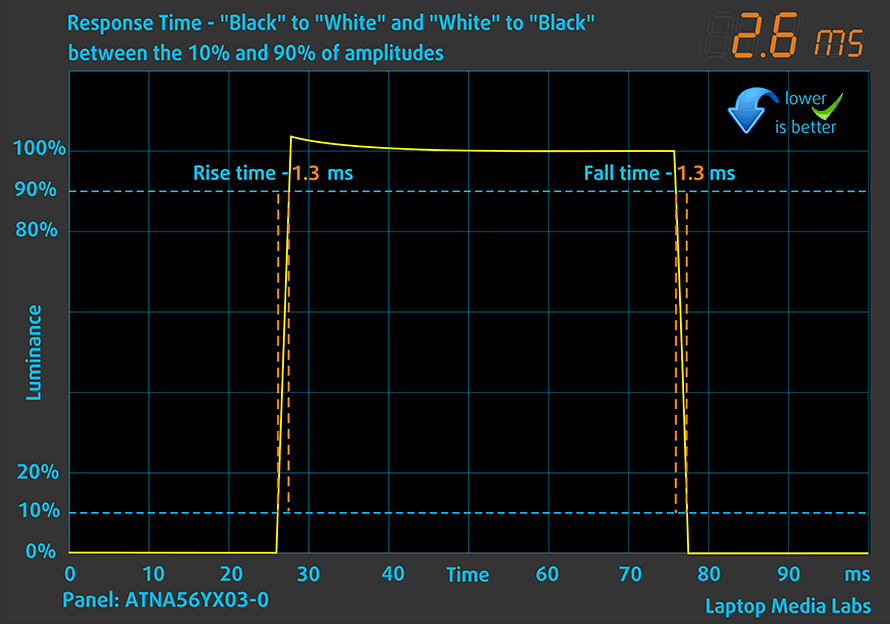 After that, we test the reaction time of the pixels with the usual "Gray-to-Gray" method from 50% White to 80% White and vice versa between 10% and 90% of the amplitude.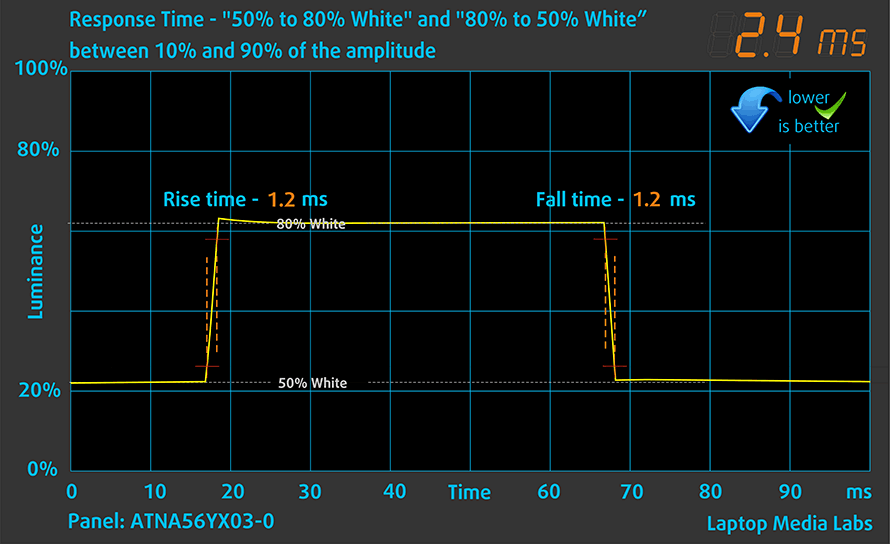 Health impact – PWM / Blue Light
PWM (Screen flickering)
Pulse-width modulation (PWM) is an easy way to control monitor brightness. When you lower the brightness, the light intensity of the backlight is not lowered, but instead turned off and on by the electronics with a frequency indistinguishable to the human eye. In these light impulses, the light/no-light time ratio varies, while brightness remains unchanged, which is harmful to your eyes. You can read more about that in our dedicated article on PWM.
When it comes to PWM usage, the ASUS Vivobook Pro 15 OLED (M3500)'s display uses low-frequency PWM for brightness adjustment up until 94 nits. Afterwards, we inspected small pulsations, which makes the display relatively safe in this aspect (after 95 nits).

Blue light emissions
Installing our Health-Guard profile not only eliminates PWM but also reduces the harmful Blue Light emissions while keeping the colors of the screen perceptually accurate. If you're not familiar with the Blue light, the TL;DR version is – emissions that negatively affect your eyes, skin, and your whole body. You can find more information about that in our dedicated article on Blue Light.

Buy our profiles
Since our profiles are tailored for each individual display model, this article and its respective profile package are meant for ASUS Vivobook Pro 15 OLED (M3500) configurations with 15.6″ Samsung ATNA56YX03-0 (SDC4161) (1920 x 1080p) AMOLED panel.
*Should you have problems with downloading the purchased file, try using a different browser to open the link you'll receive via e-mail. If the download target is a .php file instead of an archive, change the file extension to .zip or contact us at [email protected]
Read more about the profiles HERE.
In addition to receiving efficient and health-friendly profiles, by buying LaptopMedia's products you also support the development of our labs, where we test devices in order to produce the most objective reviews possible.
Sound
ASUS Vivobook Pro 15 OLED (M3500)'s Harman Kardon speakers offer sound clear from deviations across the entire frequency range. Although the maximum volume is not very high, the sound quality is good.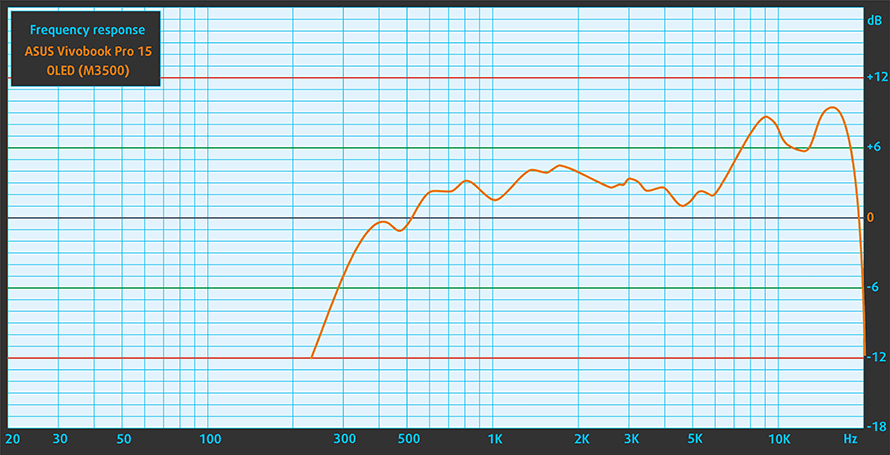 Drivers
All of the drivers and utilities for this notebook can be found here: https://www.asus.com/Laptops/For-Home/Vivobook/Vivobook-15-OLED-K513-11th-gen-intel/HelpDesk_Download/

Battery
Now, we conduct the battery tests with Windows Better performance setting turned on, screen brightness adjusted to 120 nits, and all other programs turned off except for the one we are testing the notebook with. When it comes to battery life, this ASUS machine can show some good results. We got 11 hours and 7 minutes of Web browsing and 7 hours and 42 minutes of videos.
In order to simulate real-life conditions, we used our own script for automatic web browsing through over 70 websites.
For every test like this, we use the same video in HD.
CPU options
This laptop has three CPU variants for configuring – AMD Ryzen 9 5900HX, AMD Ryzen 7 5800H, AMD Ryzen 5 5600H.
Results are from the Cinebench R23 CPU test (the higher the score, the better)
Results are from our Photoshop benchmark test (the lower the score, the better)
GPU options
The iGPU-only models rely on some powerful integrated graphics solutions like the AMD Radeon RX Vega 8 (R4000/5000, 35/45W) or AMD Radeon RX Vega 7 (R4000,5000 35/45W). If you need better GPU performance, there is an NVIDIA GeForce RTX 3050 (50W).
Results are from the 3DMark: Time Spy (Graphics) benchmark (higher the score, the better)
Results are from the 3DMark: Fire Strike (Graphics) benchmark (higher the score, the better)
Results are from the Unigine Superposition benchmark (higher the score, the better)
Gaming tests (internal display)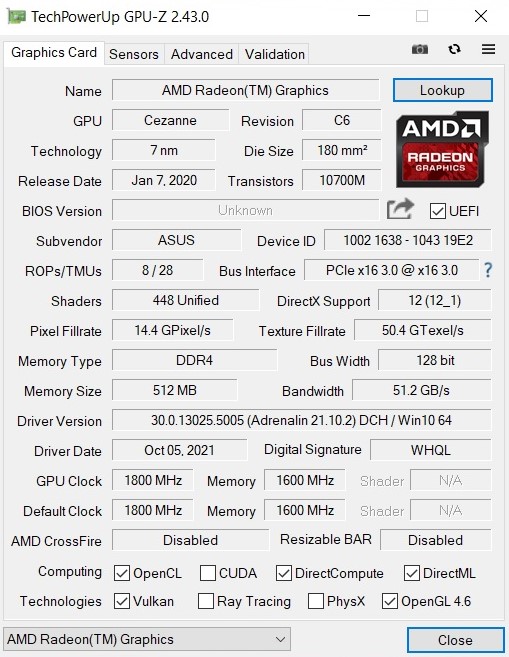 Gaming tests (external display)
Temperatures and comfort
Max CPU load
In this test we use 100% on the CPU cores, monitoring their frequencies and chip temperature. The first column shows a computer's reaction to a short load (2-10 seconds), the second column simulates a serious task (between 15 and 30 seconds), and the third column is a good indicator of how good the laptop is for long loads such as video rendering.

Average core frequency (base frequency + X); CPU temp.
| AMD Ryzen 5 5600H (45W TDP) | 0:02 – 0:10 sec | 0:15 – 0:30 sec | 10:00 – 15:00 min |
| --- | --- | --- | --- |
| ASUS Vivobook Pro 15 OLED (M3500) Performance mode | 3.52 GHz (B+7%) @ 78°C | 3.58 GHz (B+8%) @ 94°C | 3.40 GHz (B+3%) @ 90°C |
| ASUS Vivobook Pro 15 OLED (M3500) Normal mode | 3.48 GHz (B+5%) @ 86°C | 3.25 GHz (B-2%) @ 92°C | 3.18 GHz (B- 4%) @ 84°C |
| ASUS Vivobook Pro 15 OLED (M3500) Whisper mode | 3.31 GHz (B+0.3%) @ 79°C | 3.09 GHz (B-6%) @ 85°C | 2.39 GHz (B-28%) @ 65°C |
| Acer Nitro 5 (AN515-45) | 3.57 GHz (B+8%) @ 69°C | 3.47 GHz (B+5%) @ 69°C | 3.56 GHz (B+8%) @ 82°C |
| Lenovo Yoga Slim 7 Pro (14) | 3.43 GHz (B+4%) @ 78°C | 3.35 GHz (B+2%) @ 88°C | 3.06 GHz @ 93°C |
| Lenovo Legion 5 Pro (16″) | 3.77 GHz (B+14%) @ 84°C | 3.79 GHz (B+15%) @ 89°C | 3.76 GHz (B+14%) @ 97°C |
The performance of the ASUS Vivobook Pro 15 OLED (M3500) can be fine-tuned through the MyASUS app that comes preinstalled or can be downloaded via MS Store. The fans can be set in three modes – Performance, Normal, and Whisper. The Performance mode is the way to go if you want to squeeze the best possible performance of the whole package. In this scenario, the CPU frequency is always above the official base clock while the chip is maintaining 90°C in longer loads. The fans are audible even in idle and when you apply some serious load, the noise levels can be too high for some of you.
The Normal mode offers a quieter experience and a bit lower CPU clocks (sadly, slightly below the base frequency in medium and long stress) while in Whisper mode the machine becomes quiet all the time but the performance is reduced under serious loads because of the lowered CPU clock.
Comfort during full load
If you need a quiet device for normal daily usage, you can use the Whisper mode – the device is nearly silent while the center of the keyboard gets warm but not too much and the same goes for the WASD area and the palm rest section. The "Performance" and "Normal" modes offer a bit cooler shell and better performance but the device is noisier (especially if you use Performance).

Verdict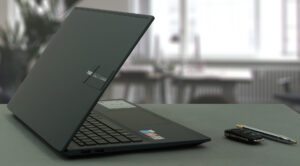 It looks like the ASUS Vivobook Pro 15 OLED (M3500) is a more than decent offer. In terms of hardware, you can choose between 6-core and 8-core AMD Zen 3 CPUs – if you don't need too much processor power the AMD Ryzen 5 5600H is a good all-rounder that can do the job in most situations.
Now, this is not a gaming device but playing games on this machine is definitely possible. The iGPU-based devices are good enough for 1080p gaming on Low or even higher settings. Games like Dota 2, CS:GO, Team Fortress 2, Warframe, Rocket League, etc, can be played just fine with the available AMD integrated graphics solutions. Here's our playlist with 35 gameplay benchmarks:
https://www.youtube.com/playlist?list=PLpYZc4lOys6g_XNJ1_dxJASQpuLevres7
For people who need more graphics power, the NVIDIA GeForce RTX 3050 (50W) will certainly boost the over performance. And yes, this one is far more powerful compared to the iGPU variants.
The build quality is surprisingly good – the lid is made of aluminum, it's stable, and you can open it with a single hand. The base is made of plastic but it offers a decent amount of rigidity even when you want to twist it on purpose. The keyboard comes with good key travel and feedback, while the Arrow keys are too small for comfortable use. The large touchpad is a great unit – it has a good gliding surface and accuracy is on point.
The OLED display (Samsung ATNA56YX03-0 (SDC4161)) is just great – it has comfortable viewing angles, an infinite contrast ratio, comes with HDR 600 support, and fully covers the sRGB and DCI-P3 gamuts. When it comes to PWM, we detected small pulsations after 95 nits, or in other words, the display is rather safe for long hours of use, below that brightness level. Oh yes, and it has a 2.6 ms response time so it can be great for gaming, especially if you get the optional GeForce RTX 3050 (50W) for boosting the FPS values.
The upgradability is where this device falls short – soldered memory (which luckily works in dual-channel mode), no SODIMMs, and just one M.2 slot – such a shame. Future RAM upgrades are impossible so we can strongly advise you to pick the 16GB version of this machine if the price isn't a problem.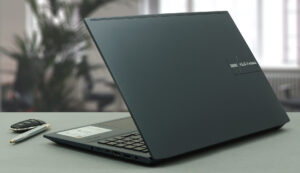 You can fine-tune the device through the My ASUS app and more specifically, we're talking about the fan profile. If you use Performance mode, the CPU will not drop its frequency below the base clock – the downside here is the noise level which is above average and may be too intrusive for some. The Normal mode is suitable for almost anything, the fans aren't too loud, and in normal conditions, you'll not spot any difference compared to the Performance mode. Unfortunately, in this scenario, during heavy stress, the CPU drops slightly its clock below the base one. The Silent mode offers a nearly silent experience with reduced performance but it's still suitable for casual daily tasks.
Overall, the ASUS Vivobook Pro 15 OLED (M3500) is a solid package – the build quality is decent for its price tag, the keyboard/touchpad combo is good for everyday usе, there is an optional OLED panel, and four other IPS variants if you want to save some bucks. The AMD Zen 3 CPU options come with great performance and efficiency, and that's why the battery life is great too.
You can check the prices and configurations in our Specs System: https://laptopmedia.com/series/asus-vivobook-pro-15-oled-m3500/
Pros
Good battery life
Comfortable keyboard for typing with backlight
Optional OLED display
Powerful AMD Zen 3 CPU options
Snappy performance
The CPU boost above its base clock in Performance mode
100% sRGB and DCI-P3 coverage (Samsung ATNA56YX03-0 (SDC4161))
HDR 600 support and infinite contrast ratio (Samsung ATNA56YX03-0 (SDC4161))
Cons
Modest I/O
Poor upgradability
Noisy in Performance mode
Low-frequency PWM usage below 94 nits (Samsung ATNA56YX03-0 (SDC4161))