Dell Inspiron 5559 review – reliable machine for your business tasks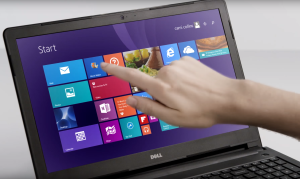 Along with the high-end business systems like the machines in the XPS line (XPS 15 review / XPS 13 review), Dell makes affordable work notebooks for users who don't want to set aside hefty budgets, but need a reliable machine for everyday tasks.
The notebook we have now is something more – it has a Core i7 processor and a dedicated GPU. That's a "ULV" processor and entry-level graphics, but it's enough for pretty good computing performance for business applications and casual gaming now and then.
The thing is, Dell has managed to build a very well balanced machine for the asking price, and this is the reason why Inspiron 5559's predecessor, Inspiron 5558, was (and still is) that popular. Moreover, our detailed review of it is one of the most popular articles ever on LaptopMedia.
You can check the current price of Dell Inspiron 5559 here: http://amzn.to/1nVJWzg
Contents
What's in the box?
Dell Inspiron 5559 has the sufficient minimum in its box – just the charger and a couple of manuals. The power adapter is made by KTL, model SU10462-9047. It delivers 65W of power (19.5V, 3.34V).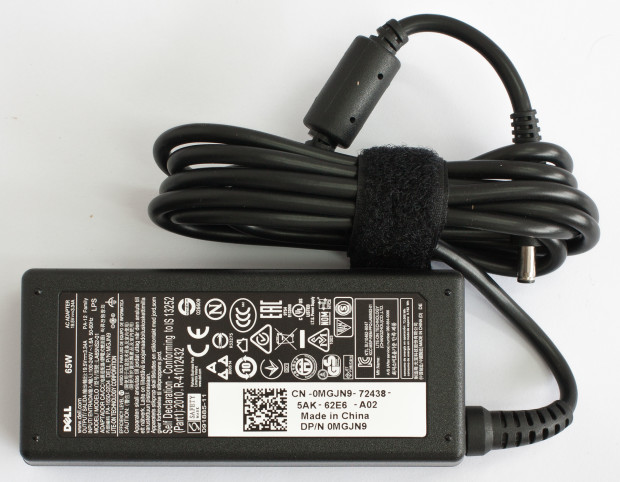 Design and construction
Dell's designers have kept the looks of the new Inspiron 5559 as simple as possible. The plastic lid has an interesting jagged texture which feels nice to touch, seems durable, and most importantly – doesn't attract fingerprints and smudges. Okay, maybe the durability should be of greater importance but we can rest assured, considering that the American company never makes compromises in that regard. You might be able to guess that when you notice the 36 month warranty (check terms and conditions for your country). If that's not enough to convince you, take a look at the tests that Dell conducts on every Inspiron prototype model: Every Inspiron has to survive short-term heat conditions of up to 65°C/149°F, opening and closing the lid 20,000 times, 10 million keystrokes and twisting the laptop's base and lid more than 25,000 times.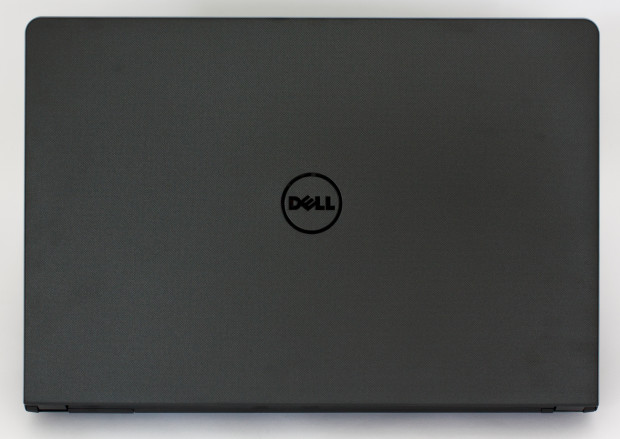 The simple but elegant looks remain in place once the lid is opened – most of the interior has the same surface. The only exceptions are the keyboard base and the screen borders, which are covered with matte plastic. They're also relatively thin, which adds to the nice design.
The keyboard is "Island Style", with 14.6 x 14.6 mm keys. In order to include a NumPad block as well, Dell has sacrificed a bit of the Digits keys size – they're a bit narrower – 12.8 x 14.6 mm. Luckily, the trackpad has a takes up a rather generous area – 105 x 80 mm (84 cm2). That's more than sufficient to facilitate easy work with gestures. The keyboard is pretty comfortable for typing but we would like bigger and better divided arrow keys (the arrows are half-height, with the "Up" and "Down" stuck next to each other).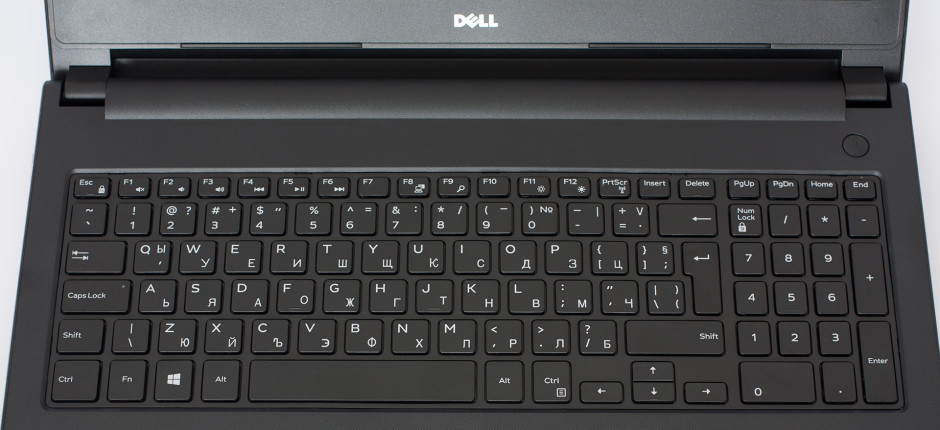 The laptop sides are covered with glossy plastic. The left is populated by a DC-in charging port, Ethernet LAN, HDMI, USB and card reader. We also have two air vents and it's good to see them there – occasionally, when some laptops have them on the right side instead, one might feel some discomfort when the notebook is heavily loaded and hot air is being blown toward the hand, where the mouse is. However, Dell Inspiron 5559 is not intended for gaming, nor is it meant for applications with heavy computing tasks.
On the left side we have an audio jack, two more USB ports, DVD writer and a Kensington Lock slot. The back is clear and the front just houses the stereo speakers.
Display and Sound
Dell Inspiron 5559 has a WXGA display with a TN panel and glossy finish – model number N156BGE. It is a 15.6-inch (39.62 cm) screen with a resolution of 1366 x 768, 16:9 aspect ratio and pixel density of 100 ppi, at 0.253 x 0.253 mm pixel pitch. The display can be regarded as "Retina" (the eye cannot distinguish separate pixels) when viewed from a distance equal to or greater than 86 cm.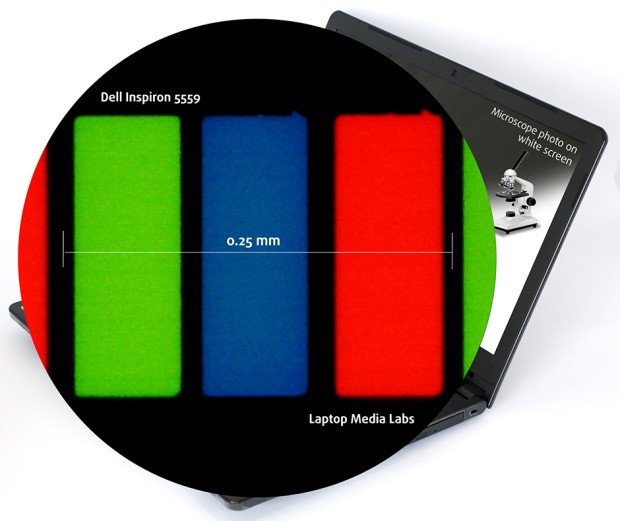 Dell Inspiron 5559 doesn't offer comfortable viewing angles as you can see in the 45° image below.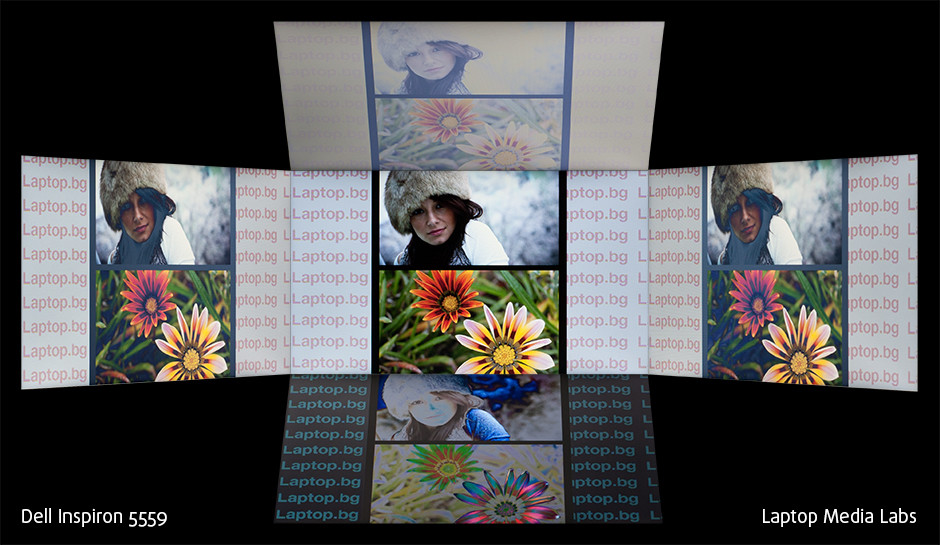 The measured average maximum brightness pre-calibration is 255 cd/m2 with 11% deviation. The average color temperature on the screen is 7100K – daylight type, a bit colder (blueish) than the optimal (6500K).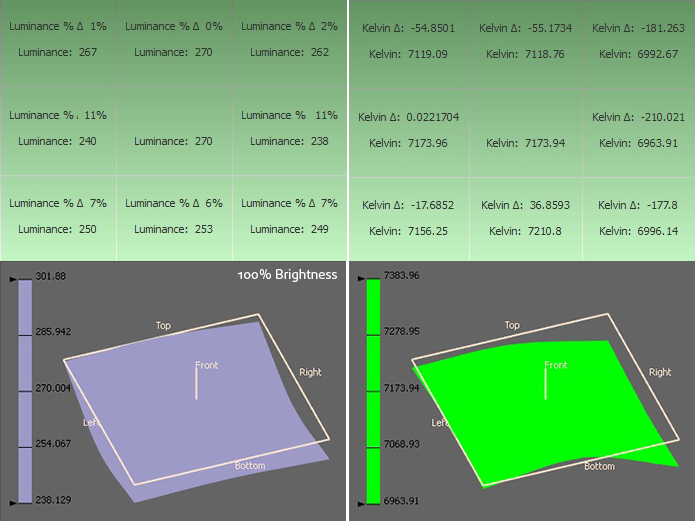 Color reproduction
To make sure we are on the same page, let's have a little introduction into the sRGB and Adobe RGB color gamuts. The CIE 1976 Uniform Chromaticity Diagram represents the spectrum of colors visible to the human eye, thus giving you a better perception of color gamut coverage and color accuracy. Inside the black triangle, you will see the standard color gamut (sRGB), used by millions of people in HDTV and on the Web. As for Adobe RGB, it is used to work with professional cameras and monitors when preparing print. Basically, colors inside the black triangle are used by everyone, and so reproducing them accurately is key in a quality display.
The yellow triangle below represents the coverage of the Dell Inspiron 5559 display – 59.4% of the sRGB color gamut means that it won't provide very saturated colors.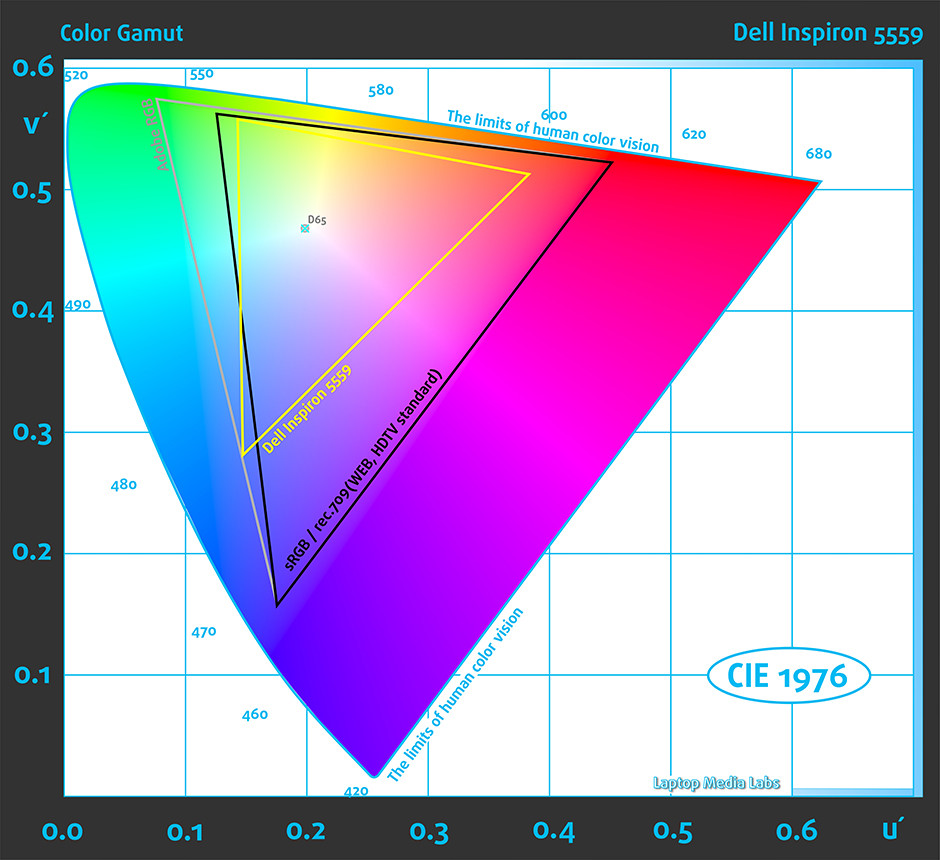 The image below is practically the same as the one above, but this time you can see the colors that have 100% and 50% saturation, as well as the reference colors indicated by the white dots. We set the display at 140 cd/m2 luminance, illuminant white point D65 and the sRGB gamma curve (it differs from the 2.20 one, please check the Gamma graph below).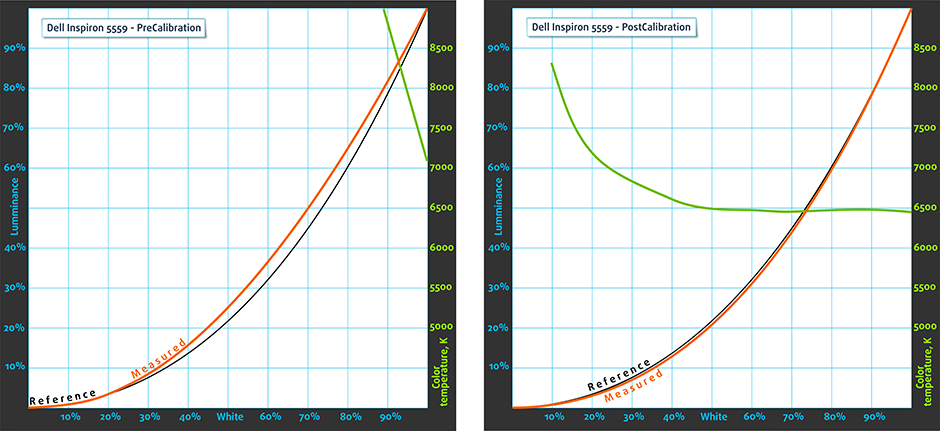 When the screen covers less than that required (59.4% of the sRGB color gamut after calibration), it translates into less vivid colors. If the display is calibrated correctly, the colors can be considered relatively accurate, but the images will be a bit pale. This is exactly the case with Dell Inspiron 5559.
Below you can see the results from the accuracy color checker with 24 commonly used colors like light and dark human skin, blue sky, green grass, orange etc. After profiling the color accuracy, average DeltaE 2000 is 0.66. The contrast ratio is 1000:1 before calibration and 970:1 after calibration. Both results are impressive.
PWM
Dell Inspiron 5559's screen uses pulse-width modulation. The display is PWM-free only at maximum brightness. Keep in mind that the frequency of the pulsations is low, which increases their negative impact.

Conclusion
Dell Inspiron 5559's display is a compromise between quality and price. If you're using the notebook with an external monitor, you should be OK.

Buy our profiles
Since our profiles are tailored for each individual display model, this article and its respective profile package is meant for Dell Inspiron 5559 configurations with 15.6″ InnoLux N156BGE-E42 (HD, 1366 x 768) TN panel, which can be found on Amazon: http://amzn.to/1ma7Oyr
*Should you have problems with downloading the purchased file, try using a different browser to open the link you'll receive via e-mail. If the download target is a .php file instead of an archive, change the file extension to .zip or contact us at [email protected]
Read more about the profiles HERE.
[edd_item edd_id_1='71189′ edd_id_2='71192′ edd_id_3='71195′ edd_id_4='71198′]
Sound
Dell Inspiron 5559 has high quality stereo sound and a couple of modes available – for maximum sensitivity and playback detail. The movies sound soft, while the music playback is good at the mid and high tones, but there's a lack of clarity in the lower ones. We detected some resonance there as well.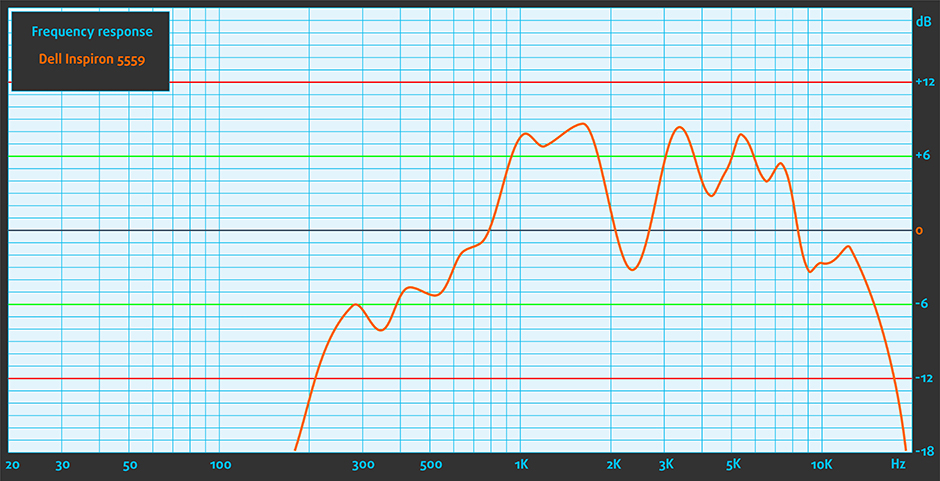 Specs sheet
These technical specifications refer only to the particular device being tested in this review. Laptops from the same series could have different characteristics and features.
CPU
Intel Core i7-6500U (2-core, 2.50 – 3.10 GHz, 4MB cache)
RAM
8GB (2x 4096MB) – DDR3L, 1600MHz
GPU
AMD Radeon R5 M335 (4GB DDR3)
HDD/SSD
1TB HDD (5400 rpm)
Display
15.6-inch (39.62 cm.) – 1366 x 768, glossy
Optical drive
DVD burner
Connectivity
LAN 10/100 Mpbs, Wi-Fi 802.11ac, Bluetooth 4.0
Features

1x USB 3.0
2x USB 2.0
built-in HD Web camera
built-in microphone
combo audio jack (headphone/microphone)
keyboard LED backlight
HDMI
memory card reader (SD, SDHC, SDXC)
RJ-45
Kensington lock slot

Battery
4-cell, 40 WHr
Weight
2.4 kg
Drivers
The configuration we tested came without Windows pre-installed, so if you need drivers, you should check the official support page:
http://www.dell.com/support/home/us/en/19/Products/?app=drivers

Battery Life
Our configuration of Inspiron 5559 has a 40 Whr battery, but the model can be found with 47 Whr as well. The results shouldn't be very different, but 40 Whr doesn't sounds like much, even though we're talking about a notebook with a ULV processor and entry-level GPU. We don't know what the exact power consumption of the Radeon M335 is, but it should be around 30W, while i7-6500U has TDP of 15 watts. That said, we don't expect great performance in terms of battery life, but we hope for at least several hours at normal load.
We'll conduct our usual tests including Surfing the Web, Video Playback and Gaming. All of them we run at connected Wi-Fi, 120 cd/m2 brightness and Power Saver mode.
Web Surfing
As usual, we start with the Web browsing test, which uses a custom script to automatically load different popular pages.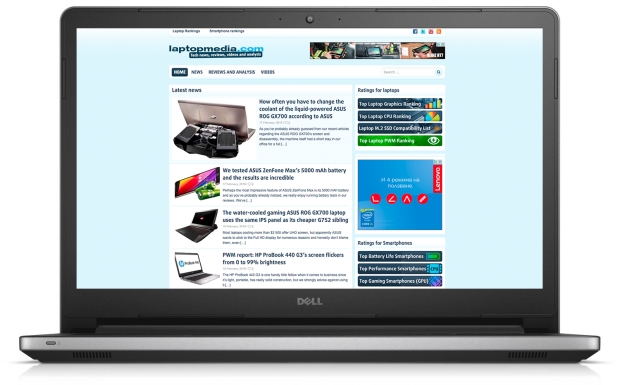 322 minutes (5 hours and 22 minutes) is a decent result and we're okay with it.
Video Playback
For our Video playback test we use a 720p HD movie.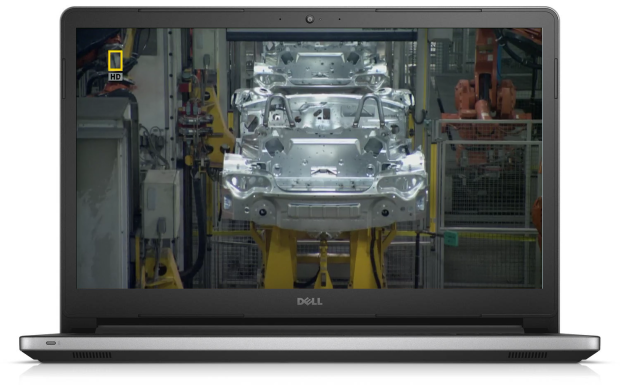 284 minutes of HD video playback (4 hours and 44 minutes) is not bad as well.
3D Gaming
For accurate simulation, we used the F1 2015 benchmark running on a loop with graphic settings set to minimum, 768p.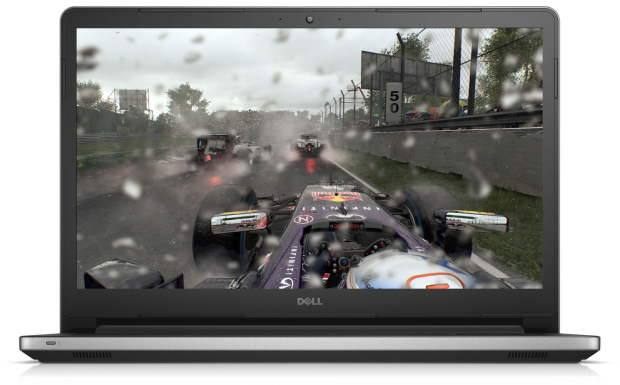 We doubt that someone will use Inspiron 5559 for gaming on a regular basis, let alone without a charger, but if you should happen to do that – you have three hours(175 mins, to be accurate) before you run out of juice, which is good.

CPU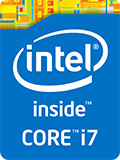 Intel Core i7-6500U is part of the Skylake generation processors and it's part to the ULV lineup (ultra-low voltage) with a 14nm FinFET manufacturing process. It has two cores that support Hyper-Threading technology resulting in up to 4 threads. The chip is a direct successor to the Core i7-5500U Broadwell CPU offering slightly better performance with emphasis on the power efficiency features.
The CPU is clocked at 2.5 GHz and can go up to 3.1 GHz for one active core or 3.0 GHz for two active cores. Also, the silicon includes an Intel HD Graphics 520 iGPU that sports 24 Execution Units ticking at 300 MHz and can go up to 1.05 GHz. The whole SoC supports DDR4-2133/DDR3L-1600 memory in a dual-channel array. So the whole chip is rated at 15W TDP, including the memory controller and the integrated graphics, thus making it suitable for 11-inch notebooks or larger. It also supports the cTDP down feature and the OEM can lower the TDP to 7.5W.
You can browse through our top CPUs ranking: http://laptopmedia.com/top-laptop-cpu-ranking/
Here you will find other useful information and every notebook we've tested with this processor: http://laptopmedia.com/processor/intel-core-i7-6500u/
Results are from our Photoshop benchmark test (the lower the score, the better)
Results are from the Fritz chess benchmark (the higher the score, the better)
Fritz
Fritz is a chess benchmark that tests the computing capabilities of the CPU with various chess moves. The Intel Core i7-6500U managed to get 6.211 million moves per second. In comparison, one of the most powerful chess computers, Deep(er) Blue, was able to squeeze out 200 million moves per second. In 1997 Deep(er) Blue even beat the famous Garry Kasparov with 3.5 to 2.5.

GPU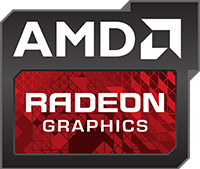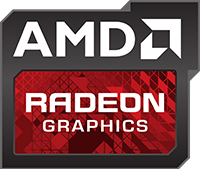 AMD Radeon R5 M335 is an entry-level graphics card that is mostly used in entry-level notebooks. The GPU is a Tonga derivative supporting DirectX 12, Vulkan and even FreeSync. The chip is clocked at 1070 MHz, which is particularly high for its class, but the 64-bit DDR3 memory, clocked at 2200 MHz (effective) serves as a bottleneck in this situation. Also, the chip is manufactured using a 28nm process and adopts 320 shaders built on the GCN architecture.
Moreover, the chip includes several useful decoders such as MPEG-4 AVC/H.264, VC-1, MPEG-2, Multi-View Codec (MVC), MPEG-4 part 2 (DivX, xVid) HD, and Flash. The chip also integrates some features that reflect on power consumption like ZeroCore for reduced power demand when the display is turned off, and Power Gating for switching off areas of the chip that are not currently in use. The R5 M335 also supports HD Audio (TrueHD or DTS Master Audio) via HDMI and DisplayPort.
You can browse through our GPU ranking to see where the AMD Radeon R5 M335 (4GB DDR3) stands: http://laptopmedia.com/top-laptop-graphics-ranking/
For more information about the GPU, follow this link: http://laptopmedia.com/video-card/amd-radeon-r5-m335-2gb-ddr3/
Results are from the 3DMark: Fire Strike (Graphics) benchmark (higher the score, the better)
Dell Inspiron 15 5559 GPU variants
Here you can see an approximate comparison between the GPUs that can be found in the Dell Inspiron 15 5559 models on the market. This way you can decide for yourself which Dell Inspiron 15 5559 model is the best bang for your buck.
Note: The chart shows the cheapest different GPU configurations so you should check what the other specifications of these laptops are by clicking on the laptop's name / GPU.
Results are from the 3DMark: Fire Strike (Graphics) benchmark (higher the score, the better)
Gaming Tests
We conducted the gaming tests in HD resolution, using driver version 15.2.


| Tomb Raider (768p, Low) | Tomb Raider (768p, Medium) | Tomb Raider (768p, Max) |
| --- | --- | --- |
| 33 fps | 15 fps | 9 fps |


| F1 2015 (768p, Low) | F1 2015 (768p, Medium) | F1 2015 (768p, Max) |
| --- | --- | --- |
| 26 fps | 19 fps | 13 fps |


| Thief (768p, Low) | Thief (768p, Medium) | Thief (768p, Max) |
| --- | --- | --- |
| 18 fps | 14 fps | 9 fps |

| GTA 5 (768p, Low) | GTA 5 (768p, Medium) | GTA 5 (768p, Max) |
| --- | --- | --- |
| 32 fps | 9 fps | — fps |

| Counter-Strike: Global Offensive (768p, Low) | Counter-Strike: Global Offensive (768p, Medium) | Counter-Strike: Global Offensive (768p, Max) |
| --- | --- | --- |
| 65 fps | 35 fps | 22 fps |
Temperatures, Comfort and Stability
At normal load (playback of HD video), the Core i7-6500U in Inspiron 5559 has a mean temperature of 48C, while working at 3.1GHz – the maximum Turbo Boost frequency. In order to stress it out, we put a 100% CPU load, which immediately resulted in a CPU temperature rise to 72-73C.
The processor dropped its frequency to 2.9 GHz (0.1 GHz below the maximum Turbo boost for 2 cores), which is actually a good result given the base clock rate of 2.5 GHz. Anyway, we didn't expect anything different, keeping in mind that we're testing a ULV CPU with 15W TDP.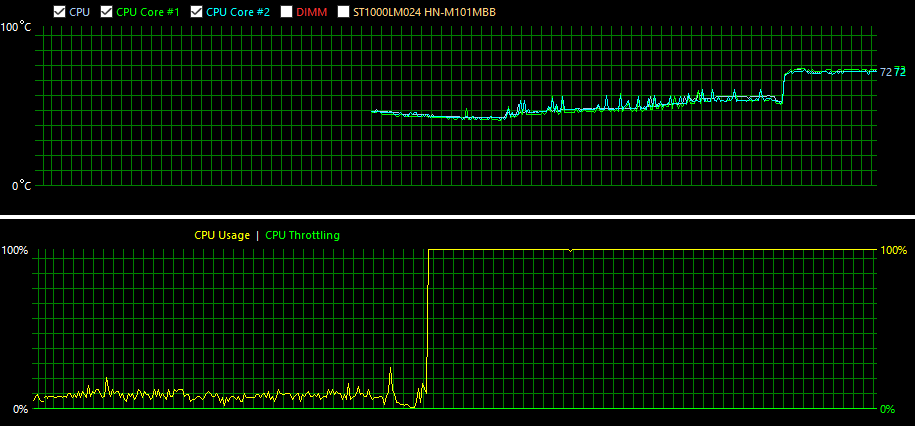 Maximum Load
After 30 minutes of 100% CPU load, we're pushing the notebook cooling system to its limits. This doesn't represent real-life usage but is a clear indicator of the system stability in the long-term. Without stopping the CPU load, we're adding 100% GPU load on the AMD Radeon M335.
That caused another temperature jump for the CPU – it reached 84C, while the GPU temperature sensor quickly showed 80C. One hour later the CPU operates at 93C and the GPU – at 87C. The CPU frequency is 2.8GHz, which is still 200MHz more than the base clock. The GPU frequencies are 1070MHz / 900MHz for the Core and the Memory, respectively. We should note that the Tj.Max for i7-6500U is 100 °C and the 93°C mark is at safe distance (if the temperatures were higher, the CPU would start throttling).
Surface temperatures and comfort
Before stopping the 100% CPU + 100% GPU load, we measured the surface temperatures of 5559's body. The left side of the keyboard is the hottest area – it doesn't reach uncomfortable levels, but you'll definitely feel that it's warmer.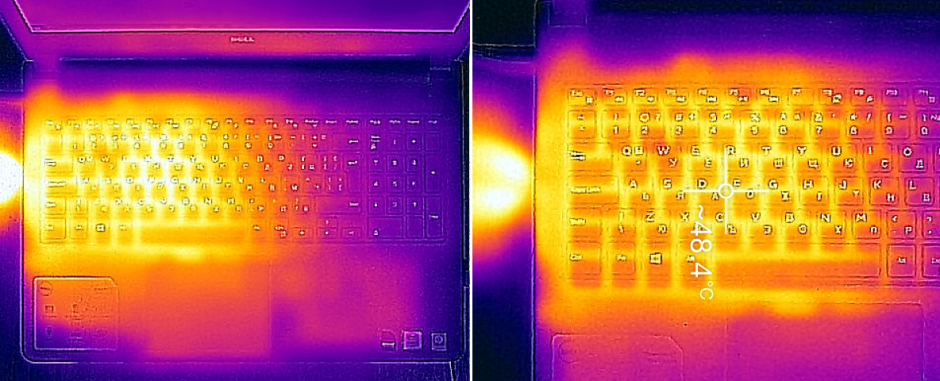 The main air vents are on the left – that's good, since your hand won't be enveloped by hot air when the computer is heavily loaded (if you're using an external mouse on the right).

Conclusion
Dell has made some sacrifices in order to bring the price to a very competitive level without compromising the notebook reliability. At the end of the day, maybe that's what is most important for serious work, but you should know that Inspiron 5559 isn't suitable for anything else. Although the AMD Radeon R5 M335 graphic card has its own dedicated memory (4GB DDR3), this doesn't necessarily mean that you can use it for gaming – CS:GO is the limit, or may be GTA V and Tomb Raider, at their lowest settings. Let's put that aside, you probably wouldn't be reading this review if you're a gamer – Dell Inspiron 5559 has very good CPU performance and if you invest a hundred bucks in an additional SSD (you can swap the DVD writer with an HDD caddy), the notebook will become blazingly fast in all your business applications. Add to that the aforementioned reliability (secured by the 36 months of NBD warranty), you get one of the best business laptops out there.
Dell Inspiron 5559 has decent battery life, so it can easily become your faithful companion on your business trips, and you'll be using it with pleasure since it looks very good and the whole body doesn't take fingerprints and smudges. We're not so happy with the screen, however – this was probably the cheapest option for Dell – a TN panel with narrow viewing angles, meager sRGB coverage and PWM across almost all brightness levels. If you can live with that, Inspiron 5559 is a great choice.
You can check the price and availability of Dell Inspiron 5559 here: http://amzn.to/1nVJWzg
Pros
Durable looking body with nice design
Comfortable keyboard
Long surfing and gaming battery life
Good internal and surface temperatures at high load
36 month Next Business Day warranty
Cons
Arrow keys somewhat lacking in design
Narrow viewing angles
PWM across all brightness levels, except 100%