HP Omen 15 (2016) review – HP is up to something here

With the growing popularity of affordable gaming notebooks, every OEM on the planet wants a piece of the pie. However, with the fierce competition and good performance/price ration offerings on the market like the ASUS ROG GL552VW or the Acer Aspire V15 Nitro Black Edition, it's hard to make a dent in the market. Yet, HP is gearing up for another try with its recently announced HP Omen 15, which isn't even out on the market yet, but promises better pricing than the previous Omen model. And to be honest, that was the main problem of the notebook – it offered mostly the same hardware as its direct rivals but at a higher price.
We have a solid information that the new notebook will start at around $1 300 and probably holding a GTX 960M GPU. We can't be exactly sure, though, as the OEM is still working on the pricing and configurations. There's a big chance that the base model will sell with GTX 965M instead of 960M because the latter will feature in the less expensive Pavilion 15. If this turns out to be true, the HP Omen 15 might be quite a good alternative to other notebooks while throwing in a GTX 965M GPU for a few extra bucks. Anyway, the new HP Omen focuses mainly on performance rather than offering flashy looks and design. This doesn't mean it doesn't have the typical aggressive gaming looks, though. Let's see how HP reworked its mid-range gaming laptop and is it any better than before.
The new 2016 model isn't out on the market yet, but you can regularly check here when it comes out: http://amzn.to/24Kyavw
Contents
Retail package
Since we are testing an early sample, it's hard to tell what the box will contain. Ours came without a charger and in a small, old box.

Design and construction
Unlike its competitors from Acer and Lenovo, the Omen 15 sports only plastic and a representative from HP explained why. To keep the cost of the notebook as low as possible, the chassis had to be downgraded and the hardware upgraded. Even so, the design doesn't feel cheap and it doesn't lack in style. Also, dimensions are more than acceptable compared to other rivals and last year's Omen.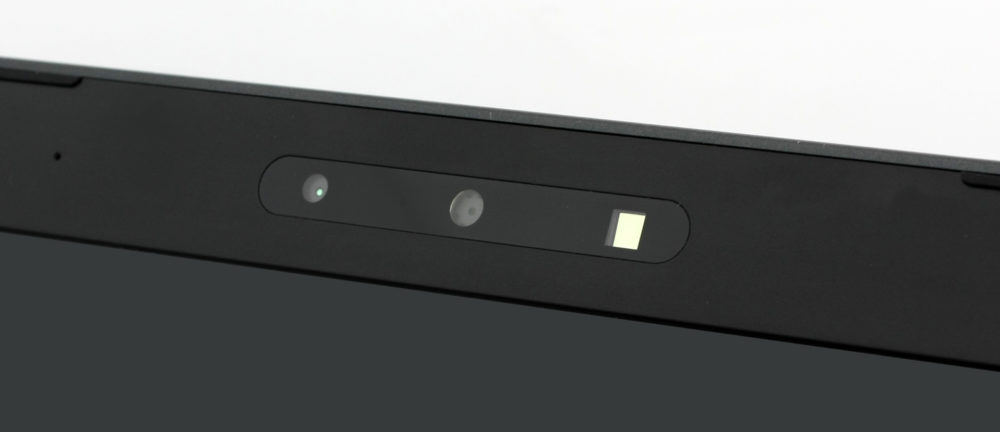 The lid now features a refreshing new design pattern and feels a bit rubberized. It looks good and adopts only the Omen logo while excluding HP's. But yet, the choice of materials – meaning plastic – make it prone to bending when pressure is applied. There are a few ripples coming out on the other side when pushed but nothing too alarming. Hinges, on the other hand, feel good and overtightened at the same time. It's impossible to open the notebook with one hand and it gets even harder as you proceed with opening it. They depart from what we saw in the previous Omen laptop and stand out with a chrome-colored finish making them metal-like. Also, the bottom and upper frame look a bit too thick, like the Lenovo Y700. Still, we can let that one pass since the upper bezel accommodates Intel's RealSense 3D Camera setup. The bottom piece of the notebook is made of plastic again but without the cool pattern. It adopts two big vent openings suitable for external cooling pads and another big one positioned right between the hinges. The hot air comes out directly from behind so we can expect good cooling capabilities without feeling the heat from the sides.
Speaking of sides, the notebook carries a fairly thin profile measuring just 23 mm at its thickest point and 22 mm at its thinnest. Despite the low height, the laptop features "healthy" port distribution with two USB ports positioned on the left along with the 3.5 mm audio jack. The rest are on the right – another USB, HDMI, LAN and microSD card slot. Unfortunately, though, HP have passed on the USB-C connector, which is present in all modern gaming machines, except Lenovo's Y700. The back side, as we stated above, only hold the main exhaust vent for carrying out hot air.
The interior features black matte plastic with gray stripes and it feels pretty pleasant to touch, although it's a big fingerprint magnet and requires frequent cleaning . Anyway, the keyboard tray is a bit concaved and keys are highlighted in red LED illumination with a cool font for the characters. We've seen this before on the HP Pavilion 15 Gaming Notebook. And just like before, we are generally happy with the usability of the keyboard. There is, however, a small drawback – the arrow keys are too small and overcrowded with neighboring buttons. When playing racing games, you might hit the "Shift" key instead of the "Up" arrow key. Another thing that reminds us of the HP Pavilion 15 Gaming is the touchpad. Maybe because it's the very same one and that's not a good thing. It's again a bit narrow, but wide at the same time and it's hard to comment as it goes down to personal preference. But we cannot get over the fact that it feels pretty stiff and hard to press. Clicking doesn't give tangible feedback and makes it even hard to do actions like click -> hold -> drag -> drop.
Although, the chassis seems downgraded compared to last year's Omen, it still in line with today's industry. The plastic doesn't feel cheap and it's probably even better than the ASUS ROG GL552VW. It's lighter than some rivals at 2.259 kg and it's pretty thin at 24 mm making it an ideal portable gaming solution with GeForce GTX 965M GPU. However, if you are more into premium design, the Acer Aspire V15 Nitro Black Edition and Lenovo's Y700 will have you covered on that one.

Disassembly, maintenance, internals and upgrade options
Unlike most HP notebooks we've tested, the Omen 15 comes apart pretty easily. Just a few screws keep the bottom lid closed. After unscrewing, use a plastic tool to pry up the keyboard tray to access the internals.
Storage upgrade options – 2.5-inch HDD, M.2 slot
In terms of storage upgrades, the Omen 15 doesn't fall behind its competitors and offers one standard 2.5-inch HDD and one M.2 SSD slot as well.
Other components
The motherboard holds two RAM slots supporting up to 32GB using two 16GB chips. However, our unit came with two SK hynix chips with 4GB capacity with model number HMA451S6AFR8N supporting the DDR4-2133 standard.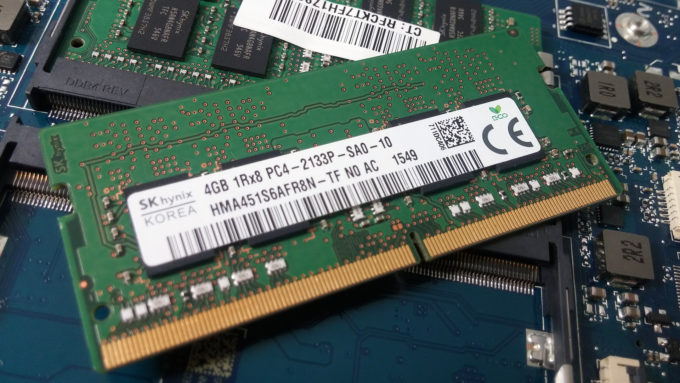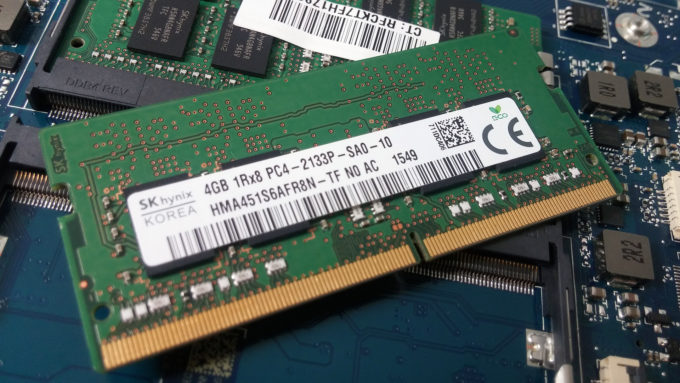 The battery unit is rated at 61.6Wh (5150 mAh).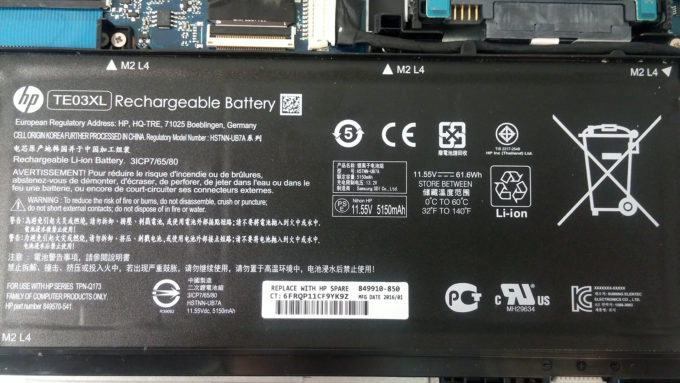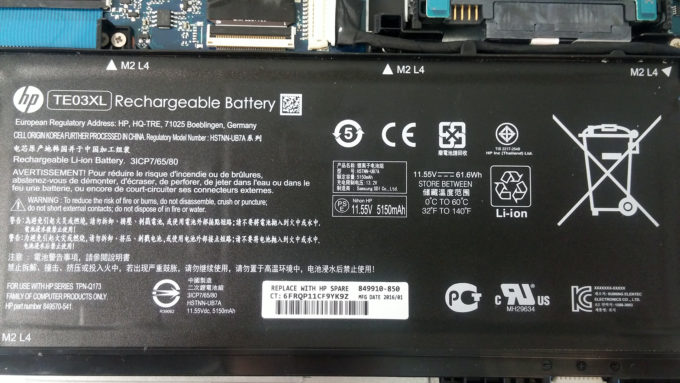 Cooling system
There's a striking resemblance between the cooling design of the Omen 15 (2016) and Lenovo's Y700 (15-inch) but somehow, HP's variant of the cooling system did considerably better in our tests.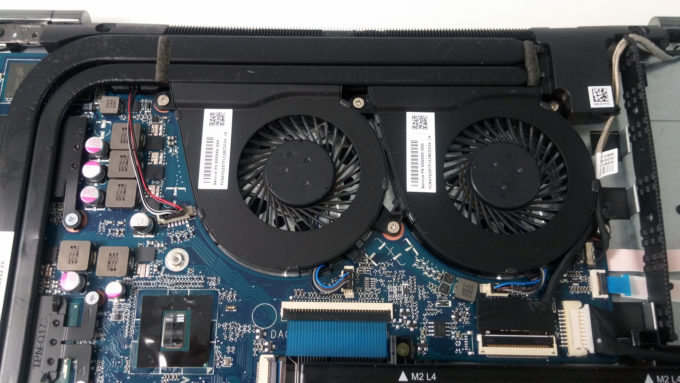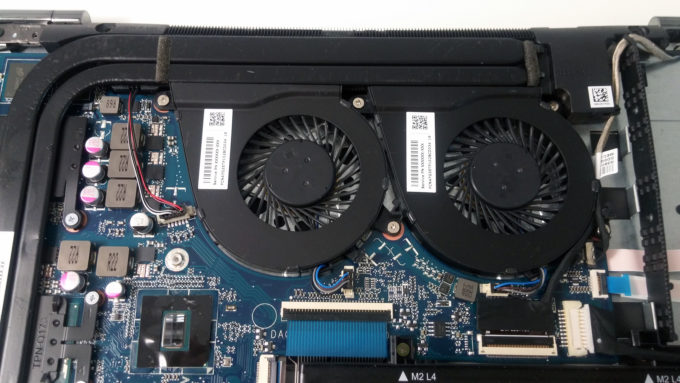 You can find more information about the disassembly and internals in our dedicated article.

Display quality
The new omen sports a Full HD (1920×1080) IPS panel with matte coating, 15.6-inch diagonal and 142 ppi pixel density. The pixel pitch is 0.18 x 0.18 mm and it can be considered as "Retina" when viewed from a distance equal or greater than 60 cm. The origin of the panel is the Chinese-based panel manufacturer – BOE with the only model number being listed as 0679. So we can't know the exact model, unfortunately.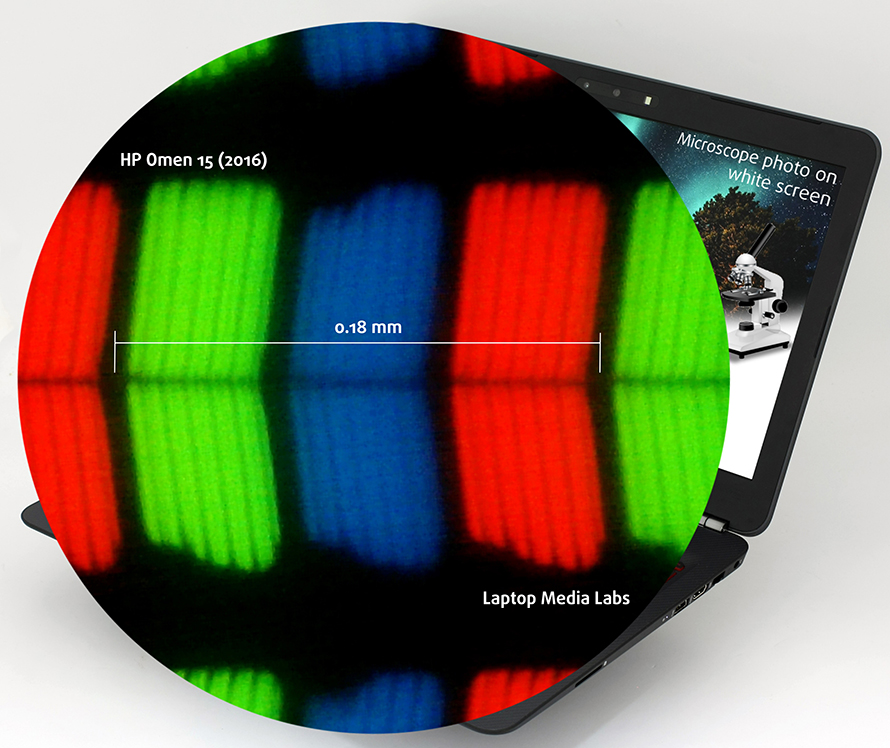 The measured maximum brightness in the middle of the screen is merely 208 cd/m2 while the average is 209 cd/m2 with only 10% deviation in the upper-left corner. The color temperature is really close to the optimal with values between 6430K and 6450K on the surface of the display. The maximum color deviation is also good with dE2000 being 2.3 again in the upper-left corner. Keep in mind that values over 4.0 are undesirable.
Here are some measurements done with 75% brightness (140 cd/m2).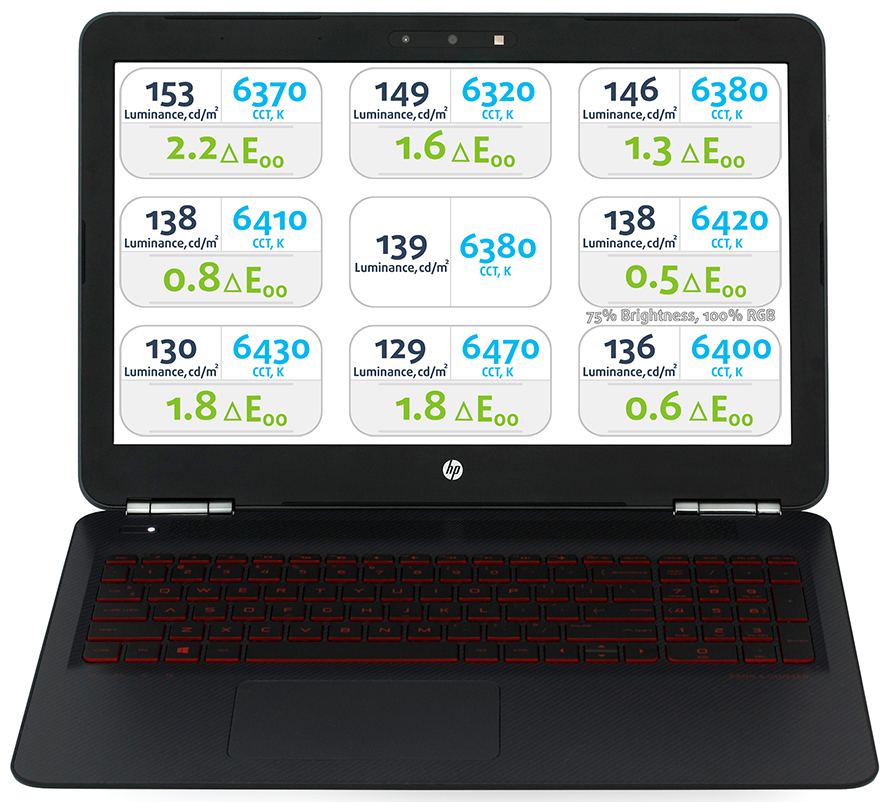 Color reproduction
To make sure we are on the same page, we would like to give you a little introduction of the sRGB color gamut and the Adobe RGB. Starting with the CIE 1976 Uniform Chromaticity Diagram that represents the visible specter of colors by the human eye giving you a better perception of the color gamut coverage and the color accuracy. Inside the black triangle, you will see the standard color gamut (sRGB) that has been used by millions of people in HDTV and on the web. As for the Adobe RGB, this is used by professional cameras, monitors and etc. for printing. Basically, colors inside the black triangle are used by everyone and this is the essential part of the color quality and color accuracy of a mainstream notebook.
We've also included the so-called Pointer Gamut by Michael Pointer, which represents naturally occurring colors in nature that can be perceived by the human eye.
The yellow rectangular represents the color gamut coverage of the display which in our case is just 55% sRGB and 47% Adobe RGB.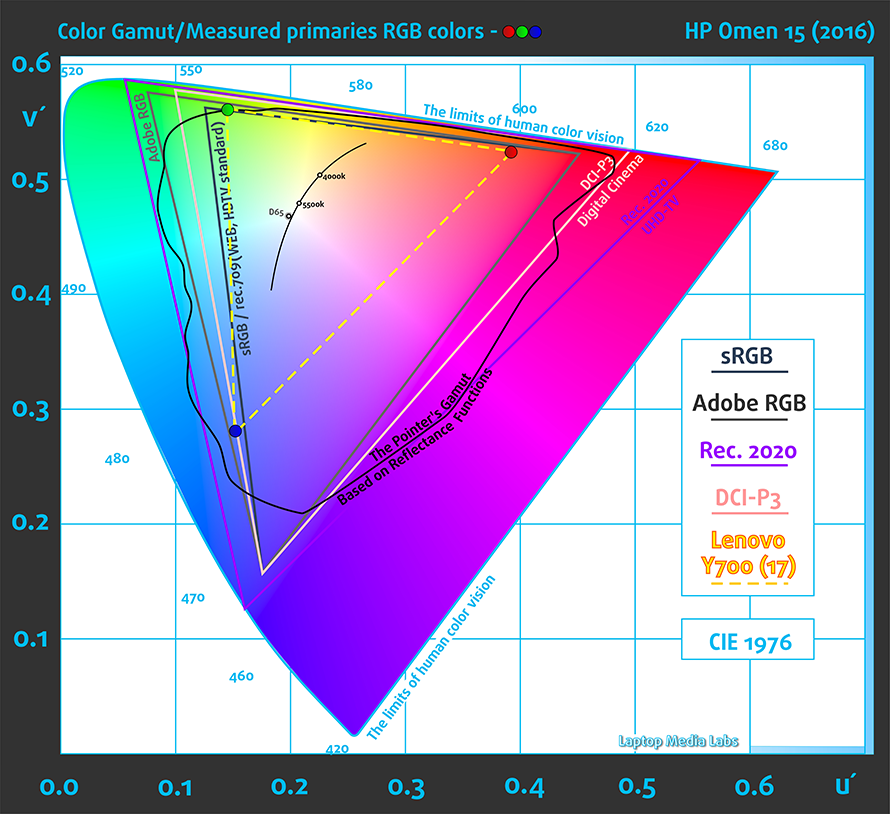 Below you will see practically the same image but with color circles representing the reference colors and white circles being the result. You can see main and additional colors with 25%, 50%, 75% and 100% saturation inside the sRGB gamut.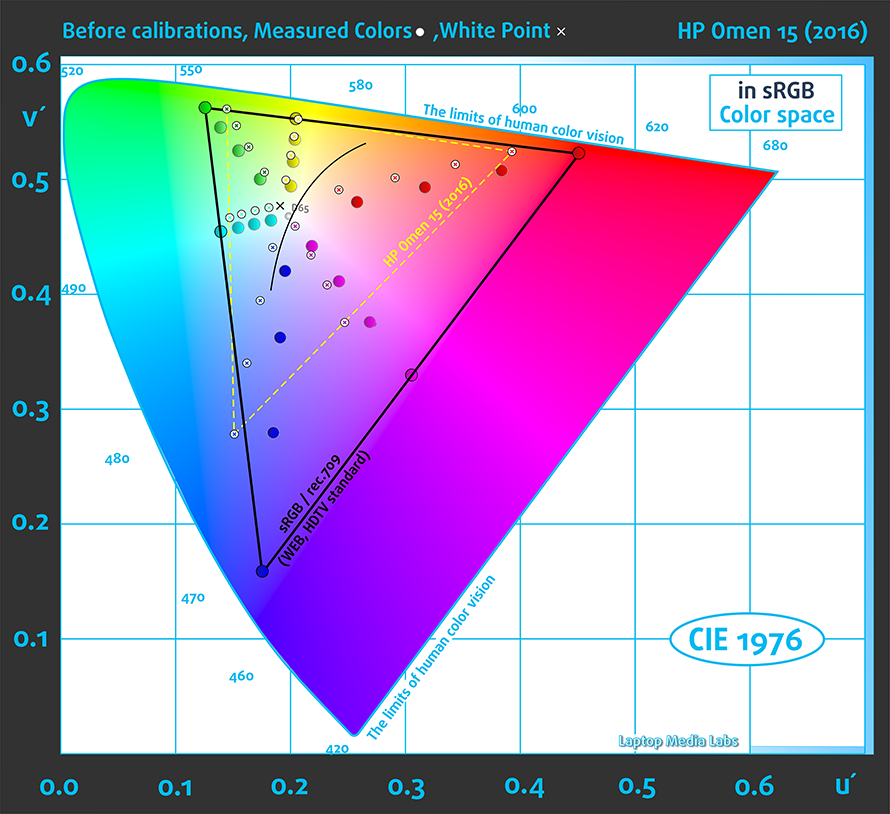 We've created a profile with 140 cd/m2 luminance, D65 white point (6500K) and sRGB gamma.
The contrast ratio is okay – 880:1 but falls down to 530:1 after calibration.
Below you can see the results from the accuracy color checker with 24 commonly used colors like light and dark human skin, blue sky, green grass, orange etc. The results are before and after calibration.
Gaming capabilities (Response time)
We test the reaction time of the pixels with the usual "black-to-white" and "white-to-black" method from 10% to 90% and reverse.
Fall Time + Rise Time = 35 ms which is rather slow and more experience gamers may experience the so-called "ghosting" issue.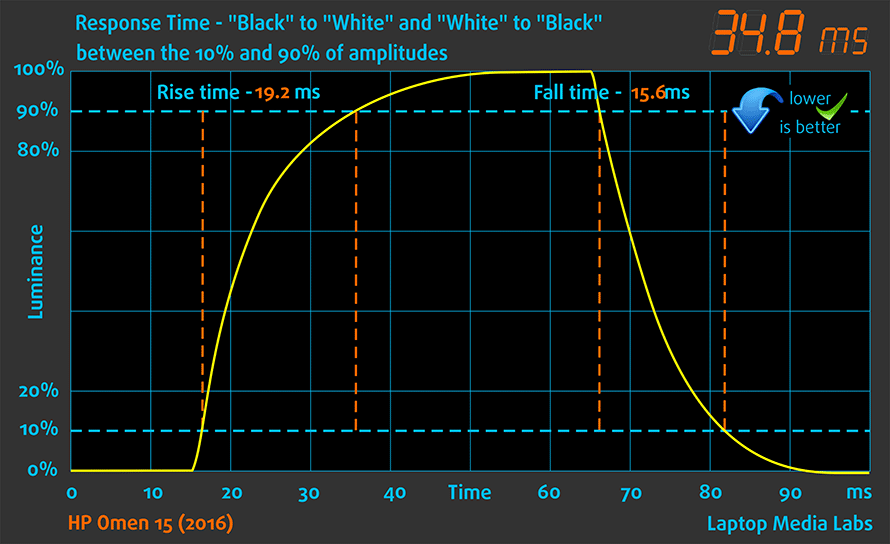 Pulse-width modulation (PWM, Screen flickering)
Unfortunately, the screen uses PWM from 0 to 99% screen brightness at really low frequency – 200 Hz. Anything around 200 Hz is considered aggressive and may cause some unwanted eye soreness to some users.

You can see the Spectral power distribution and the Blue Light reduction with the Health-Guard profile on the following graph: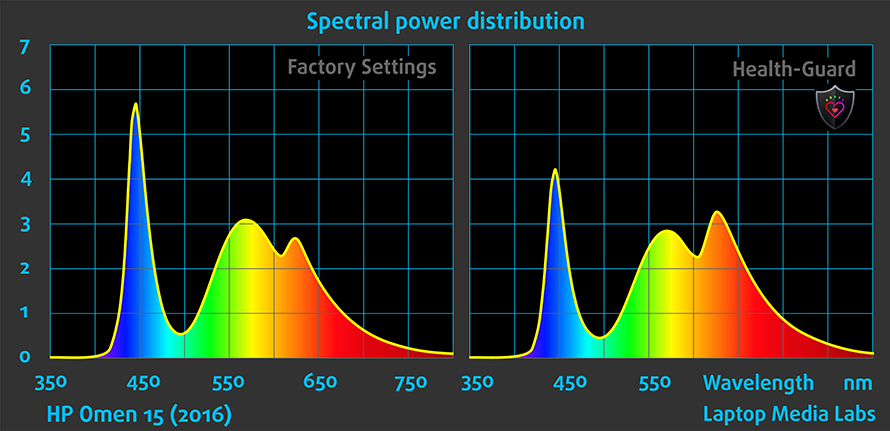 Conclusion
The screen used on this laptop isn't of the highest quality and doesn't quite fit the profile of an upper-mid range – some may argue that it's even a high-end laptop – gaming notebook. We've recorded really low maximum brightness which may obstruct normal usage when the machine is placed near a strong light source. Also, the sRGB coverage is insufficient for good multimedia experience and almost half of the web-based colors are missing. The recorded response time isn't as low as some gamers may desire and may lead to some ghosting issues. At pricing around $1 200 – $1 300, HP's newest addition to the Omen brand will have a hard time competing against other similarly priced, or even cheaper, rivals with better screen quality.

Buy our display profiles
Since our profiles are tailored for each individual display model, this article and its respective profile package is meant for HP Omen 15 (2016) configurations with 15.6″ BOE 0679 (FHD, 1920 × 1080) IPS screen, which can be found at Amazon: http://amzn.to/24Kyavw
*Should you have problems with downloading the purchased file, try using a different browser to open the link you'll receive via e-mail. If the download target is a .php file instead of an archive, change the file extension to .zip or contact us at [email protected].
Read more about the profiles HERE.
[edd_item edd_id_1='63847′ edd_id_2='63850′ edd_id_3='63853′ edd_id_4='63856′]

Sound
The Omen's speakers provide the much-needed clarity and overall good sound quality across all frequency levels without any major distortions.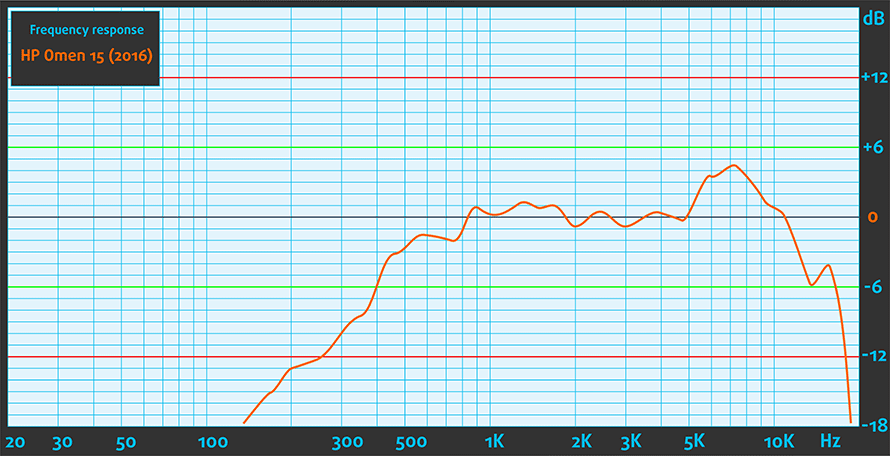 Specs sheet
The specs sheet may vary depending on your region.

CPU
Intel Core i5-6300HQ (2.30 – 3.2 GHz, 6MB cache)
RAM
8GB (2x 4096MB) of DDR4-2133 RAM
GPU
NVIDIA GeForce GTX 965M (4GB GDDR5)
HDD/SSD
1 HDD (5400 rpm) + free M.2 2280 SSD slot
Display
15.6-inch Full HD (1920×1080) IPS, matte
Optical Drive
–
Other features

3x USB 3.0
Intel RealSense 3D Camera
HDMI
front-facing stereo loudspeakers Bang & Olufsen
3.5 mm audio jack
SD card reader
keyboard LED backlight

Battery
4-cell, 58Wh
Thickness
23 mm (0.91″)
Weight
2.259 kg (4.98 lbs)
Software
The new HP Omen 15 (2016) isn't out on the market yet so the company hasn't released any official drivers for it. We've used a pre-installed Windows (64-bit) OS. Once the laptop is officially released, the needed drivers can be downloaded from HP's official support page.

Battery
We weren't expecting any ground-breaking results but the 61Wh unit inside the Omen 15 proved to be enough for a few hours of work before needing the power cord. The laptop scored decent results, for a gaming machine that is, with the usual settings – Wi-Fi turned on, battery saver turned on and screen brightness set to 120 cd/m2.
Web browsing
In order to simulate real-life conditions, we used our own script to automatically browse through over 70 websites.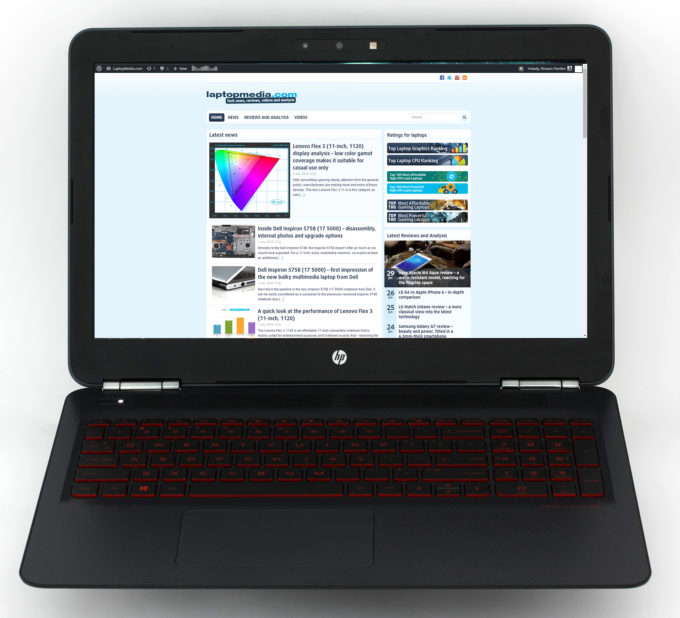 Decent battery performance – 321 minutes (5 hours and 21 minutes).
Video playback
For every test like this, we use the same video in HD.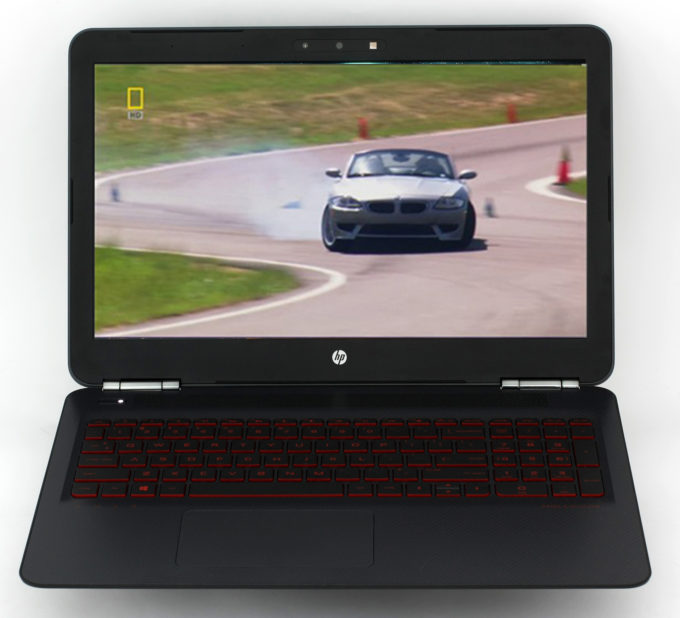 Surprisingly, the notebook scored a bit higher result – 346 minutes (5 hours and 46 minutes).
Gaming
We recently started using the built-in F1 2015 benchmark on loop for accurate real-life gaming representation.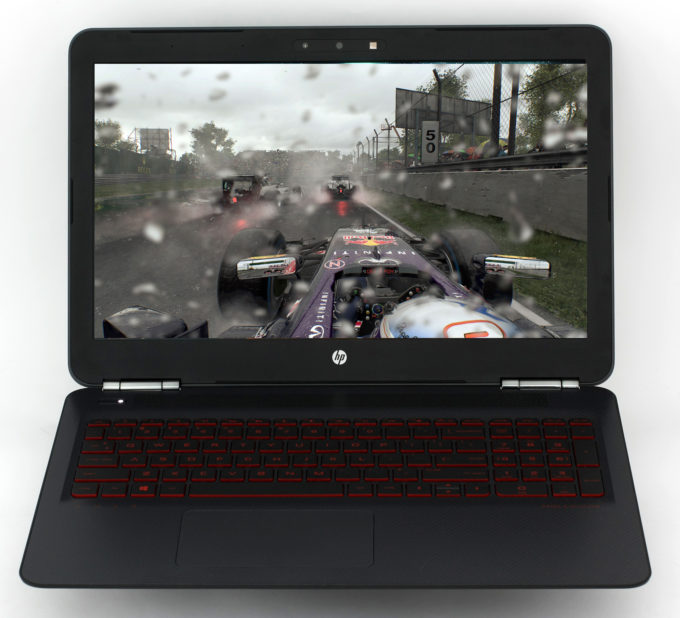 As expected, the gaming test took a toll on the battery with only 125 minutes (1 hour and 43 minutes) of play time.

CPU – Intel Core i5-6300HQ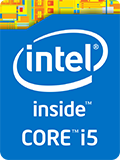 Intel Core i5-6300HQ represents the Skylake family and it's considered a high-performance chip with normal voltage and TDP of 45W. The Core i5-6300HQ has four cores ticking at 2.3GHz and can go up to 3.2 GHz for one active core, 3.0GHz for two active cores and 2.8 GHz for four active cores.
Although it's a part of the Core i5 line, it's just ~15% slower than Intel Core i7-4702MQ and it's ~50% faster than Intel Core i5-4300M. This makes Core i5-6300HQ the perfect choice for gaming machines, where one would want to spend their budget on offerings with a more powerful GPU, but wouldn't want to compromise too much in terms of computing performance.
Furthermore, the chip is manufactured using a 14nm FinFET process and integrates an Intel HD Graphics 530 GT2 GPU with 24 EU (Executable Units) clocked at 350 – 950 MHz. The memory controller supports up to 64GB of DDR3 or DDR4 RAM at 1600 or 2133 MHz, respectively. The CPU is suitable for heavy applications and gaming.
Take a look at our CPU rating system to see where the Core i5-6300HQ stands:
http://laptopmedia.com/top-laptop-cpu-ranking/
The official Intel Core i5-6300HQ page can be found here:
http://ark.intel.com/products/88959
Results are from our Photoshop benchmark test (the lower the score, the better)
Results are from the Fritz chess benchmark (the higher the score, the better)
Fritz
Fritz is a chess benchmark that tests the computing capabilities of the CPU with various chess moves. The Intel Core i5-6300HQ managed to get 8.857 million moves per second. In comparison, one of the most powerful chess computers, Deep(er) Blue, was able to squeeze out 200 million moves per second. In 1997 Deep(er) Blue even beat the famous Garry Kasparov with 3.5 to 2.5.

GPU – NVIDIA GeForce GTX 965M (4GB GDDR5)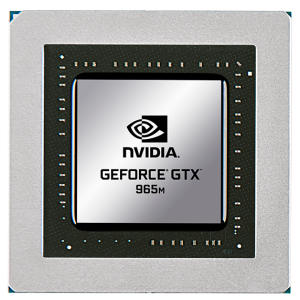 The NVIDIA GeForce GTX 965M is a dedicated GPU that's placed in upper mid-range or high-end gaming notebooks and it's part of the Maxwell generation GPUs from NVIDIA. In terms of performance, the GPU is right between GTX 960M and GTX 970M, but it has more common specifications to the GTX 970M and 980M. The GPU in the graphics card is the GM204 with the same manufacturing process – 28nm. The processing unit is clocked at 924MHz and can go up to 950MHz when more performance is needed.
The GeForce GTX 965M works with 1024 CUDA cores (shading units), 64 texture units and 32 ROPs. This GPU can be equipped with 2GB or up to 4GB of dedicated memory (GDDR5) along with 128-bus width and 2500MHz of maximum frequency capping 80.2GB/s transfer rate. Like all modern GPUs, the GTX 965M supports features like Battery Boost, GameStream, ShadoPlay, GPU Boost 2.0, PhysX, CUDA, SLI, GeForce Experience, but most importantly, the GM207 is the first chip that supports DirectX 11.2 API.
You can browse through our top GPUs ranking: http://laptopmedia.com/top-laptop-graphics-ranking/
Here you will find other useful information and every notebook we've tested with this GPU: http://laptopmedia.com/video-card/nvidia-geforce-gtx-965m/
Results are from the 3DMark: Fire Strike (Graphics) benchmark (higher the score, the better)
Gaming tests


| Tomb Raider (1080p, Low) | Tomb Raider (1080p, Medium) | Tomb Raider (1080p, Max) |
| --- | --- | --- |
| 217 fps | 84 fps | 43 fps |


| F1 2015 (1080p, Low) | F1 2015 (1080p, Medium) | F1 2015 (1080p, Max) |
| --- | --- | --- |
| 88 fps | 66 fps | 47 fps |


| Thief (1080p, Low) | Thief (1080p, Medium) | Thief (1080p, Max) |
| --- | --- | --- |
| 60 fps | 56 fps | 39 fps |

| GTA 5 (1080p, Low) | GTA 5 (1080p, Medium) | GTA 5 (1080p, Max) |
| --- | --- | --- |
| 104 fps | 53 fps | 16 fps |


| Middle-Earth: Shadow of Mordor (1080p, Low) | Middle-Earth: Shadow of Mordor (1080p, Medium) | Middle-Earth: Shadow of Mordor (1080p, Max) |
| --- | --- | --- |
| 89 fps | 44 fps | 28 fps |
Temperatures
This two-staged test isn't a good representation of a real-life usage but it serves as an indicator of how the system can handle continuous load and higher temperatures and the overall stability of the cooling design in the long run. Even so, the notebook passed our tests with flying colors even in these extreme conditions.
With the CPU stress test running for an hour, the silicon kept surprisingly low temperatures at around 65 °C and clock stable at 2.8 GHz, which is the maximum operating frequency for four active cores.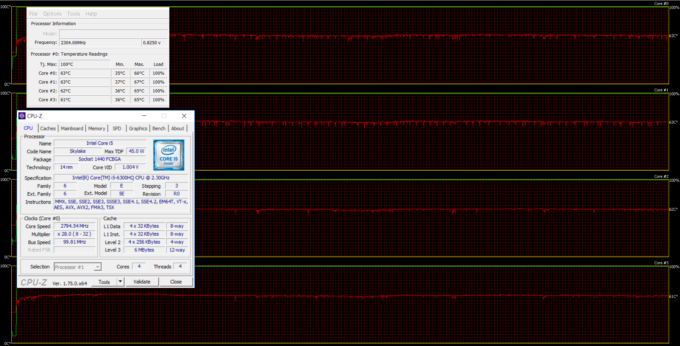 After we turned on the GPU stress test as well, things didn't change as much, although the CPU temps went up to 82 °C but the GPU was running exceptionally cool – 68 °C while utilizing the maximum operating frequency of the core.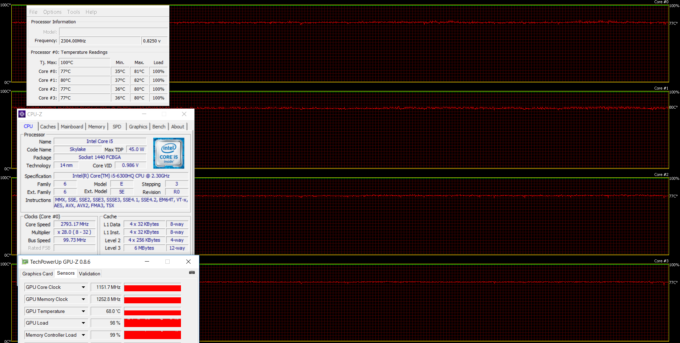 Temperatures on the surface were low, although you can feel the right side of the keyboard a tad warmer than usual.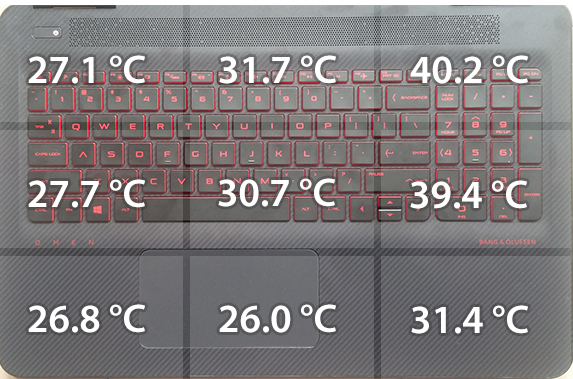 Verdict
With the updated Omen 15 (2016), HP is definitely on the right path, although the failure of the last generation and the not well-priced HP Pavilion 15 Gaming Notebook still lingers in the back of our minds. However, the new addition to the Omen brand is a whole another story.
The build quality has taken a drastic turn, compared to last year's model, yet it still in line what the current industry offers and our only complaint is still in the input device section. The keyboard doesn't feel optimized for gaming while the touchpad is again too stiff and unsatisfying. Perhaps the lowered chassis quality has given a headroom for the engineers to integrate more powerful hardware and that's more than welcomed change. Not to mention the spotless cooling system that handled all that heat with ease.
Unfortunately, the results of our tests aren't always flattering as the laptop adopts underwhelming panel with extremely low brightness and low sRGB color gamut coverage which will surely affect the multimedia capabilities of the machine. And the recorded PWM is in the undesirable range between 200 Hz and 1000 Hz making it a bad choice for users with sensitive eyes. If you rely on an external monitor, though, the latter might not be essential for you.
Still, the notebook is a product of well-thought through changes over at HP and the effort can be easily spotted. It's not the perfect gaming laptop but it has the potential to be the sweet spot between GTX 960M and 980M-powered notebooks. The pricing will be crucial if HP wants to make a good presence in the gaming community.
The new 2016 model isn't out on the market yet, but you can regularly check here when it comes out: http://amzn.to/24Kyavw
Pros
Appealing design
Supports M.2 SSD
Excellent cooling system
Good value if the price is going to be as expected ($1 200 – $1 300)
Intel RealSense 3D camera
Cons
Unsatisfying image quality
PWM from 0 to 99% luminance at 200 Hz
USB-C 3.1 connectivity missing
Stiff touchpad