Lenovo Tab 2 A7-30 quick review – affordable and stylish 7-inch 3G tablet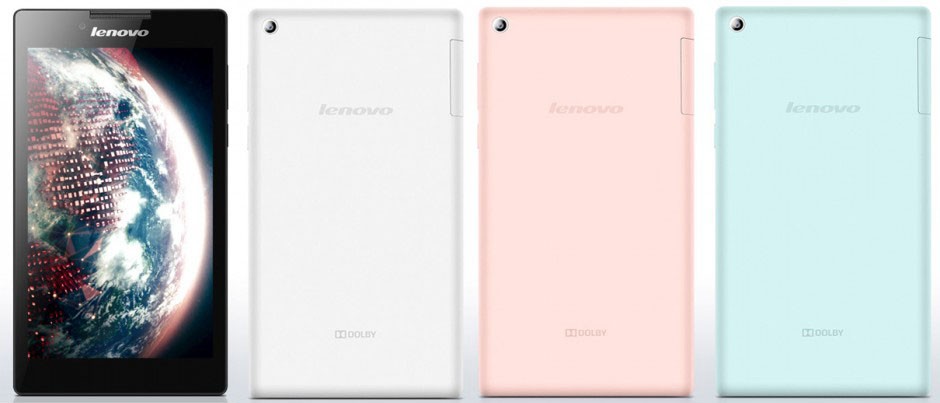 In January Lenovo announced one very intriguing tablet named Tab 2 A7-30. Now it is on the market and respectively, in our hands as well. Its capabilities and design look very promising but if you want to find more information about it, you have come to the right place.
It has some major differences when compared to its predecessor. It features a 7-inch IPS screen, 4-core MediaTek MT8127 processor, two cameras, 3450 mAh battery and last but not least, it has thin and good-looking design. And the best part is that all of this comes with great price tag. Currently you can find Lenovo Tab 2 A7-30 on the market for about 100-150 euro.

Contents
What's in the box?
In the box of Tab 2 A7-30 you will find only a USB cable, charger and a user's manual.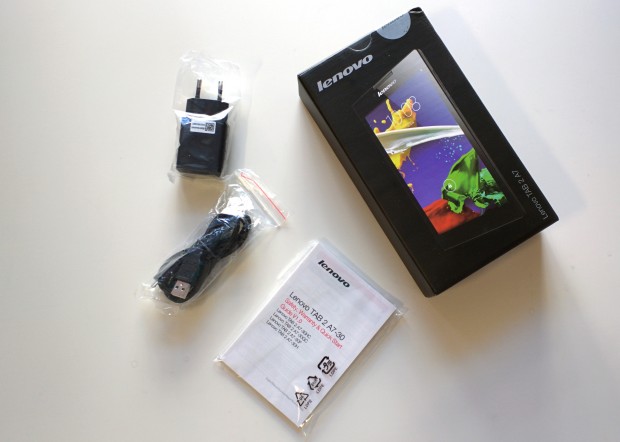 Design and construction
Lenovo puts some thinking here and now we can see better design than its predecessor. It has a pleasant appearance and, in addition, there is a thinner profile (…) and it weighs less (257 g) than the first generation. When it comes to how comfortable the grip is, it is relatively good for holding in your hand, but keep in mind, that we are talking about a 7-inch screen. The main reason for this are the thinner sides. Wrapping things up, Lenovo Tab 2 A7-30 looks like a premium device despite the fact that it's very affordable.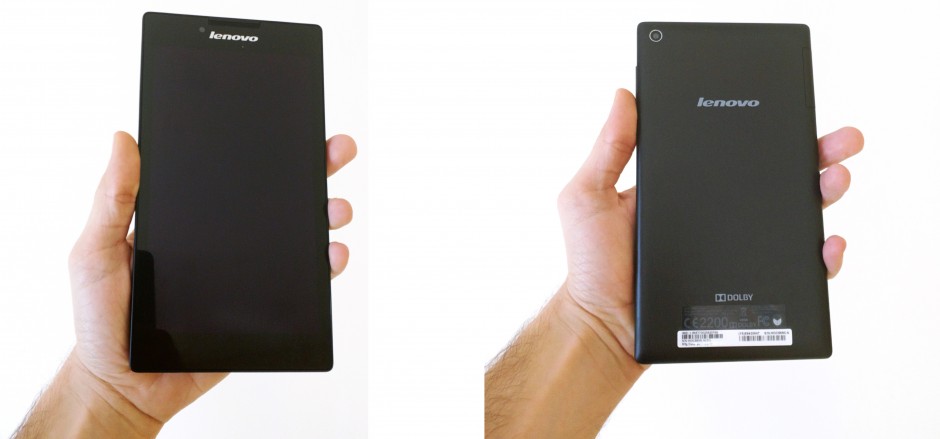 The main camera is on the back, at the top-left. There are also two inscriptions – one of Lenovo (top) and one of Dolby (bottom). Both are gray-colored. There are two product stickers оn the lower back. The back has a matte finish but nevertheless it still collects fingerprints. On the front side there are the usual three touch buttons which are part of the screen (Back, Home and Multitasking). There is another inscription which is placed next to the front camera and under the speaker.
The sides are equipped with Volume and Power buttons on the left, a built-in microphone, which is placed on the bottom, microUSB slot and 3.5 headset jack on the top and also on the left you can find a tiny lid, which covers the 3G SIM and microSD slots.

Display
Lenovo Tab 2 A7-30 has a 7-inch LCD screen with a resolution of 1024 x 600 pixels. The pixel density is 170 ppi, which is not that impressive but it has an IPS matrix, so you can expect great colors wide viewing angles. To some extent, that makes the lack of screen detail less of an issue. Thanks to the thin frame, the display takes up about 69.5% of the entire front surface.
While things seem OK so far, we'll have to slightly spoil the initial positive impressions. The touch screen doesn't register some of the input from time to time, resulting in the need to re-swipe pages. We are not sure what the problem is, exactly, but we'll be contacting Lenovo to see if they could weigh in on the problem.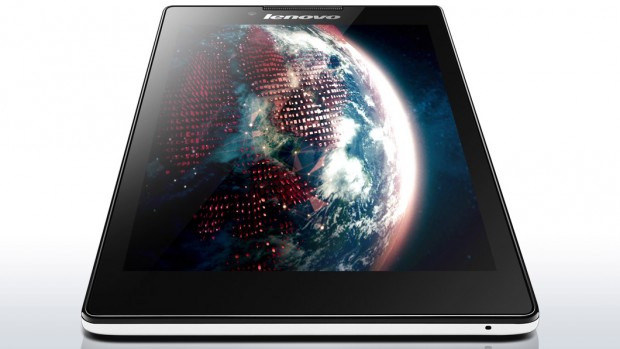 Specs sheet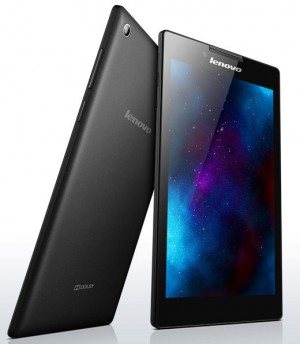 OS
Android 4.4 (KitKat)
CPU
MediaTek MT8127 (4 cores, 1.30GHz, Cortex-A7)
RAM
1GB RAM
Memory
16GB
GPU
Mali-400MP4
Display
7-inch IPS LCD multi-touch display with a resolution of 1024 x 600 pixels
Connectivity
Bluetooth v4.0, Wi-Fi 802.11 b/g/n, GPS
Cameras
2MP as main and 0.3MP as secondary
Features

microSD up to 32GB
microUSB 2.0
integrated loudspeakers
3.5 mm audio jackк

Battery
3450 mAh
Dimensions (W/H/D)
190.5 x 104.1 x 8.9 mm
Weight
257 g (9.06 oz)
Battery
The tablet has a 3450 mAh battery and Lenovo claims that it will manage to stay on for about 8 hours of usage. Of course, we tested its capabilities and you can see the results bellow. There is also a comparison with other models. Keep in mind that we measured battery life in specific conditions – 120cd/m2 screen brightness, turned on Wi-Fi, turned off GPS and Bluetooth. We tested the battery in our usual manner – web browsing, watching movies, and gaming.
Wi-Fi surfing
In order to simulate real-life conditions, we use our script to automatically browse through over 70 websites.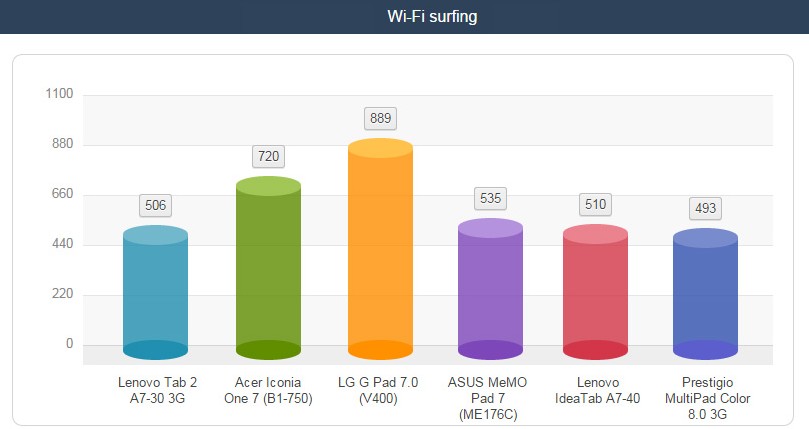 The result is 506 minutes (8 hours and 26 minutes) which isn't superb but it seems good enough.
3D gaming
In this test we used Epic Citadel to simulate 3D gaming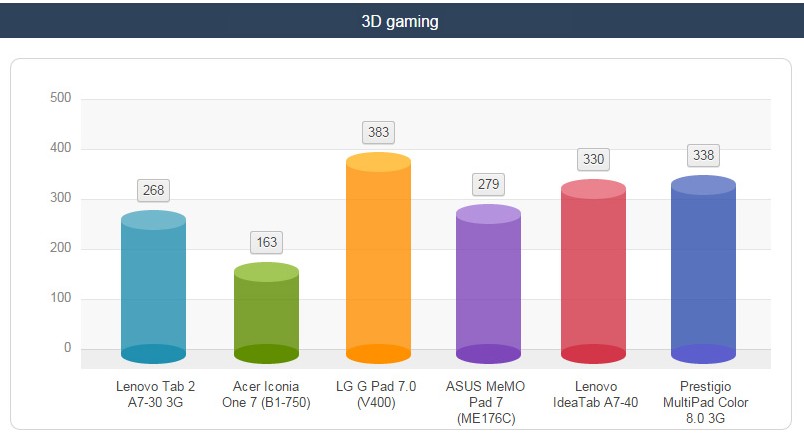 Here, the result is 268 minutes (4 hours and 28 minutes). This isn't much more than expected. However, keep in mind that we're talking about a 3450 mAh battery.
Watching videos
We concluded the battery tests with the "Watching video" test, in which we used HD 720p video.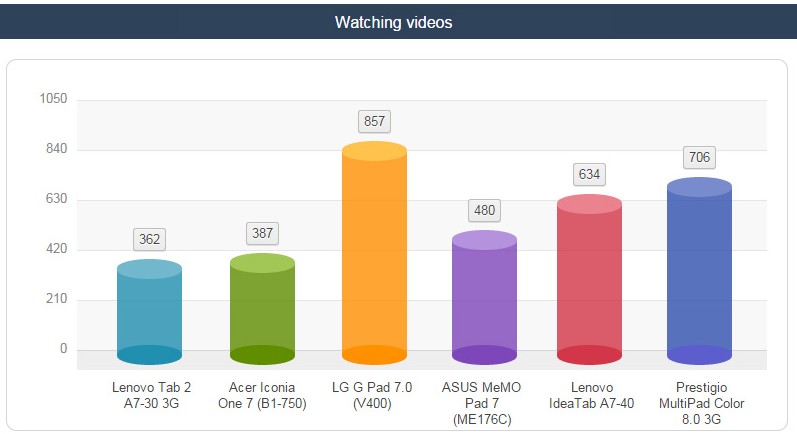 Lenovo Tab 2 A7-30 managed to stay on for 362 minutes (6 hours and 2 minutes) – not a great result.

Software
The first thing that strikes us about the software is its operating system – Android KitKat 4.4.2. It comes with a Lenovo user interface, where all apps are placed on the Home screen. Part of them have a specific look, which differs from the classical one.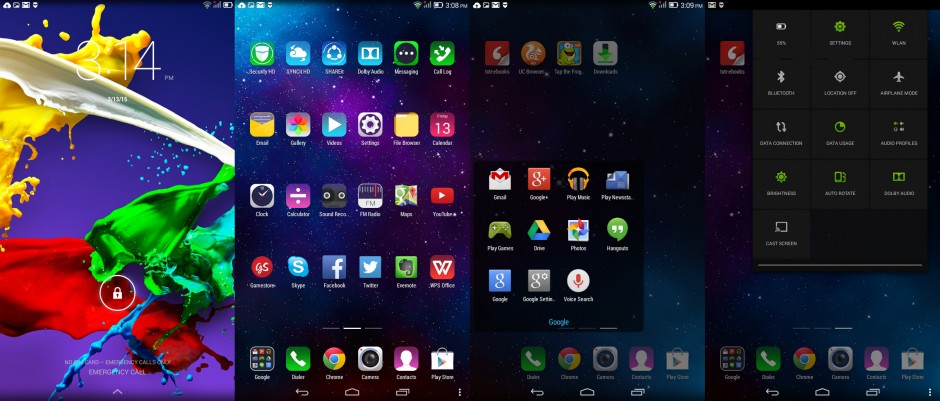 In addition, there are some preloaded apps like Security HD for virus protection, SYNCit for synchronization with cloud services or SD memory cards, SHAREit for sharing information with other devices, WPC office for reading and creating Word, Excel and PowerPoint documents, txt ebooks for reading books, UC Browser for everyone who doesn't want to use Google Chrome, and even a game – Tap the Frog.

Performance
Lenovo Tab 2 A7-30 is powered by MediaTek MT8127, which is equipped with four Cortex A7 cores with a frequency of 1.3 GHz. It is also accompanied by the very typical for this class 1 GB RAM and Mali-400MP4 GPU. MediaTek MT8127 supports Full HD (1980 x 1200) displays, a 13 megapixel camera, Full HD video playback and recording, Dual-band Wi-Fi , Bluetooth and GPS. One might presume that the performance isn't superb, but when it comes to smooth operation it seem to be doing the job just fine. We were able to test the processor by means of some popular benchmarks.
 CPU performance
Geekbench 3 is a cross-platform benchmark test coded by Primate Labs. It aims to stress the CPU in different situations with single and multi-threading processes.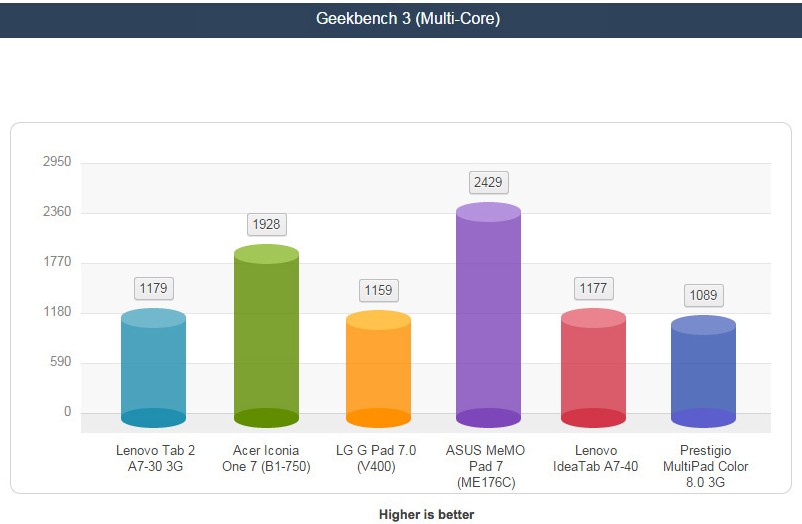 Vellamo is a benchmark from Qualcomm and its Metal section tests the computing performance of the SoC.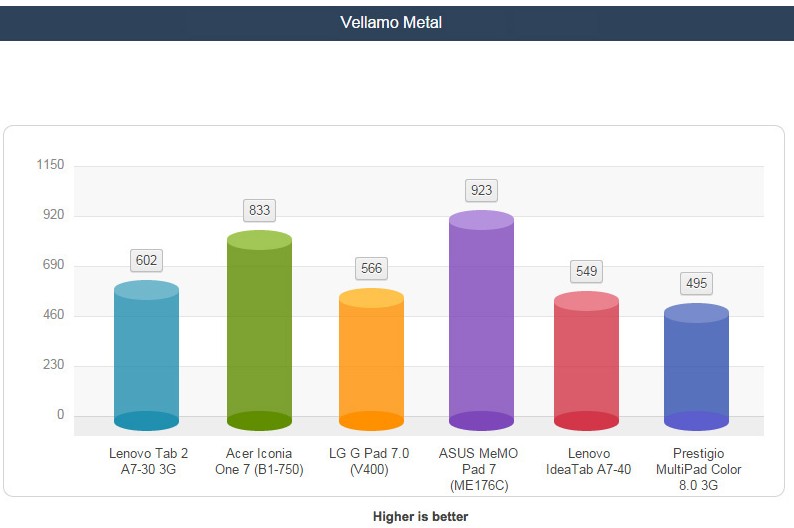 GPU performance
Demanding cross-platform test for the GPU performance. It is available in Android, iOS and even Windows.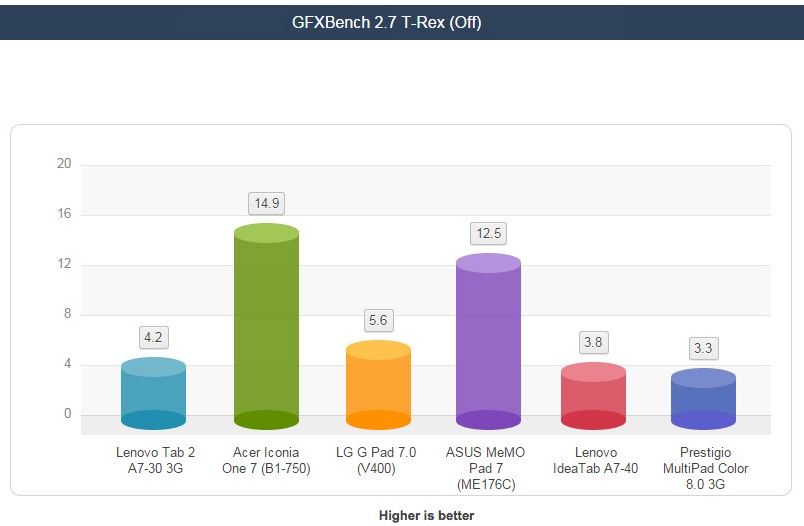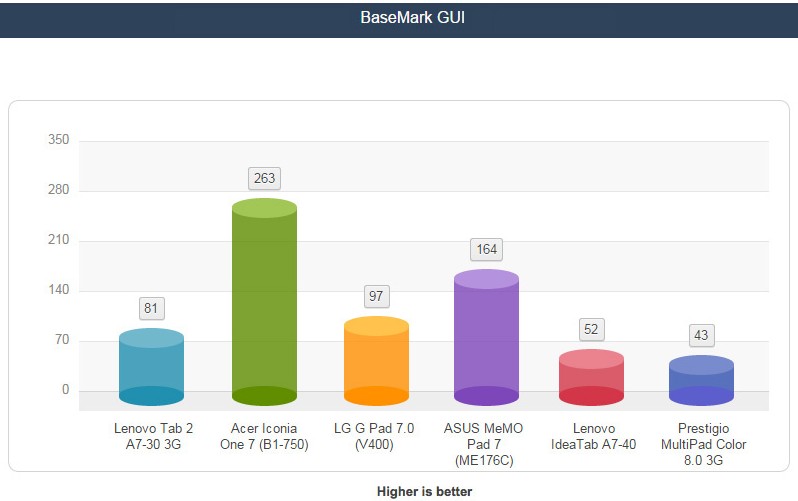 Games
We tested how pleasant the gaming is, and we can say that we didn't see any serious lag, which is harmful to your gaming, so you can easily play games like Real Racing 3 and Dead Trigger 2 at medium settings.

Temperatures and comfort
After two hours of 3D gaming we measured the temperature on the Tab 2 A7-30 back cover in three different areas, and we can say that it looks ok. The hottest spot was the area around the camera – 40 C. In the middle, we measured 30 C while on the bottom, the temperature was only 26.3 C. In any case, the tablet is not hot and you can hold it without any trouble.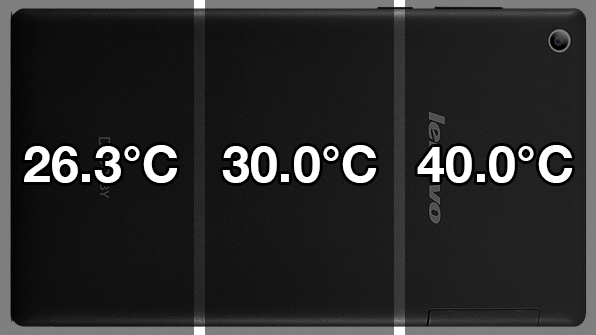 Camera
It's a budget tablet, so we can't expect much from this component. Tab 2 A7-30 comes with a 2MP camera, which features some interesting modes – HDR, Panorama, Face beauty and Multi angle view. You can also change the brightness, sharpness, hue, saturation and contrast of your picture. We took some sample photos, so you can see how good the quality is, and we would like to emphasize the fact that you should dramatically lower your expectations. There is also a front camera but don't take selfies with it. It is adequate only for video conversation. If you are looking for a tablet that will take great photos Tab 2 A7-30 should not be your first choice.
A look at the menus
Sample photos
Video Recording
Conclusion
If you are looking for a budget tablet with compact size, pleasant interface and smooth user experience, Lenovo Tab 2 A7-30 is an adequate choice, and in addition, it has a great design with thin sides. Satisfying battery life and performance definitely contribute to the over-all equation. Last but not least is the cheap price.
This may not be the tablet to flaunt in front of your friends, but it could certainly be the one you use for everyday tasks thanks to its compact size, which also makes it easier to carry around. Perhaps the only major gripe one could have is the camera with its inability to take good quality photos. However, most users, who decide to put the burden of that task on their phones, would hardly find this to be an issue.
Pros
Affordable
Stylish and thin design
Useful pre-installed apps
Relatively pleasant and smooth gaming
Cons
Relatively low screen density
Low camera quality