MSI GS63VR 7RF Stealth Pro review – slimmer than the slimmest (ft. GeForce GTX 1060)


You know what is really annoying? Why is it so that for a true gaming laptop to be a good one, it has to be bulky and fancy looking, so as to house all pipes and fans, as well as appeal to young and nerdy gamers (no offense)? Of course, it's great that the stereotype for "gaming on a laptop" is already dead, since the arrival of Pascal GPUs to the mobile market. But haven't you ever dreamt of a notebook on which you can play your favorite title then close it, put it in your backpack and go to get a cup of coffee or something, without pumping your biceps and shoulders, while walking.
Well, today we're looking at that type of a revolutionary gaming laptop – the MSI GS63VR 7RF Stealth Pro which combines a lot of power, delivered by Intel Core i7-7700HQ CPU and a GeForce GTX 1060 graphics card, in a 17.7 mm profile, weighing 1.8 kg, bettering even the 14-inch Razer Blade. The unit we're going to review today features a Full HD 120 Hz panel, claiming 3ms reaction time delivered only by a TN panel for better or for worse.
You can check the prices and configurations in our Specs System: http://laptopmedia.com/series/msi-gs63vr/
Contents
Specs Sheet
MSI GS63VR 7RF Stealth Pro technical specifications table
Display
15.6", Full HD (1920 x 1080), 120 Hz, TN
HDD/SSD
256GB SSD PCIe + 1TB HDD, 5400 rpm
M.2 Slot
1x 2280 PCIe 3.0 x4 NVMe
Dimensions
380 x 249 x 17.7 mm (14.96" x 9.80" x 0.70")
Ports and connectivity
1x USB Type-C 3.2 Gen 2 (10 Gbps), Thunderbolt 3
3x USB Type-A 3.2 Gen 1 (5 Gbps)
1x USB Type-A 2.0
HDMI
VGA
DVI
Displayport mini
Card reader SD
Ethernet lan
Wi-Fi 802.11ac
Bluetooth 4.1
Audio jack
Features
Fingerprint reader
Web camera
Backlit keyboard RGB
Microphone
Speakers
Optical drive
Security Lock slot
What's in the box?
Once again the chaps from MSI have done an amazing job in presenting their product, as GS63VR 7RF comes in a sleek black box that has a huge red MSI logo printed on top of it. When you open it up, you're met by the laptop itself, as well as a compartment for the charging cable. When you lift the bad boy you'll lay eyes on the charging adapter itself, accompanied by some usual manuals and set up guides, and of course the mandatory MSI drivers.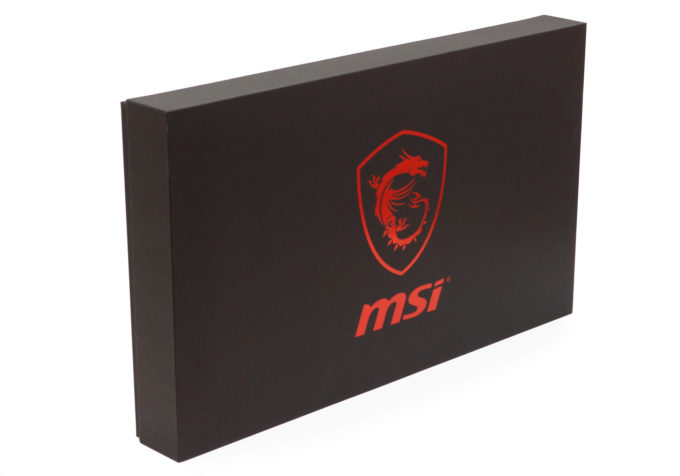 Design and construction
Design-wise, the GS63VR 7RF is truly spectacular – this is thin. Whether it will prove a serious drawback or not, you'll find out in the performance part, so now let's focus on what we see on the surface. The device measures at 380 x 249 x 17.7 mm (14.96″ x 9.80″ x 0.70″) and weighs only 1.8 kg (4 lbs)! Despite its 17.7 mm profile, it feels sturdy. Тhis statement is further backed up by the use of aluminum for almost every part of the body except the bottom panel, and the display frame.
The lid that houses the beautiful 120 Hz Full HD screen is super thin itself and opens at 180 degrees. We are pleased to see that when we open it up there is a full-sized mechanical keyboard with a relatively long key travel for a laptop this thin. Reappearance makes the fully adjustable RGB backlight.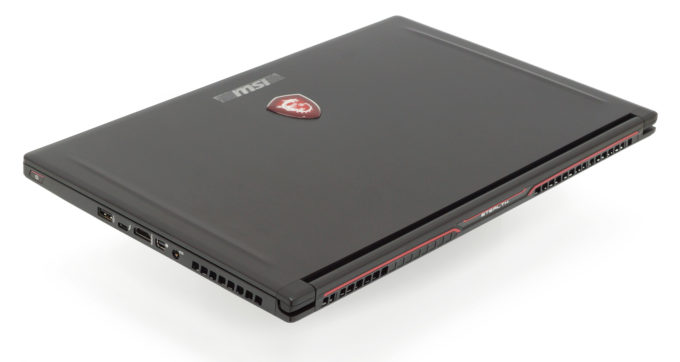 Above the keyboard, we find a grill that goes from one end to the other and houses some speakers, as well as a light that indicates when the device is on or off. Interesting here is that when you lift the computer up to some light source you can see that the fans inside, and they are not one, nor two, but three!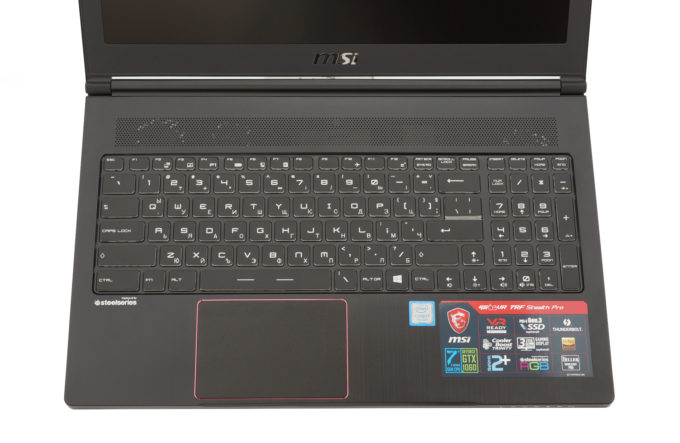 Enough for them, now let's move to the bottom of the keyboard where we are met by the first setback of this otherwise brilliantly designed laptop – the touchpad. It is rather uncomfortable to use, as the buttons are very tight and at right clicks, it gives a 'nice' little squeaking sound, plus the whole surface on the right feels a bit bendy.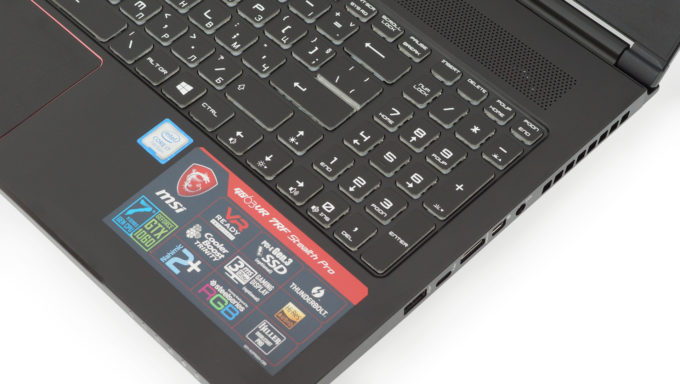 Port-wise, this notebook is very well prepared. On the left, we have an RJ-45 connector accompanied by an SD card reader as well as a total of three USB 3.0 Type-A ports and two Hi-Fi 3.5 mm jacks – one for headphones and one for a microphone, respectively. On the other side is located the charging plug right next to a mini-DisplayPort. Further down the road, we have an HDMI connector, as well as a Thunderbolt 3 port and a regular USB 2.0 Type-A.
The Stealth Pro line-up doesn't fall short of the other gaming devices of MSI, and also has a lot of holes and vents on its bottom. Similar to the GE73VR Raider series it has grills on the sides and at the back, which means it has four heat spreaders placed in the top corners of the gaming notebook.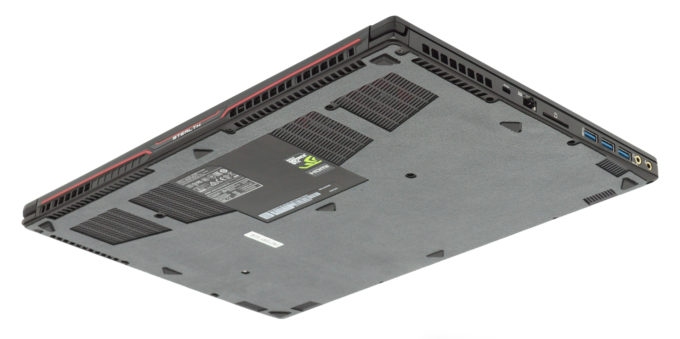 Disassembly and maintenance
First, we want to apologize for not presenting a full teardown of this device. Since we use retail units for our reviews and we don't want to risk ruining them in the process. This leads us to a, let's say, warning – as the MSI GS63VR 7RF Stealth Pro is no ordinary gaming laptop, the manufacturers obviously had to take an extraordinary approach in order to achieve this lightness and thickness.
The disassembly begins simply with unscrewing a total of 15 Phillips head screws that hold the back panel in place. After you pinch the clips and remove the cover you'll start to find some sense in our words. At first – nothing strange – fans, battery, HDD, but at second glance you can't see the SSD and you figure out that the motherboard is upside down.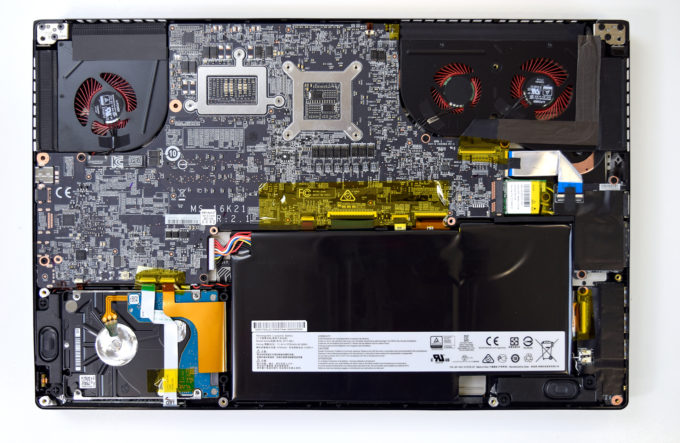 The image below contains the 65Wh battery with its three cells clearly visible through the black plastic wrapping.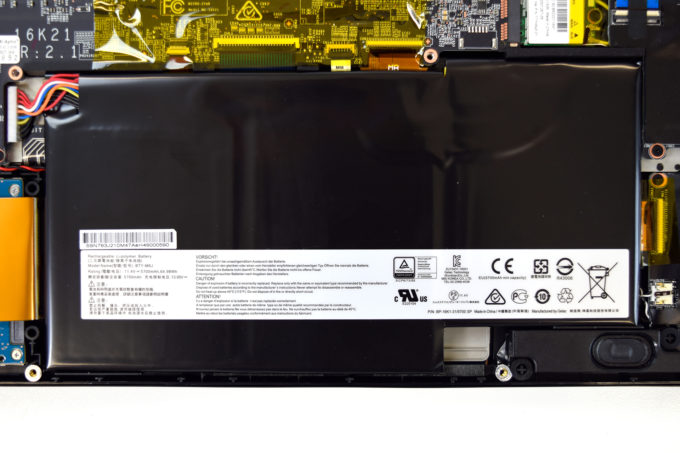 Next, we have the WLAN card and the RGB keyboard controls right next to it connected via ribbon cable to the motherboard.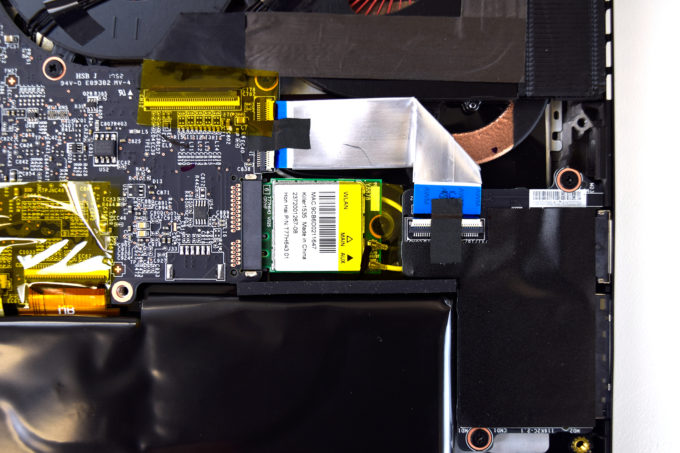 In the final picture of the internals we got, you can see the 1TB HDD, which is optional and on some devices the bay may remain free.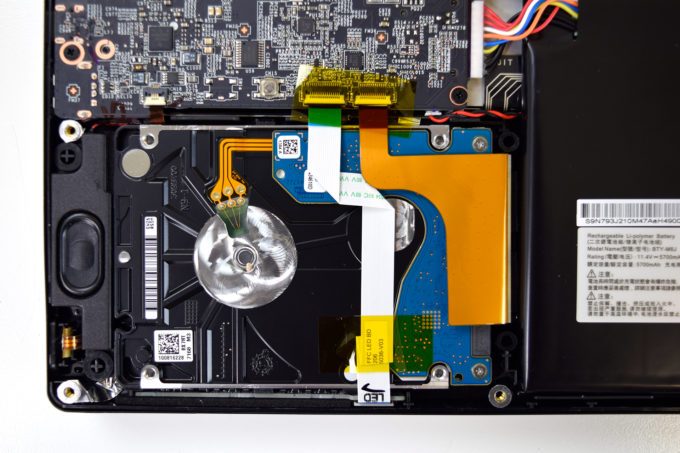 Even though we didn't completely disassemble the MSI GS63VR 7RF, we did some research on the Internet and found out that in order to access the M.2 SSD slot and the RAM modules you need to remove the whole motherboard, as the fans and the heat spreaders are coming down too.
The disassembly itself is not hard, but it is risky as you're going through a labyrinth of ribbon cables, connectors, and screws. Also, you need to remove the battery and the hard drive (if one is present in your system) after that you have to get rid of the Wi-Fi adapter and all fragile cables on the way. Finally, when you unscrew the motherboard, you're going to find two RAM DIMMs and a single M.2 slot that supports PCIe NVMe ultra-fast storage devices.

Display quality
The MSI GS63VR 7RF comes with a Full HD (1920×1080) TN panel with a 15.6-inch diagonal, 0.18 x 0.18 mm pixel pitch and 142 PPI. The panel is has a model number Chi Mei N156HHE-GA1 and can be considered as "Retina" when viewed from at least 60 cm.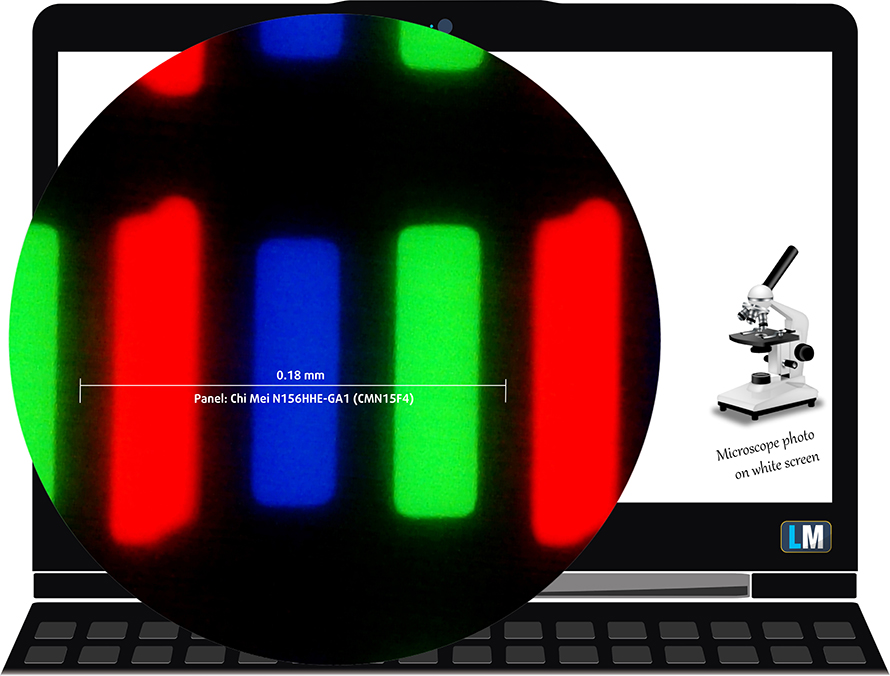 Viewing angles are uncomfortable, however, they seem better than those of many TN panels.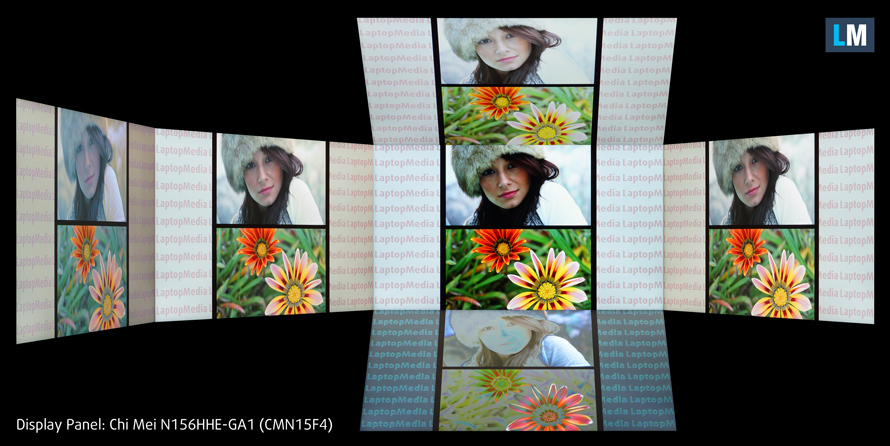 We've recorded a peak brightness of 351 nits in the center of the screen and 328 nits as an average across the surface with an unacceptably high maximum deviation of 21% in the lower right corner (falling to 280 nits). The correlated color temperature at maximum brightness is quite cold – 7330K and it goes even further away from the optimal 6500K as we go along the grayscale – 14000K – rather bluish light, which is fixed by our profiles. You can see how these values change at 140 cd/m2 (42% brightness) in the image below.
The maximum color deviation dE2000 compared to the center of the screen should be no more than 4.0 and if you are planning to do color-sensitive work, it should be lower than 2.0. We measured a surprisingly high contrast ratio of 1230:1 (1000:1 after calibration)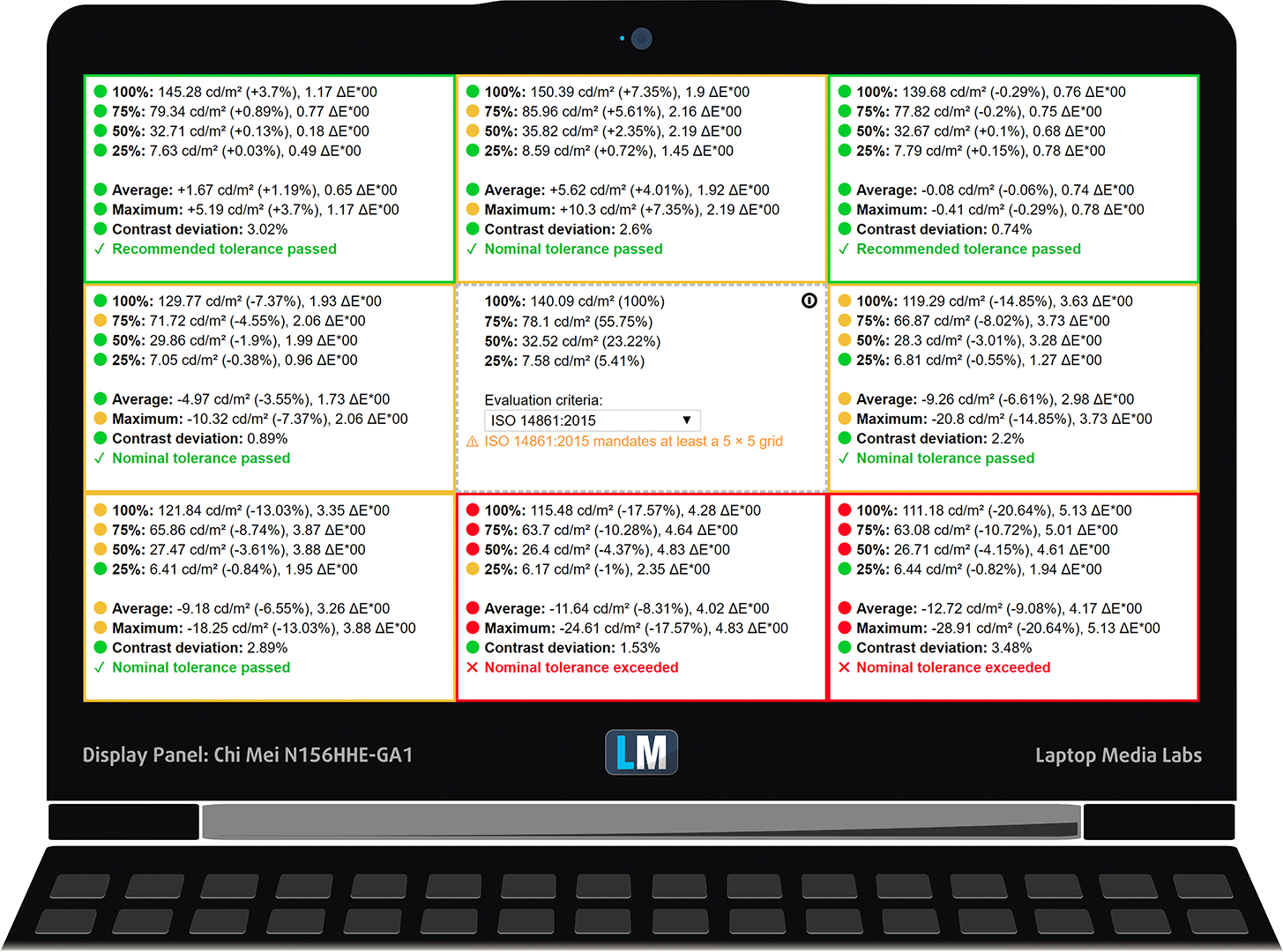 Color reproduction
To make sure we are on the same page, we would like to give you a little introduction of the sRGB color gamut and the Adobe RGB. To start, there's the CIE 1976 Uniform Chromaticity Diagram that represents the visible specter of colors by the human eye, giving you a better perception of the color gamut coverage and the color accuracy.
Inside the black triangle, you will see the standard color gamut (sRGB) that is being used by millions of people in HDTV and on the web. As for the Adobe RGB, this is used in professional cameras, monitors etc for printing. Basically, colors inside the black triangle are used by everyone and this is the essential part of the color quality and color accuracy of a mainstream notebook.
Still, we've included other color spaces like the famous DCI-P3 standard used by movie studios, as well as the digital UHD Rec.2020 standard. Rec.2020, however, is still a thing of the future and it's difficult for today's displays to cover that well. We've also included the so-called Michael Pointer gamut, or Pointer's gamut, which represents the colors that naturally occur around us every day.
Here we can see the strongest point of the new TN panels, used by MSI – it covers 100% of the sRGB color gamut and moreover, it spreads to the DCI-P3 to cover 96% of it, rendering the screen perfect for gamers who seek lively and vibrant image.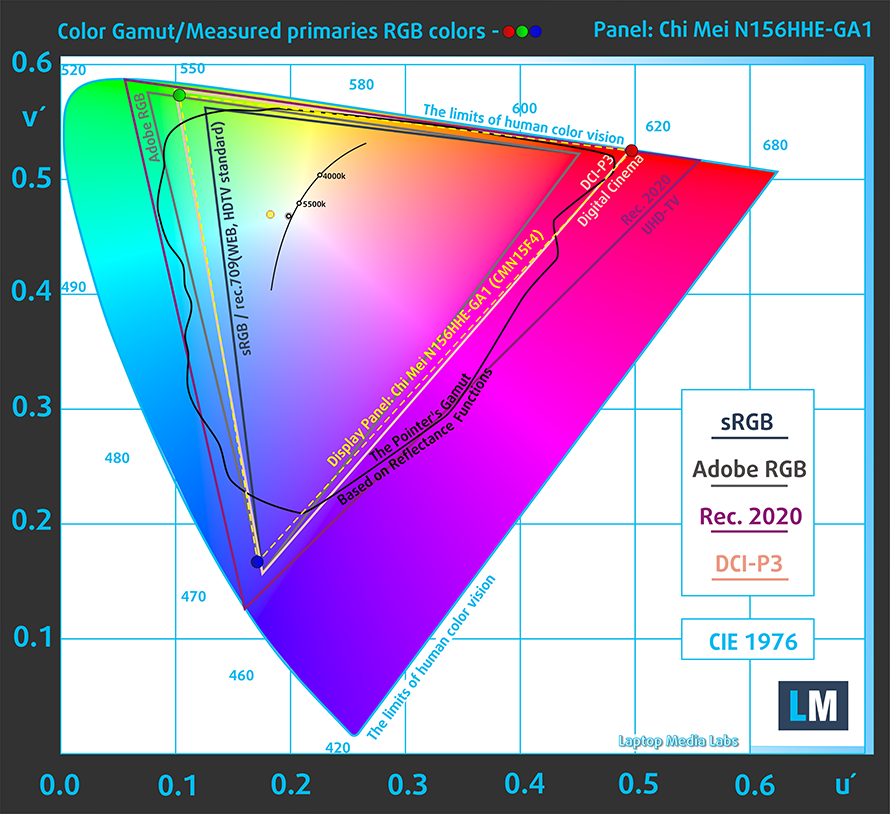 Our "Design and Gaming" profile delivers optimal color temperature (6500K) at 140 nits luminance and sRGB gamma mode.
We tested the accuracy of the display with 24 commonly used colors like light and dark human skin, blue sky, green grass, orange etc. You can check out the results at factory condition and also, with the "Design and Gaming" profile.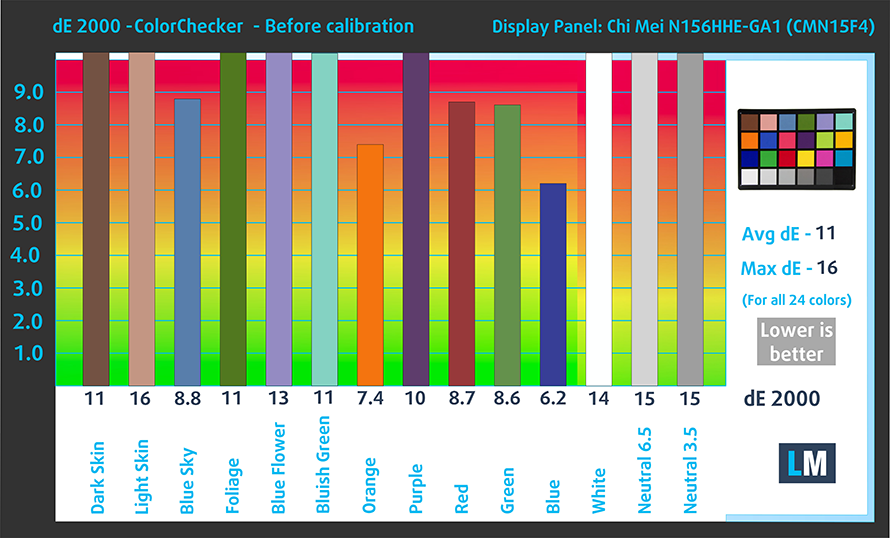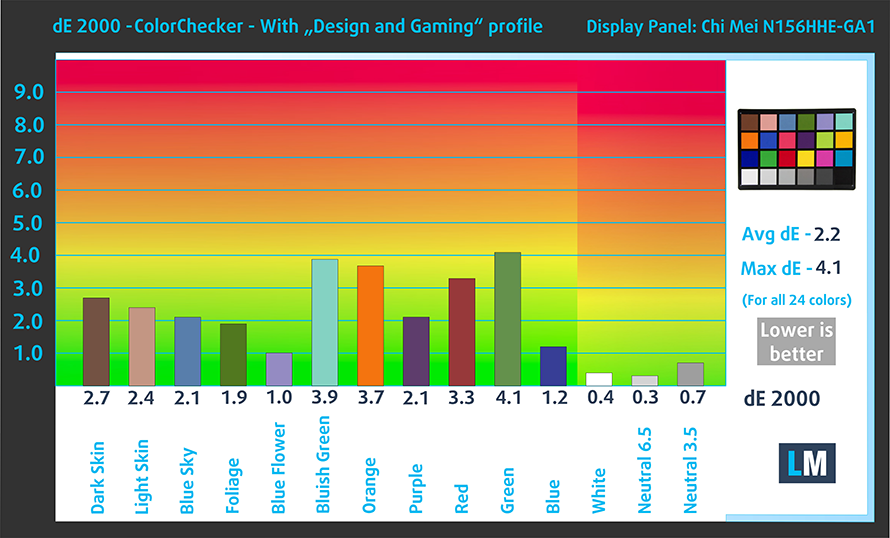 The next figure shows how well the display is able to reproduce really dark parts of an image, which is essential when watching movies or playing games in low ambient light.
The left side of the image represents the display with stock settings, while the right one is with the "Gaming and Web Design" profile activated. On the horizontal axis, you will find the grayscale and on the vertical axis – the luminance of the display. On the two graphs below you can easily check for yourself how your display handles the darkest nuances but keep in mind that this also depends on the settings of your current display, the calibration, the viewing angle and the surrounding light conditions.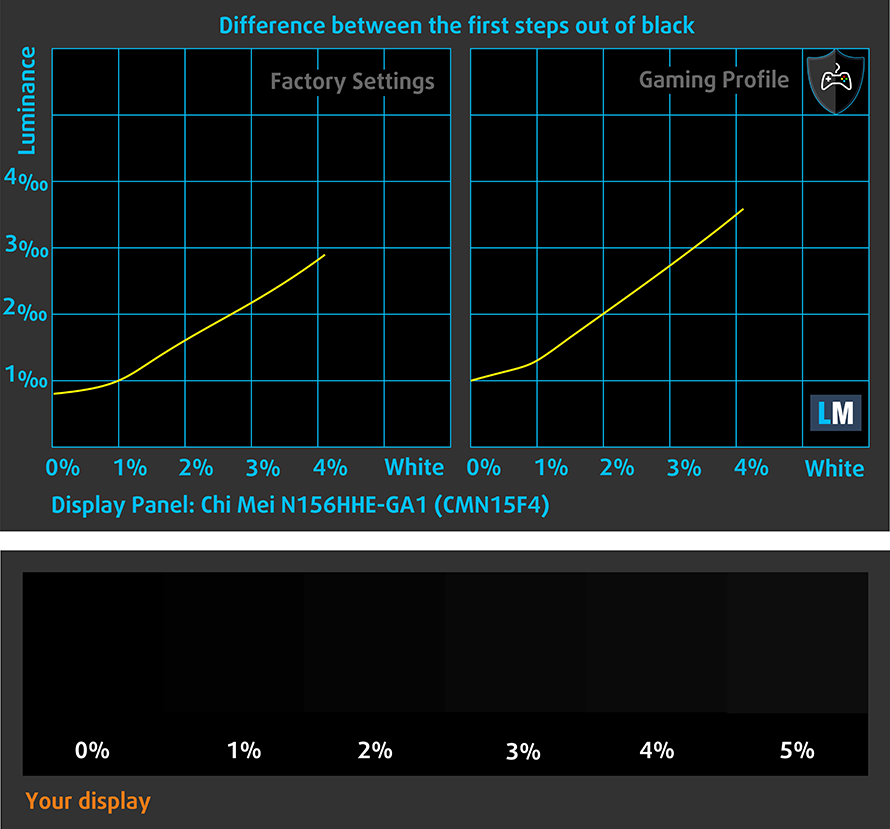 Response time (Gaming capabilities)
We test the reaction time of the pixels with the usual "black-to-white" and "white-to-black" method from 10% to 90% and reverse.
We recorded Fall Time + Rise Time = 9 ms – a speed which will adore hard-core gamers.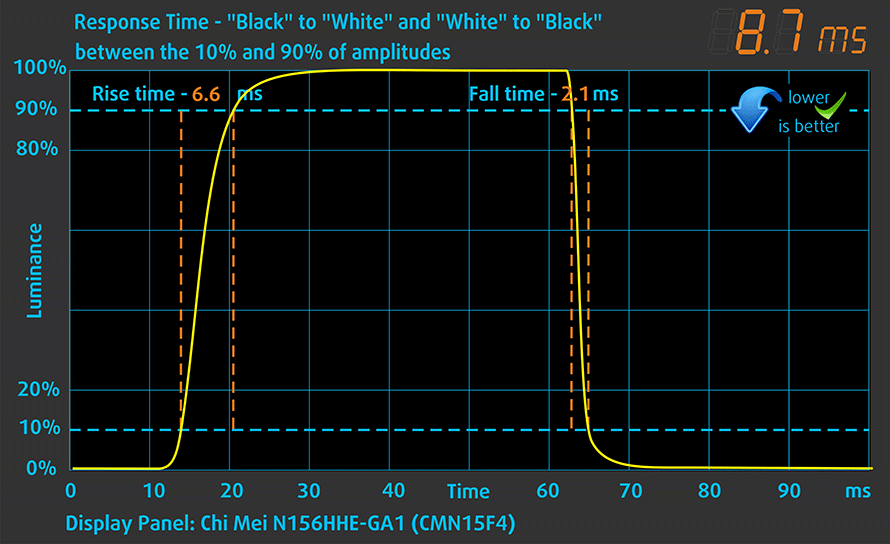 PWM (Screen flickering)
Pulse-width modulation (PWM) is an easy way to control monitor brightness. When you lower the brightness, the light intensity of the backlight is not lowered, but instead turned off and on by the electronics with a frequency indistinguishable to the human eye. In these light impulses, the light/no-light time ratio varies, while brightness remains unchanged, which is harmful to your eyes.
You can read more about that in our dedicated article on PWM.
We detected PWM until 95 nits, however, the frequency was high enough (26 KHz) to be comfortable for extended periods of use.

Blue light emissions
Installing of our Health-Guard profile not only eliminates PWM but also reduces the harmful Blue Light emissions while keeping the colors of the screen perceptually accurate. If you're not familiar with the Blue light, the TL;DR version is – emissions that negatively affect your eyes, skin and your whole body. You can find more information about that in our dedicated article on Blue Light.
You can see the levels of emitted blue light on the spectral power distribution (SPD) graph.

Conclusions
MSI GS63VR 7RF's 120 Hz screen is really pleasant for gamers, as it has a very fast panel with high brightness and contrast levels and exceptional color reproduction with the colors being saturated and attractive to the eye. We have to note that our Gaming and Design profile greatly affects color accuracy. In addition to that it has a wide range of PWM-free brightness levels, making it suitable for long gaming sessions even in dark conditions. However there are some setbacks, unfixable by our profiles which are due to the nature of TN panels – poor viewing angles. It also suffers from nonuniformity in the luminance aspect which itself is not of a great concern for gamers.

Buy our profiles
MSI GS63VR 7RF configurations with 15.6″ Chi Mei N156HHE-GA1 (FHD, 1920 × 1080) TN screen and the laptop can be found at: Buy from Amazon.com (#CommissionsEarned)
*Should you have problems with downloading the purchased file, try using a different browser to open the link you'll receive via e-mail. If the download target is a .php file instead of an archive, change the file extension to .zip or contact us at bg.laptopmedia@gmail.com.
Read more about the profiles HERE.
In addition to receiving efficient and health-friendly profiles, by buying LaptopMedia's products you also support the development of our labs, where we test devices in order to produce the most objective reviews possible.
Sound
MSI GS63VR 7RF sounds well enough in the mid and high frequencies, although it has some deviations in the lows.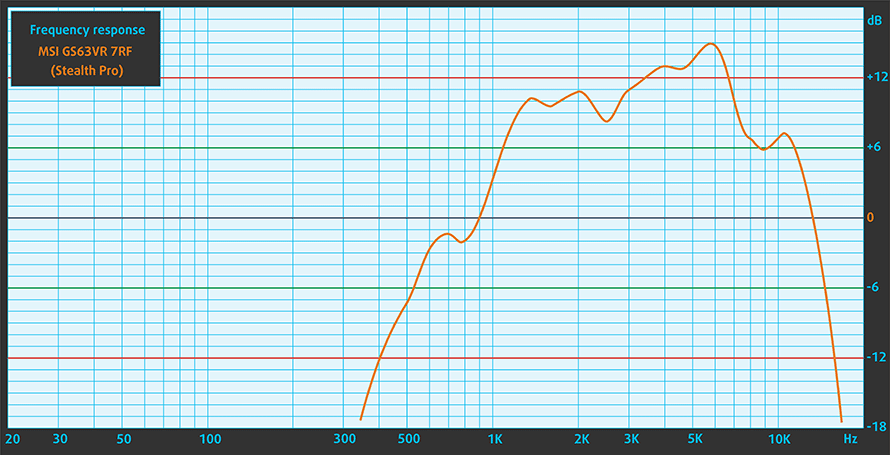 Software
MSI provides a disk with all drivers and features needed when you install or if you reinstall your Windows operating system, but if you lose it or need the latest drivers, we've got you covered: https://www.msi.com/Laptop/support/GS63VR-7RF-Stealth-Pro#down-driver

Battery
As always, the battery tests were run with Windows power saving setting and Wi-Fi turned on, and the screen brightness adjusted to 120 nits. The 65Wh battery unit on the MSI GS63VR 7RF is a bit larger than that found on some of its direct competitors, although it is outlasted in most of the tests. Despite that fact, we have to note that achieving more than 6 hours of web browsing time and a shy over two hours of gaming on a 120 Hz screen is truly spectacular.
In order to simulate real-life conditions, we used our own script for automatic web browsing through over 70 websites.
For every test like this, we use the same video in HD.
We use F1 2017's built-in benchmark on loop in order to simulate real-life gaming.
CPU – Intel Core i7-7700HQ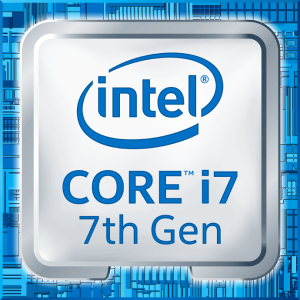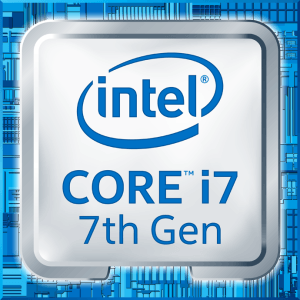 The Core i7-7700HQ is Kaby Lake's top-shelf direct successor to the Skylake Core i7-6700HQ offering slightly higher clock speeds on the almost identical architecture and TDP. While Intel markets Kaby Lake's architecture as "14nm+", the Core i7-7700HQ is still on the same 14nm node with the only significant update being in the iGPU department. That's why the slightly altered clock speeds (2.8 – 3.8 GHz vs 2.6 – 3.5 GHz) bring not more than 10% increase in performance compared to the Core i7-6700HQ. We still have the supported Hyper-Threading technology with 4/8 – core/thread design, the same 45W TDP, and 6MB cache.
However, the Kaby Lake generation boasts an updated video engine for the iGPU, although, its performance is just about the same. Branded as Intel HD Graphics 630, the GPU offers slightly higher clock speeds (350 – 1100 MHz vs 350 – 1050 MHz) compared to the Intel HD Graphics 530 and support for H265/HEVC Main10 profile at 10-bit color depth and the VP9 codec for full hardware acceleration. In addition, the HDCP 2.2 is also supported allowing Netflix's 4K video streaming.
You can browse through our top CPUs ranking: http://laptopmedia.com/top-laptop-cpu-ranking/
Results are from the Cinebench 20 CPU test (the higher the score, the better)
Results are from our Photoshop benchmark test (the lower the score, the better)
Results are from the Fritz chess benchmark (the higher the score, the better)
GPU – NVIDIA GeForce GTX 1060 (6GB GDDR5)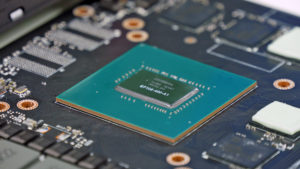 NIVIDIA's GeForce GTX 1060 GPU aims to be the mid-tier graphics card from the Pascal generation offering similar or even better performance than last year's flagship models like the GTX 970M and 980M. However, the GPU will be used in high-end laptop configurations.
The graphics card is based on the GP106 chip built on the 16nm FinFET manufacturing process from TSMC paired with up to 6GB GDDR5 VRAM clocked at 8000 MHz effective on a 192-bit interface. The GPU also features the same amount of CUDA cores as its desktop counterpart (1280) and it's clocked at slightly lower frequencies – 1404 – 1670 MHz.
Depending on the cooling solution, the GPU can be found in large 17 and 15-inch notebooks but some slimmed-down 14-inch notebooks are also an option. The TDP of the GPU is somewhat lower than the last generation GTX 970M.
You can browse through our top GPUs ranking: http://laptopmedia.com/top-laptop-graphics-ranking/
Storage performance
Although it is region-dependent, the SSD that our unit was equipped with is of 256 GB capacity, is made by Samsung and bears a model number PM871A. It reached sequential Read and Write speeds of 551.9 MB/s and 517.5 MB/s, respectively which is around 3-4 times faster than a regular HDD.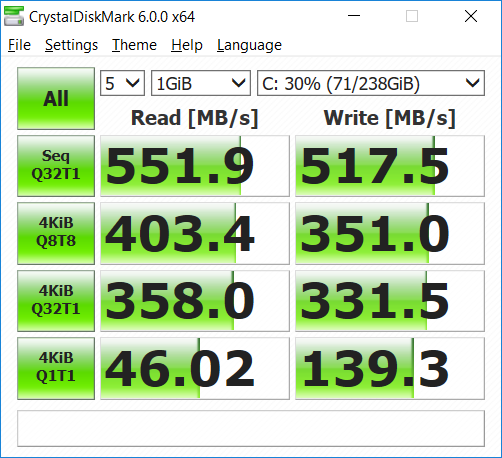 Gaming tests




Temperatures
The temperature tests go this way. We use Prime95 and FurMark to torture the CPU and the GPU respectively. This won't give real-life representation but with our methodology we try to give you the most optimal results.
The first values from the test are from the 30th second of running the Prime95 stress test, which simulates a heavy task run on your computer (usually lighter tasks take from a part of the second up to a couple of seconds). Next, we take the ones from the 2nd-minute mark, which imitates a very heavy task, run on the CPU. The last values we show you are the ones at the end of the test, which is 15 minutes, simulating the CPU load when rendering a video, for example.
0-15 min. CPU torture test
Let's start with reminding you of the base and Turbo core clocks of Intel Core i7-7700HQ – 2.8 GHz and 3.8 GHz, respectively. Although the processor was idling at relatively cool 38°C, it quickly sky-rocketed to 96°C for just under 30 seconds of extreme load. We are glad that MSI has planned everything here adequately and gave the processor a lot of headroom before it turns the speed down, given the obviously low cooling potential spacing-wise. The frequencies were jiggling between 3.1 GHz and 3.4 GHz.
As we continue to the second-minute mark, this fluctuation began to establish around the 2.9 GHz – just a tip over the base frequency. We also noticed that the temperature was now stable in between scorching and inflammable at around 95°C.
For the entire period of torturing the poor Core i7-7700HQ, we noted minor throttling on some occasions on cores One and Two. However, the average clock speed was 2.9 GHz at an average CPU temperature of 95°C, as 96°C was obviously the target temperature beyond which the system was going throttle.
0-30 min. GPU torture test
By default, the GTX 1060 (6GB GDDR5) has a maximum boost clock of 1670 MHz, which our unit was never able to achieve, even at the beginning of the test. After capping at just under 1600 MHz it gradually dropped to just beneath 1500 MHz, giving an average of 1486 MHz. We even noticed some throttling, as you can see in the chart. In addition to that, the maximum temperature was 82°C, and despite this, we're sure it won't get to these high values during casual gaming. It's worth noting that this device tends to get really hot on the inside which is inevitable, given the thin profile of the laptop.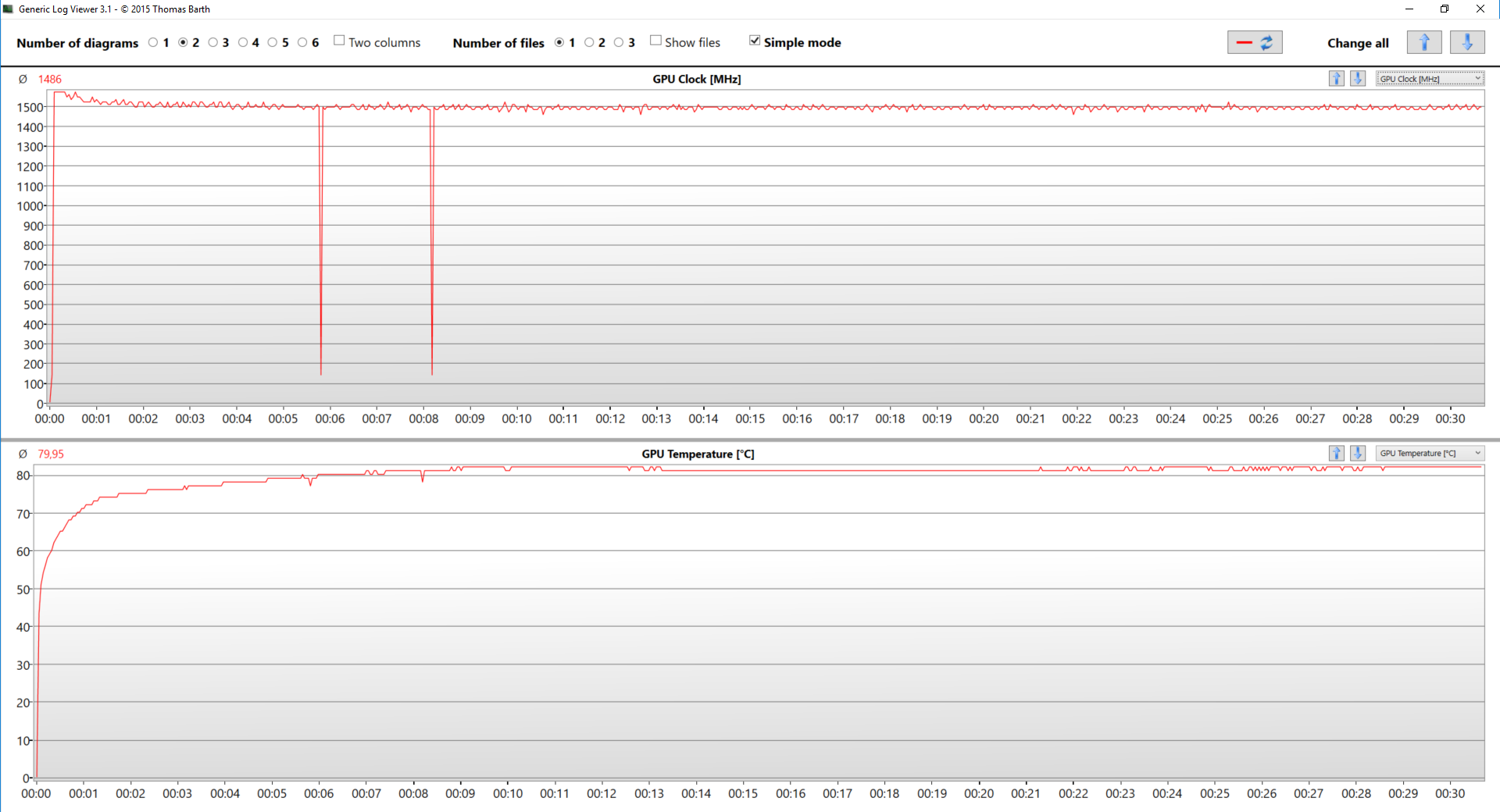 Along the surface though temperatures remained relatively stable. Yes – warm, but on no occasion hot. So you don't need to worry about your fingers.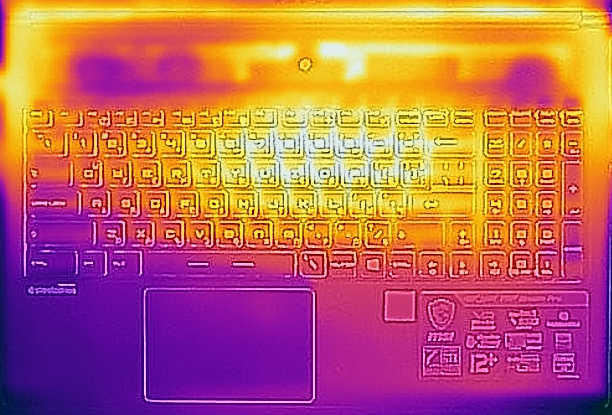 36.2°C
44.5°C
39.3°C
36.6°C
42.7°C
39.3°C
28.7°C
31.1°C
32.5°C
Verdict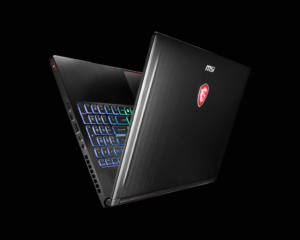 Well… how shall we start?! This is definitely not the next ordinary gaming laptop – no, no, no! We don't have aggressiveness. Instead, it shows class. These days more and more people use mobile devices for gaming instead of the big power-hungry tower beasts. And truly what is the point of a mobile device if it is enormous and difficult to carry around unless you are the Hulk or Chuck Norris. Here a new realm is born – the realm of thin, light, simple gaming notebooks and the MSI GS63VR 7RF is definitely the king of this realm with its 17.7 mm and 1.8 kg. Even the smaller 14-inch Razer Blade cannot beat that. The only device that comes real close to this is the monstrous ASUS ROG Zephyrus, although it is in a different league.
Despite the obvious size and cooling limitations, the laptop is completely useful and very competitive with other devices with a similar setup. It ended up even performing better in gaming and raw performance than Acer Aspire V 15 (VN7-593G), for example. One major setback that separates the GS63VR 7RF from the rest is the price. Despite the uniqueness of the notebook, a lot of people would prefer to get a heavier and bulkier device if that is going to save them a couple of hundred dollars, with the notable mention here – Lenovo Legion Y720
Next, we have the screen – nowadays a 120 Hz display is a must-have in the gaming laptop segment. It really lets you immerse yourself in the game you are playing, and a lot of people, including us, will prefer a Full HD high refresh rate panel to a 4K 60 Hz one. In addition to that, the 15.6-inch display of MSI GS63VR 7RF is super punchy and vibrant with its 100% sRGB color coverage and spreading further to 96% of the DCI-P3 scheme. It is also very bright and has an unusually high contrast for a TN panel. It's worth mentioning that our Gaming and Web design profile brings the colors of the screen a lot closer to reality with the dE dropping from 11 down to just 2.2. Sadly, unlike the Legion Y720, you have to be prepared for poor viewing angles.
Battery life is good for a gaming device, as it will get you through more than 6 hours of browsing the Web, and more impressively, it can give you two hours of gaming away from the plug – on a 120 Hz screen – now that's a stunner. However, we noticed that when battery saver is "On", vSync automatically kicks in, hence the good gaming battery test result.
Inevitably, this kind of devices is doomed to have disadvantages. First of all, the heat – while it manages competitive and playable framerates it tends to get very hot on the inside, although the surface temperatures were surprisingly adequate, never exceeding 45°C. Another drawback we encountered with our unit was the questionable build quality. As we had no problems with the device itself, there were some awkward sounds coming from the palm rest area, both when you place your hands on top of it and when you right-click the touchpad.
All in all – it's a special device that performs on point, has a beautiful screen and reasonable battery life but is a bit pricey for our likings.
Pros
Fast and capable, despite the cooling limitations
Champion in mobility
Excellent TN panel with 100% sRGB coverage (96% DCI-P3) and 120Hz refresh rate
PWM-adjustment is not aggressive, hence less disturbing
Good enough battery life
Cons
Poor viewing angles for this kind of device
A bit pricey for a 15.6-inch gaming notebook
Questionable build quality
Difficult to upgrade