Toshiba Satellite P50-C review – hard to miss elegant multimedia notebook in the upper-mid-range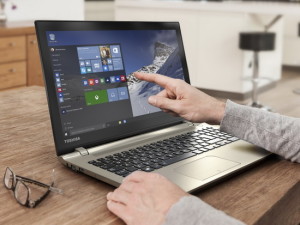 We are rarely presented with a decent multimedia notebook at this price range, especially with an IPS panel. Some offerings on the market make a good multimedia machine for much lower price than the Toshiba Satellite P50-C, but this time around we've got an astonishing display on board. Actually, Toshiba rarely misses the quality IPS panel from a certain price range and above.
Nevertheless, the IPS display isn't the only feature that makes this machine worth your money. It also boasts aluminum design (well, the better part of the body is covered in brushed aluminum), good input devices, lightweight and rather good hardware capable of running some of the latest games with lower settings. We are, however, quite concerned about the cooling system and the main vent being placed on the right side of the machine. In the course of this review, we will check how the cooling system handles temperatures as well as provide some insight about the most important aspects like display quality, battery life etc.
You can take a look at all the available configurations and their corresponding prices here: http://amzn.to/1gwvoCf
Contents
Retail package
The retail box doesn't contain anything too special and you can see that from the relatively small box in which the Satellite P50-C is shipped. You will find user manuals, DVD with drivers, AC adapter, and cable for charging.
Design and construction
As we already mentioned, the design and build quality are more than fine. Even though, we have some interesting and not so positive insight on the latter. But given the price range, weight (little under 2.1 kg), thin profile (22.5 mm) and relatively robust construction, we can't be too picky.
We start off with the lid which is almost completely covered in brushed aluminum with a small plastic line at the top. The hinges on the back are protruding and can be easily spotted, yet manage to blend with the silver-colored battery, which is user-replaceable. Most of the Toshiba notebooks we've tested so far have we-tighten hinges that assure opening the notebook with just one hand and the Satellite P50-C is no exception. It's a rather small detail, but really makes an impression about the build quality and improves user experience a bit. Moreover, the lid doesn't bend easily under pressure, but this applies for the center. The bottom part, where the hinges are located, actually bends more, but we don't think this would be an issue for most users. On the other side of the lid, you will see the 15.6-inch glossy IPS panel with relatively thin bezels around the screen that accommodate the built-in webcam and microphone.
The bottom part is where you should be more careful. It consists of a thin, black, textured and relatively soft to touch plastic and the drastic color change kind of ruins the overall appearance of the chassis. We also found it too fragile – it's easy to scratch or break so be careful where you put it and be extra cautious when removing it. Other than that, it adopts two vents for cool air intake and can be paired with a cooling pad.
Going around the sides, which are quite thin – 22.5 mm, we found that Toshiba has put the bare minimum ports. The majority of ports are located on the right side where the HDMI cable, the 3.5 mm audio jack, and the two USB 3.0 ports might obstruct the usage of an external mouse. Also, the main vent for dispersing the heat is on the right too so we will make sure to check if this will affect user experience. As for the left side, Toshiba has replaced the usual USB 2.0 port with another USB 3.0 and next to it is the DC charging port, the LAN port and finally the optical drive.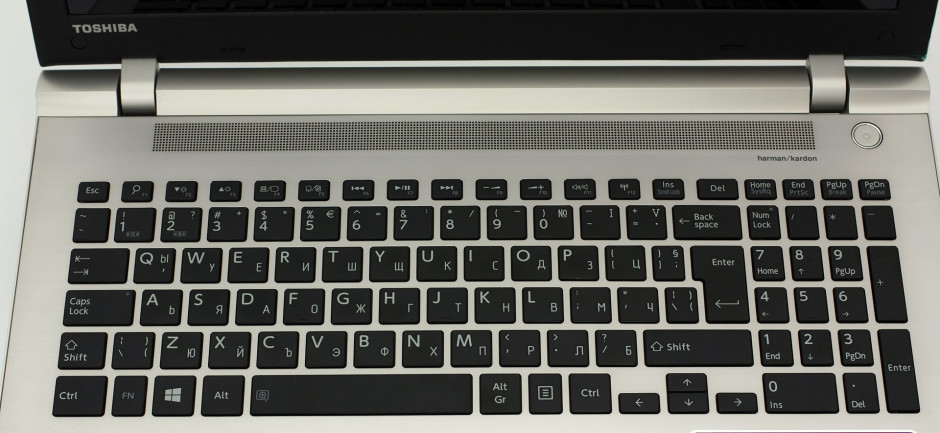 We are left with the interior that boasts the same brushed aluminum found on the lid. Luckily, it doesn't attract smudges and fingerprints easily, it feels nice and it's sturdy enough not to bend under pressure. Our positive opinion on the interior goes with the keyboard and touchpad as well. Keys appear to be well-separated and reasonably sized including the Numpad. They offer a nifty "clicky" and long tactile feedback, but the keyboard lacks LED backlight which is somehow strange in the upper-mid-range class. Especially for a multimedia laptop. As for the touchpad – things look good here too. We didn't feel any unnecessary "floating", most of the touchpad registers left click, it's responsive and accurate. The surface seemed like a bit rough, but it needs time adjusting to be honest.
Again, we are happy with the presented design and build quality, but the lack of LED keyboard backlight, impractical port placement along with the main vent and the fragile bottom piece left us with mixed feelings about the overall construction. However, the cons greatly еxceed the drawbacks at this price point.

Display and sound
The Toshiba P50-C has a Full HD IPS panel manufactured by LG with model number of LP156WF6-SPA1. We've got 15.6-inch diagonal on our hands with a resolution of 1920 x 1080, 16:9 aspect ratio and 141 ppi pixel density. It can be considered as "Retina" if viewed from a distance equal or greater than 61 cm.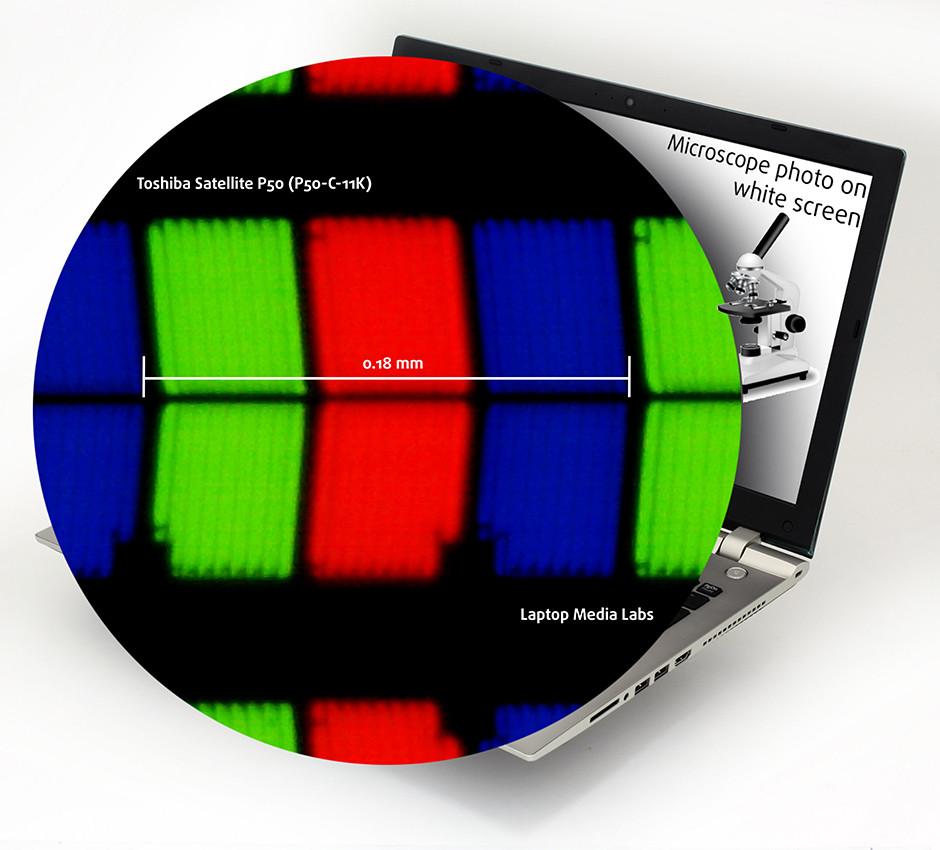 The IPS panel, of course, provides good viewing angles under 45-degree incline.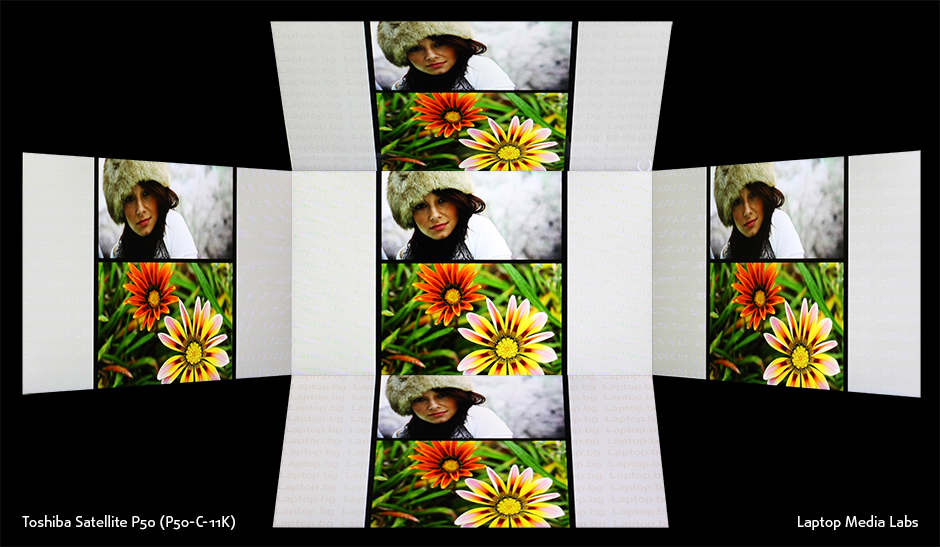 We measured the maximum brightness and recorded 319 cd/m2 with only 6% deviation. The color temperature aligns almost perfectly with the optimal one (6500K), but there's a small deviation on the surface located at the top-left corner of the screen.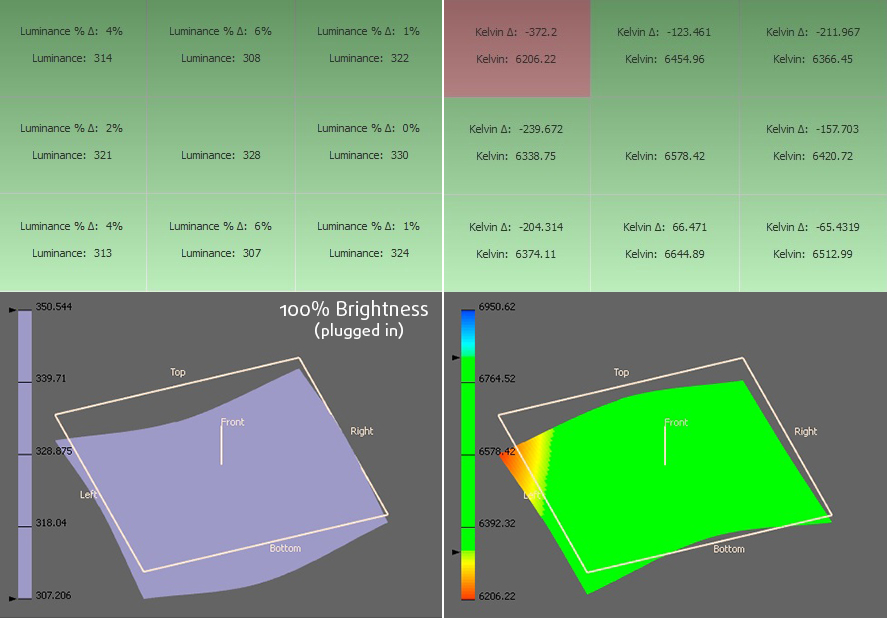 Color reproduction
To make sure we are on the same page, we would like to give you a little introduction of the sRGB color gamut and the Adobe RGB. Starting with the CIE 1976 Uniform Chromaticity Diagram that represents the visible specter of colors by the human eye giving you a better perception of the color gamut coverage and the color accuracy. Inside the black triangle, you will see the standard color gamut (sRGB) that has been used by millions of people in HDTV and the Web. As for the Adobe RGB, this is used by professional cameras, monitors and etc. used for printing. Basically, colors inside the black triangle are used by everyone and this is the essential part of the color quality and color accuracy.
You can see which areas are covered by the display on the yellow triangle below. Toshiba P50-C's display is able to cover 91% of the sRGB color gamut assuring vivid colors.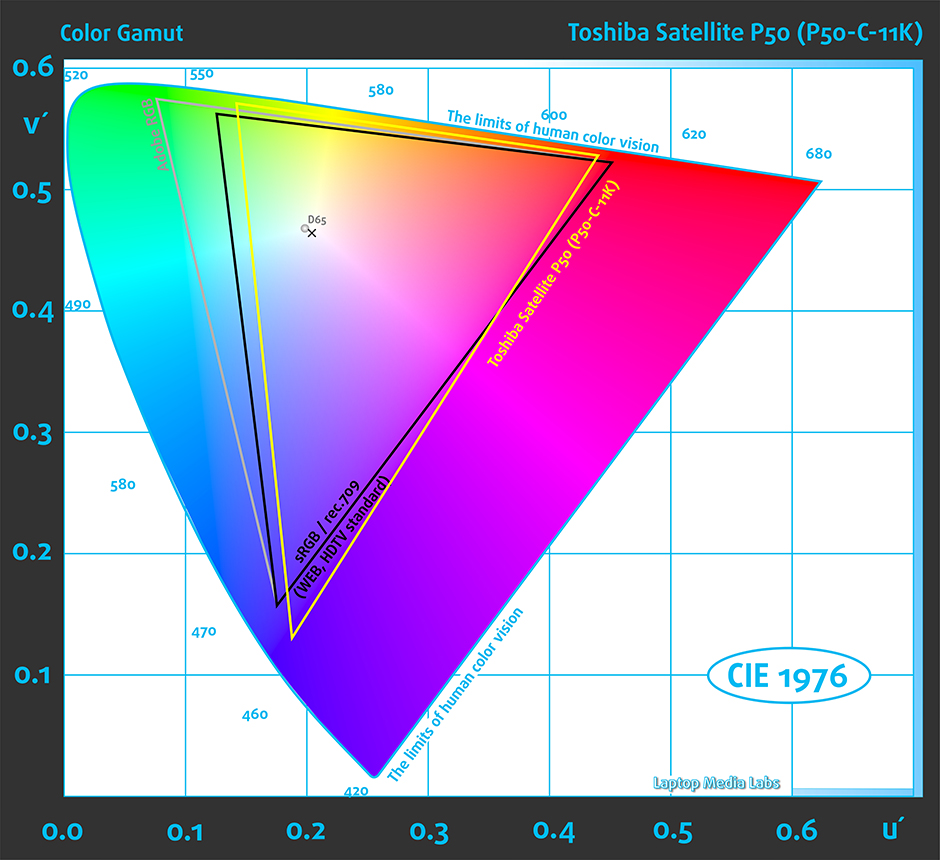 Below you will see practically the same image before calibration. Color circles represent the reference colors and white circles being the result. You can see main and additional colors with 100% and 50% saturation inside the sRGB gamut.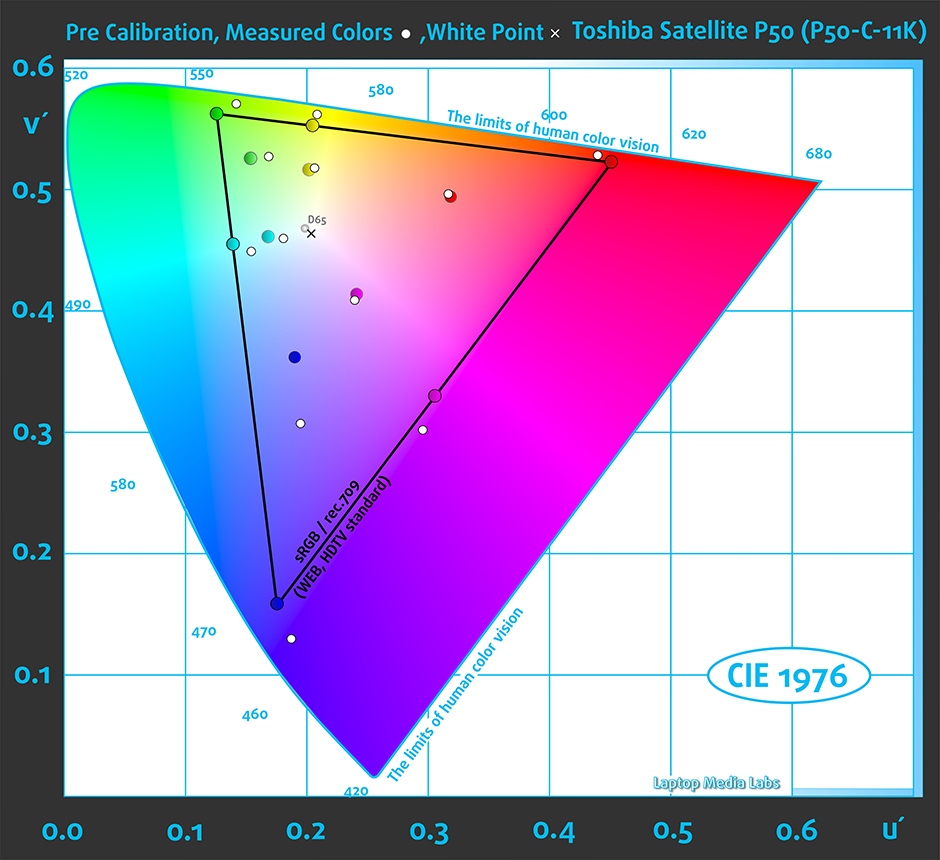 The measured gamma curve almost perfectly aligns with the optimal one of 2.2.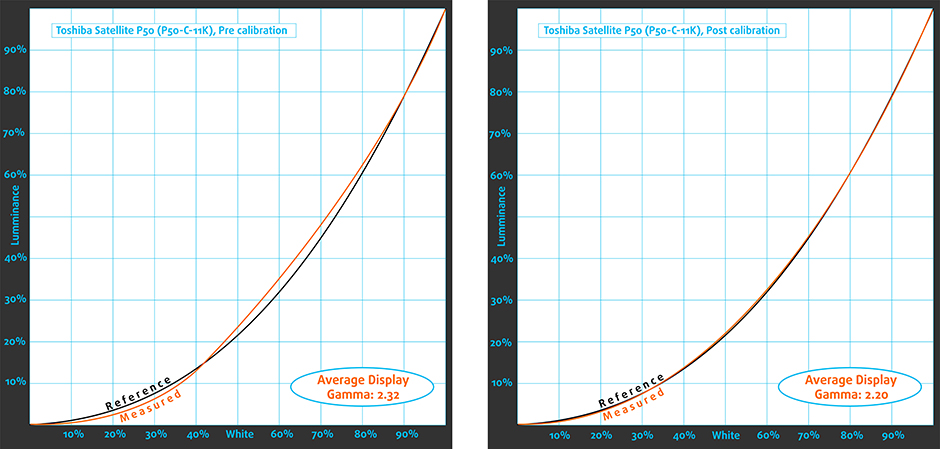 We've set the display at 140 cd/m2 brightness and color temperature to 6500K.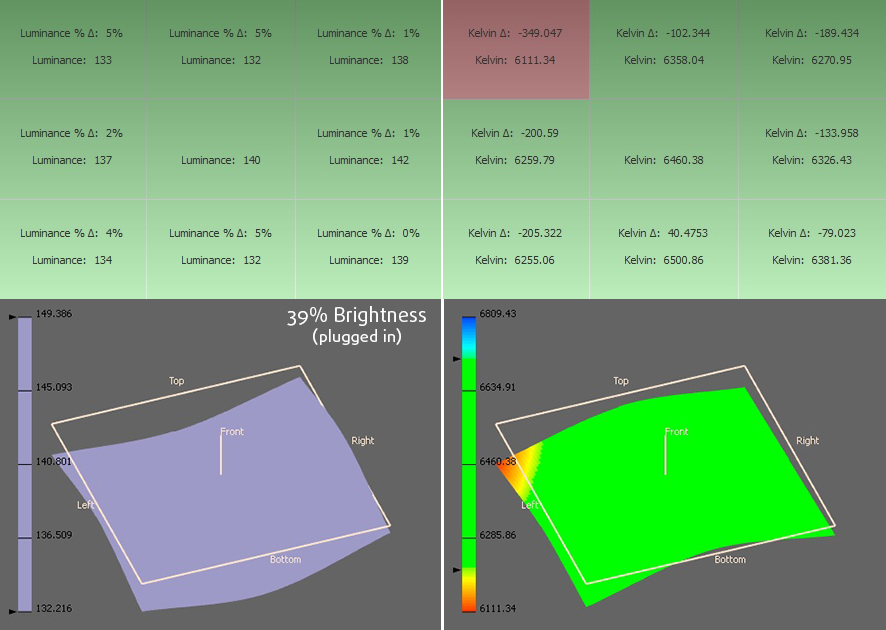 We used X-Rite i1Display Pro for profiling.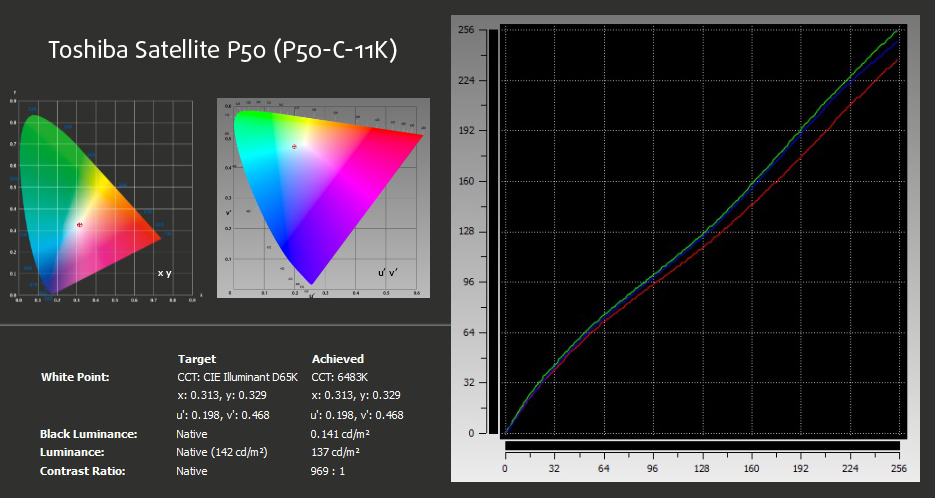 Below you can see the results from the accuracy color checker with 24 commonly used colors like light and dark human skin, blue sky, green grass, orange etc. After profiling the color accuracy, average DeltaE 2000 = 0.66. The contrast ratio is 1000:1 before calibration and 970:1 after calibration. Both results are impressive.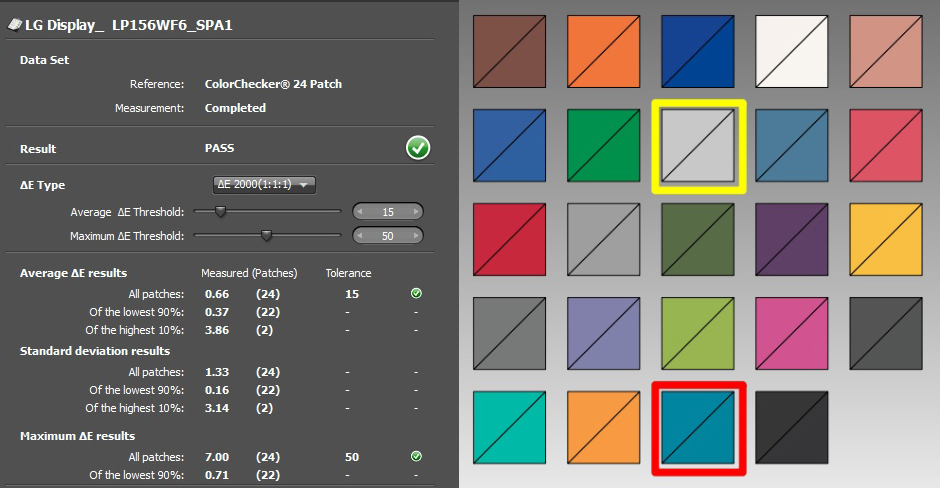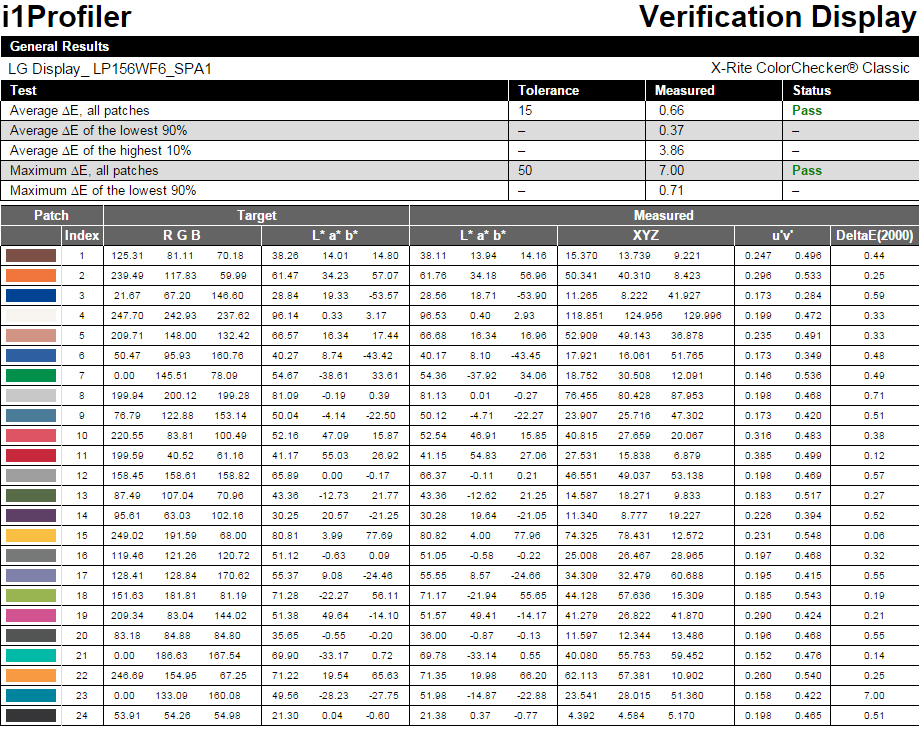 On the image below are another batch of colors we've tested.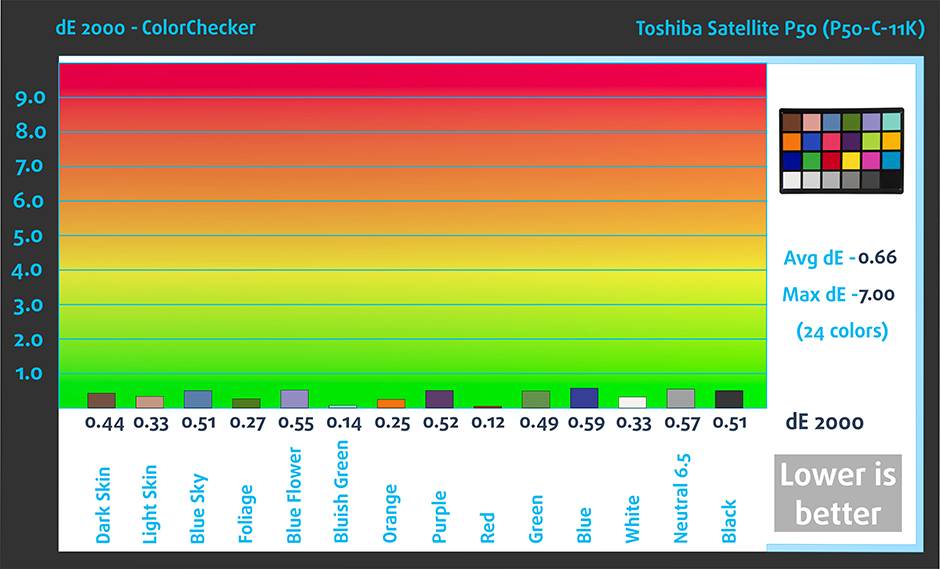 Pulse-width modulation (PWM, Screen flickering)
The display uses PWM across all brightness levels, but the frequency of the emitted light is quite high – 21 kHz. Having said that, we can consider the display less harmful due to the high frequency.

Conclusion
There's nothing that we didn't like about the panel to be honest. It has high contrast ratio, high sRGB color gamut coverage, accurate color reproduction, high maximum brightness and has excellent viewing angles. However, the panel uses PWM across all brightness levels so we can consider that as a drawback. At least the frequency of the emitted light is higher than usual and only the most sensitive users will spot the difference.
Screen comparison
If we assume a distance of 58cm (~23in) between the human eye and the notebook monitor, then normal (20/20) vision would require a pixel density of at least 150ppi in order to interpret an image as perfectly detailed.
Laptop
Results
Result
difference
Price
Price
difference
Toshiba Satellite P50-C 15.6-inch, LG, 1920 x 1080 pixels
141.21
Acer Aspire V15 (V3-574G) 15.6-inch, LG LP156WF4-SPL1, 1920 x 1080 pixels
141.21
ASUS K550JX 15.6-inch, INNOLUX, 1920 x 1080 pixels
141.21
Acer Aspire V15 Nitro 15.6-inch, LG, 1920 x 1080 pixels
141.21
Higher panel brightness is of key importance for visual comfort when working outside or in a brightly lit room.
Laptop
Results
Result
difference
Price
Price
difference
Toshiba Satellite P50-C 15.6-inch, LG, 1920 x 1080 pixels
319
Acer Aspire V15 (V3-574G) 15.6-inch, LG LP156WF4-SPL1, 1920 x 1080 pixels
240
-24.76%
ASUS K550JX 15.6-inch, INNOLUX, 1920 x 1080 pixels
214
-32.92%
Acer Aspire V15 Nitro 15.6-inch, LG, 1920 x 1080 pixels
331
+3.76%
Delta E is a CIE measurement unit of color difference. Higher values indicate that the display produces less accurate colors. (lower results are desirable).
Laptop
Results
Result
difference
Price
Price
difference
Toshiba Satellite P50-C 15.6-inch, LG, 1920 x 1080 pixels
0.66
Acer Aspire V15 (V3-574G) 15.6-inch, LG LP156WF4-SPL1, 1920 x 1080 pixels
0.90
+36.36%
ASUS K550JX 15.6-inch, INNOLUX, 1920 x 1080 pixels
1.69
+156.06%
Acer Aspire V15 Nitro 15.6-inch, LG, 1920 x 1080 pixels
2.85
+331.82%
The sRGB color gamut, introduced as a standard for the Web, shows the percentage of colors used on the Web that can be displayed on the screen of the device being tested (higher values are better).
Laptop
Results
Result
difference
Price
Price
difference
Toshiba Satellite P50-C 15.6-inch, LG, 1920 x 1080 pixels
91
Acer Aspire V15 (V3-574G) 15.6-inch, LG LP156WF4-SPL1, 1920 x 1080 pixels
64
-29.67%
ASUS K550JX 15.6-inch, INNOLUX, 1920 x 1080 pixels
50
-45.05%
Acer Aspire V15 Nitro 15.6-inch, LG, 1920 x 1080 pixels
91
Sound
While the notebook's loudspeakers aren't that loud, we can say for sure that the sound quality is excellent throughout all frequencies.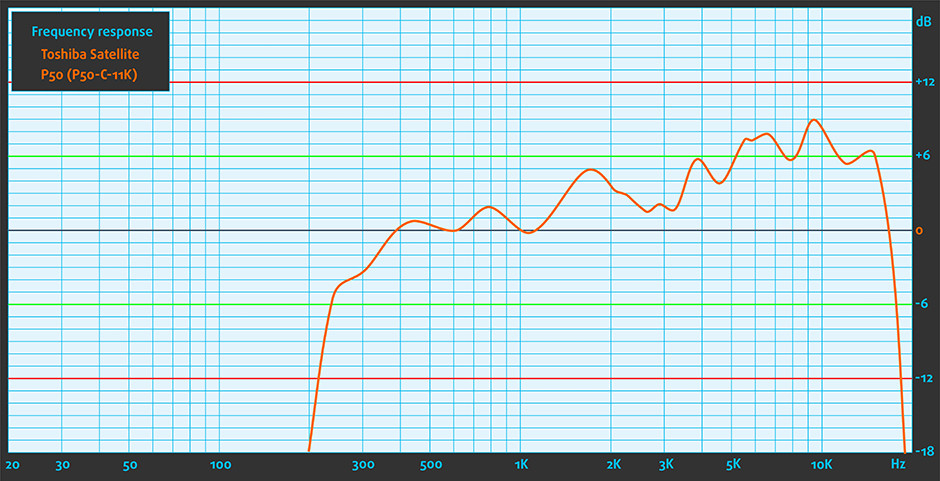 Specs sheet
The specs sheet provided below is for the model used for the writing of this review. Hardware specification may vary depending on your region.
CPU
Intel Core i7-5500U (2-core, 2.40 – 3.00 GHz, 4MB cache)
RAM
8GB (1x 8192MB) – DDR3L, 1600MHz
GPU
NVIDIA GeForce 950M (2GB DDR3)
HDD/SSD
1TB SSHD (8GB of SSD cache)
Display
15.6-inch Full HD (1920×1080) IPS panel, glossy
Optical Drive
DVD burner
Connectivity
LAN 10/100/1000 Mbps, Wi-Fi 802.11ac, a/b/g/n, Bluetooth 4.0
Other features

1 × RJ-45
1 × USB 2.0
1 × external Headphone (stereo) / Microphone combo socket
2 × USB 3.0 (one supporting USB Sleep-and-Charge)
1 × HDMI-out supporting Ultra HD 4K format
1 × integrated HD Web Camera with built-in stereo microphone
1 × SD™ card slot (SD™, SDHC™, SDXC™ supporting UHS-I, MMC)

Battery
4-cell, 45Wh (2800 mAh)
Thickness
23.5 mm (0.92″)
Weight
2.2 kg (4.85 lbs)
Toshiba Satellite P50-C configurations
Software
The notebook came with pre-installed Windows 8.1 (64-bit) and that's what we used for testing. You can download the latest drivers, if you wish to perform a clean install of the OS, from Toshiba's official website: http://www.toshiba.eu/innovation/download_drivers_bios.jsp?service=EU

Battery
The battery provided here is 4-cell rated at 45Wh (2800 mAh) and it's a typical solution for a standard multimedia notebook. Nevertheless, we can't expect much from the battery life since the machine features a relatively powerful discrete GPU (GeForce 950M) and an energy consuming Full HD IPS panel. At least the CPU is part of the ultra-low voltage lineup from Intel and might save a bit of juice. We ran our usual tests such as web browsing, video playback, and gaming and all tests share the same conditions – Wi-Fi turned on, battery saver is on, and screen brightness is set to 120 cd/m2.
Web browsing
In order to simulate real-life conditions, we used our own script for automatic web browsing through over 70 websites.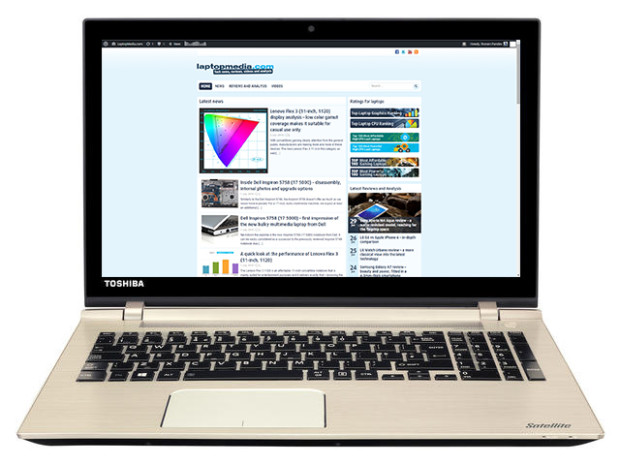 Just about what we've expected, a decent result, nonetheless – 352 minutes (5 hours and 52 minutes).
Video playback
For every test like this, we use the same video in HD.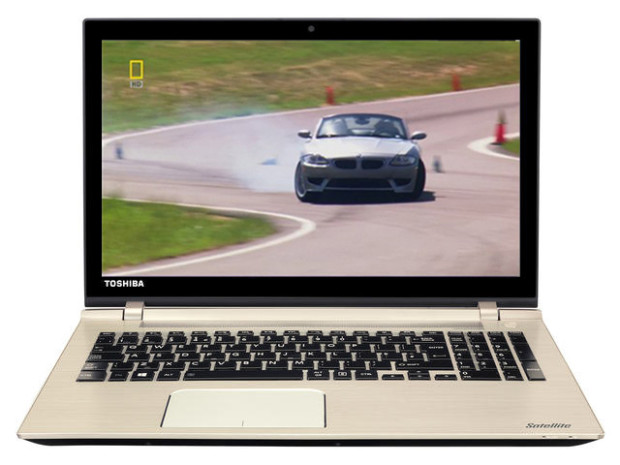 Slightly lower result here, but still acceptable – 286 minutes (4 hours and 46 minutes).
Gaming
For accurate simulation, we used the Metro Last Light benchmark running on loop with graphic settings set to minimum.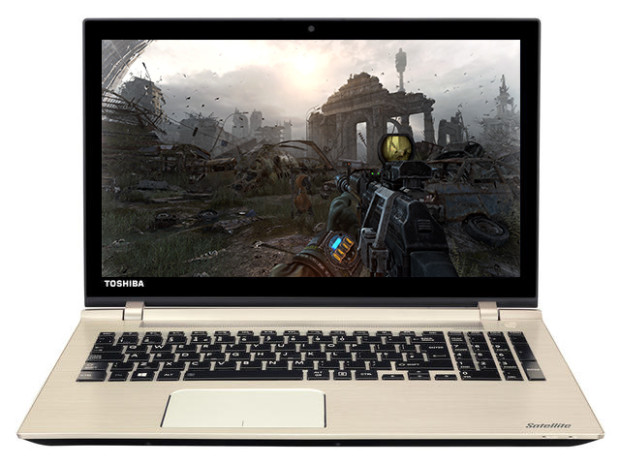 At the most demanding test, we got only 103 minutes (1 hour and 43 minutes), but we doubt you will start a gaming session without a charger nearby.

CPU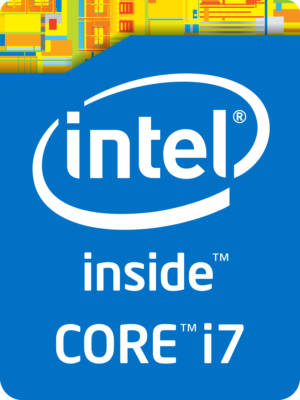 Intel Core i7-5500U is a high-end processor released on January 05, 2015. It is part of the "Broadwell" generation and operates at a base frequency of 2.40GHz. If a higher frequency is needed, its two cores can overclock, and if they both operate in tandem, they go to 2.9GHz. The frequency goes up to 3GHz for only one core.
The chip is equipped with 128KB of first level cache, 512KB of second-level cache, and 4MB of third level cache. The Core i7-5500U has been developed using a 14nm process, allowing for the integration of the Intel HD Graphics 5500 controller. It operates at a base frequency of 300MHz, while Turbo Boost can increase that to 950MHz. TDP consumption of the whole SoC (System on a Chip) is 15 watts with a maximum operating temperature of 105C.
Intel Core i7-5500U supports TurboBoost (increasing the clock frequency when necessary), HyperThreading (additional virtual core for every physical one), PCI Express 3.0, DDR3/L/ 1333/1600 memory, AVX, AVX2.0, FMA, QuickSync and the SSE4 instruction set.
You can browse through our top CPUs ranking: http://laptopmedia.com/top-laptop-cpu-ranking/
Here you will find other useful information and every notebook we've tested with this processor: http://laptopmedia.com/processor/intel-core-i7-5500u/
Results are from our Photoshop benchmark test (the lower the score, the better)
Results are from the Fritz chess benchmark (the higher the score, the better)
Fritz
Fritz is a chess benchmark which tests the computing capabilities of the CPU with various chess moves. The Intel Core i7-5500U managed to get 5.819 million moves per second. For comparison, one of the most powerful PCs, Deep(er) Blue, was able to squeeze out 200 million moves per second. In 1997 Deep(er) Blue even beat the famous Garry Kasparov with 3.5 to 2.5.

GPU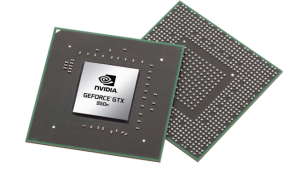 The GeForce GTX 950M is a direct successor to last year's GTX 850M and it's placed in the upper-mid range class. It is commonly used as a multimedia GPU and light gaming as its properties can handle some more demanding applications. The GPU core is the GM107, similar to most Maxwell NVIDIA graphics card and it's clocked at 914MHz and can go up to 1124MHz. It has 2GB DDR3 memory and the effective clock speed of the memory is 2000MHz, while there are other variants of the GPU with GDDR5 memory.
However, the memory width is 128 bit with 16 ROPs, 40 texture units and 640 CUDA cores (or shading units). It als features increased L2 cache size, which is now 2MB. Supports features like Battery Boost, GameStream, ShadowPlay, GPU Boost 2.0, Optimus, PhysX, CUDA, SLI and GeForce Experience.
You can browse through our top GPUs ranking: http://laptopmedia.com/top-laptop-graphics-ranking/
Here you will find other useful information and every notebook we've tested with this GPU: http://laptopmedia.com/video-card/nvidia-geforce-gtx-950m-2gb-ddr3/
Results are from the 3DMark: Fire Strike (Graphics) benchmark (higher the score, the better)
Gaming tests


| Tomb Raider (1080p, Low) | Tomb Raider (1080p, Medium) | Tomb Raider (1080p, Max) |
| --- | --- | --- |
| 102 fps | 41 fps | 22 fps |


| F1 2015 (1080p, Low) | F1 2015 (1080p, Medium) | F1 2015 (1080p, Max) |
| --- | --- | --- |
| 36 fps | 28 fps | 22 fps |


| Thief (1080p, Low) | Thief (1080p, Medium) | Thief (1080p, Max) |
| --- | --- | --- |
| 36 fps | 29 fps | 18 fps |

| GTA 5 (1080p, Low) | GTA 5 (1080p, Medium) | GTA 5 (1080p, Max) |
| --- | --- | --- |
| 58 fps | 20 fps | 9 fps |
Temperatures
Although this is not a good representation of a real life situation and such load cannot be reproduced with normal usage, it is still a good way to test the overall stability of the hardware and the capabilities of the cooling system in the long run. So we start off with 100% CPU load and the results of the stress test seem promising – 77 °C under heavy load and 2.5-2.8 GHz operating frequency. Both numbers are in normal range because the maximum operating temperature is 105 °C and the minimum clock rate is 2.4 GHz. You can see from the image below that the red line is the temperature while the green one represents CPU load.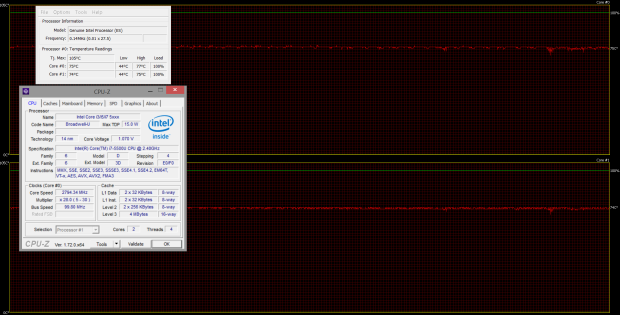 When switching on the GPU stress test alongside the CPU torture test, things took a dramatic turn and our earlier concerns about the cooling system turned out to be true. Since the CPU and GPU use only one heat pipe, it is normal that they share heat. As a result, the CPU reached dangerously high temperatures even going up to 105 °C and constantly dropping the performance down to 500 MHz in order to keep the heat down. You can clearly see the red graph below bouncing up and down. As for the GPU, there weren't any problems at all. With 100% GPU load, the cooling system managed to keep the GPU running without throttling and even keeping the temperature in the normal range – 74 °C.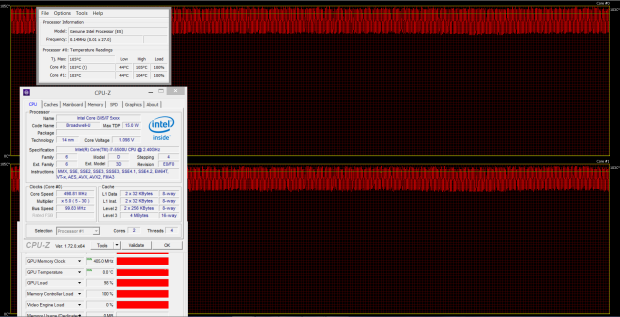 On the heat map below you can see how hot does the surface of the machine gets and luckily the palm rest area is cool at all times. Even staying cool due to the aluminum used for the interior. However, the same cannot be said about the right side of the machine where the Numpad keys are located. Still, the biggest issue remains – the right side of the notebook blows out hot air into the user's arm when using an external mouse. While this problem wasn't present with the recently reviewed Toshiba Satellite L50-C, because of the GPU not generating too much heat, the GeForce 950M, in this case, produces a lot of heat.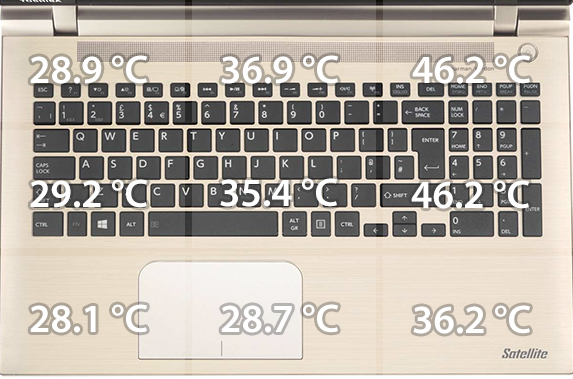 Verdict
The Toshiba P50-C can easily challenge most of the notebooks at this price range with its robust construction and sleek aluminum design. It's also light and thin so travelers – note that. We also liked the keyboard and touchpad, but we are baffled by the lack of LED keyboard backlight. You will actually be pretty surprised by how few notebooks don't have LED backlight at the upper-mid-range and we are disappointed by the Satellite P50 not having one. Also, the port placement and the main exhaust vent are a sign of impractical design due to the extra heat generated by the GTX 950M that blows into the user's arm during heavy load. The port placement will obstruct normal usage with an external mouse if you connect more devices into the USB port and an external monitor via the HDMI.
On the hardware front, things are looking fine and dandy. The IPS panel offers great image quality with a small drawback – PWM across all brightness levels. At least the frequency is too high so the eye-damaging pulsation is significantly reduced. The hardware is also in par with some other notebooks on the market and even exceeding our expectations. The GPU alone provides a lot of horsepower for some more serious gaming and of course suits just fine the multimedia station seekers. The CPU is coping well with the GPU, but will struggle with the more demanding tasks, yet the energy efficient nature of the ULV CPU keeps the battery running for longer periods of time. At the end of the day, you are looking at a decent multimedia notebook with a sleek design, light chassis, well-balanced hardware (power efficient CPU and powerful GPU) and a nice 1080p IPS display for a more enjoyable experience.
You can take a look at all the available configurations and their corresponding prices here: http://amzn.to/1gwvoCf
Pros
Sleek and robust aluminum design
Nice keyboard and touchpad performance
Quality IPS panel
Powerful hardware for the asking price (particularly the GPU)
Cons
Impractical port placement along with the main exhaust vent
PWM across all brightness levels (but the emitted light is much less harmful than the majority of panels on the market)
Lacks LED keyboard backlight