Acer Mixed Reality Headset review – a great VR platform by Microsoft and an affordable headset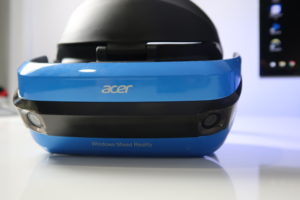 Hello and welcome to a rather unusual review. Here at LaptopMedia, we tend to review the latest notebooks and smartphones that hit the market but we sometimes shift our interested to other gadgets. Today we are doing exactly this. We are presenting you with the review of the Acer Mixed Reality Headset.
A few days back, Microsoft released the latest Fall Creators Update for Windows 10 which brings a ton of new features. One of the features that are of particular interest to our review is the new platform called "Windows Mixed Reality". What this platform does is it creates a whole new environment for Windows. It uses a special kind head-mounted displays (HMD) designed with the help of Microsoft and built by third-party manufacturers.
Today we taking a look at one of these HMDs – the Acer Mixed Reality Headset. To cover-up, the basis, Windows Mixed Reality, and the compatible headset give a new approach to a 3D immersive Windows 10 experience. Another important feature of the Acer Mixed Reality Headset that we are going to emphasize on is the fact that unlike most of the competition at the moment, this headset relies on inside-out tracking technology which most simply said means that you don't need any sort of external hardware to install in your room.
Let's dive into the world of virtual reality and see just how much this $399 headset+controllers combo and Microsoft's new platform can provide.
Check out the current price of the Acer Mixed Reality headset here: http://amzn.to/2A8xseU
Contents
Design and build quality
Starting up with build quality, there isn't too much to fancy. The headset uses plastic all around; same goes for the controllers as well. It might not be the best build in the world but it is not bad in any way. We should always keep in mind that the price tag of the headset and the controllers bundled is just $399 which is one of the more affordable VR solutions at the moment.
The cushioning foam around the inside of the headset feels comfortable and does not allow light leakage from the outside environment. The thing that you might need a few tries to get used to is the cushion on the back of your head which feels rather odd the first time you try the headset. The strap itself is easy to regulate with a wheel you roll forward or backward to tighten or loose the strap. The headset weighs around 380 grams (0.8lbs). It feels light and you can forget that you are wearing it after a moment. The overall wearing experience is comfortable but it can get a bit hot around the forehead after a while.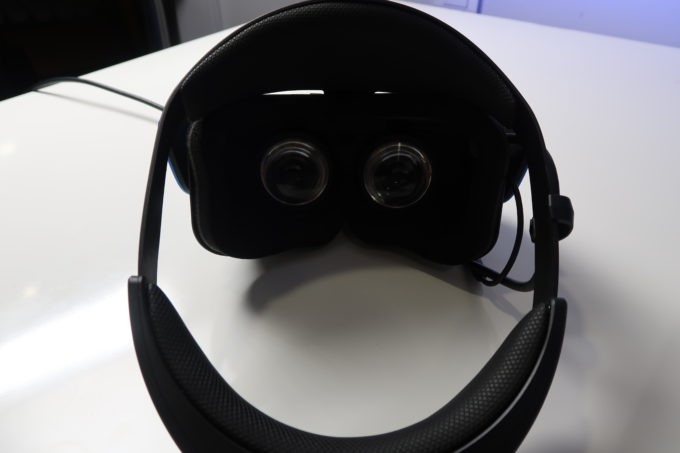 As we said in the introduction, the Acer Mixed Reality Headset uses inside-out tracking technology which does not require external hardware but we will say a few more words about this in a moment. Now we want to drag your attention to the way you connect your headset to the computer. It is done by a single cable which has two ends – one HDMI for video transfer and one USB 3.0 for data transfer.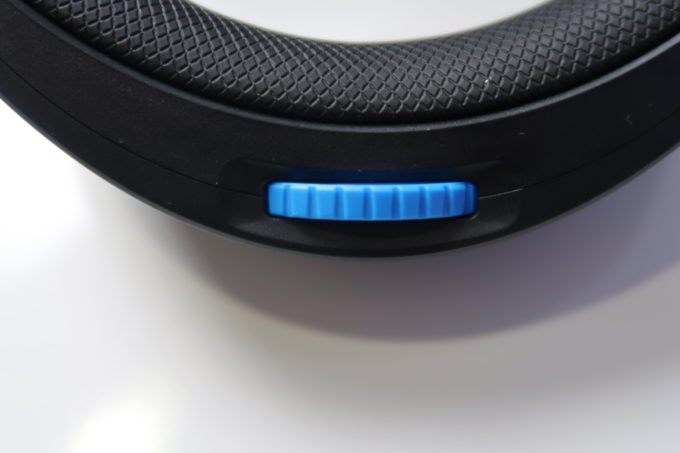 A cool design feature is the ability to flip the visor up which lets you see and interact with the real world for a moment without needing to take off the whole headset. Not only it is useful, it also makes you look super cool. Which leads us to the aesthetics of the device. With its blue body and a single black line running from one end to the other (where the two cameras are) it vaguely reminded us of Robocop. And if one movie reference is not enough then the headset also brings memories from Tron as it helps you immerse into the computer.
The controllers offer quite a few buttons including a clickable touchpad which is quite accurate but we found scrolling with it a bit hard at the beginning. There is also a thumbstick which you can use for easy rotation and teleporting short distances. The controllers were OK for us but might fell a bit uncomfortable for people with fairly small hands. Each of the two controllers runs on two AA batteries and the pairing button is found inside the battery compartment. Build quality on the controllers is unfortunately not too good. The plastic build cracks and squeezes from time to time and you don't get any tactile feedback.
Mixed reality?
Let's take a moment to talk about an issue that derives from the somewhat confusing name of the platform – Mixed Reality. There is Virtual Reality where you go inside a digital world and Augmented Reality where you look at the real world through a camera and see more. Naturally, Mixed Reality should be a mix of the two common terms but the Mixed Reality Headsets are actually limited only to VR.
The Acer HMD does not seem likely to be capable on AR like the HoloLens, however, this is not necessarily how it ends. The new platform is still very young and yet to mature so we might see AR implemented too in the future.
Here is a quick chart comparing the Acer Mixed Reality Headset to the Oculus Rift and HTC Vive:
| | | | | |
| --- | --- | --- | --- | --- |
| | Acer Mixed Reality Headset | Oculus Rift + Touch |  Oculus Roomscale Bundle | HTC Vive |
|  Price  |  $399 (+ controllers) |  $399 |  $458.99 |  $519.90 |
|  Tracking |  Inside-out |  Outside-in |  Outside-in |  Outside-in |
|  Resolution |  2880 x 1440p |  2160 x 1200p |  2160 x 1200p |  2160 x 1200p |
|  Refresh rate |  90/60Hz |  90Hz |  90Hz |  90Hz |
Connecting and setup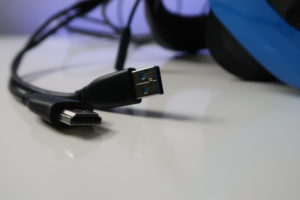 Setting up the Acer Mixed Reality Headset is just a breeze especially when comparing it to the notorious HTC Vice or Oculus Rift. The two latter use external sensors that you have to place on your desk or mount to your wall before starting to play around because this is how the headset and controllers keep track. Now forget about all that with the Acer Mixed Reality Headset which uses inside-out tracking technology. The two B+W VGA cameras found on the front of the headset are used for keeping track of the outside world and the controllers too. In addition, an infrared sensor is found inside the headset. No additional software required either.
First, you plug in the HDMI and USB 3.0 ends of the cable in your computer. Then the Mixed Reality Portal launches and you can start the software setup if all drivers and Windows are up to date. Before you start enjoying your VR experience, you choose to either stay stationary or outline the boundaries of your play space. If you choose the latter, you have to keep the headset looking at the computer and slowly walk around to outline your space. It is pretty accurate but you might need a couple of tries to make a good circle or rectangle as the 4m (13 feet) cord is just enough to outline the necessary space.
The Acer Mixed Reality Headset doesn't have any kind of built-in headphones or microphone so we strongly recommend connecting external ones. That is not an issue as you have a 3.5mm jack on the right side next to the HDMI/USB 3.0 cable. You can use the microphone to make voice commands and use Microsoft's personal assistant Cortana.
The whole setup process should not take you more than 10 minutes but to be honest, it was definitely more for us as we tried using batteries that were running low on the controllers and we had problems with the connectivity. After inserting new fully charged batteries everything went well.

Tracking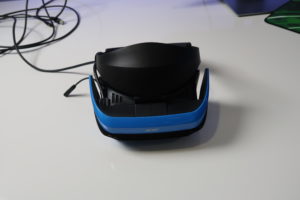 Tracking is one of the most important aspects of VR and we are happy to say that the Acer HMD is handling this issue very good. The two cameras keep great track of the headset and the environment around. However, we assume that they use visible light as you need to be in a lit room. You will find more information about the feeling you get when spending more time in the VR in the performance section.
Tracking of the controllers is also very good especially for an inside-out technology. When they are in the camera's viewing angles everything is perfect but once you reach out they freeze in place and detect only rotation. Don't worry about losing track though, the horizontal viewing angles on the cameras are larger than what you actually see so unless you find yourself with hands behind your back you will be ok. Vertical viewing angles are smaller and you can lose track of the controllers if you raise them above the level of your head. Nonetheless, we didn't find ourself needing to raise our hands.
Note that the controllers are connected via Bluetooth and require version 4.0 and up so if you are using a desktop you might need a dongle. Also, they use AA batteries rather than a rechargeable lithium-ion one so keep an extra pair just in case.

Specifications and performance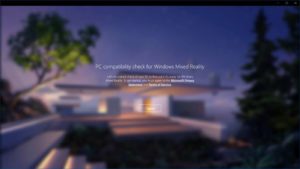 The Acer Mixed Reality Headset is equipped with two 2.89-inch in diagonal LED displays with 1440 x 1440 pixels resolution each which adds up to a total resolution of 2880 x 1440p. The refresh rate of the display is 90Hz natively but can be dropped down to 60Hz if using an integrated graphics card.
Image quality is good but it could be better. The sweet spot of the lenses is a bit and small and if the headset gets slightly tilted or you move your eyes to the side the image starts to become more blurry. However, once you enter the sweet spot visuals are good. It gets a bit shaky if you tilt or rotate your head too fast but nothing major. Even after spending more than half an hour inside the virtual reality I did not feel dizzy or eyestrain at all which I think is very important when it comes to VR.
Playing at 90Hz refresh rate is strongly recommended but you will need a very capable computer if you want to do so. The minimal system requirements are a quad-core Intel Core i5-4590 (4th generation) or AMD Ryzen 5 1400 CPU and 8GB of DDR3 RAM. As for the GPU, you need at least an NVIDIA GeForce GTX 960 or 1050 or an AMD RX 460/560. The GPU must be hosted in a PCIe 3.0 x4+ port. Of course, the newest Windows 10 Fall Creators Update (RS3) is required and you can use a DisplayPort 1.2 adapter if your GPU does not have an empty HDMI port.
As for 60Hz refresh rate and notebooks, you need a 7th gen Core i5-7200U or better and Hyper-Threading is mandatory. The integrated GPU supported is the HD Graphics 620 or better. Of course, a dedicated GPU such as the GeForce MX150 or GTX 965M or better will be a welcome upgrade.
Despite not having an integrated speaker, the audio output is excellent once you plug in your headphones. You truly get a feel for a surrounding sound. You hear differently from each ear as you rotate your head and sounds become muffled when you walk away from the source.

Cliff House (VR experience)
Once you set everything up and take the headset on you find yourself in the so-called Cliff House. It is a beautiful house located on top of some cliffs surrounded by a vast ocean on one side and a what appears to be a near mountain to the other. Back to geography in a while, first let's find out what this house represents. Cliff House is actually what you will call the desktop in a 2D environment. This is your starting point, the place where you find all your shortcuts to your most valuable apps and where you usually make customizations to the appearance. To get a better understanding, imagine that you go inside Windows, where do you find yourself? On the desktop, of course!
The House consists out of a few rooms that are not excessively divided. For the most part, you don't have four surrounding walls, only a floor and a ceiling and some small walls that divide the different rooms. In these open rooms, you will start actually interacting with other applications. Most of Windows' apps are found hanging on the walls as big plasma TVs or paintings. You can click on them and start using them.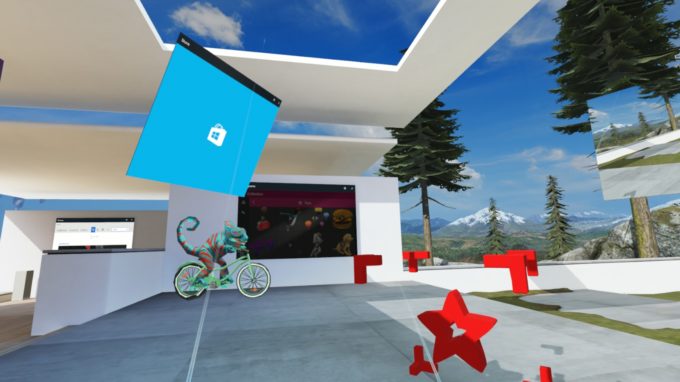 You got your photos and videos apps on the walls, Skype and Edge are also to be found and they are fully functional; the Calendar app can be found on a wall much like a real calendar. I tried using the Edge browser and it is absolutely possible, however, it isn't the most pleasing feeling in the world. You have a virtual keyboard that you can type on and most commands like "Search" can be executed via voice input but I would still prefer browsing the web in 2D. Nonetheless, it is nice to be able to do just about anything without removing your headset.
Maybe the app that takes the most advantage of this new 3D Windows platform is the Movies & TV app. By default, it is located in the only closed room and it is sized for a big theatrical screen taking up the entire wall. There is a couch in the middle of the room that is located on the perfect spot to view the Movies & TV app from. From this couch, you get a feeling very close to the actual experience you get in the cinema hall. Your view is almost completely filled with the video you are playing which combined with the amazing audio system of the headset which we already told you about makes you feel like you went to the movies while never leaving your room. Maybe in the future when VR becomes much more advanced, going to the cinema will not be the same.
Just like in the 2D desktop environment where you can resize your icons and place them wherever you like in any order or change the wallpaper etc., you can also customize everything in the Cliff House. You can resize, move, remove or add all of Windows' apps and place them on any surface. Let's say you want to make a Skype video conference on a large scale; no problem – you can place Skype in the theatre room. You want to have a Microsoft Store window opened in every room – as you wish.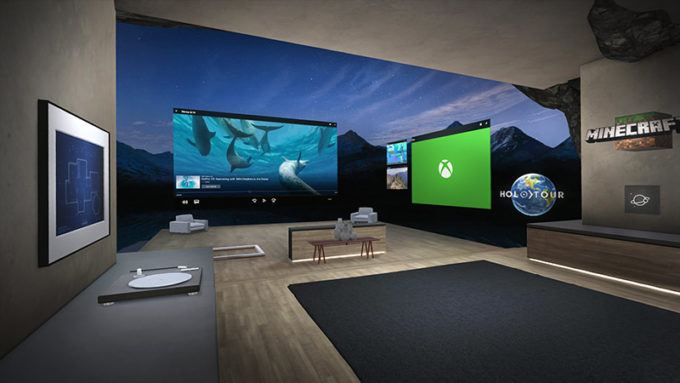 What about third-party apps, you may ask. Well, what I managed to do was place a box-like shortcut where I wanted. When you start the app it does not open in a window; rather than that the whole world around you dissolves in a blink of an eye and then you appear in front of the menu of the app. I tried some 360 degrees video apps and they performed well. When you play a video, you find yourself as though you are the cameraman and you can look in all directions to get the best experience. Maybe it was because of the apps or the videos played but image quality was not the sharpest. Unfortunately, I couldn't test some games but considering how natural was it to use the controllers (with the slight exception of the touchpad), I think that gaming would be satisfying.
Now let's talk about customization of the house itself. Although the house is prebuilt and you can't change the scenery, you can spice things up with some furniture and holograms. There is an app called Holograms which is located just near the point you spawn once entered the virtual reality. From this app, you can select from 69 pieces of furniture that you can add to the house to make it more like home. There is everything from chairs to lamps to plants and even to some more exotic decoration such as a globe. Just like the apps, you can resize the furniture to your likes. I was impressed by how dynamic the shadows were. This and resizing are being demonstrated in the video I recorded.
You also get another 64 pieces of let's just call them holograms. They are categorized as "fun" and are basically animated 3D models that take the form of animals, humans, and objects. I have recorded one of these to show you just how silly they are. Mine is a pug that blows a bubble gum balloon which is so big that lifts it up. There are many other such as the Earth with the Moon orbiting around it or a fitness guy teaching you to get buffed or a chameleon riding a bicycle which actually rides around the house. You can spend hours just watching the holograms run around and talk. Just look at them:
The scenery around Cliff House is just amazing. To the one side, there is a vast ocean that spreads as far as your eye can see; looking in one particular direction you can see a few floating islands that look out of this world. On the other side, you are presented with what could be a cove of the same ocean or a lake surrounded by beautiful mountains with more floating rocks. By clicking a button in the theatre room, the walls dissolve and you are presented with the crystal waters of a water basin that reflects the star-filled night sky and tall icy peaks of a mountain.
Overall, the Cliff House is filled with things to do at the moment but we see how it might expand. Having an opportunity to explore the vast landscape around it would be a welcome feature in the future that will look like some sort of a sandbox game. We also see the potential of making the platform social so you can interact with your friends in the same place much like in an RPG.

Microsoft BOB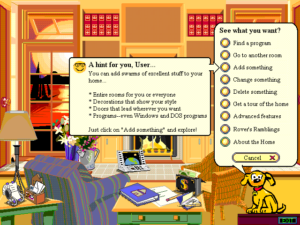 We want to take you on a little ride back in time to the long gone year of 1995. Why? Because this isn't the first time Microsoft tries to implement the operating system into a house that you interact with. Meet Microsoft BOB or maybe remember it if you have ever seen it which is not likely as it was far from a success for Microsoft. What BOB is is an experiment with the graphical interface of the early builds of Windows. It was available on Windows 3.1x, 95 and NT and it was designed to simplify the GUI of the operating system and make it easier for non-tech users to learn.
The interface that BOB provided the user with was a cartoony looking house with a few rooms filled with everyday objects that represented the applications of Windows. For instance, when you click on a sheet of paper and pen you could write a text document or click on a little box filled with letters to open the e-mail client. You even got an assistant which was a golden retriever called Rover.
We shared this little-known fact with you to show you that Microsoft has a long relationship with turning its operating system into an interactive house. We guess there is some truth to the Hegelian dialectic that points to progression in philosophy being accomplished in a spiral motion where every rotation repeats the previous but adds more to it. What I mean by that is that Cliff House and the Mixed Reality is in some way the same as BOB but at the same time much more profound. To be honest, looking from our perspective in 2017 I can't imagine what Microsoft was thinking when creating BOB but one thing is sure – Mixed Reality looks much more promising.

Conclusion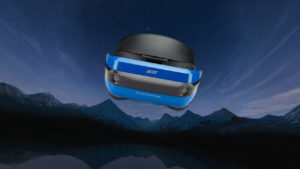 Microsofts Mixed Reality platform is just being released to the public and it is still in a very early stage in its development. We are positive that this VR platform can become a big thing in the future and can be used for creating some really interesting immersive games as the controllers are very comfortable to use or creating a social platform where you can interact "in person" with your friends that live far away.
Even for now the Mixed Reality platform has what to offer but the content is still not enough. Maybe future support for SteamVR will unlock its true potential.
As for the Acer Mixed Reality Headset itself, we can say that we are mostly pleased. It provides great VR experience at a competing price. One of the greatest features it has is the inside-out tracking technology which allows you to set up and start playing in no time without any additional hardware sensors. This tracking technology has also proven itself to be not less superior than conventional methods which just shifts the favor more into Acer Mixed Reality Headset's hands as it makes the product much more user-friendly than the competition.
To sum things up, the Acer Mixed Reality Headset is definitely something to stop and consider when scrolling through the gadgets page at some online store. It is not for everyone but it will surely find its niche.
What do you think about the Acer Mixed Reality Headset and Microsoft's new platform? Will they succeed in our demanding society? Will they outstand the competition? Is there room for innovation? Would you consider purchasing a  Mixed Reality Headset? Leave us your thoughts in the comment section below.
Check out the current price of the Acer Mixed Reality headset here: http://amzn.to/2A8xseU