Video unboxing of the WindPal FS cooling pad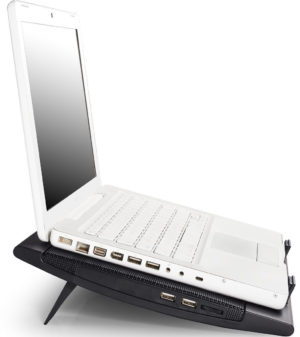 Today we would like to share with you a short video unboxing of a very affordable product you may wish to buy as a gift for yourself or someone else. It's a cooling pad that can be rather useful if you happen to have an old notebook with not that good cooling system. The particular model is DeepCool WindPal FS – a pad meant for up to 17″ devices.
If you are itnerested in DeepCool WindPal FS, you can check its current price and availability here: http://amzn.to/2clVfjq
You may wish to have a look at other cooling pads, too: http://amzn.to/2cr8XQA
Among the most notable features of this device is that it has two 140 mm fans that can evenly cool the bottom of your laptop. Additionally, you are provided with two holders on the upper part of the product. Their purpose is to keep your notebook in one place. Also on this side is a black net beneath which you can see the two fans. There is nothing interesting on the sides with the exception of the left profile where you can find two USB ports (one of them is used to connect to your notebook) and a dial for fan speed control. The latter is very convenient. As far as the back is concerned – you are presented with two feet which give you two different working angles so that you may use the more comfortable for you.
The goal of this article is to present to you the most important characteristic features of the given product, so that you can make an informed decision in case you want to purchase. If you like this video, you can subscribe to our YouTube channel, share, comment, and hit the thumbs up button.