ASUS ROG Strix GL553VE vs Acer Aspire VX 15 (VX5-591G) – gaming on a budget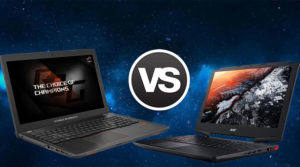 Here we are again with another comparison. This time we will take a look at two budget gaming solutions – the ASUS ROG Strix GL553VE and the Acer Aspire VX 15 (VX5-591G). Not long ago we compared the Aspire VX 15 to Lenovo Y520 which is one of the best budget gaming notebooks at the moment but now we are going to see how it stands next to the ROG Strix GL553VE.
Both notebooks are equipped with very similar hardware, however, the ROG Strix GL553VE is priced a bit higher. Is it any better? We will cover that in this article.
Acer Aspire VX 15 (VX5-591G) (IPS display): Full review / Check price
ASUS ROG Strix GL553VE: Full review / Check price

Design and construction
It terms of design the two notebooks are pretty similar. They have roughly the same dimensions (30 mm vs 32 mm for the Strix GL553VE and the Aspire VX 15 respectively) and the same weight – 2.5 vs 2.6 kg (about 5.5 lbs). The design of the lids is also similar – two stripes and the company's or series' logo. The stripes and the ROG logo on the GL553VE are orange in color while the same components on the VX 15 are red which resembles the costlier Predator notebooks. It is up to you which you prefer.

Construction is also very similar. Both devices are made mainly out of plastic. The lid of the Aspire VX 15 imitates brushed aluminum but it is in fact plastic while the lid of the GL553VE not only looks like brushed aluminum – it really is made of it. However, this doesn't make it feel that premium because just as the plastic plate, the aluminum one bends fairly easy and attracts fingerprints.

The sides of both notebooks accommodate all the usual and necessary ports – both devices have only one USB Type-C port but the GL553VE has three USB 3.0 ports and one USB 2.0 while the Aspire VX 15 has almost the same configuration but lacks one of the USB 3.0 ports. Most of the ports of the GL553VE  are placed on the left side which we prefer as it won't make it difficult to use an external mouse (at least if you are right-handed); opposite of this most of the ports on the Aspire VX 15 are placed on the right.

Display
Both notebooks are using an IPS panel with Full HD (1920 x 1080p) resolution and a pixel pitch of 0.18 x 0.18 mm. Note that Aspire VX 15 has a version with a TN panel but we are taking a look at the IPS version. The panels of both laptops are manufactured by BOE and have very similar model numbers. Aspire VX 15's is NV156FHM-N42 while Strix GL553VE's is NV156FHM-N43. If you take a closer look you will notice that the only difference is that one ends with "42" while the other with "43" but further in the comparison, you will see that this makes a big difference.

Viewing angles are excellent on both models which is something quite usual for an IPS panel. The first major difference between the two panels is that Aspire VX 15 has a maximum brightness of 264 cd/m2 while the Strix GL553VE has a much higher value of 336 cd/m2. However, the Aspire VX 15 has a high contrast ratio 1370:1 but Strix GL553VE isn't left far behind with a value of 1060:1. The color temperature of both panels is near the optimal 6500K – 6200K for the Acer and 6400K for the ASUS – both a bit warmer.

Color reproduction is where the Strix GL553VE really shines. Its panel can reproduce 92% of the sRGB gamut which is almost the full range. On the other hand, the Aspire VX 15 covers only 54% of the same gamut which means that it can display just a bit more than half of the colors. What this means is that Strix GL553VE's screen is far more color sensitive and it is even suitable for some color-sensitive work if this is the best you can afford while the screen of the Aspire VX 15 can't be used for the same purposes.

A disadvantage of both models is that they use PWM to control the brightness level. Luckily, the frequency of the flickering is very high in both cases which severely decreases the harmful impact on the eyesight and health. Our custom-tailored profiles (read more here) can further decrease the unwanted effect.

Specs sheet
Specs wise both models are nearly identical. They are running on the Intel Core i7-7700HQ from the latest 7th generation Kaby Lake. The CPU features four physical and four logical cores (Hyper-Threading) with a base clock speed of 2.80 GHz. The chip's consumption is 45 Watts, and its maximum operating temperature is 100 degrees Celsius.
More information about Intel Core i7-7700HQ and its position in our Top CPU Ranking you can find HERE.
Both models that we are comparing are also equipped with the same GPU. We are talking about the NVIDIA GeForce GTX 1050 Ti which is powerful enough to run every modern game with a solid frame rate and decent graphics settings.
More information about the GPU and its place in our Top GPU Ranking you can find HERE.
–
ASUS ROG Strix GL553VE
Acer Aspire VX 15 (VX5-591G)
CPU
Intel Core i7-7700HQ (4-core, 2.60 -3.80 GHz, 6MB cache)
Intel Core i7-7700HQ (4-core, 2.60 -3.80 GHz, 6MB cache)
RAM
8GB (1x 8096MB) – DDR4, 2400MHz
8GB (1x 8096MB) – DDR4, 2133MHz
GPU
NVIDIA GeForce GTX 1050 Ti (4GB GDDR5)
NVIDIA GeForce GTX 1050 Ti (4GB GDDR5)
HDD/SSD
1TB HDD (7200 rpm)
1TB HDD (5400 rpm)
Display
15.6-inch Full HD (1920×1080) IPS, matte
15.6-inch Full HD (1920×1080) IPS, matte
Features

3x USB 3.0
1x USB 2.0
1x USB 3.1 Type-C
SD card reader
3.5 mm combo audio jack
HDMI 1.4
RJ-45
customizable keyboard backlight

2x USB 3.0
1x USB 2.0
1x USB 3.1 Type-C
3.5 mm combo audio jack
RJ-45
HDMI 2.0
memory card reader
keyboard backlight

Battery
4-cell 48Wh
3-cell, 52Wh
Profile thickness
30 mm (1.18″)
32 mm
Weight
2.5 kg (5.51 lbs)
2.6 kg
Price
Check price
Check price
Battery
Same components, similar battery capacities (48 Wh on the Strix GL553VE and 52 Wh on the Aspire VX 15) – the battery life results should be same too, right? Well yes and no. In the Web browsing test, both models scored very similarly – 369 minutes (6 hours and 9 minutes) for the GL553VE and slightly less – 358 minutes (5 hours and 58 minutes) for the VX 15. There is a significant difference in the results from the Video playback test – GL553VE lasted for 338 minutes (5 hours and 38 minutes) but VX 15 didn't manage nearly as much with its 229 minutes (3 hours and 49 minutes). But things take a turn in favor of VX 15 when it comes to gaming. You can play on it fro straight 149 minutes (2 hours and 29 minutes) while GL553VE will provide you with around 40 minutes less – 110 minutes (1 hour and 50 minutes). 
To sum things up, you have to decide which is more important for you – longer gaming sessions or video playback.

Performance
In the performance section, you just can't pick a winner which is not surprising because both models are equipped with the same processor and graphics card. Just look at the chart below – they are just 1-2 frames off of each other.





Temperatures
We ran our usual stress tests on both notebooks. We start off with the CPU stress test first running for 30 minutes. In this period the Strix GL553VE ran at a clock speed of 3.3 GHz which is inside the Turbo Boost range and it kept the temperature around 79-80 °C. On the other side of the ring, the Aspire VX 15 ran at 3.4 GHz through the whole time but kept temperatures lower at 69-72°C.

Then we turned the GPU stress test as well. The CPU temperature remained around 83-84 °C but the frequency dropped to 1.5-1.8 GHz which is a signal for thermal throttling. Interesting to say the GPU was running rather hot at 83 °C but kept its clock at 1695 MHz. In the case of the Aspire VX 15, the throttling was nothing to really worry about – the clock speed wobbled between the base of 2.8 GHz and 3.4 GHz and the temperature was about 86 °C at 3.4 GHz and just around 70 °C at 2.8 GHz.
Although Strix GL553VE had some thermal throttling issues it kept surface temperatures perfectly comfortable with values no higher than 37 °C at the area of the CPU. It's a different story for the Aspire VX 15. Fortunately, temperatures in the area of the palm rest were low – around 30 °C but elsewhere they were around 40 to 50 °C which is far from comfortable.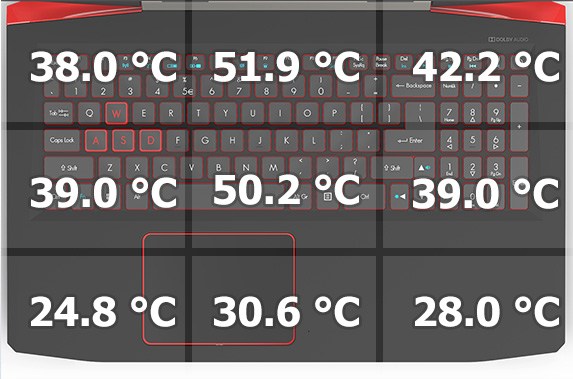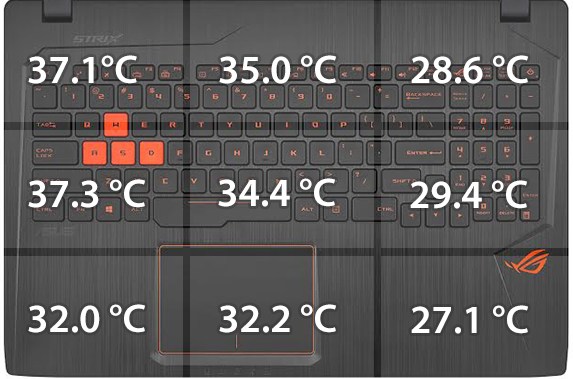 Verdict
Overall, both devices are great budget gaming solutions and score very similar in every test. Battery life is mostly the same and there is as little as no difference in performance. Build quality and design are also very similar which is a bit of a let down for the Strix GL553VE because it costs a bit more but what it gives for the money is a really good screen – something not that common in budget devices. The display of the Strix GL553VE is far brighter, more color accurate and most importantly – it can reproduce almost every color from the sRGB gamut which makes it suitable not only for gamers. So if you are looking for a solid all-rounder and have the extra money the ASUS ROG Strix GL553VE is your device, however, Acer Aspire VX 15 isn't far behind and it is more affordable which compensates.
Acer Aspire VX 15 (VX5-591G) (IPS display): Full review / Check price
ASUS ROG Strix GL553VE: Full review / Check price

Why choose Acer Aspire VX 15 (VX5-591G)?
more affordable
more reliable cooling system
Why choose ASUS ROG Strix GL553VE?
better display
better port placing