[Comparison] AMD Ryzen 5 4600H vs Intel Core i7-10750H – it's closer than you'd think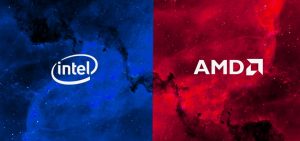 Today, we have an interesting comparison for you. We are putting the mid-range Ryzen 5 4600H against the more high-end Intel Core i7-10750H. On the surface, you would think that comparing two processors from different price ranges might be a waste of time, but if you look deeper you would find the results surprising.
You can find more detailed CPU specs here: AMD Ryzen 5 4600H / Intel Core i7-10750H

Specifications
As far as specifications are concerned, both CPUs are pretty similar in terms of core count and number of threads. Where the Intel shines though, is with it's abundance of cache and max memory, which are 25% and 100% larger than it's Ryzen competitor, respectively. This makes the Intel a superior choice for people who use programs that "eat" a lot of system resources.
| | AMD Ryzen 5 4600H | Intel Core i7-10750H |
| --- | --- | --- |
| Cores / Threads | 6 / 12 | 8 / 16 |
| Base / Max frequency | 3.00 – 4.00 GHz | 2.60 – 5.00 GHz |
| Cache | 8 MB Cache | 12 MB Cache |
| TDP / up / down | 45W / 54W / 35W | 45W / 45W / 45W |
| Memory support | DDR4-3200MHz, LPDDR4-4266MHz | DDR4-3200MHz, LPDDR4-4266MHz |
| Integrated graphics | AMD Radeon RX Vega 6 (Ryzen 4000) | |
CPU benchmarks
The benchmarks are where you will really be surprised. In Cinebench 15 the Ryzen 5 4600H scored higher than the Intel Core i7-10750H by about 10%. Now for a real use case scenario – Photoshop rendering, the Intel beats it's competitor with an 11% difference.
Results are from the Cinebench 20 CPU test (the higher the score, the better)
Results are from our Photoshop benchmark test (the lower the score, the better)
Conclusion
As a final note, this comparison was really close and both CPUs performed admirably. What we would suggest is look at the pricing of laptops with these CPUs and go with what is less expensive, since the raw performance gains that Core i7-10750H provide are practically nonexistent.
You can take a look at both CPUs in our Top Laptop CPU Ranking.

All laptops with AMD Ryzen 5 4600H:
All laptops with Intel Core i7-10750H: