[Comparison] ASUS TUF Gaming A17 (FA706) vs ASUS TUF Gaming FX705 – the big TUF machines are tougher with AMD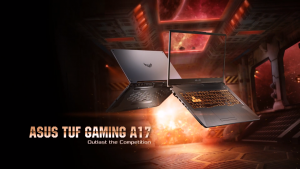 ASUS unveils the next "warrior" of its new 2020 gaming notebook lineup – TUF Gaming A17 (FA706). That's the successor of the FX705. As you may already know from our comparison between TUF Gaming FX506/FA506 and FX505 the manufacturer has decided to divide the TUF lineup – the AMD-based devices are the FA series while the Intel-based ones are called FX. In our case, we don't have info about the Intel-powered FX706 and that's why we're going to compare the upcoming FA706 and the FX705 from 2019. The latter isn't a bad device but it leaves a lot to be desired from its build and cooling.
The new one will try to be an improved version of the FX705 in every aspect. An interesting fact – the FX7xx notebooks have bigger screens than the FX5xx devices but they don't have the same powerful GPU options like their smaller siblings. For example, the FX506 can be configured with NVIDIA GPUs up to RTX 2060 while FA706 top-end graphics option is GTX 1660 Ti.
Ok, enough deviations from the main topic – let's make a quick comparison between the FA706 and FX705.
You can check the prices and configurations of the ASUS TUF Gaming A17 (FA706) devices in our Specs System: https://laptopmedia.com/series/asus-tuf-gaming-fx705/
You can check the prices and configurations of the ASUS TUF Gaming FX705 devices in our Specs System: https://laptopmedia.com/series/asus-tuf-gaming-fx505/
Contents
ASUS TUF Gaming A17 (FA706)    |    ASUS TUF Gaming FX705

Design: reduced size and two chassis color options
Compared to the 2019 version, the FA706 has a reduced overall volume by 8%. The device has a typical but updated TUF-gaming design language. The new one comes with two color options for the chassis – Fortress Gray (with a clean-looking sandblasted metal lid) and Bonfire Black (with an aggressive-looking lid thanks to the large central cuts and the brushed finish at the center). The small screen bezels and the RGB keyboard are complementing the whole design.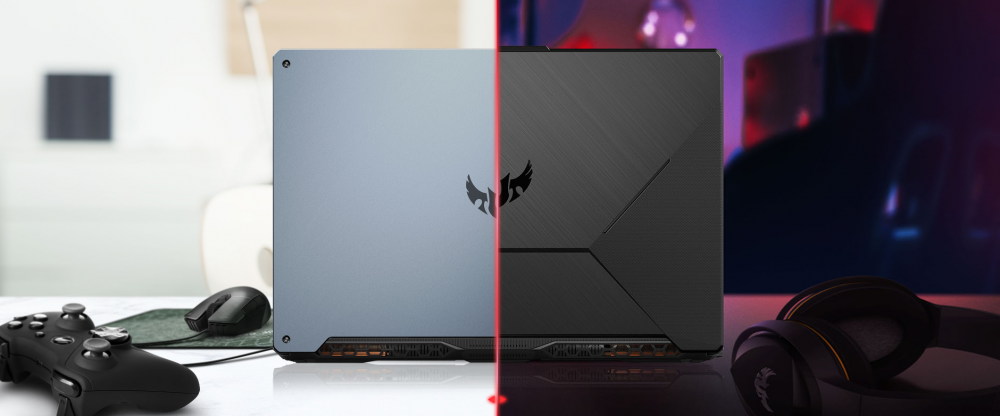 Display: AMD FreeSync and 120Hz panel option
Ouch, at least for now – TN panel only for FA706. ASUS describes the display quality as "IPS-level panel" but no matter what, a TN is always a TN. Ok, at least those panels are suitable for gaming because that kind of display technology offers fast response times especially if you choose the 120Hz FreeSync variant. But wait a minute, how is that possible when the laptop has an NVIDIA GPU? Yes, don't forget that the FA706 is a Ryzen-based machine and that means it will have next-gen Radeon iGPU inside – the integrated AMD graphics allows Adaptive Sync to be enabled and working with GeForce graphics card. You can expect tearing-free experience in fast-paced games. Sadly, last year's model has IPS displays.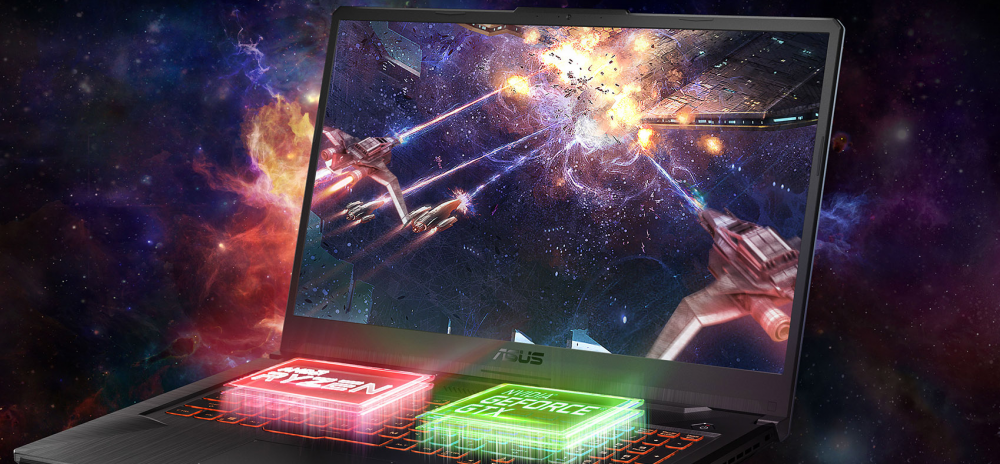 Hardware: Ryzen raises the bars
The new mobile Ryzen Zen 2 CPUs are "ticking inside" of the FA706 chassis. AMD Ryzen 7 4800H and Ryzen 5 4600H will bring more cores and power for the latest game titles. The Ryzen 7 4800H is a 7nm Zen 2 processor with 8 cores and 16 threads, up to 4.2 GHz boost clock, and 8MB L3 cache size. It'll be combined with fast 3200MHz DDR4 memory and next-gen AMD Radeon integrated graphics. The smaller model, the Ryzen 5 4600H is not a slouch either because it has 6 cores and 12 threads, 4Ghz boost frequency, and the same amount of L3 cache size as 4800H. Both CPUs have 45W TDP.
As we've already informed you, the top GPU option is the GTX 1660 Ti. It's a decent and fast mid-range GPU – the fastest NVIDIA mobile graphics without RTX abilities. There are no ray tracing goodies but maybe the bigger screen will enhance the overall gaming experience? We will see when we test it.
Storage-wise things look promising – two M.2 NVMe ports. Given that, upgradability will be a piece of cake – the chassis can be easily opened with a simple screwdriver. You'll have fast access to the RAM slots and the storage bay. There is a special pop-up screw that will raise one of the bottom panel corners for more easier separation.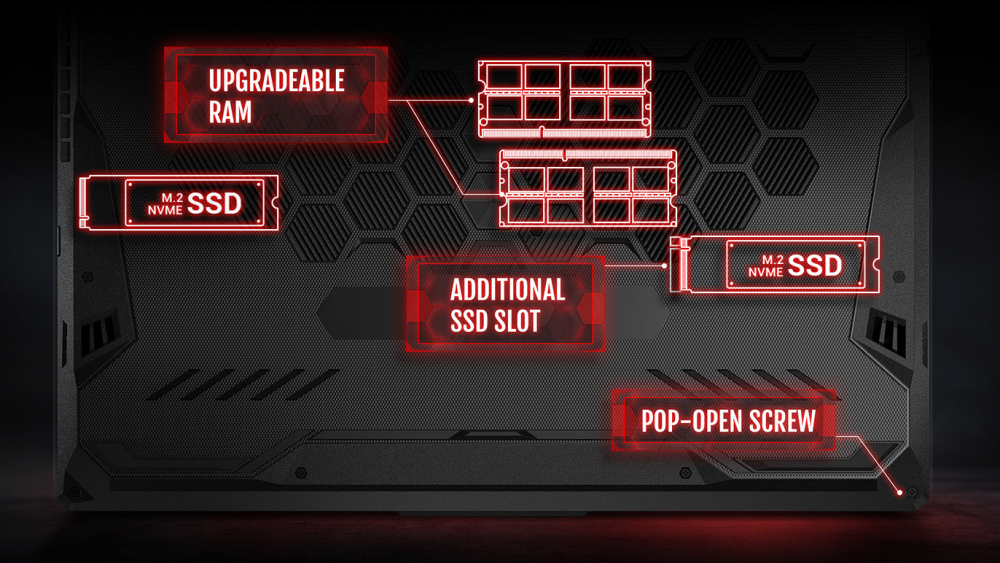 Connectivity and ports: no Wi-Fi 6 and an I\O that is rich in ports
The Ryzen-based TUF706 model is lacking Wi-Fi 6 networking so you can use the good-old 802.11ac standard alongside Bluetooth 5.0. Ports – an audio jack, an HDMI 2.0b, two USB 3.2 Gen 1, a USB 3.2 Gen 2 (Type-C) with Display Port 1.4 capabilities, and a USB 2.0. Thanks to the USB 3.2 Gen 2 (Type-C) port you can hook up a G-SYNC monitor to it and with the aid of the HDMI 2.0b you can connect another monitor or a big-screen TV.
Cooling with a self-cleaning function
On the bottom of the machine, there is a honeycomb pattern with a new design that provides extra grip (because of the grippy texture) and more fresh air to the intake fans. The self-cleaning cooling system pushes the dust to the anti-dust tunnels – that will lead to cleaner fans and heatsinks, and more effective cooling.
Speaking of the cooling, it has two cooling fans, multiple heat pipes (there is no info regarding the exact number), and three heatsinks.
Other specs: big battery, customizable keyboard, and TUF-ness
The 90Wh battery unit will probably provide long hours of autonomous usage. ASUS said that this battery is capable of almost 8 hours of Web browsing and over 11 hours of video playback. Sounds good for a 17-incher but we have to test it for additional confirmation of those specs.
The customizable full-sized backlit keyboard is here with its highlighted WASD section, and Overstroke technology for better responsiveness. The keyboard is a TUF one – the keys are able to endure 20 million presses. Additional personalization is available through Scenario Profiles which can change the RGB lighting (manually or automatically) and even some system settings like the operating modes of the cooling solution (SIlent, Performance, and Turbo).
As every TUF device, there is a "military-grade durability" – AF706 survived the MIL-STD-810H tests that include extreme temperatures, humidity, drops, and vibrations.
Specs Comparison
| | ASUS TUF Gaming A17 (FA706) | ASUS TUF Gaming FX705 |
| --- | --- | --- |
| Display | 15.6″, Full HD, TN 60-120Hz | 15.6″, Full HD, IPS 60-144Hz |
| GPU | GTX 1660 Ti – GTX 1650 | GTX 1660 Ti – GTX 1050 / RX560X |
| CPU | Ryzen 7 4800H, Ryzen 5 4600H | Intel Core i7-8750H, i5-9300H, Ryzen 7 3750H |
| Memory | DDR4 | DDR4 |
| Storage | M.2 NVMe SSD | M.2 NVMe SSD |
| Gigabit WiFi | 802.11ac | 802.11ac |
| Battery | 90Wh / 48Wh | 48Wh |
| Thickness | 26.0mm | 26.6mm |
| Weight | 2.60kg | 2.60kg |
| Review | – | In-depth review |
Prices and Configurations
ASUS TUF Gaming A15 (FA506) configurations:

ASUS TUF Gaming FX505 configurations: