GTX 1050 Ti Battle: Dell Inspiron 15 7567 vs ASUS ROG Strix GL553VE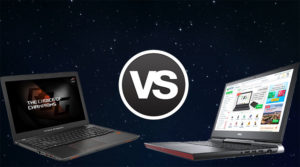 Hello, and welcome to yet another GTX 1050 Ti battle. Today we are going to take a look at the Dell Inspiron 15 7567 and the ASUS ROG Strix GL553VE. On one side of the ring, we have the ultra-budget gaming option by Dell which you can purchase for less than $1000 and on the other the significantly costlier Strix GL553VE which provides some premium features for its class.
Which one is more worth it? Is always spending more the right choice? Stick around and find out.
Dell Inspiron 15 7567: Full review / Check Price
ASUS ROG Strix GL553VE: Full review / Check price
Contents
Design and construction
The all-plastic chassis of the Inspiron 7567 is a bit slimmer but also a bit heavier than this of the GL553VE – 27 mm vs 30 mm and 2.75 kg vs 2.5 kg respectively. As we already mentioned, the Inspiron is constructed out of plastic while GL553VE uses aluminum for the lid, however, this does not provide the needed sturdiness. Both lids flex under light pressure to the point that it causes ripples to appear on the screen. Both the brushed aluminum and the matte plastic finishes attract quite a few fingerprints. While both the centered hinge of the Inspiron and the two hinges on the GL553VE are perfectly tightened and allow opening the lid with one hand, sturdiness is an issue with the Inspiron. The centered hinge does not provide enough stability and the screen remains flexible. No such issues are present in the GL553VE.
In terms of design, there isn't much to say. Appearance is a very subjective manner which you have to decide for yourself. However, we could say a few words. Our review unit of the Inspiron came with a bright-red matte finish which is something that you can't see every day. If uniqueness is something you seek, then the Inspiron may satisfy your needs. On the other hand, the GL553VE features a brushed aluminum lid with orange illuminated ROG logo and two stripes which feel like a serious gaming device.
Both notebooks are equipped with all the necessary connectivity ports. They cover the basics with two USB 3.0 ports, one USB 2.0, one USB Type-C, an HDMI, 3.5 mm jack and RJ-45 on the GL553VE. It also features an optical drive. The Inspiron 7567 swaps the single USB 2.0 port for another USB 3.0 but leaves the Type-C port for future generations which is a bit of a letdown.
Overall, the input devices of the GL553VE are very good. There is some flex in the middle of the keyboard but it is not serious. What we like is the long key travel (2.5 mm) and clicky feedback which makes typing and gaming satisfying. Another great at least aesthetically feature is the highly-customizable RGB illumination. We have mixed feelings about the touchpad, though. It's wobbly and mouse clicks feel too stiff but the surface is smooth and very responsive. The keyboard of the Inspiron does not flex at all but the key travel is shallow and the arrow keys are too small which makes it ideal for typing but not for gaming. The touchpad is responsive, smooth and light – we rarely see so good touchpads on a budget device.

Display
The highlight of this comparison is in the display section. Comparing the displays of these two notebooks is like comparing black to white – there is nothing is common. Unfortunately, Inspiron 7567 is equipped with one of the works panels you can get in this price range – it is manufactured by Innolux model number N156HGE-EAB (CMN15C4). On the other hand, the GL553VE is equipped with probably what is the best panel in the budget gaming class – BOE NV156FHM-N43. Both have Full HD (1920 x 1080p) resolution and the usual 0.18 by 0.18 pixel pitch.
Viewing angle on the GL553VE are great thanks to the IPS panel while the TN panel of the Inspiron provides very poor angles. The IPS screen on the GL553VE is also brighter with a maximum of 336 cd/m2 vs 242 cd/m2 on the Inspiron. Color temperature on both displays is a bit warmer than the standard 6500K – 6400K for the GL553VE and 6350K for the Inspiron. The Inspiron has the True Color utility by Dell which lets you customize the colors. The contrast ratio of the GL553VE is also more than three times as much as the one on the Inspiron – 1060:1 vs 320:1.
Color reproduction is poor on the Inspiron 7567 – it covers only 50% of the sRGB color space which isn't sufficient for a quality multimedia experience, however, it will get the job done for basic tasks. GL553VE's screen is a whole different story – it has 92% coverage of the sRGB gamut which beats even some more expensive models.
Color accuracy is also a lot better on the GL553VE. It has an average dE (lower is better) of 2.9 before calibration which is only slightly lowered to 2.5 after applying our custom-tailored Office & Web Design profile. Inspiron's average dE is almost three times as much as on the GL553VE – 8.7 but it is significantly lowered to 3.5 after applying our profile, however, it is still higher than GL553VE's stock settings. Overall, GL553VE's screen has good color reproduction and accuracy which makes it even suitable for minor design work or photo editing – a great all-rounder display for a low price. Unfortunately, the TN panel of the Inspiron is just bad even when considering the lower price.
However, there is one aspect in which the Inspiron's display is better than GL553VE's – PWM usage. GL553VE uses PWM for regulating the brightness at all levels while the PWM of the Inspiron is absent over 55 cd/m2 which is quite dim and you will probably never use it below this point which means that the panel is virtually flicker-free. However, the GL553VE's PWM uses high-frequency (20.7 kHz) which significantly reduces the harmful impact. Both models have custom-tailored Health-Guard profiles that remove the unwanted PWM and reduce the amount of blue light emitted.
Our display profiles
Here at LaptopMedia, we create a set of custom-tailored profiles for every notebook we review. They boost the productivity of display and reduce negative effects such as blue light emissions and PWM. You can read more about them here.
Buy our profiles from here:
Dell Inspiron 15 7567: Profiles
ASUS ROG Strix GL553VE: Profiles

Specs sheet comparison
As usual for a gaming notebook, both models are equipped with Intel Core i7-7700HQ which is a four core/eight-thread processor with 6 MB of cache SmartCache. Base clock speed is 2.80 GHz with Turbo frequency reaching 3.80 GHz. It is based on the 14-nm manufacturing process and it is a part of the Kaby Lake generation. It is rated at 45 W TDP.
More information about Intel Core i7-7700HQ and its position in our Top CPU Ranking you can find HERE.
The graphics card used in both models is the NVIDIA GeForce GTX 1050 Ti with 4 GB of GDDR5 memory. It features 768 CUDA cores and has a 128-bit interface.
More information about the GTX 1050 Ti and its place in our Top GPU Ranking you can find HERE.
–
ASUS ROG Strix GL553VE
Dell Inspiron 15 7567
CPU
Intel Core i7-7700HQ (4-core, 2.80 -3.80 GHz, 6MB cache)
Intel Core i7-7700HQ (4-core, 2.80 -3.80 GHz, 6MB cache)
RAM
8GB (1x 8096MB) – DDR4, 2400MHz
8GB (1x 8096MB) – DDR4, 2400MHz
GPU
NVIDIA GeForce GTX 1050 Ti (4GB GDDR5)
NVIDIA GeForce GTX 1050 Ti (4GB GDDR5)
HDD/SSD
5 1TB HDD (5400 rpm)
 1TB HDD (5400 rpm)
Display
15.6-inch Full HD (1920×1080) IPS, matte
15.6-inch Full HD (1920×1080) TN, matte
Features

2x USB 3.0
1x USB 2.0
1x USB 3.1 Type-C
SD card reader
3.5 mm combo audio jack
HDMI 2.0
RJ-45
keyboard backlight

3x USB 3.0
3.5 mm combo audio jack
RJ-45
HDMI
SD card reader
keyboard backlight

Battery
48Wh
74Wh
Profile thickness
30 mm (1.18″)
27 mm (1.06″)
Weight
2.5 kg (5.51 lbs)
2.75 kg (6.06 lbs)
Price
Check price
Check price
Battery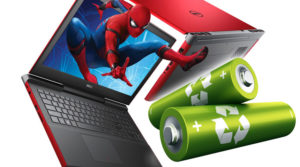 Most gaming notebooks are not very power-efficient and often struggle to provide more than four hours of battery life. However, this is not the case for neither of the two models we compare. Not only that they provide above average battery life but they beat even some ultrabooks.
The Inspiron is equipped with a 48 Wh battery while the GL553VE features an enormous 74 Wh unit. Both models feature the same hardware so battery life is all up to the battery itself and optimization.
In our Web browsing test, the GL553VE scored 369 minutes (6 hours and 9 minutes) but the Inspiron endured for twice that time – 768 minutes (12 hours and 48 minutes).
Second is the Video playback test. Here the results are slightly lower but still amazing. 338 minutes (5 hours and 38 minutes) for the GL553VE and again almost twice as much for the Inspiron 7567 – 613 minutes (10 hours and 13 minutes).
Ans finally, in our Gaming test the GL553VE lasted for 110 minutes (1 hour and 50 minutes) while the Inspiron doubles it again with 215 minutes (3 hours and 35 minutes).
To sum things up – GL553VE has above average battery life for a gaming device and can even challenge many non-gaming notebooks while the Inspiron 7567 is blowing our minds surpassing many ultrabooks. It even currently holds third place in our Top 50 Laptops with the best Battery Life chart.

Performance
As expected, gaming performance is on par due to the identical hardware. What is interesting is that while in most comparisons one of the notebooks is always off by a frame or two, in this case, they align perfectly.




Temperatures
Both notebooks handled one hour of 100% CPU load very well. Inspiron 7567 kept temperatures about 77 °C for two of the cores and 87 °C for the other two while utilizing the full potential of the CPU for four active cores – 3.4 GHz. Very similar results for the GL553VE which kept temperatures at 79-80 °C for all the cores and a frequency of 3.3 GHz. No complaints here.
After we added 100% GPU load things took a turn. Both notebooks experience thermal throttling with frequencies dropping to 1.5-1.8 GHz but temperatures weren't very high – around 84-85 °C for the GL553VE and around 72 °C for the Inspiron. Both GPUs ran at close to maximum speed with a temperature of 73 °C on the Inspiron and a bit higher for the GL553VE – 82 °C.
Surface temperatures we also great. The palm rest area of both notebooks remained cool at around and below 30 °C while the hottest points on the GL553VE barely reached 37 °C while the Inspiron went up to 45 °C which is still acceptable.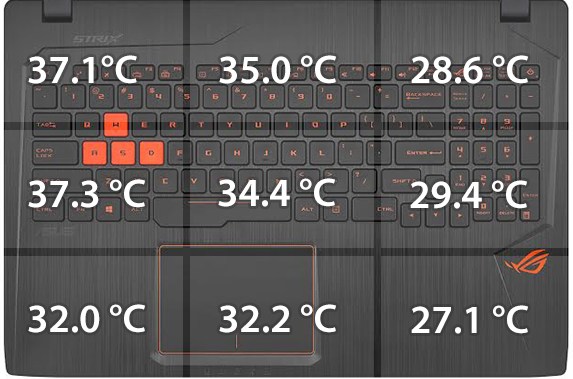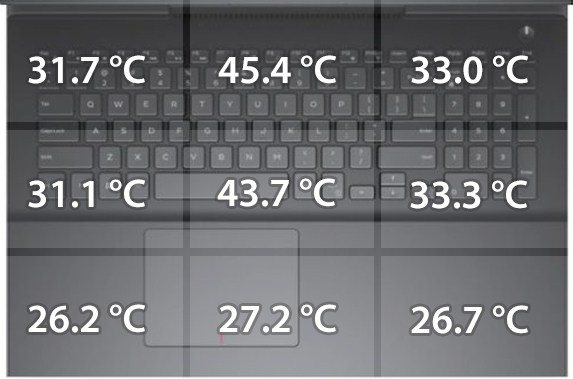 Verdict
Performance on both notebooks is the same due to the identical hardware but the better option for gamers will be the ASUS ROG Strix GL553VE. It offers a better keyboard with long key travel, clicky feedback, and highly-customizable RGB illumination. The only downside is that there are no media control keys. The beautiful IPS display with 92% sRGB coverage and wide viewing angles will also add for an excellent gaming experience. This screen also makes the GL553VE a solid all-rounder suitable for minor color-sensitive work. And last but not least, battery life is well above average but it can't be compared to its rival. Take in mind that these premium features come with a higher price tag, nonetheless, GL553VE got a discount not long ago.
Then there is the Dell Inspiron 15 7567 which can't shine with its low-quality screen but it provides a unique look that may appeal to some of you. It also provides the same gaming performance at a lower price. Most importantly, is provides mind-blowing battery life which some ultrabooks only dream of. If you are not a heavy user, you can even charge it every other day.
Dell Inspiron 15 7567: Full review / Check Price
ASUS ROG Strix GL553VE: Full review / Check price
Why choose Dell Inspiron 15 7567?
extraordinary battery life
slimmer profile
more affordable
great touchpad
Why choose ASUS ROG Strix GL553VE?
far better IPS display
better keyboard with long key travel and RGB illumination
USB Type-C port and optical drive