MSI GE75 vs HP Omen 17 2019 – into the heart of the battle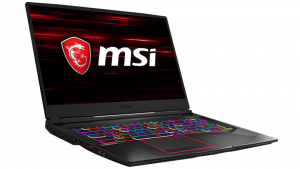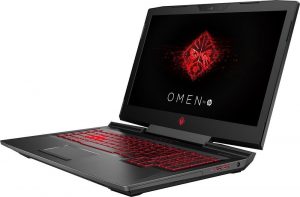 High-end gaming laptops – the dream of the gamers who want mobility and great performance. Every year they are getting more and more powerful and now they can even compete with gaming PCs. All that power can fit in a small bag and you are ready for travel and fun. Today we'll have a look at two powerful beasts – MSI GE75 and HP Omen 17 2019. Both are equipped with high-end Coffee Lake CPUs and RTX 2070. But which one is better? Let's go find out.
MSI GE75 configurations:
HP Omen 17 configurations:
Contents
Design and construction
Both laptops have aluminum lids and plastic bottoms. MSI is thinner and lighter – 27.5 mm profile and 2.61kg (5.8 lbs) compared to 33mm profile and 3.30 kg (7.3 lbs). There is no doubt that MSI GE75 is a clear winner in terms of dimensions and weight.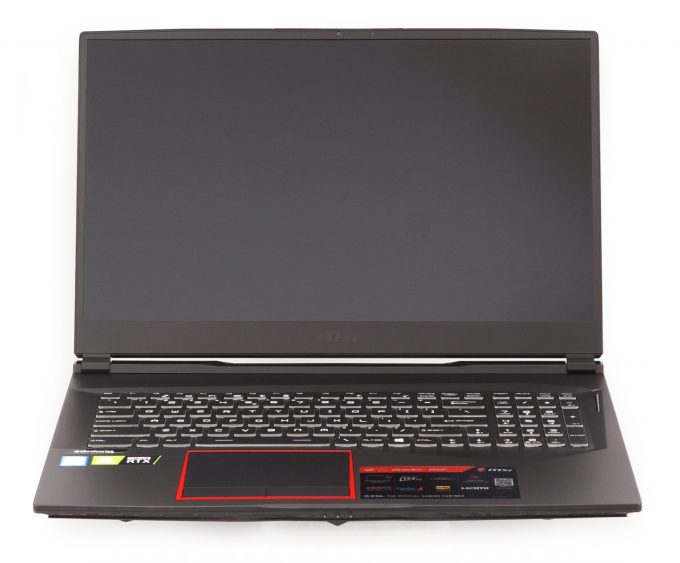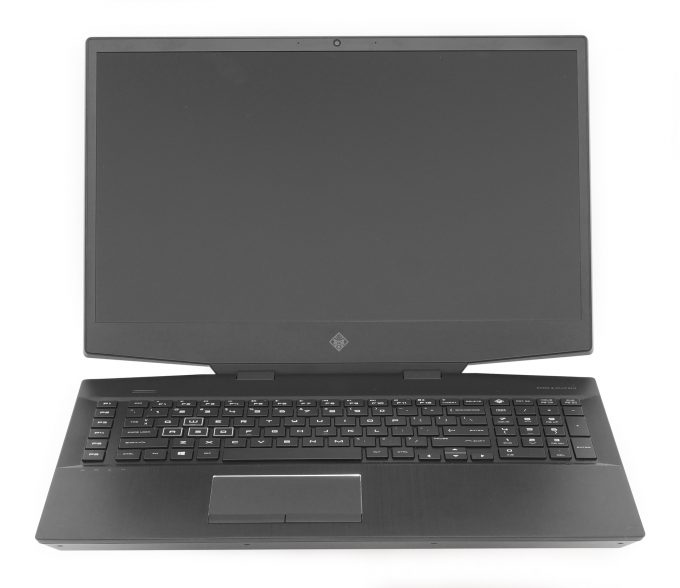 Opening the lid is an easy job no matter the device. If you'll gonna use the arrow keys often you will have a hard time with both devices – HP Omen is equipped with rather small arrow keys and with MSI you have to look for them because they are hard to spot. If we have to talk about similarities, on board with our contenders we can see Numpad, RGB backlight keyboards, programmable keys, and long key travel.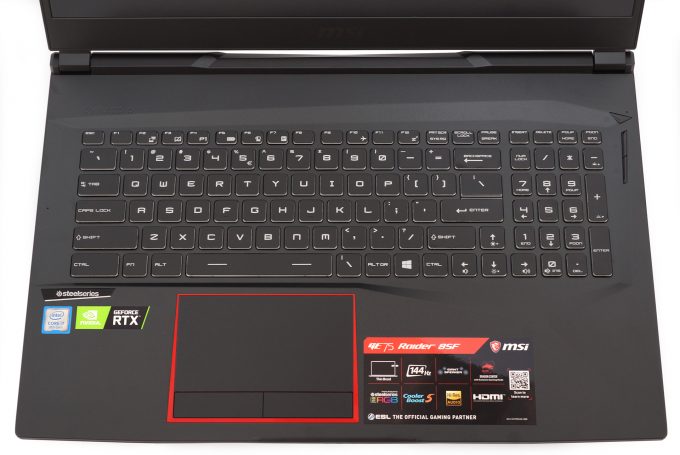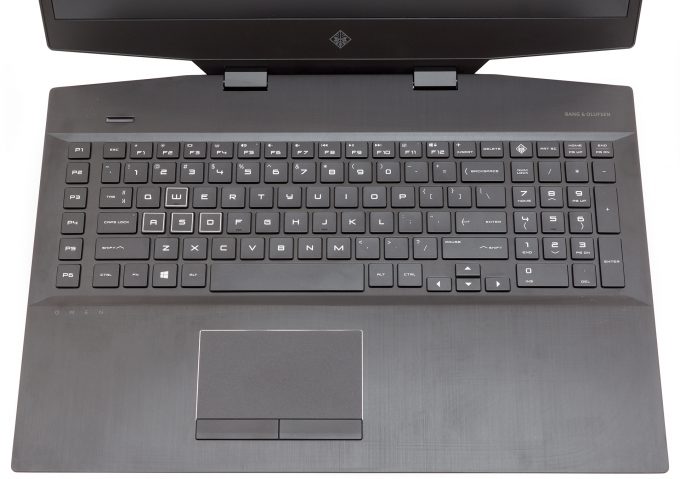 MSI got a SteelSeries keyboard, which is great for typing and gaming. But the real deal here is the per-key RGB backlight, which is programmable by the dedicated MSI app.
HP Omen has "only" quad-zone RGB backlight and the WASD keys are in a different color scheme.
Both touchpads are accurate, fast and easy to operate, but hey – who will use them in gaming laptops?
The bottom of GE75 is so "gamer" while the bottom of HP Omen is showing its big air intake grill and fans. MSI has a couple of small ventilation grills. The hot air is blown from the back on both machines.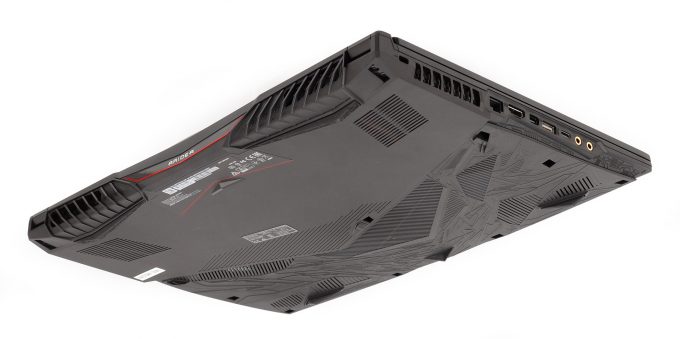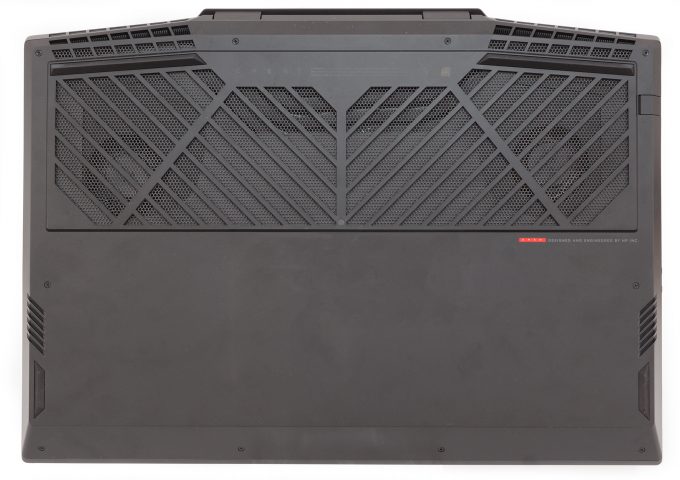 | | Height | Weight |
| --- | --- | --- |
| MSI GE75 | 27.5 mm (1.08″) |  2.61 kg (5.8 lbs) |
| HP Omen 17 2019 | 33 mm (1.30″) | 3.30 kg (7.3 lbs) |
Both laptops have all of its ports on the sides.
On the left side of MSI you'll find an RJ-45 connector, HDMI 2.0 connector, a Mini DisplayPort, followed by two USB 3.1 (Gen. 2) – one Type-A and one Type-C, as well as two audio jacks. On the other side, there are two USB Type-A 3.1 (Gen. 1) ports and an SD card reader. Unfortunately, there is no Thunderbolt connection.
MSI GE75
The left side of HP Omen is armed with an RJ-45 and HDMI 2.0 connectors, followed by a Mini DisplayPort and two USB Type-A 3.1s, a USB Type-C Thunderbolt port and two audio jacks. On the other side, there is just a USB Type-A 3.1 (Gen. 1) and an SD card reader.
HP Omen 17 (2019)
Display
The base display specs are all the same for our contenders – 17.3" IPS screens, 144 Hz refresh rate, 142 ppi, and 0.1995 x 0.1995 mm pixel pitch. Something important to mention is that HP Omen 17 panel is NVIDIA G-Sync certified. But enough with those boring specs. Let's dive into the next portion of info which is more important. MSI GE75 relies on an Innolux N173HCE-G33, while HP Omen 17 has a CMN175D.
MSI GE75
HP Omen 17 2019
As expected both IPS panels are showing great view angles, so no surprises here. As for the brightness, MSI is edging HP Omen by a margin of 35 nits (378 vs 343 nits).
The next one is color coverage and MSI is able to display 95% of sRGB gamut but HP Omen is even more impressive with its 98% score! If you work with colors check dE2000 graph for values under 4.0, everything above that is unacceptable. HP Omen is showing great results again with an average dE of 2.0 (0.7 after calibrations with our profiles) and for the MSI GE75 the results are 2.5 (1.3 after calibration with our profiles).
HP Omen scores big points with a contrast ratio of 1500:1 and "just" 760:1 for GE75 (which is a decent result too).
One of the most important things about a display is its safety towards the user. Both panels are using PWM for adjusting the brightness but the good news is that the flickers are with very high frequencies. So it's safe to use both panels for long periods without noticing any eye strain.

Blue light emissions
Installing our Health-Guard profile not only eliminates PWM but also reduces the harmful Blue Light emissions while keeping the colors of the screen perceptually accurate. If you're not familiar with the Blue light, the TL;DR version is – emissions that negatively affect your eyes, skin and your whole body. You can find more information about that in our dedicated article on Blue Light.
Our display profiles
Here at LaptopMedia, we create a set of custom-tailored profiles for every notebook we review. They boost the productivity of display and reduce negative effects such as blue light emissions and PWM. You can read more about them HERE.
Buy our profiles from here:
MSI GE75: Profiles
HP Omen 17: Profiles

Specs sheet comparison
More information about Intel Core i7-8750H and its position in our Top CPU Ranking you can find HERE.
More information about Intel Core i7-9750H and its position in our Top CPU Ranking you can find HERE.
More information about the RTX 2070 and its place in our Top GPU Ranking you can find HERE.
Dimensions
397 x 269 x 27.5 mm (15.63" x 10.59" x 1.08")
Price
Starting at $1404.67
Battery
MSI is packing surprisingly small battery, only 51Wh while the battery unit in HP Omen 17 is 70Wh. We think we have a clear winner here but let's see the results.
Our devices have undergone several tests. The first one is the Web browsing test where our own script browses automatically through over 70 websites. After all, MSI is doing well with 5 hours and a half of web browsing and 4 hours and 40 minutes of video playback. The battery will be out of juice after 52 minutes of gaming – so it's better to play games at home.
Soon we will test HP Omen 17 battery performance so stay tuned!


Gaming tests
In terms of gaming performance, MSI is always slightly ahead but we are talking about minimal differences in FPS. You will not even spot the difference.







Temperatures
In this test, we load the CPU cores to 100%, while monitoring the fluctuations in their frequencies and chip temperature. The first column is indicative of the computer's response under a short load (between 2 and 10 seconds), the second column simulates a serious task (between 15 and 30 seconds), and the third column is a good indicator of whether the laptop is suitable for heavy and continuous loads such as video rendering.
Average core temperature (base frequency + X); CPU temp.
| | 0:02 – 0:10 sec | 0:15 – 0:30 sec | 10:00 – 15:00 min |
| --- | --- | --- | --- |
| MSI GE75 (i7-8750H) | 3.29 GHz (B+20%) @ 85°C | 2.36 GHz (B+7%) @ 68°C | 2.55 GHz (B+16%) @ 76°C |
| HP Omen 17 (i7-9750H) | 3.44 GHz (B+32%) @ 86°C | 2.74 GHz (B+5%) @ 71°C | 2.67 GHz (B+3%) @ 71°C |
So it's basically i7 8750H vs i7 9750H here. HP Omen 17 cooling is solid – two heat pipes for the CPU, one separated pipe for the GPU and it's VRM/memory and two desktop-like fans. We are not surprised that HP Omen 17 is capable of higher frequencies and lower temperatures compared to MSI. Noise levels are low while MSI is a bit noisy.
Real Gameplay
| NVIDIA GeForce RTX 2070 | GPU frequency/ Core temp (after 2 min) | GPU frequency/ Core temp (after 30 min) |
| --- | --- | --- |
| MSI GE75 | 1586 MHz @ 74°C | 1576 MHz @ 77°C |
| HP Omen 17 2019 | 1483 MHz @ 72°C | 1474 MHz @ 74°C |
The RTX 2070 in GE75 features higher core frequencies, respectively higher temperatures. MSI is a bit faster in games but as we said before you will probably not spot the difference. The gaming comfort is on HP Omen side again – almost the same performance with lower temperatures and lower noise levels.

Verdict
First of all, let's start with the good news – both devices are capable of pushing higher framerates in games and they are almost identical in terms of performance. But the winner is HP Omen 17. Yes, ok, it's a bit heavy but that's all. The cooling system is very strong and capable, Omen is cool and quiet while you are playing games. The other pros are the bigger battery, G-Sync, a bit better display and one more time – more comfortable during gaming. And it's even cheaper than MSI.
Of course, MSI is a great laptop too. The performance is the same and the SteelSeries keyboard is so nice but HP Omen 17 is better.
Why choose MSI GE75?
Thinner body
SteelSeries keyboard with per-key RGB backlight
Why choose HP Omen 17 2019?
Panel that covers 98% of sRGB
G-SYNC certified
Better cooling, lower temperatures, and better comfort during gaming
Cheaper
Thunderbolt support