[2019] LaptopMedia's Golden Laptop Award – Best GeForce RTX 2060 notebooks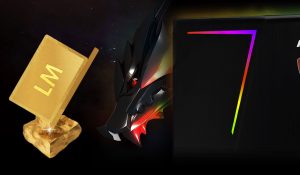 The RTX 2060 is the entry-level to the RTX world. It has enough horsepower to handle heavy games at 1080p combined with high-frame rates without spending too much money on a gaming laptop. If you turn off the RTX features you will enjoy even higher FPS but if you like the RTX visuals the TU106-based RTX 2060 is able to reproduce them on your screen.
The "TU106" chip in the RTX 2060 has 1920 shaders, 48 ROPs, 6GB of video memory (GDDR6), a 192-bit memory bus, and 90W TGP. The base clock is 960 Mhz and 1200 MHz for the boost. The memory clock is 14000 MHz. Those specs are enough for decent FPS in the newest gaming titles without sacrificing the visual quality.
In 2019, we tested a good amount of RTX 2060-based laptops. We saw that some of them are better than the others. That's why today we are going to present to you our three medalists in the "Best GeForce RTX 2060 notebooks" category. Without further ado, let's go check them out.
---
#3 Our bronze medalist – MSI GS65 Stealth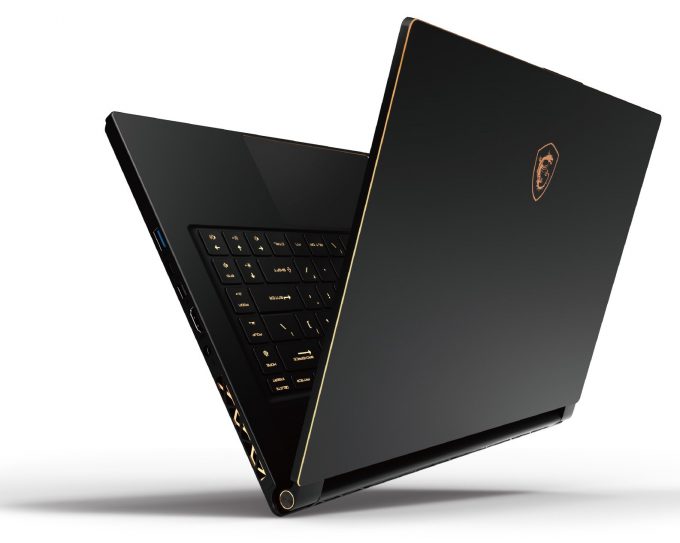 The MSI GS65 Stealth has a great look thanks to its thin and light design. For a powerful gaming device, it's thin and lightweight thanks to the all-aluminum build – 17.9 mm in profile and 1.90 kg weight. Very good.
The other advantage is the great screen. Its model number is AUO B156HAN08.2 (AUO82ED). The viewing angles are excellent. The panel features a decent contrast ratio of 1240:1 (1100:1 after profiling) and covers 95% of the sRGB, this leads to a punchy image with vibrant colors. The screen is PWM-free which makes it suitable for prolonged gaming sessions.
We are not done with the screen yet, because it's a very fast one with a 144Hz refresh rate – if you are a competitive player you will value that. Even if you aren't there is no way to don't spot the much smoother gameplay compared to conventional 60Hz panel. When you combine a blazing-fast panel with a fast SSD drive and a very responsible touchpad, the result is a laptop that provides a seamless and pleasant experience every time – that's the case with the MSI GS65 Stealth.
As an MSI gaming device, we have a great SteelSeries keyboard with a per-key RGB backlight that can be controlled through a dedicated app.
The big 82Wh battery unit is doing a good job because battery life is decent for a gaming notebook – close to 8 hours of Web browsing and a bit over 7 hours of video playback.
So, all those pros and advantages are good enough for our bronze medal!
You can check our in-depth review regarding the MSI GS65 Stealth here.
---
#2 Our silver medalist – Acer ConceptD 7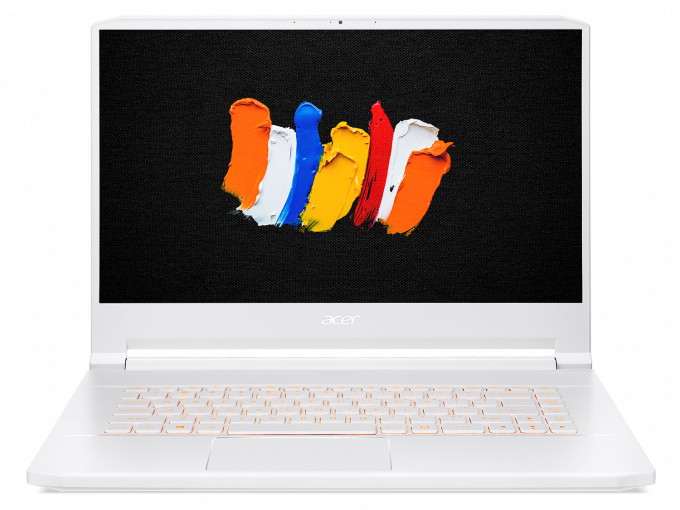 The design and the matte white color (that doesn't attract fingerprints) of the Acer ConceptD 7 are an unforgettable combination. The design of this machine is Acer Predator Triton 500-based. That means all-aluminum build with just 17.9mm profile, 2.1 kg of weight, and the same cooling solution.
Speaking of the cooling solution, let's have a look at it. The RTX 2060 is a powerful GPU and needs good cooling especially when it's combined with a fast CPU. Here we have a big amount of fans and heatsinks – a total of three fans and four heatsinks. One of the heat pipes is shared between the CPU and the GPU, and there is another pipe that is for each of them (CPU and GPU), one for the voltage regulators of the GPU, and one for the video memory. Looks promising.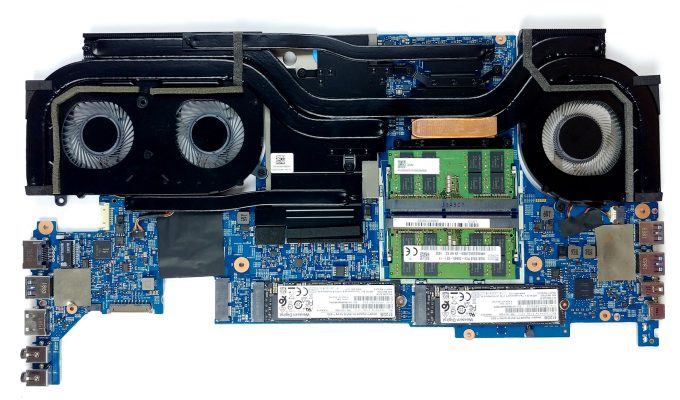 The display is another main feature in this great notebook. The model number is AUO B156ZAN03.1 (AUO31EB). Its viewing angles are comfortable, the contrast ratio is superb – 1400:1. We are not done yet here. This display covers 100% of the sRGB/ITU-R BT.709 (web/HDTV standard) in CIE1976! Even more – the panel covers 100% of Adobe RGB and goes up to DCI-P3 standard. It is hard to find such a great panel these days. On top of that, it is a PWM-free display. This one is definitely suitable for content creators and for people with color-sensitive jobs.
Battery life longevity is a good surprise – 11 hours of Web browsing and close to 8 hours of video playback. A great result.
In terms of upgradeability, things look decent – the RAM can be upgraded up to 32GB of DDR4 memory and there are two M.2 slots with RAID 0 support.
Well, that was our silver medalist. Congratulations!
You can check our in-depth review regarding the Acer ConceptD 7 here.
---
#1 LaptopMedia's Golden Laptop goes to the MSI GE63VR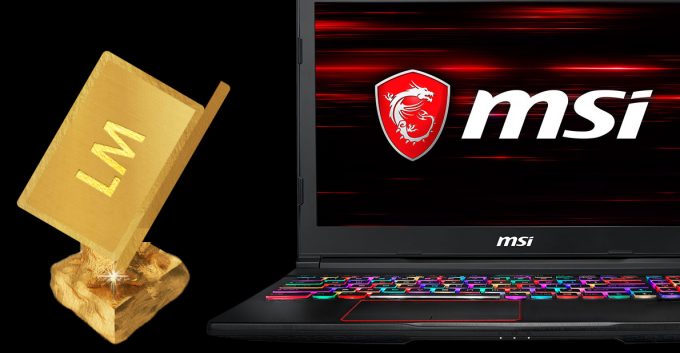 The winner is here, our gold medalist – the MSI GE63VR. This machine has a pure gaming-centric design. Aluminum is being used for the lid and the surface area. The lid is very stable and you can open it with one hand without additional flexes and strange noise from it – neat. Opening the lid reveals the superb backlit keyboard by SteelSeries. Its RGB LEDs can be controlled through the MSI's application. Typing is a pleasant experience with this keyboard – the key travel and the feedback are very good, the keystrokes are fast as hell.
There is a dedicated key that ramps the fans to 100% for maximum cooling that leads to a bit higher FPS results because the GPU boosts more (as well as the CPU). Let's see what the cooling solution has to offer. When you unscrew 11 Phillips head screws and remove the bottom panel the "wow" effect is guaranteed – just look at this hardware beauty. The real hardware geeks know what we are talking about. The cooling is made of a total of seven heat pipes and four heatsinks! That is a really dominant cooling engineering – respect MSI!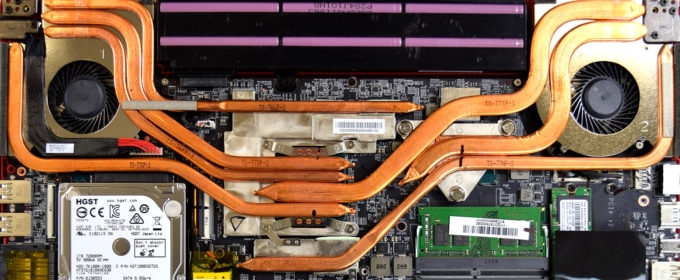 Our temperature results during stress tests speak for themselves. No other RTX 2060-based contender isn't capable of such great temperature results.

Real gameplay
| NVIDIA GeForce RTX 2060 | GPU frequency/ Core temp (after 2 min) | GPU frequency/ Core temp (after 30 min) | GPU frequency/ Core temp (after 30 min + fan boost) |
| --- | --- | --- | --- |
| MSI GE63 Raider | 1471 MHz @ 70°C | 1464 MHz @ 72°C | 1482 MHz @ 67°C |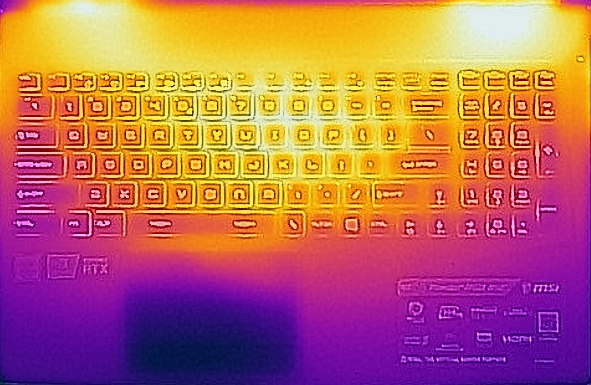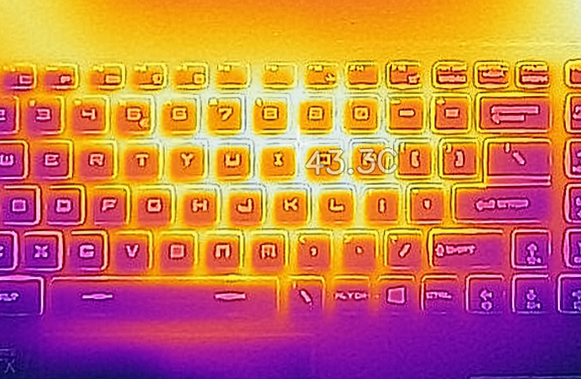 While the bottom plate is still opened we can see the upgradability options – there are two RAM DIMMs that can be upgraded with 32 GB of DDR4-2400 memory. We found M.2 slots with RAID 0 support. The RAM and storage slots are easy to access and upgrade.
The next one is the display (Chi Mei N156HHE-GA1). It has a 1080p resolution and a high refresh rate of 120Hz. The contrast ratio is good – 1280:1 (1080:1 after calibration). This display covers 96% of the sRGB – great result.
Last but not least – the MSI GE63VR has great built-in speakers. They are able to produce a quality sound, especially for a laptop. The sound is loud and crisp in all frequency ranges.
Such a great gaming device, well deserved – the MSI GE63VR is our winner!
You can check our in-depth review regarding the MSI GE63VR here.