MSI GS65 Stealth review – 9th Gen Intel processors and RTX graphics cards, what could possibly go wrong?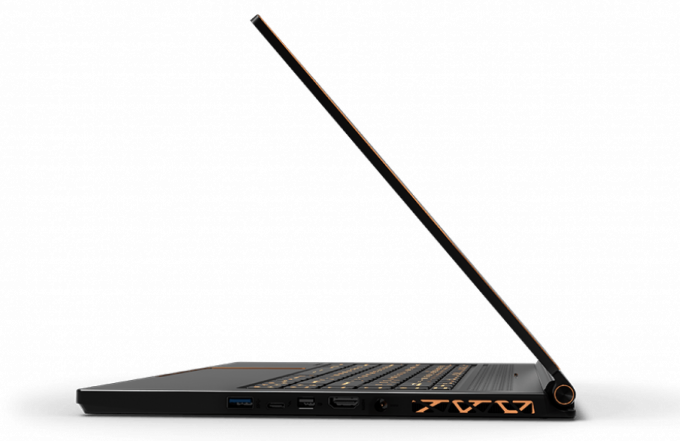 Today we are looking at a very rare breed of laptops. It is called the MSI GS65 Stealth and it features a stylish – near industrial design. Actually, with the advance of technology manufacturers are able to provide very powerful laptops at a very tight chassis and business-looking laptops. Basically, there are two options for a gaming laptop – the one is to be extra bulky and try to mimic a desktop experience, while the other is to give up some of the performance and stick all of the gaming hardware inside a beautiful looking thin and light chassis. This makes these devices a lot more appetizing for the regular person, who doesn't want to have an aggressive looking laptop, but on the other side wants all of the power in the world.
With that said MSI GS65 Stealth doesn't need a lot of introductions – it features the latest 9th Gen Intel processors (for now it also comes with the 8th Gen CPUs). Additionally, you have the choice of a GeForce RTX 2060, RTX 2070 Max-Q or the RTX 2080 Max-Q. On top of that, there is the 144Hz IPS 1080p panel (they even offer a 240Hz 1080p panel) and the per-key RGB backlight. Everything seems very good on paper, but how would it perform to a very similar laptop – the Acer Predator Triton 500.
You can check the prices and configurations in our Specs System: https://laptopmedia.com/series/msi-gs65-stealth/
Contents
Specs Sheet
MSI GS65 Stealth technical specifications table
Display
15.6", Full HD (1920 x 1080), 144 Hz, IPS
M.2 Slot
2x M.2 SSD NVMe PCIe Gen3
Dimensions
358 x 248 x 17.9 mm (14.09" x 9.76" x 0.70")
Ports and connectivity
1x USB Type-C 3.2 Gen 2 (10 Gbps), Thunderbolt 3, DisplayPort, HDMI
3x USB Type-A 3.2 Gen 1 (5 Gbps)
HDMI
Displayport mini
Ethernet lan
Wi-Fi
Bluetooth
Audio jack 2x audio jacks
Features
Fingerprint reader
Web camera
Backlit keyboard
Microphone
Speakers
Optical drive
Security Lock slot
ESS SABRE HiFi audio DAC technology
Nahimic 3 Audio Enhancer
What's in the box?
MSI GS65 Stealth 8SE comes in traditional box-in-a-box packaging. After you open the traditional box, there are going to be two options – the one is holding the charging brick, while the other is where you'll find the laptop. Don't be scared, though, it is going to be easy to distinguish which one is for what.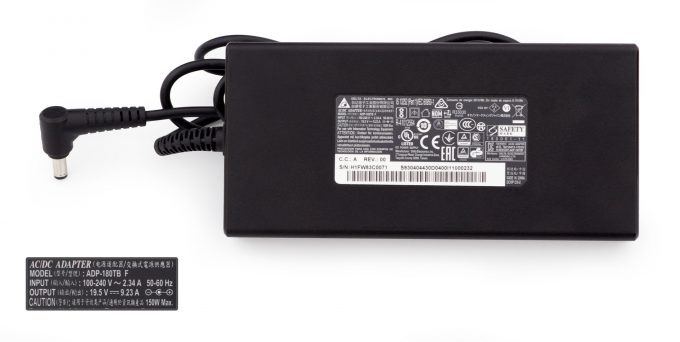 Design and construction
This laptop has an all-aluminum build and measures at 17.9 mm in profile and 1.90 kg on the scale. In fact, last year we tested the MSI GS63 Stealth and it is just a tad thinner and a little bit lighter, however, we were not satisfied with the build quality, whatsoever.
Moving on to the lid, we are able to open it easily with a single hand. Additionally, we see that this year, expectedly, MSI has gone for bezel-less screen design, shaving a couple of millimeters here and there, which results in an overall smaller package.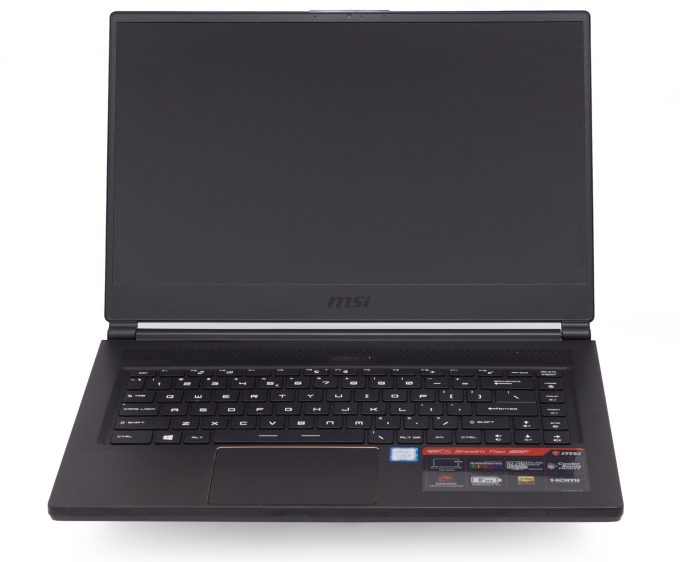 However, the next part is what is really impressive about this laptop – it is the base. First, we see the huge ventilation grill that is not only visible from this side, but from the other as well – yes guys, that means the MSI GS65 Stealth is a transparent device. Well… not really, but it is funny to take a peak from the vents, through the fans and to the back of the laptop.
Now seriously, the keyboard has a rather short travel, but is very clicky and reminds us a little of the Apple's butterfly switches. Additionally, MSI has put a per-key RGB backlight from SteelSeries, which you can control easily from the dedicated app. Further below is located the huge touchpad. It is probably as tall as most of the touchpads out there, but it is incredibly wide. Moreover, it has a very smooth texture and is super pleasant to work with – especially with the 144 Hz display.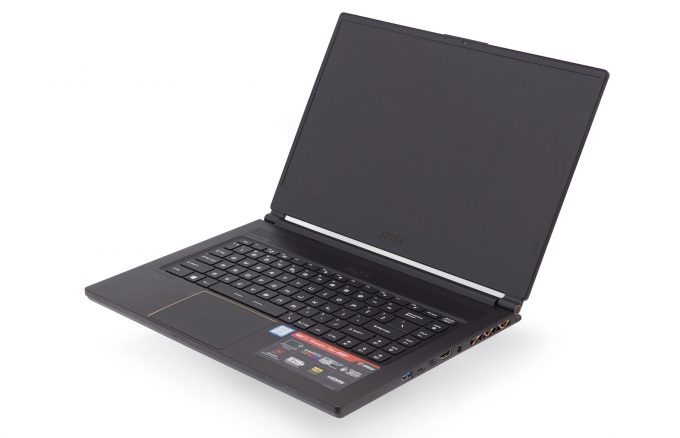 Unlike the yesteryear model, the GS65 Stealth is far more robust and doesn't bend excessively. However, when the laptop heats up we've noticed that there are some squeaky noises coming from the chassis – especially the part around the cooling assembly. The main reason for that should be the expansion through heat, but nevertheless – it is kind of annoying.
On the bottom, as we mentioned, you can see a huge ventilation grill as well as the two small cut-outs for the speakers. This laptop uses a lot of space around it to exhaust the hot air.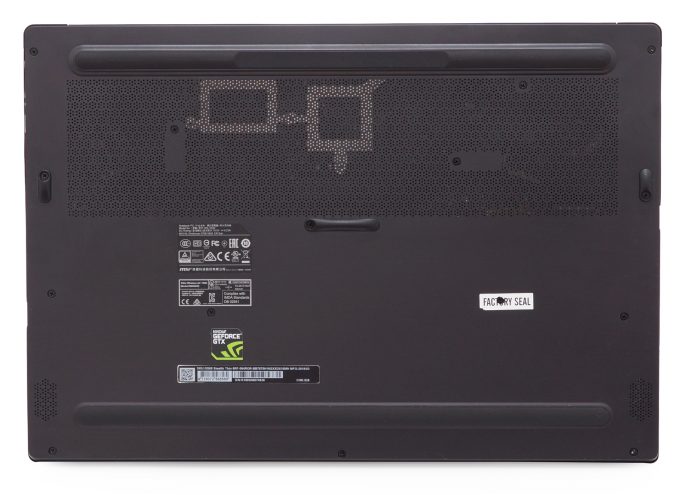 | | Height | Weight |
| --- | --- | --- |
| MSI GS65 Stealth | 17.9 mm (0.70″) | 1.90 kg (4 lbs) |
| Acer Predator Triton 500 | 17.8 mm (0.71″) | 2.09 kg (4.6 lbs) |
| Lenovo Legion Y740 | 20 – 23.85 mm (0.79″) | 2.20 kg (4.9 lbs) |
Ports
On the left you're going to find an RJ-45 connector, as well as two USB Type-A 3.1 (Gen. 1) ports and two 3.5 mm audio jacks, while on the right, you'll see the charging barrel plug, an HDMI 2.0 connector placed next to a Mini DisplayPort and a Thunderbolt connector, while at the end there is a single USB Type-A 3.1 (Gen. 2) port.
Display quality
MSI GS65 Stealth shares the same IPS panel with HP Omen 15 (2018), ASUS ROG Zephyrus S GX531GM and Acer Predator Triton 500. It has a model number AUO B156HAN08.2 (AUO82ED). Its diagonal is 15.6″ (39.62 cm), and the resolution 1920 х 1080 pixels. The screen ratio is 16:9, and we are looking at a pixel density of – 142 ppi, and a pitch of 0.18 х 0.18 mm. The screen turns into Retina when viewed at distance equal to or greater than 60cm (24″) (from this distance one's eye stops differentiating the separate pixels, and it is normal for looking at a laptop).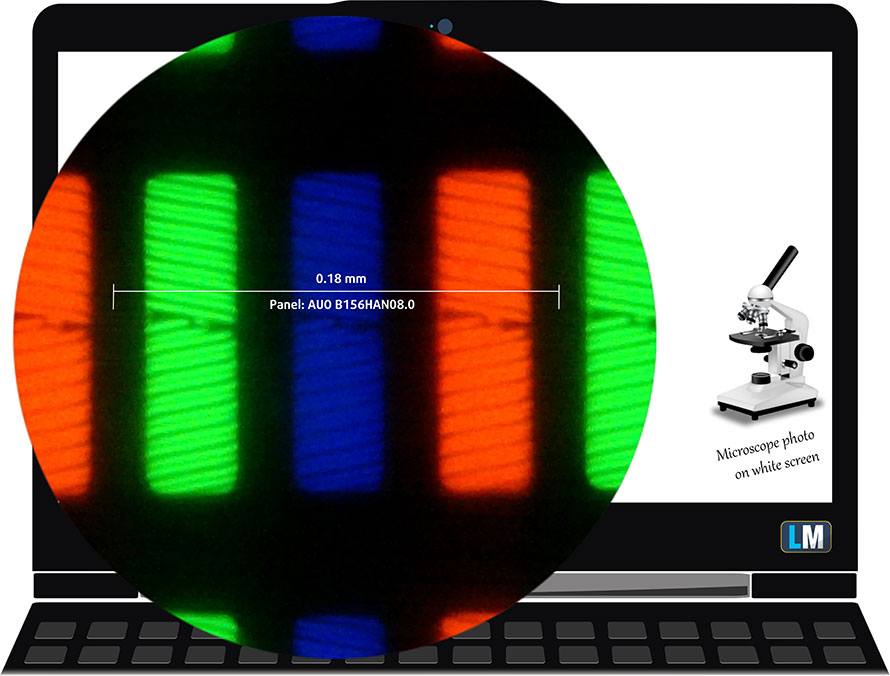 Viewing angles are excellent. We offer images at 45° to evaluate image quality.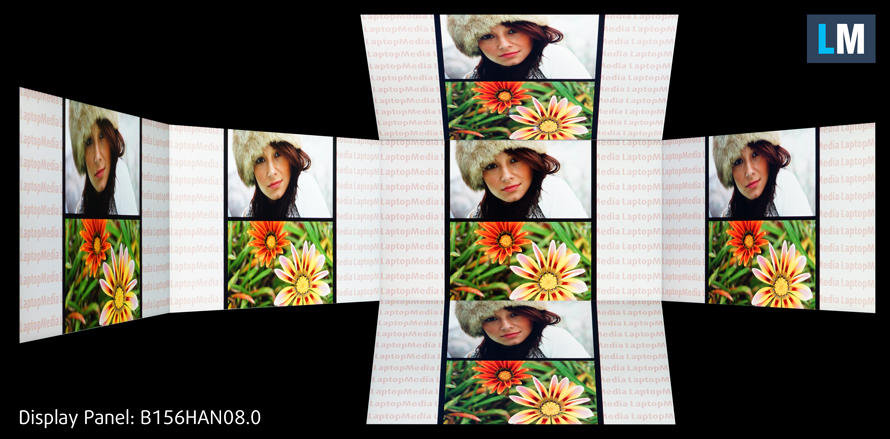 The measured maximum brightness of 293 nits in the middle of the screen and 306 nits as an average for the whole area, with a maximum deviation of just 11%. The Correlated Color Temperature on a white screen is 7700K – colder the optimal for the sRGB standard of 6500K. The average color temperature through the grey scale before profiling essentially matches the optimum at 7660K.
In the illustration below you can see how the display performs from a uniformity perspective. In other words, the leakage of light from the light source.
Values of dE2000 over 4.0 should not occur, and this parameter is one of the first you should check if you intend to use the laptop for color sensitive work. The contrast ratio is fine – 1240:1 (1100:1 after profiling)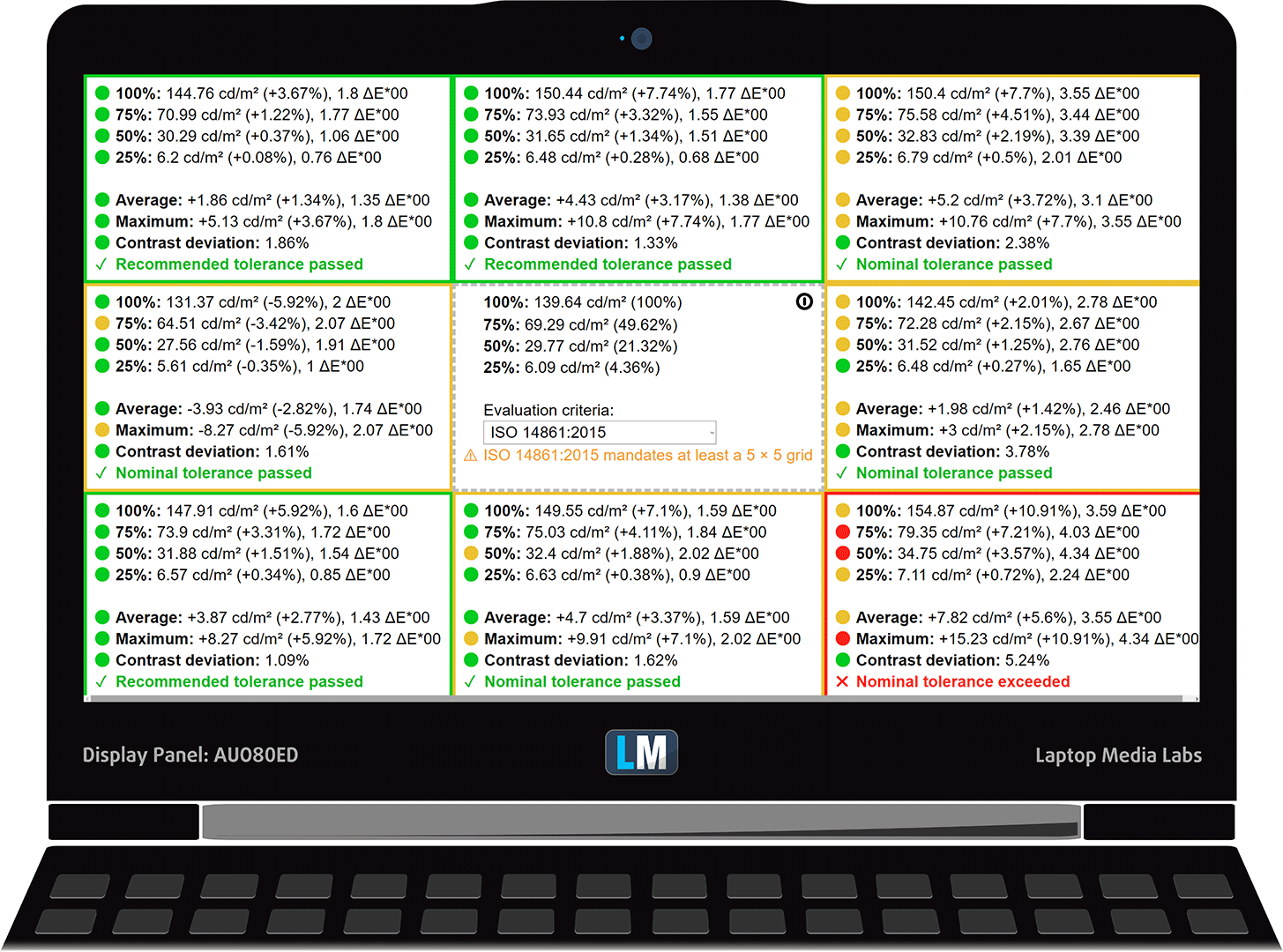 To make sure we are on the same page, we would like to give you a little introduction to the sRGB color gamut and the Adobe RGB. To start, there's the CIE 1976 Uniform Chromaticity Diagram that represents the visible specter of colors by the human eye, giving you a better perception of the color gamut coverage and the color accuracy.
Inside the black triangle, you will see the standard color gamut (sRGB) that is being used by millions of people in HDTV and on the web. As for the Adobe RGB, this is used in professional cameras, monitors, etc for printing. Basically, colors inside the black triangle are used by everyone and this is the essential part of the color quality and color accuracy of a mainstream notebook.
Still, we've included other color spaces like the famous DCI-P3 standard used by movie studios, as well as the digital UHD Rec.2020 standard. Rec.2020, however, is still a thing of the future and it's difficult for today's displays to cover that well. We've also included the so-called Michael Pointer gamut, or Pointer's gamut, which represents the colors that naturally occur around us every day.
The yellow dotted line shows MSI GS65 Stealth's color gamut coverage.
Its display covers 95% of the sRGB/ITU-R BT.709 (web/HDTV standard) in CIE1976, which is a prerequisite for a punchy image.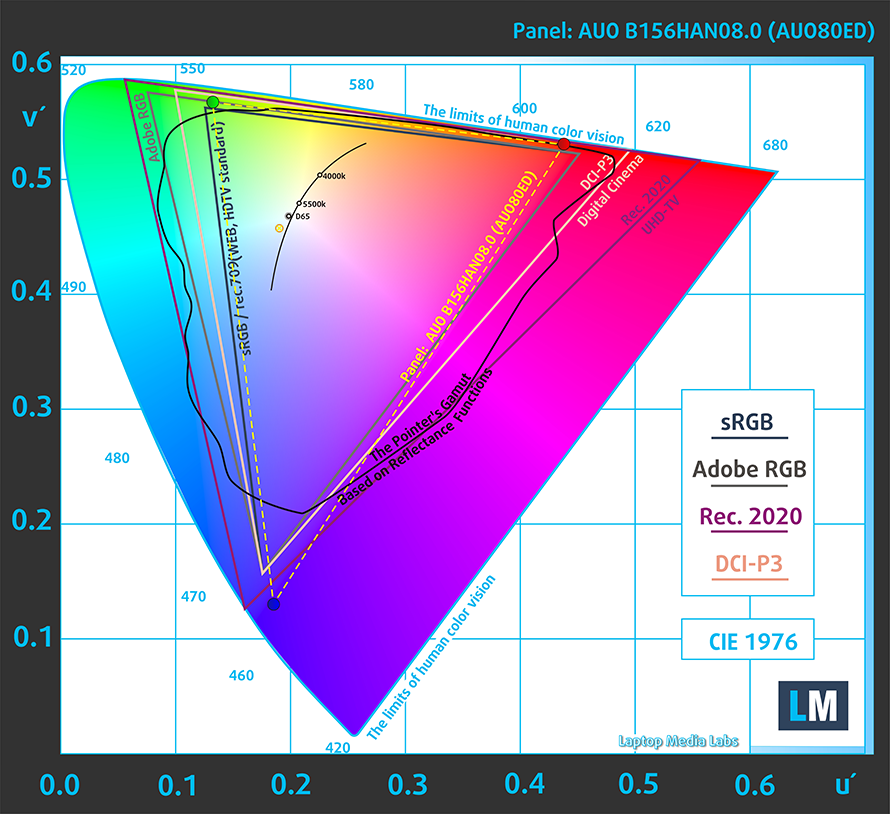 Our "Design and Gaming" profile delivers optimal color temperature (6500K) at 140 cd/m2 luminance and sRGB gamma mode.
MSI GS65 Stealth comes with an app, which lets you choose and edit a number of different display profiles. They call it "True Color" and below you can see some screenshots from the program itself.
We tested the accuracy of the display with 24 commonly used colors like light and dark human skin, blue sky, green grass, orange, etc. You can check out the results at factory condition and also, with the "Design and Gaming" profile.
Below you can compare the scores of MSI GS65 Stealth with the default settings (left), the sRGB View Mode profile of the True Color app (middle), and with the "Gaming and Web design" profile (right).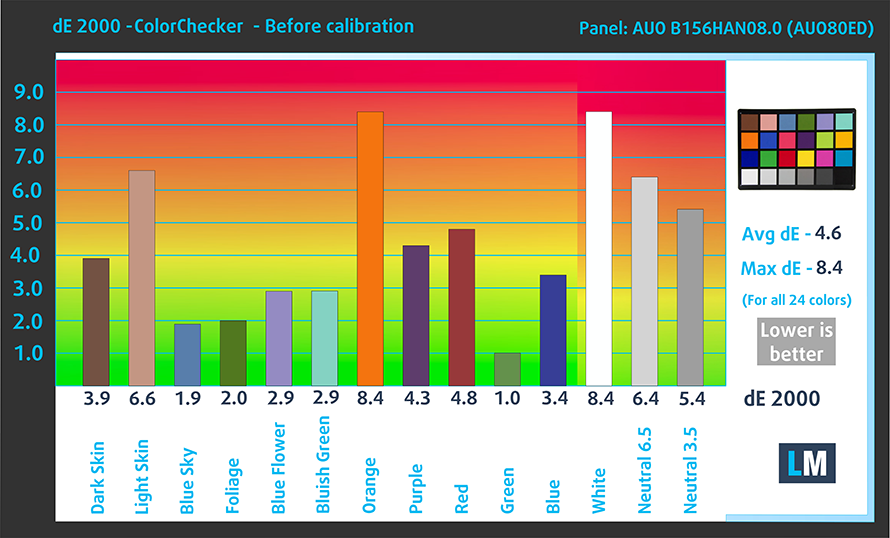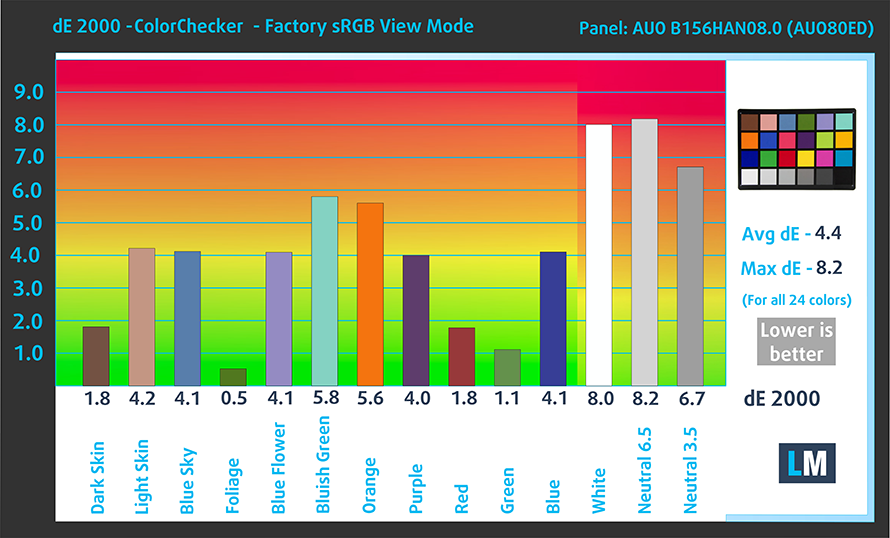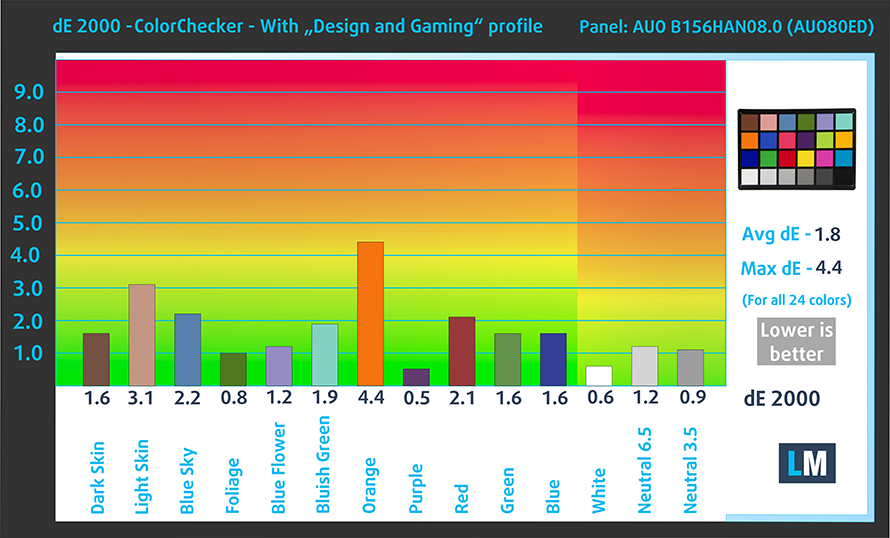 The next figure shows how well the display is able to reproduce really dark parts of an image, which is essential when watching movies or playing games in low ambient light.
The left side of the image represents the display with stock settings, while the right one is with the "Gaming and Web Design" profile activated. On the horizontal axis, you will find the grayscale and on the vertical axis – the luminance of the display. On the two graphs below you can easily check for yourself how your display handles the darkest nuances but keep in mind that this also depends on the settings of your current display, the calibration, the viewing angle, and the surrounding light conditions.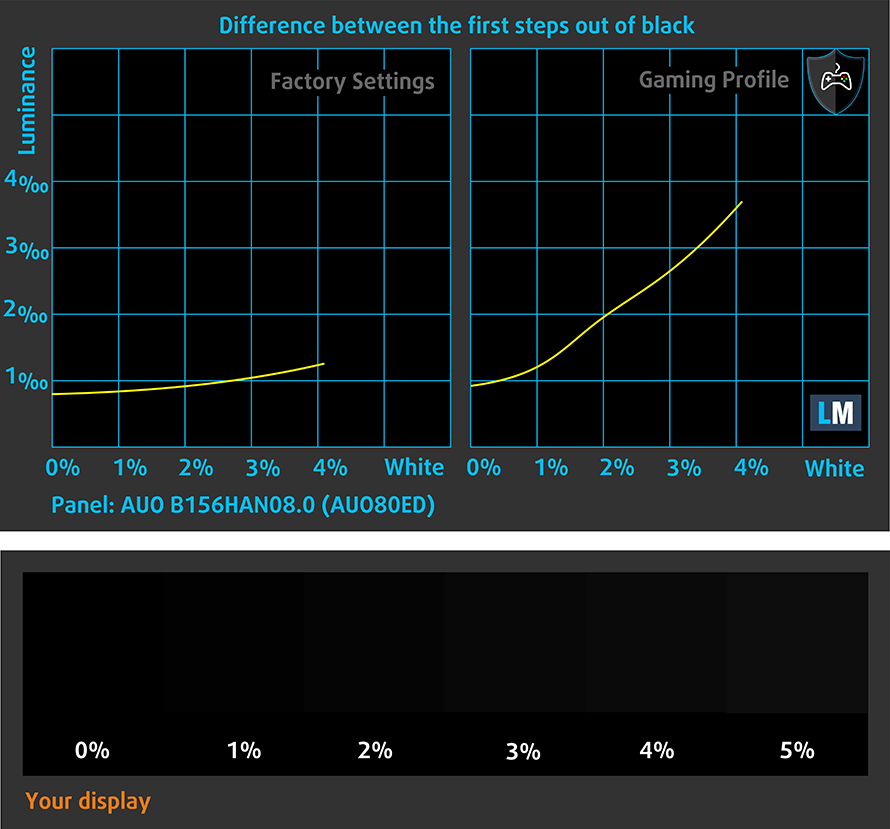 Response time (Gaming capabilities)
We test the reaction time of the pixels with the usual "black-to-white" and "white-to-black" method from 10% to 90% and vice versa.
We recorded Fall Time + Rise Time = 10 ms. Incredibly fast IPS panel.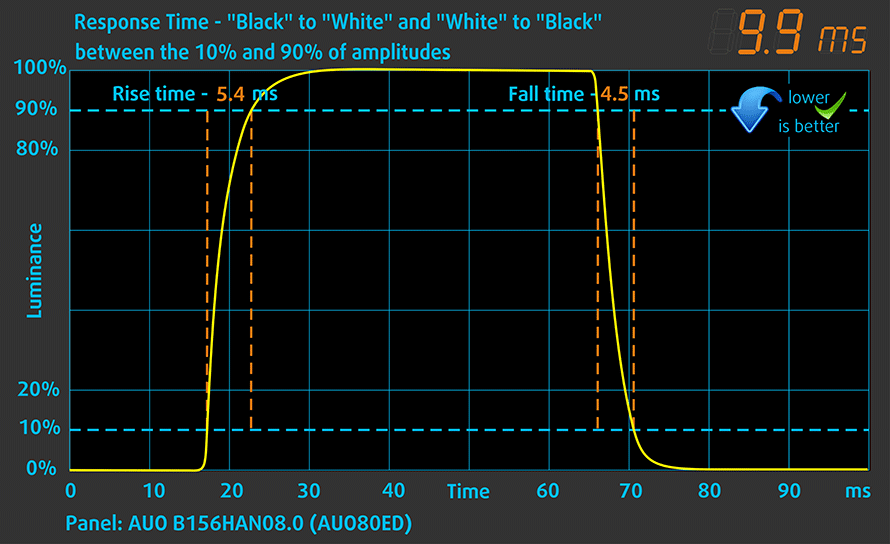 PWM (Screen flickering)
Pulse-width modulation (PWM) is an easy way to control monitor brightness. When you lower the brightness, the light intensity of the backlight is not lowered, but instead turned off and on by the electronics with a frequency indistinguishable to the human eye. In these light impulses, the light/no-light time ratio varies, while brightness remains unchanged, which is harmful to your eyes. You can read more about that in our dedicated article on PWM.
MSI GS65 Stealth doesn't implement PWM in the adjustment of its brightness. This makes the screen comfortable for extended periods of use, without presenting excessive harm to your eyesight in this aspect.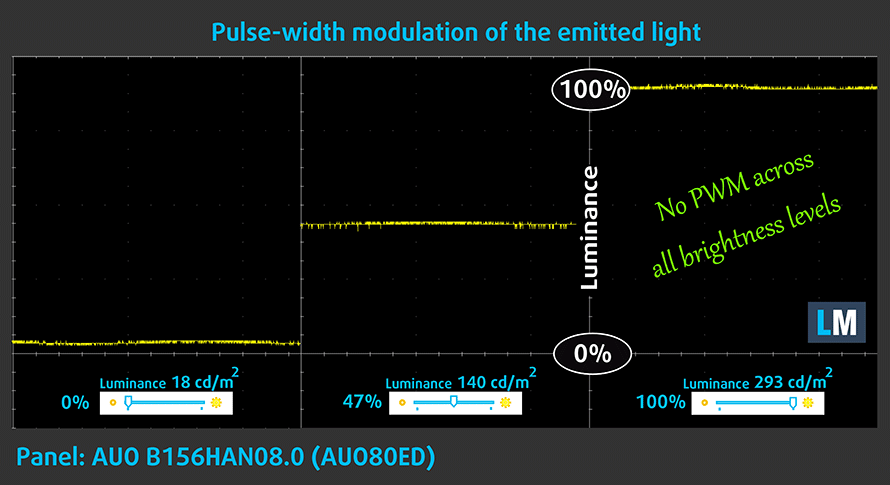 Blue light emissions
Installing our Health-Guard profile not only eliminates PWM but also reduces the harmful Blue Light emissions while keeping the colors of the screen perceptually accurate. If you're not familiar with the Blue light, the TL;DR version is – emissions that negatively affect your eyes, skin and your whole body. You can find more information about that in our dedicated article on Blue Light.

Conclusion
This laptop's display has a very fast 144Hz Full HD IPS panel with comfortable viewing angles, rather high maximum brightness and a good contrast ratio. Additionally, it has a wide color coverage (95% of sRGB) and its backlight doesn't flicker. Moreover, the fast reaction time and the wide variety of color customization make it suitable for hardcore gamers. Moreover, when our Gaming and Web design profile is applied, the average dE of the colors gets under 2.0, which is the standard for web design.

Buy our profiles
Since our profiles are tailored for each individual display model, this article and its respective profile package are meant for MSI GS65 Stealth configurations with 15.6″ 144Hz FHD IPS AUO B156HAN08.2 (AUO82ED).
*Should you have problems with downloading the purchased file, try using a different browser to open the link you'll receive via e-mail. If the download target is a .php file instead of an archive, change the file extension to .zip or contact us at [email protected]
Read more about the profiles HERE.
In addition to receiving efficient and health-friendly profiles, by buying LaptopMedia's products you also support the development of our labs, where we test devices in order to produce the most objective reviews possible.
Sound
MSI GS65 Stealth's speakers sound relatively loud, but rather flat – there is no punch to it and they lack dynamic. However, there is good customization, which is presented by Dynaudio. Otherwise low, mid and high tones are free of deviations.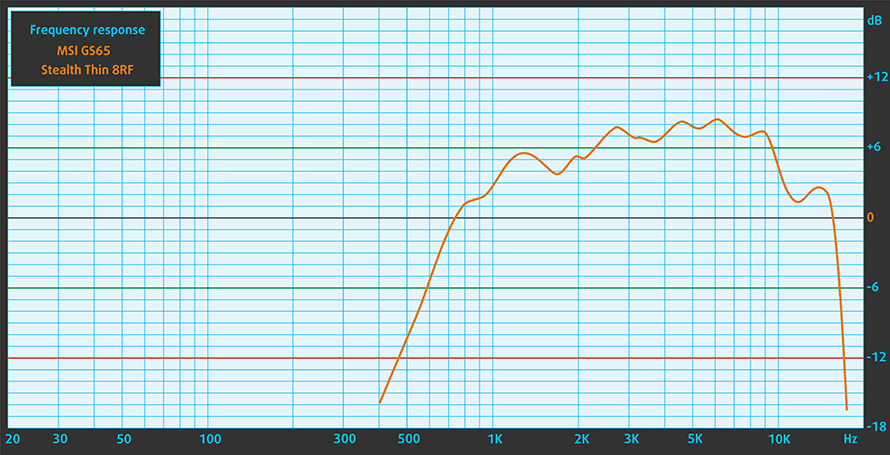 Drivers
Here you can find every driver and utility program that you'll possibly need for the GS65 Stealth: https://www.msi.com/Laptop/support/GS65-STEALTH-9SF

Battery
Now, we conduct the battery tests with Windows Better performance setting turned on, screen brightness adjusted to 120 nits and all other programs turned off except for the one we are testing the notebook with. MSI has given this laptop a hefty 82Wh battery unit.
In fact, it turned out that it did a very good job – we got almost 8 hours of Web browsing and over 7 hours of video playback. For the masochist – you are going to get an hour and a half of gaming on battery power.
In order to simulate real-life conditions, we used our own script for automatic web browsing through over 70 websites.
For every test like this, we use the same video in HD.
We use F1 2017's built-in benchmark on loop in order to simulate real-life gaming.
CPU options
As we mentioned, by the time of writing this review, the MSI GS65 Stealth can be configured with an 8th Gen. Intel Core i7-8750H, or the newer Core i7-9750H and Core i9-9880H. We recommend going for one of the Core i7s since the eight-core monster Core i9 is going to seriously hit the laptop's thermals.
Results are from the Cinebench 20 CPU test (the higher the score, the better)
Results are from our Photoshop benchmark test (the lower the score, the better)
Results are from the Fritz chess benchmark (the higher the score, the better)
GPU options
As far as the GPU versions – This laptop is available with GeForce GTX 1060, GTX 1660 Ti and the Ray tracing-enabled RTX 2060, RTX 2070 Max-Q and RTX 2080 Max-Q.
Gaming tests
Despite the thin profile, the GS65 Stealth showed representable performance from the GeForce RTX 2060.




Temperatures and comfort
Max CPU load
In this test we use 100% on the CPU cores, monitoring their frequencies and chip temperature. The first column shows a computer's reaction to a short load (2-10 seconds), the second column simulates a serious task (between 15 and 30 seconds), and the third column is a good indicator of how good the laptop is for long loads such as video rendering.
Average core temperature (base frequency + X); CPU temp.
| Intel Core i7-8750H (45W TDP) | 0:02 – 0:10 sec | 0:15 – 0:30 sec | 10:00 – 15:00 min |
| --- | --- | --- | --- |
| MSI GS65 Stealth 8SE | 3.18 GHz (B+45%) @ 84°C | 3.02 GHz (B+37%) @ 90°C | 2.61 GHz (B+19%) @ 82°C |
| Dell G5 15 5590 | 2.86 GHz (B+30%) @ 79°C | 2.91 GHz (B+32%) @ 85°C | 2.99 GHz (B+36%) @ 90°C |
| Lenovo Legion Y740 | 3.39 GHz (B+54%) @ 75°C | 3.24 GHz (B+47%) @ 81°C | 2.89 GHz (B+31%) @ 72°C |
| Acer Predator Triton 500 | 2.89 GHz (B+31%) @ 76°C | 2.79 GHz (B+27%) @ 85°C | 2.65 GHz (B+20%) @ 77°C |
| ASUS ROG GL503GE | 2.89 GHz (B+31%) @ 66°C | 2.89 GHz (B+31%) @ 69°C | 2.53 GHz (B+15%) @ 71°C |
MSI GS65 Stealth started off quite rapidly at 3.18 GHz which is around 300 MHz higher than the Predator Triton 500. Higher was the temperature as well – 84C vs 76C. We saw basically the same pattern across the second checkpoint, while at the end the Triton 500 slightly edged the GS65 Stealth with 5C in its pocket. It is useless to say that either of the laptops was anywhere near the Lenovo Legion Y740, which is one of the best performers in terms of cooling capacity.

Real gameplay
| NVIDIA GeForce RTX 2060 | GPU frequency/ Core temp (after 2 min) | GPU frequency/ Core temp (after 30 min) |
| --- | --- | --- |
| MSI GS65 Stealth 8SE | 1305 MHz @ 77°C | 1267 MHz @ 80°C |
| Dell G5 15 5590 | 1400 MHz @ 72°C | 1438 MHz @ 70°C |
| Lenovo Legion Y740 | 1526 MHz @ 70°C | 1499 MHz @ 74°C |
In the GPU department, the MSI GS65 Stealth is lacking significantly behind the Dell G5 15 5590 and the Lenovo Legion Y740. At the end of the day, the GS65 Stealth's RTX 2060 was working 200 MHz slower than its two opponents, whereas the temperature was reaching the scorching 80C. This meant that the fans were spinning as fast as possible, hence producing a lot of noise.

Gaming comfort
In terms of gaming comfort – this is not exactly the best laptop you can buy. It is neither the noise nor the fact that it reaches around 54C on its keyboard – the most frustrating thing about this laptop is the heat it emits from its backplate – it is crazy hot guys. There is no chance somebody is playing games on their lap.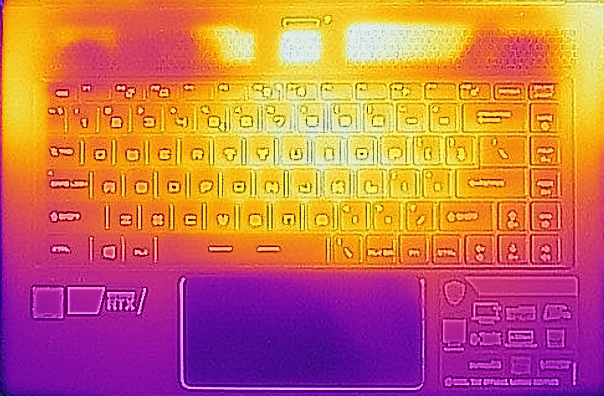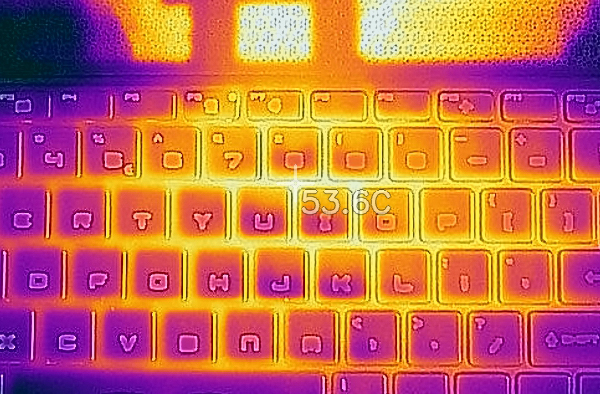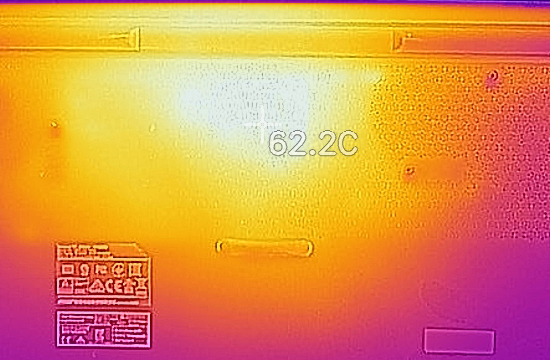 Verdict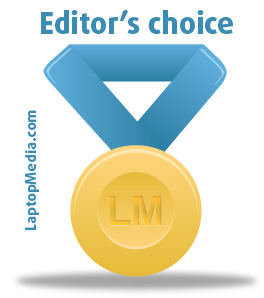 Our final word on this laptop is that it is one of the best laptops we've ever tried out. In terms of computing power and actually feeling it is a beast – super comfortable for use, a lot of customization options, an amazing 144Hz IPS panel (AUO B156HAN08.2 (AUO82ED)) that covers 95% of sRGB and doesn't use PWM to adjust brightness.
Additionally, there are the Mini DisplayPort and the Thunderbolt support on the I/O side and the amazing battery life (especially for a 144Hz screen) – around 7 hours and a half of web browsing and 7 hours of video playback. When you add to this the silky smooth (that's MSI's words, but this time they are 100% right about it) touchpad, which makes the browsing experience blazingly fast and seamless. It also supports RAID 0.
Moreover, you can configure this laptop with an Intel Core i9-9880H and an RTX 2080 Max-Q and equip it with a 240Hz screen. However, here is where the problems start – yes they have these options, but the cooling is just not sufficient enough to handle the Core i9-9880H and the RTX 2080 Max-Q properly. Not only the laptop gets pretty loud, but it also gets extremely hot at its bottom. The only occasion which we imagine it is going to be helpful is if you want to wax your legs – no need, just play Shadow of the Tomb Raider for half an hour with the MSI GS65 Stealth on your legs and you're done!
On top of that, the laptop starts producing squeaking sounds from its body when you try to move it around, when its already heated up – like it is crying. On the bright side, the keyboard is comfortable for gaming, despite its short key travel, and has a per-key RGB backlight by Steelseries.
So if you are in the search of a good thin and light gaming laptop – yes the GS65 Stealth is a very good option and we would certainly recommend it – just promise us that you're not going to play games, while the laptop is … well, on your lap.
Pros
Acceptable battery life
Satisfactory keyboard design
Good color coverage – 95% of sRGB (AUO B156HAN08.2 (AUO82ED))
Doesn't use PWM to adjust brightness (AUO B156HAN08.2 (AUO82ED))
Blazingly fast 144Hz display with a lot of built-in customization options (AUO B156HAN08.2 (AUO82ED))
Supports RAID 0
Seamless work thanks to the responsive touchpad, fast SSD and high refresh rate screen
Thin and light aluminum design
Cons
Very hot on the bottom
Lacks an SD card slot
Get's pretty loud under pressure
You can check the prices and configurations in our Specs System: https://laptopmedia.com/series/msi-gs65-stealth/