Acer Predator 2019 comparison: Triton 900 vs Triton 500 vs Triton 300 vs Helios 700 vs Helios 500 vs Helios 300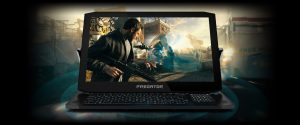 The Predator series features so many models and so many possible configurations – sometimes the buyers are confused and they don't know which model is the right one for them. Well, we are here to help you with our article.
Any entry-level device here? It's really hard to call a $1000 device "entry-level" or "cheap". The right definition here – competitive price. So, Helios 300 15″ is the most affordable notebook here. If the top configuration of Helios 300 is unnecessarily powerful for you have a look at the most affordable combo – Intel Core i5-9300H + GTX 1660. It is absolutely enough for every game on the market. Helios 300 is the lightest and thinnest device among the Helios series – 2.3kg and 22.9mm profile.
If you like the specs and price of Helios 300 15″ but you need a bigger screen, the 17.3″ version will do the job – Helios 300 17.3″.
The next one is Triton 500 – bigger screen, better cooling, more weight. You can have it even with AMD Ryzen 7 2700 and Vega 56, which is the most budget CPU / GPU combination. If you need more, Helios 700 comes next. This 17.3″ machine can deliver desktop-like performance with RTX 2080 (it is the non-Max-Q version a.k.a the faster one). The keyboard of this device is very special and comfortable (a full-sized keyboard, illuminated by RGBs, and also the arrow keys are painted in blue). Of course, you can choose RTX 2070 which is more wallet-friendly and still a fast video card. Helios 700 has a unique overclock function and a very capable cooling solution. You need deep pockets for this one, no matter the configuration.
Now, it's time to switch to the Triton series with Triton 300. It is an affordable device with a decent weight (one of the lightest of all here – 2.2 kg) and a 1080p 144Hz display. Its modest GPU (GTX 1650) is enough for every game you but have to lower or turn off some graphics settings in the newest game titles. If you select the Intel Core i5-9300H instead of Core i7-9750H the end price will become much more pleasant. The Triton 300 has two M.2 slots and RAID support (like all devices in this article).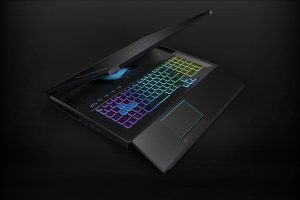 What about users who need thin, light and powerful laptops? Acer has the right answer for them with the Triton 500 – the lightest and the thinnest in today's comparison. Only 2.09kg, with just 17.8mm profile, bundled with the biggest battery capacity (84Wh) in the lineup – hats down.  You can buy it with Max-Q graphics cards only but that's fine because it will extend the autonomous work of the device. Playing a lot of games after work – RTX 2080 Max-Q and Core i7-9750H will deliver a smooth frame rate in every game.
For the people who always demand the best, Triton 900 is the ultimate machine. This Transformer-like beast has a very good 4K PWM-free touchscreen display. Speaking of the screen, if you want to be a bit more away from it you can slide the keyboard towards yourself (this will improve the cooling of the laptop too). How many other devices are capable of that? With its hinge, you can move the screen at almost 180 degrees. The full-blown RTX 2080 is rocking inside with just 23.8mm profile, good job. If the price tag is not a problem, just get the Triton 900, you won't regret it.
Acer Predator Triton 900 configurations:
Acer Predator Triton 500 configurations:
Acer Predator Triton 300 configurations:
Acer Predator Helios 700 configurations:
Acer Predator Helios 500 configurations:
Acer Predator Helios 300 17″ configurations:
Acer Predator Helios 300 15″ configurations: