Buyer's guide: Best gaming laptops under $1000 (September 2017)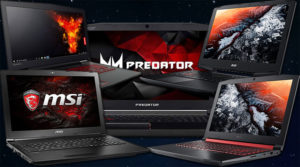 This year was packed with releases of great budget gaming notebooks that thanks to the GeForce 10 series graphics cards managed to pump decent performance at an affordable price. As time goes by and Intel released its new 8th generation and AMD will soon start rolling out Ryzen-based notebook CPUs it is only a matter of time to see devices equipped with the newest hardware on the market. This means that the older models will get their prices dropped making them even more affordable.
Currently, you can purchase a decent gaming notebook for just below $1000 and if you are on a really tight budget but still want to play some games you can go as low as about $800. In this buyer's guide, we will show you some of the best offers on the market at the moment so hopefully, we will manage to ease you in the hunt for the perfect device.
You can check the specs, price and other details of the following notebooks as well as of many more in our Specs System here: http://laptopmedia.com/specs/

Acer Aspire VX 15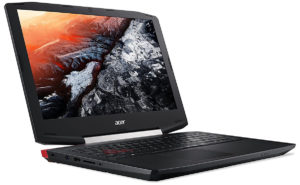 The Acer Aspire VX 15 is one the best offers currently available on the market. The first version of the notebook was equipped with a TN panel but the model on the market at the moment has a better IPS panel with great viewing angles and high contrast. Its 52Wh battery unit manages 4 to 6 hours on-screen time depending on your usage which is fairly decent for a gaming device.
You can configure yours with up to a 7th gen Intel Core i7 processor and up to a NVIDIA GeForce GTX 1050 Ti graphics card with 4 GB of memory. Storage options include a 2.5-inch SATA slot and an M.2 SSD slot that supports NVMe drives.
If you opt for the lower tier hardware (Core i5-7300HQ and GTX 1050) you can get the Aspire VX 15 for just $799.99: http://amzn.to/2wJYGc0
The configuration featuring a Core i7-7700HQ and GTX 1050 Ti will set you back $999.00: http://amzn.to/2wKg3tB
Meanwhile, you can read our detailed review HERE or buy our profiles HERE to enhance the viewing experience and reduce the negative effects of blue light emissions and PWM.
Lenovo Legion Y520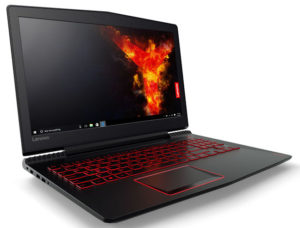 Next on our list is the Lenovo Legion Y520. From its release, the Legion Y520 was one of the best budget gaming solutions on the market because of its balance between price and performance. Now as prices of other competitors have dropped, the Legion Y520 isn't one of a kind but it is still a great option.
It stands out with its aggressive design with a big rear vent that provides excellent airflow that keeps the device cool to the touch on the surface even after intense gaming sessions. The notebook also features excellent bright-red illuminated keyboard and large touchpad. We like the thin and light chassis that measures just 25.8 mm (1.01″) and 2.5 kg (5.51 lbs).
Prices for the Legion Y520 start as low as $799.99 for the model configured with the Core i5-7300HQ and GTX 1050 Ti and 256GB of PCIe SSD making it a great choice. You can check out the available configurations over here: http://amzn.to/2eNEmRd
For more information about the device, you can check our detailed review. And if you are buying, you can consider purchasing our custom-tailored display profiles too.
MSI GL62M 7RE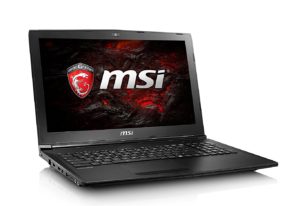 MSI is a gaming-centric manufacturer that creates some awesome devices. The GL62M 7RE stands out from the crowd with its MSI-exclusive features such as an intelligent Cooler Boost 4 cooling system and Nahimic 2 audio enhancement. The close collaboration between MSI and SteelSeries gives us an A-brand keyboard inside a budget device. With customizable backlight colors and personalized macros, the SteelSeries keyboard will make your gaming experience unforgettable.
What's most important is the screen. The wide-viewing angles IPS panel has a 94% NTSC color gamut coverage which will result in crisp and accurate colors much better than the ones on most competitors.
Prices for the MSI GL62M 7RE start from $895.90 for the Core i5-7300HQ/GTX 1050 Ti configuration. You can check out the available models over here: http://amzn.to/2wbyh3t
Acer Nitro 5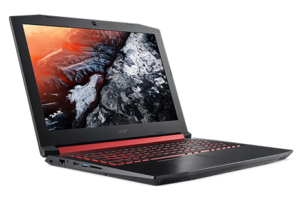 Another Acer notebook made it to our list – the Nitro 5. It is very similar to the Aspire VX 15 in terms of specs but it has a revamped design that we actually appreciate. Of course, looks are all up to personal preferences but we love the edgy design with a big rear exhaust vent and brushed lid.
Acer claims up to 7 hours of battery life on the Nitro 5 which we haven't tested for ourselves but if it is true that that would be amazing considering the hardware inside. Speaking of hardware, the Nitro 5 when announced was said to feature both AMD and Intel hardware, however, AMD configurations are nowhere to be found.
Prices for the Acer Nitro 5 start from $849.00 for the Core i5-7300HQ/GTX 1050 configuration but for only $50 more you can opt for the GTX 1050 Ti and double the RAM. You can check out the available configurations over here: http://amzn.to/2wKclQA
Acer Predator Helios 300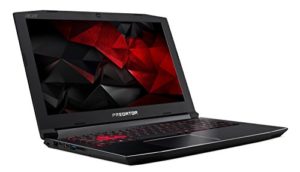 And lastly but not least, a third Acer notebooks makes it to our list. However, it is a bit of an exception as it exceeds the $1000 threshold that we set. However, it could be found for just $50 more but packing the GTX 1060 graphics card which is a great improvement than the other notebooks on the list.
The Predator Helios 300 is probably the most affordable GTX 1060 model on the market with an attractive price tag of just $1049.99. It features a great build with an aluminum lid. The IPS panel has great viewing angles, sharp contrast and the lack of PWM makes it better in a certain way than most other panels on the similarly priced notebooks.
As we said, the Helios 300 price starts from just $1049.99 and you can see the available configurations here: http://amzn.to/2j66jVK
You can also read our detailed review to get a closer look at the device and consider our custom-tailored display profiles that enhance the viewing experience and reduce negative effects.