Having problem with your ASUS notebook not supporting M.2 NVMe SSDs? Here's how to fix it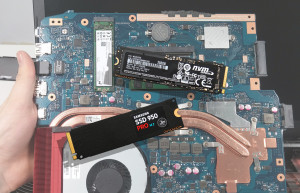 Sometimes with the integration of a new technology, the early adoption comes with a price and this is exactly the case with the new M.2 PCIe NVMe SSDs from Samsung. Most high-end notebooks now ship with these sticks or can be upgraded with the ridiculously fast Samsung 950 Pro but there are users all over the world reporting compatibility problems with this very standard and we encountered some problems too. We took the time to dig into the issue and here's what we can offer as a solution.
We recently told you that the newer ASUS ROG GL752VW units support NVMe SSD standard but we weren't able to install an OS and the motherboard wasn't able to recognize the drive at first. That's because some units ship without properly set BIOS settings so if you have this problem, follow these few easy steps to ensure normal OS installation and booting.
If you own an ASUS ROG GL752VW (as long as you have the NVMe-enabled variant of course), N752VW or a G752 and you want the speedy SSD installed on your machine, we suggest entering the BIOS and change the following settings:
– Go to the "Boot" menu and look for CSM (Compatibility Support Module) and disable that option.
– In the same "Boot" menu, select "Secure boot" and disable it. Also, look for an option named "OS type" (if you have that one) and select "Other OS".
– You should also find the so-called "Key management" option – clear all the secure boot keys if you have any.
– Use a bootable UEFI flash drive to install your Windows 8.1 or Windows 10.
And now, you can enjoy your absurdly fast M.2 NVMe SSD stick. Keep in mind that the guide above may work not only for ASUS notebooks or it may not work at all. We hope ASUS and other brands that have trouble with the new NVMe standard SSDs will come out with a permanent solution like BIOS updates, settings, firmware updates etc.
Keep all this in mind before buying a notebook and planning to upgrade your M.2 storage.