Inside Alienware 15 R3 – disassembly, internal photos and upgrade options
Just like its 17-inch sibling, the Alienware 15 R3 offers fast and easy access to all of the upgradable hardware but it will definitely take some time if you want to access the motherboard and the cooling system for maintenance.
You can find the available configurations here: http://amzn.to/2wIYkAo

1. Removing the bottom plate
Even though there aren't any service hatches, the big plate at the bottom comes off easily and gives access to all of the upgradable hardware.
2. Storage
There are no differences between the 17-inch Alienware 17 R4 and the 15-inch Alienware 15 R3 in terms of storage options. There are three M.2 SSD slots (2x 2280 + 1x 2260) all supporting the latest PCIe NVMe standard while the 2.5-inch bay is just one. Our unit shipped with HGST 1TB @7200 rpm and 512GB PCIe NVMe Samsung PM961 SSD (2280).
3. Memory, battery and Wi-Fi
The notebook comes with two RAM slots available for an upgrade supporting up to 32GB of DDR4-2400 (2x 16GB) but the reviewed unit was equipped with 2x 8GB DDR4-2400 by SK Hynix.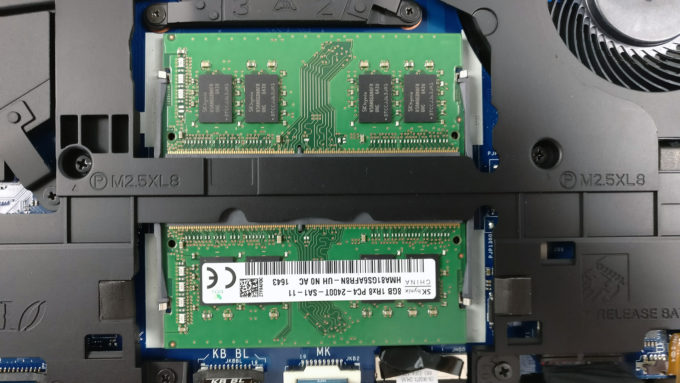 The Wi-Fi module can be found right next to one of the cooling fans and it's Killer 1435.
And as for the battery, the laptop sports a whopping 99Wh unit (the biggest possible battery allowed on an airplane) – just like the 17-inch model. But if you have to change it, a full disassembly is required. Follow the steps in the Alienware 17 R4 disassembly article in order to access it.

4. Cooling system
The cooling system's design is identical to the Alienware 17 R4 and if you need to access it for maintenance, follow the steps listed here.
The full review of the Alienware 15 R3 can be found here.
You can find the available configurations here: http://amzn.to/2wIYkAo