Inside Lenovo Legion Y520 – disassembly, internal photos and upgrade options
The notebook, as usual, doesn't have a dedicated service cover but the bottom piece comes off easily making it super easy to access the upgradeable hardware.
You can find the notebook's configurations here: Buy from Amazon.com (#CommissionsEarned)

1. Removing the bottom piece
You just need to unscrew the bottom plate and will see all the usual upgrade options – M.2 SSD, 2.5-inch HDD, RAM chips, Wi-Fi card and battery. The cooling system is also pretty easy to maintain.
2. Storage
As expected, the laptop offers a standard 2.5-inch HDD and M.2 PCIe NVMe SSD slot. The 2.5-inch drive in our case is manufactured by Seagate and offers the usual 1TB capacity while the M.2 SSD stick is a PCIe NVMe SK Hynix HFS512GD9MND5 (2280) with 512GB capacity.
3. RAM, battery and Wi-Fi module
The RAM chips can be found under a metal plate, which is easy to remove – you just need to release the clips holding it. Our unit came with two 8GB DDR4-2400 RAM sticks from Samsung.
The Wi-Fi card, for instance, can be found right next to the RAM chip slots and it's Intel 8265NGW.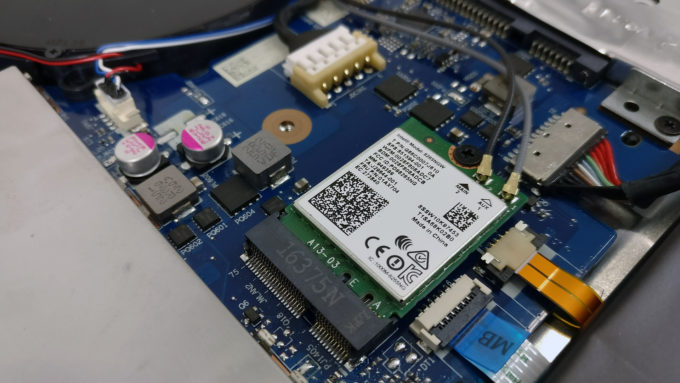 The battery unit is placed under the palm rest area and it's rated at 45Wh – a fairly small capacity given the laptop's hardware.
4. Cooling system
Unfortunately, the cooling system hasn't been changed since the previous version of the notebook (Lenovo Y700) and as our stress tests confirm, it's not enough to support the powerful hardware under heavy load. Throttling might not occur while gaming but it's a good indicator of the system's reliability in the long run. The problem with the current implementation are the two heat pipes connecting both chips, which share heat, and the cooling fans are both stuck together. Setting them apart with a better heat pipe design would have done wonders for the cooling performance.
You can find the notebook's configurations here: Buy from Amazon.com (#CommissionsEarned)