Lenovo Legion Pro 7 (16″, 2023) – Top 5 Pros and Cons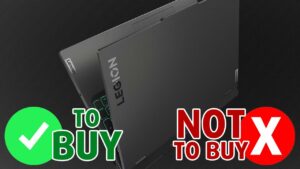 Lenovo's Legion gaming laptops went through a bit of restructuring, as the Legion 7 is no more, being replaced by the Legion Pro 7. All in all, we welcome the change, as this way, the Legion 5 Pro doesn't step on the toes of the Legion 7. Now the hierarchy is clear, as the most powerful components are saved for the Legion Pro 7, including the 175W RTX 4080 and RTX 4090. Contrasting the bigger 18-inch devices that are popping up, the Legion 7 Pro is keeping itself more portable, with a 16-inch screen. The laptop comes with goodies inside the box, including extra keycaps and mechanisms for the keyboard.
Today we're presenting you with LaptopMedia's top 5 picks about the Lenovo Legion Pro 7 (16″, 2023).
Lenovo Legion Pro 7 (16″, 2023): Full Specs / In-depth Review
4 reasons to BUY the Lenovo Legion Pro 7 (16″, 2023)
1. Cooling
The laptop is cooled by a vapor chamber, while the CPU and GPU get the liquid metal treatment.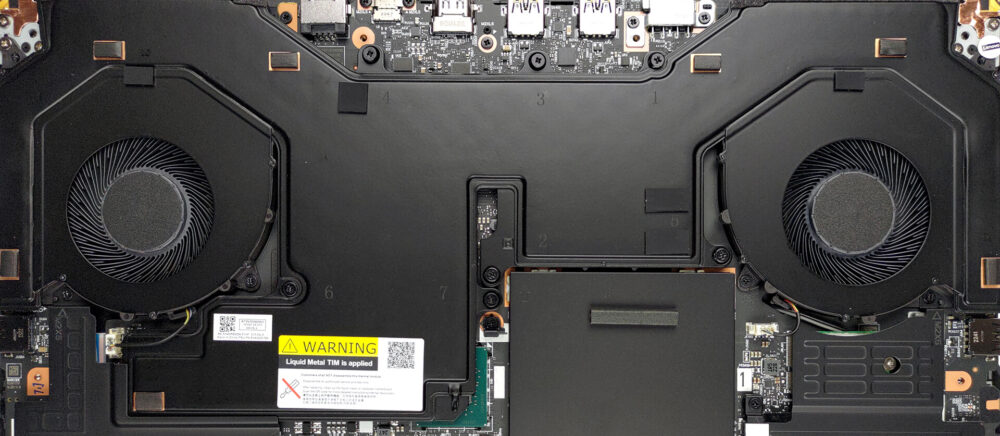 Max CPU load
Average P-core frequency; Average E-core frequency; CPU temp.; Package Power
| Intel Core i9-13900HX (55W TDP) | 0:02 – 0:10 sec | 0:15 – 0:30 sec | 10:00 – 15:00 min |
| --- | --- | --- | --- |
| Lenovo Legion Pro 7 (16″, 2023) | 3.61 GHz @ 3.05 GHz @ 84°C @ 171W | 3.42 GHz @ 2.88 GHz @ 86°C @ 148W | 3.29 GHz @ 2.81 GHz @ 87°C @ 137W |
The cooling solution allows the CPU to maintain very high wattages. Lenovo is also doing something different than other manufacturers, giving the high number of E-cores space to clock highly.

Real-life gaming
| NVIDIA GeForce RTX 4080 | GPU frequency/ Core temp (after 2 min) | GPU frequency/ Core temp (after 30 min) |
| --- | --- | --- |
| Lenovo Legion Pro 7 (16″, 2023) | 2452 MHz @ 77°C @ 174W | 2455 MHz @ 77°C @ 174W |
| MSI Raider GE78 HX (13VX) | 2418 MHz @ 74°C @ 173W | 2415 MHz @ 76°C @ 173W |
Compared to the MSI Raider GE78, which brings the same 175W RTX 4080, the Legion Pro 7 generates slightly higher clock speeds as well as maintains 1W higher wattage.

Comfort during full load
The chassis of the laptop doesn't seem to be very well insulated, as we see a base hotspot of 50.7°C. However, it's very concentrated, so most f the keyboard remains around the 40°C range. Sadly, there is a fair bit of noise coming off from the device, which will get annoying.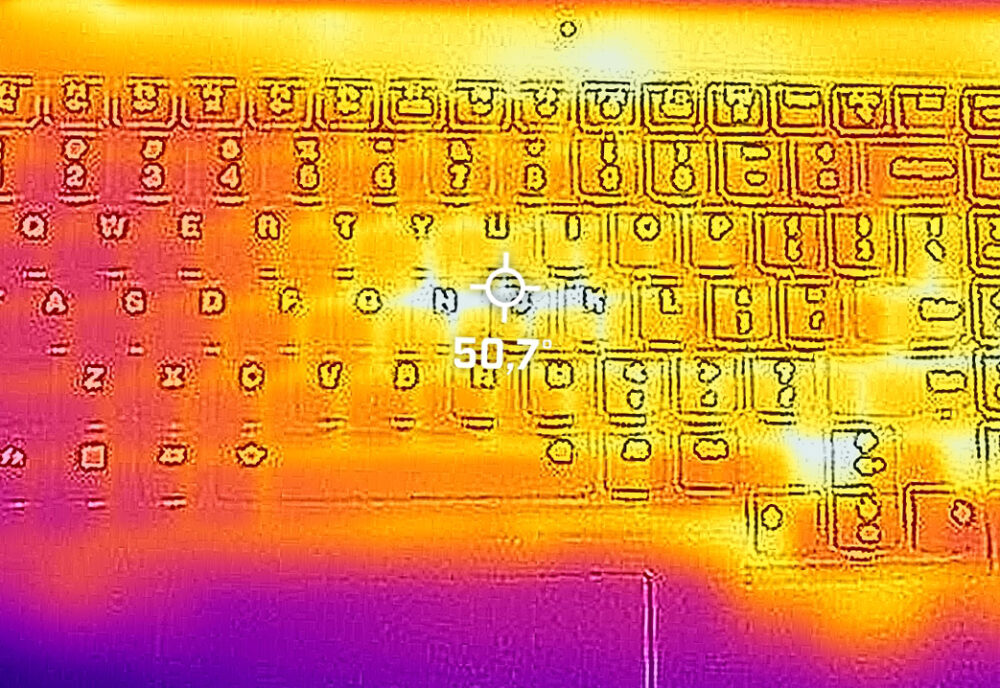 2. Display quality
The Legion Pro 7 comes with a QHD+ IPS panel with a 240Hz refresh rate. The panel is great for both gaming and Creator work, offering a peak brightness of 552 nits as well as covering 98% of the sRGB gamut and 80% of the DCI-P3 gamut. The laptop also has a pretty fast response time of 8.9 ms.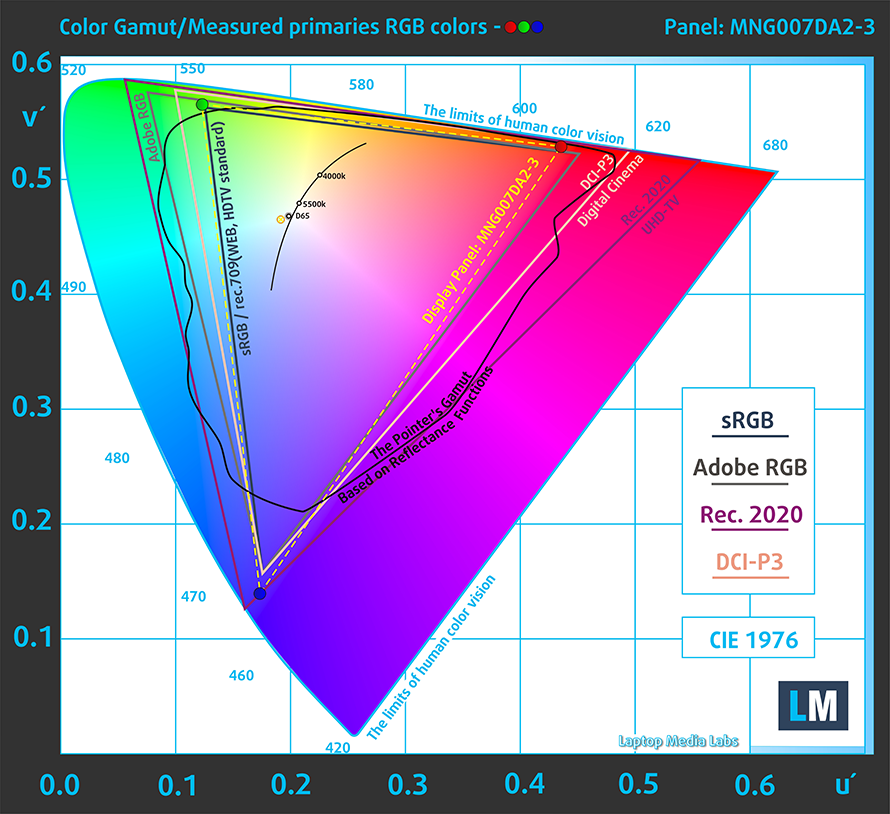 The color accuracy of the display is a bit off with the stock settings, resulting in a dE value of 3.1 while applying our Design and Gaming profile makes the dE value drop down to 1.0. Here are the results of our test in the factory condition (left) as well as with our profile applied (right).
Buy our profiles
Since our profiles are tailored for each individual display model, this article and its respective profile package are meant for Lenovo Legion Pro 7 (16″, 2023) configuration with 16.0″ MNG007DA2-3 (CSO1628) (2560×1600) IPS.
*Should you have problems with downloading the purchased file, try using a different browser to open the link you'll receive via e-mail. If the download target is a .php file instead of an archive, change the file extension to .zip or contact us at [email protected]
Read more about the profiles HERE.
In addition to receiving efficient and health-friendly profiles, by buying LaptopMedia's products you also support the development of our labs, where we test devices in order to produce the most objective reviews possible.
3. Upgradeability
The laptop offers very good upgradeability, with two SODIMM slots for DDR5 RAM as well as two M.2 slots for Gen 4 SSDs. All slots are hidden behind metal brackets, which offer additional benefits, acting as heatsinks for the chips.

Here is our detailed teardown video, which shows how to access the insides of the Lenovo Legion Pro 7 (16″, 2023).
4. I/O
The laptop has a generally good port selection, including a total of four USB Type-A 3.2 (Gen. 1) ports, one USB Type-C 3.2 (Gen. 2) port, and one Thunderbolt 4 port. Other ports include an HDMI 2.1 connector, a LAN port, and a 3.5 mm audio jack. Sadly, there's no SD card reader, however, other competitors in the space don't bring one as well, so we're willing to give it a pass.
1 reason NOT to buy the Lenovo Legion Pro 7 (16″, 2023)
1. Battery life
Despite the large 99.99Wh battery pack, the laptop lasts for only 6 hours and 40 minutes of Web browsing, or 5 hours and 58 minutes of video playback. Compared to the MSI Raider GE78 HX and the ASUS Strix SCAR 18, it's worse. Now, we conduct the battery tests with the Windows Better performance setting turned on, screen brightness adjusted to 120 nits and all other programs turned off except for the one we are testing the notebook with.
In order to simulate real-life conditions, we used our own script for automatic web browsing through over 70 websites.
For every test like this, we use the same video in HD.
All Lenovo Legion Pro 7 (16″, 2023) configurations: