[Specs and Info] ASUS Chromebook Vibe CX34 Flip (CX3401, 12th Gen Intel) – A new breed of Chromebooks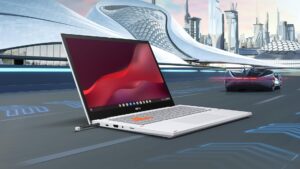 Gaming on a smaller and more affordable machine can be a hurdling task. While improving, low-end components still can't deliver triple-A experiences, which is expected, as games get more detailed and better looking, trying to catch up with the pace of hardware. However, cloud gaming has been increasing in popularity, which allows anyone to play the latest games at great settings, with just a good internet connection and a subscription. For that niche specifically, we're getting Gaming-oriented Chromebooks, which usually take full advantage of what cloud services have to offer.
One such laptop is the ASUS Chromebook Vibe CX34 Flip (CX3401, 12th Gen Intel), which is outfitted with a good screen and keyboard, so you can game on the cloud for as long as you want. For just general work, it has some well-chosen processors, so it can work as a standalone notebook without the "Gaming" gimmick.
Today we're giving you a quick overview of the ASUS Chromebook Vibe CX34 Flip (CX3401, 12th Gen Intel).
ASUS Chromebook Vibe CX34 Flip (CX3401, 12th Gen Intel): Full Specs
Design
The Chromebook comes with a 360-degree hinge and a touchscreen giving you tons of flexibility. On the side, you have an enclosure that houses a stylus. In terms of looks, you only get one color, Pearl White, which has a matte finish. On the back of the lid, there's an ASUS logo, while the base has its unique characteristics as well. The keyboard is in a lighter grey color, while the WASD keys are painted orange. They definitely capture the attention, looking good even without the RGB backlight that's available. While ASUS doesn't say a word about the materials that it uses, we'd be surprised if the lid wasn't made of metal. What we know about the chassis, is that it's covered in the same antimicrobial material that ASUS uses with its Vivobooks, as well as having passed the MIL-STD-810H durability tests, which include drops, shocks, and vibrations, as well as extreme cold and hot. In terms of dimensions, the laptop isn't very light, especially for a 14-inch Chromebook, weighing 1.80 kg and having a profile of 20.9 mm.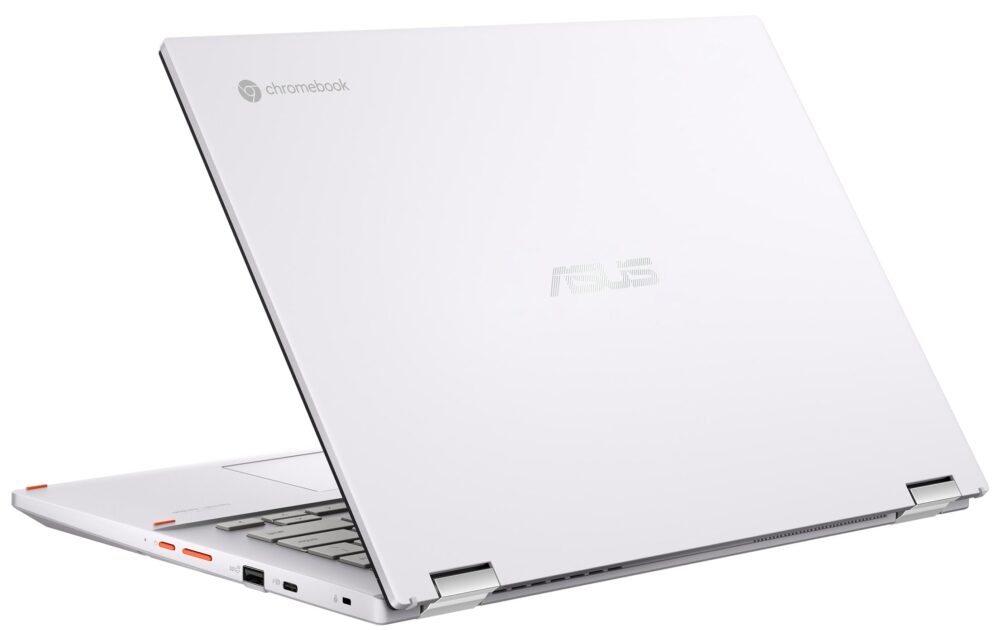 Display
The display that ASUS has picked looks quite good. It has a 16:10 aspect ratio, an FHD+ resolution, and a 144Hz refresh rate. Even with a cloud gaming service, you can see the difference in refresh rate, provided you have a higher-tiered subscription. However, even for just normal work, the extra smoothness can be felt, giving you the impression that you're working with a very quick machine. It's also good to know that the panel gets decently bright, up to 400 nits, and comes with 100% sRGB coverage.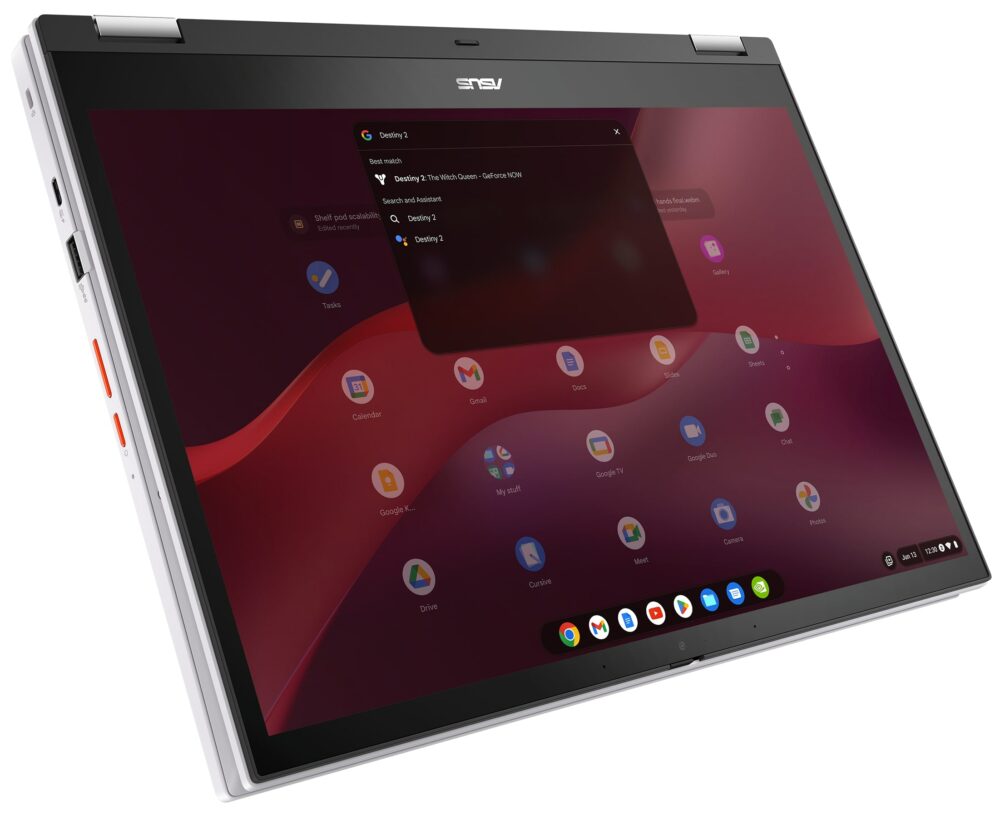 Specifications and features
The Vibe is offered with three Alder Lake U-series CPUs: the Core i3-1215U, the Core i5-1235U, and the Core i7-1255U. The Core i3 has 6 cores and 8 threads, while the Core i5 and Core i7 have 10 cores and 12 threads each. In terms of graphics, we're working with iGPUs here, however, since you'd be cloud gaming most of the time, the units are more than suitable. Also, with the display and stylus that is present, you can definitely do some design and digital art, as there are apps to do that within the Play Store, like Krita, Gimp, and more.
Connectivity is very important for Chromebooks, especially this one which relies on the internet to provide a good gaming experience. While there isn't a LAN port for a wired connection, you do have Wi-Fi 6E, which is the next best thing. It triples the speeds of Wi-Fi 5 and quadruples the bandwidth. Now, we said that they keyboard has an RGB backlight, however, there's more, as ASUS has implemented anti-ghosting for crucial buttons. The touchpad has also been eating well, having a 5.55-inch diagonal.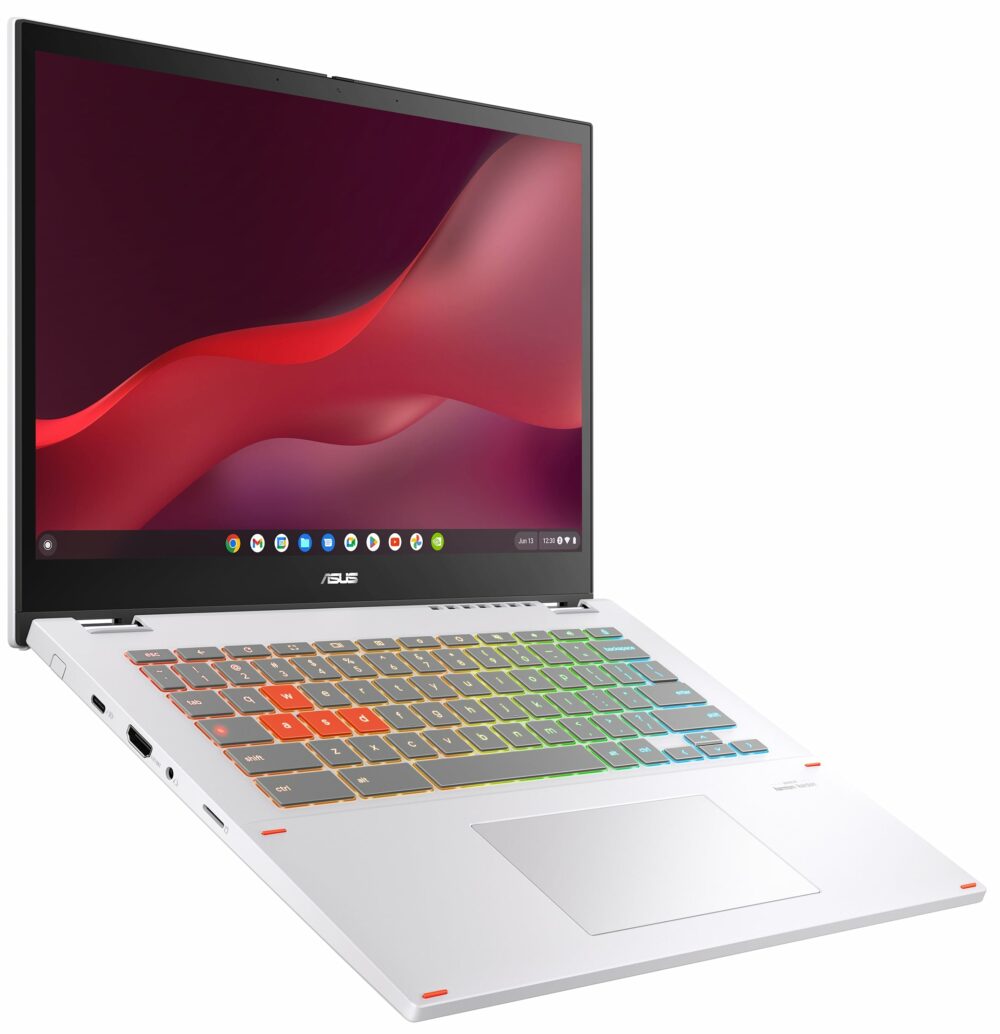 The port selection of the laptop includes one USB Type-A 3.2 (Gen. 2) port, two USB Type-C 3.2 (Gen. 2) ports, an HDMI 2.1 port, a MicroSD card reader, and a 3.5 mm audio jack. Theoretically, you can connect up to three external monitors, so if you're a productivity machine, you can definitely stretch both the laptop and ChromeOS to their limits.
Dimensions
319.5 x 234.9 x 20.9 mm (12.58" x 9.25" x 0.82")
All ASUS Chromebook Vibe CX34 Flip (CX3401, 12th Gen Intel) configurations: