[Specs and Info] ASUS Vivobook S 14 OLED (M3402) and S 14 OLED (K3402) –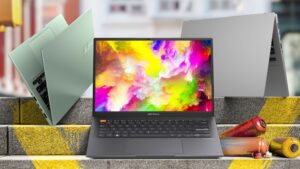 ASUS's laptops are becoming better and better, however, their prices are increasing as well. We know that they are trying to improve the image of all of their brands, however, they need to leave some more affordable laptops as well. Today we've got the Vivobook S 14 OLED in both its AMD and Intel incarnations, which come with OLED displays and pretty good hardware, considering the smaller 14-inch form factor. This will definitely put a lot of stress on the cooling, but we expect ASUS to be prepared.
Today we're giving you a quick overview of the ASUS Vivobook S 14 OLED (M3402) and the Vivobook S 14 OLED (K3402).
Full Specs: ASUS Vivobook S 14 OLED (M3402) / Vivobook S 14 OLED (K3402)
ASUS Vivobook S 14 OLED (M3402) configurations:
ASUS Vivobook S 14 OLED (K3402) configurations:
Design
In terms of the design, there are three colors available, Indie Black, Neutral Grey, and Brave Green, all of which are plastered on top of a metal lid and a plastic base. The laptop itself features a flat lid with a Vivobook plaque. The base has chamfered edges and sides. The chevron patterns on the lid and the keyboard, along with the orange escape key on the keyboard are vintage VivoBook features, which overall give the laptop some character. The laptops are also light for their size and hardware, weighing only 1.50 kg and having a profile of 18.9 mm.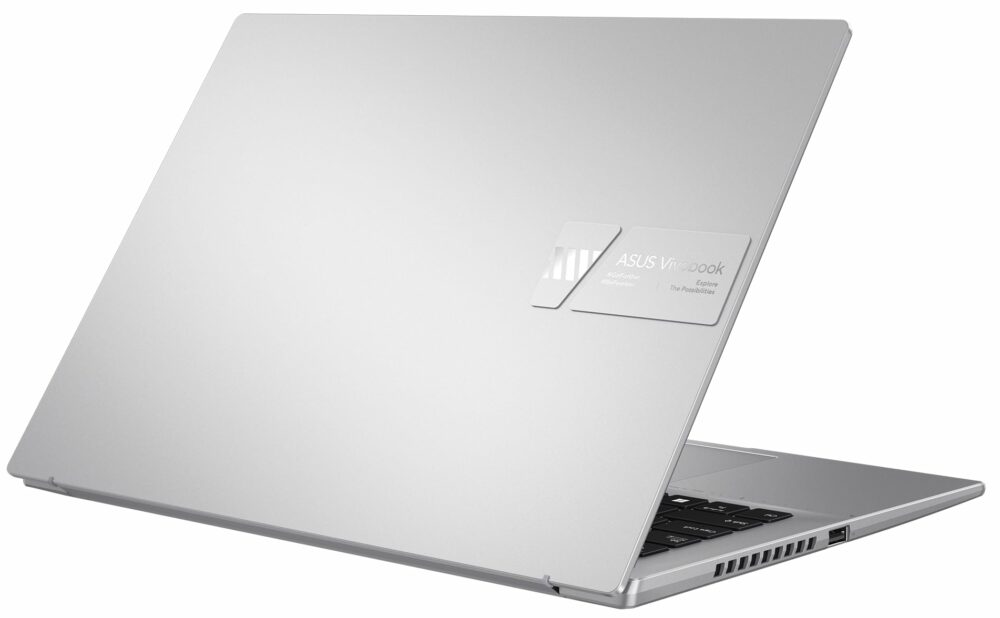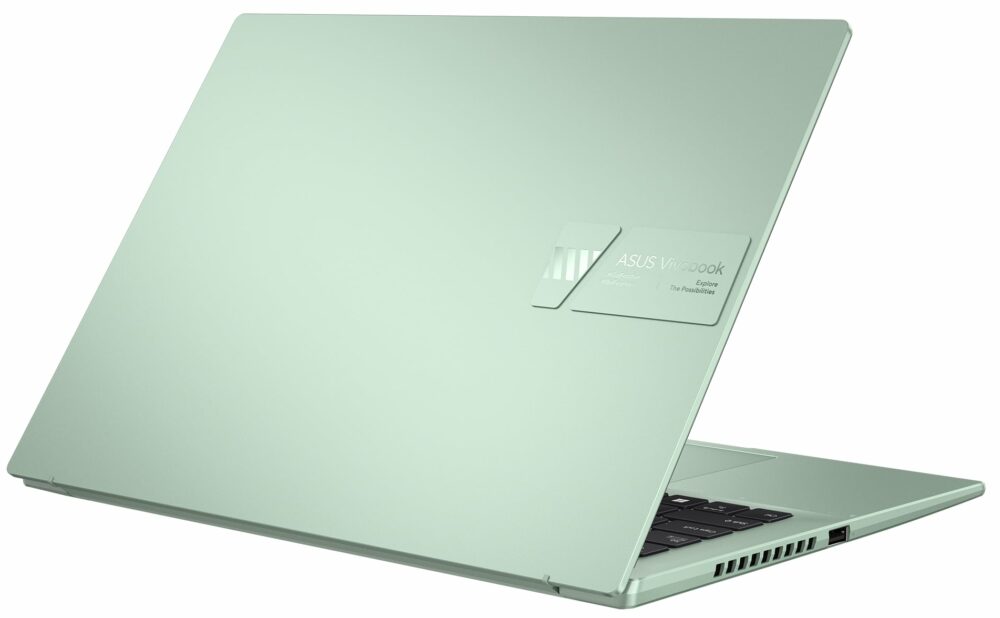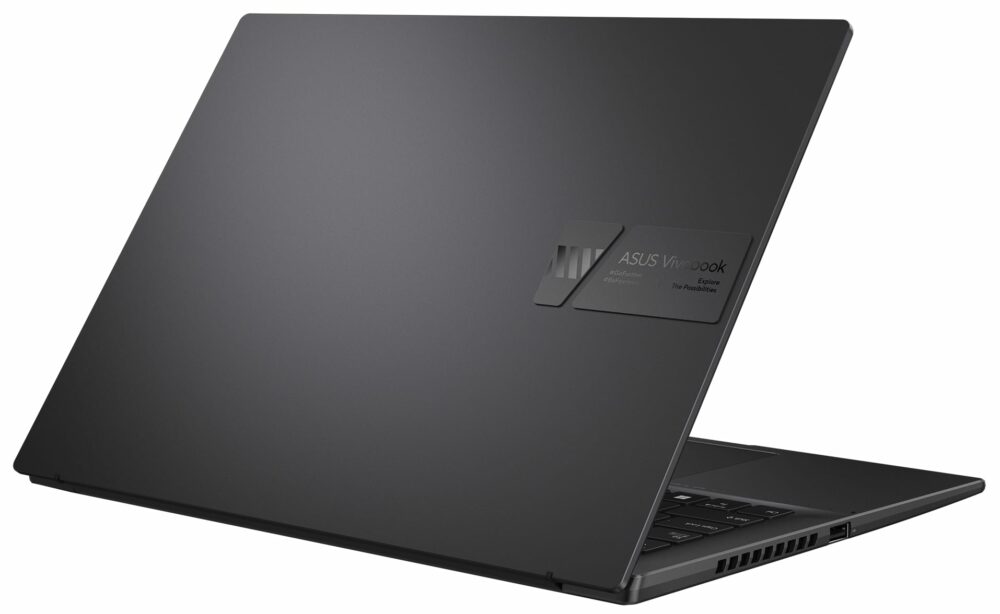 The I/O is different between the AMD and Intel models. The AMD-powered systems come with one USB Type-A 2.0 port, two USB Type-A 3.2 (Gen. 1) ports, two USB Type-C 3.2 (Gen. 2) ports, an HDMI 2.1 port, and a 3.5 mm audio jack. As for the Intel-powered machine, it loses one of the Type-A 3.2 (Gen. 1) ports but upgrades the Type-C ports to Thunderbolt 4 ports.


Display
Both laptops come with a 14-inch 2.8K OLED panel with a 90Hz refresh rate and a 16:10 aspect ratio. The brightness caps at 300 nits in SDR content, but can go as high as 600 nits in HDR. The panel covers 100% of the DCI-P3 color gamut, so the laptops are definitely made with Creative professionals in mind. ASUS OLED panels generally do have PWM usage, however, ASUS also provided fixes for that in their software. It does play with the accuracy a bit, but we're confident about the Pantone validation of the panel being good enough to go past that.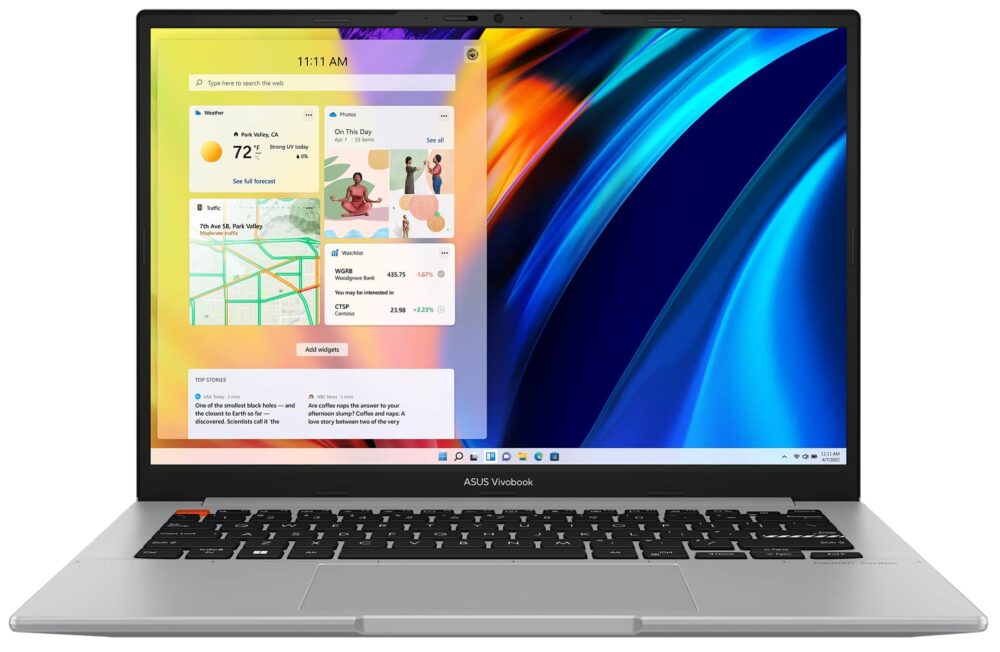 Specifications and features
In terms of hardware, you have to pick between the Ryzen 6000H series and the Alder Lake H series. On the AMD side, you have the Ryzen 7 6800H and the Ryzen 7 6800HS, the latter of which sacrifices 10W in its TDP, in order to be more flexible and efficient. On the Intel side, there's the Core i5-12500H and the Core i7-12700H, two processors that have proven themselves to be really good performers in pretty much every piece of tech that's used them. So far, Intel has had the upper hand in performance, while the efficiency cores inside have helped it be better in terms of battery life as well, which is important, as the 70Wh unit that's inside is pretty large, however, it's not eternal. The GPU selection pits the RDNA 2-based Radeon 680M against the Iris Xe Graphics G7. Intel is known to offer better encoding capabilities, however, the AMD iGPU comes with more gaming prowess, so you can enjoy some quality gaming time after work. Cooling all of this is the IceCool Plus setup, which should be enough, considering you've only got a CPU to worry about.
Dimensions
316.4 x 224.5 x 18.9 mm (12.46" x 8.84" x 0.74")
Dimensions
316.4 x 224.5 x 18.9 mm (12.46" x 8.84" x 0.74")
ASUS Vivobook S 14 OLED (M3402) configurations:
ASUS Vivobook S 14 OLED (K3402) configurations: