[Specs and Info] Fujitsu LifeBook E5512 and LifeBook E5512A – Pretty good business machines, but we need to know the price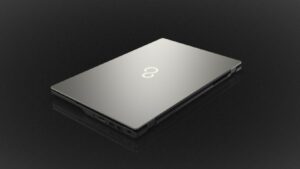 While we've sung the praises of the Fujitsu LifeBook 7000-series, it's time to look at the 5000-series as well, to see how close the laptops are to their more premium cousins. Today we have the LifeBook E5512 and LifeBook E5512A, with Intel and AMD hardware, respectively. While Intel has gained a lot of momentum with its 12th Gen processors and wants to keep that going with the 13th Gen, AMD is still offering some of the best ULV components on the market, with great performance and efficiency, so choosing between them might be more difficult than you realize.
Today we're giving you a quick overview of the Fujitsu LifeBook E5512 and LifeBook E5512A.
Full Specs: Fujitsu LifeBook E5512 / LifeBook E5512A
Fujitsu LifeBook E5512 configurations:
Fujitsu LifeBook E5512A configurations:
Design
From the outside looking in, there doesn't seem to be a lot of change. The laptops keep the same shape as the 7000-series, including a flat lid with sharp edges and rounded corners. It also has a similar finish. The base, on the other hand, looks to be made of plastic, with an entirely black finish, which does look more uniform, with a red stripe for a bit of flair. On the base, you'll also find a fingerprint reader, as well as a touchpad with two physical buttons. The pad's surface has the same color as the lid, contrasting the black. In terms of dimensions, the laptops both weigh 1.65 kg and have a profile of 20.4 mm.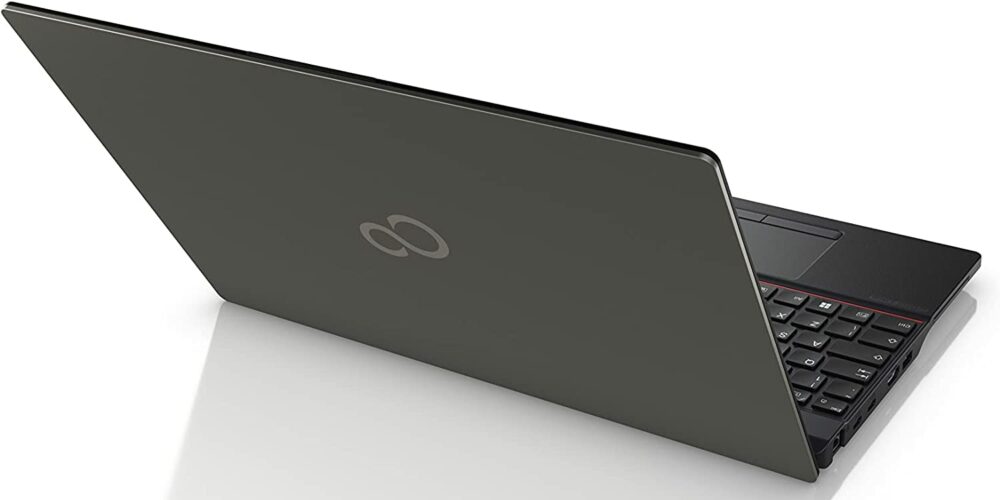 There is a difference in the ports depending on if you go for Intel or AMD. The Intel-powered laptop comes with three USB Type-A 3.2 (Gen. 1) ports, one of which can charge even if the laptop is turned off, two Thunderbolt 4 ports, an HDMI 2.0b port, a MicroSD card slot, a LAN port, and a 3.5 mm audio jack. If you pick an AMD system, one of the Type-A ports gets downgraded to 2.0 speeds, while you also lose the Thunderbolt support on the Type-C ports, which run at 3.2 (Gen. 2) speeds.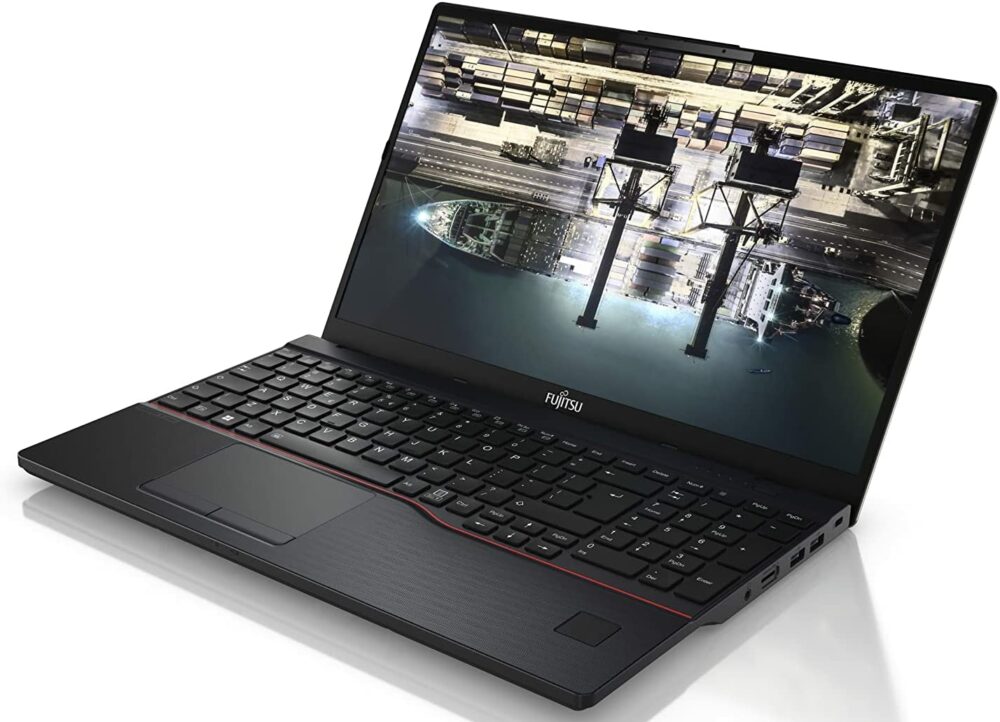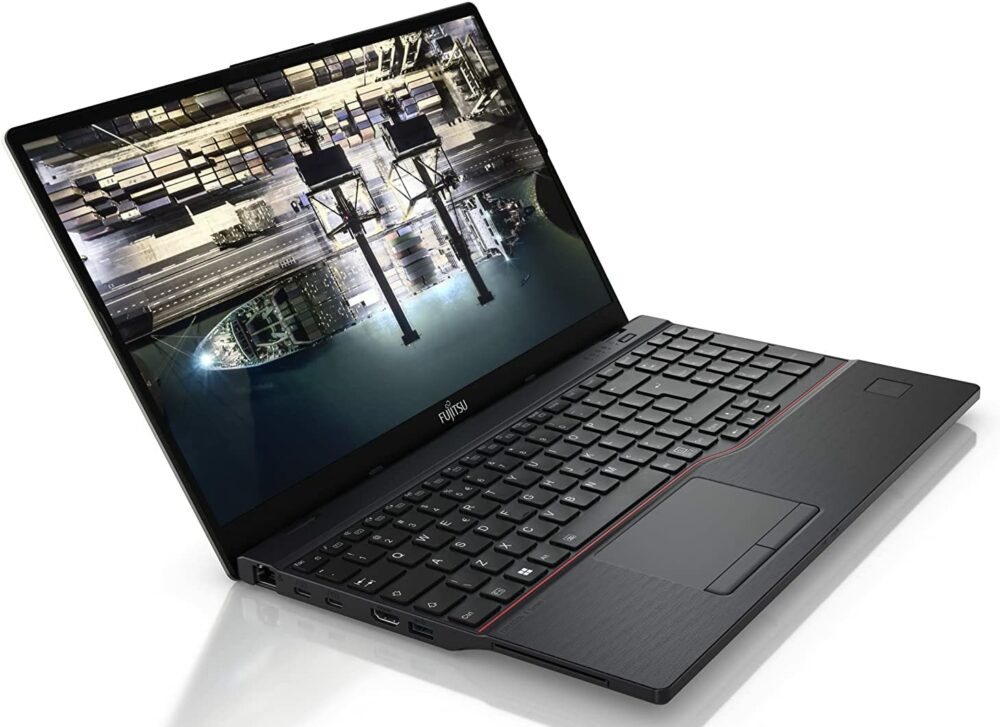 Display
There are two display options, with an HD (1366 x 768p) TN panel or a Full HD IPS panel. The TN panel comes with 220 nits of brightness and a 500:1 contrast ratio. The IPS panel jumps to 250 nits and a 700:1 contrast ratio, which isn't much better, but better nonetheless. You also have to consider the better viewing angles on IPS panels, which will improve your experience.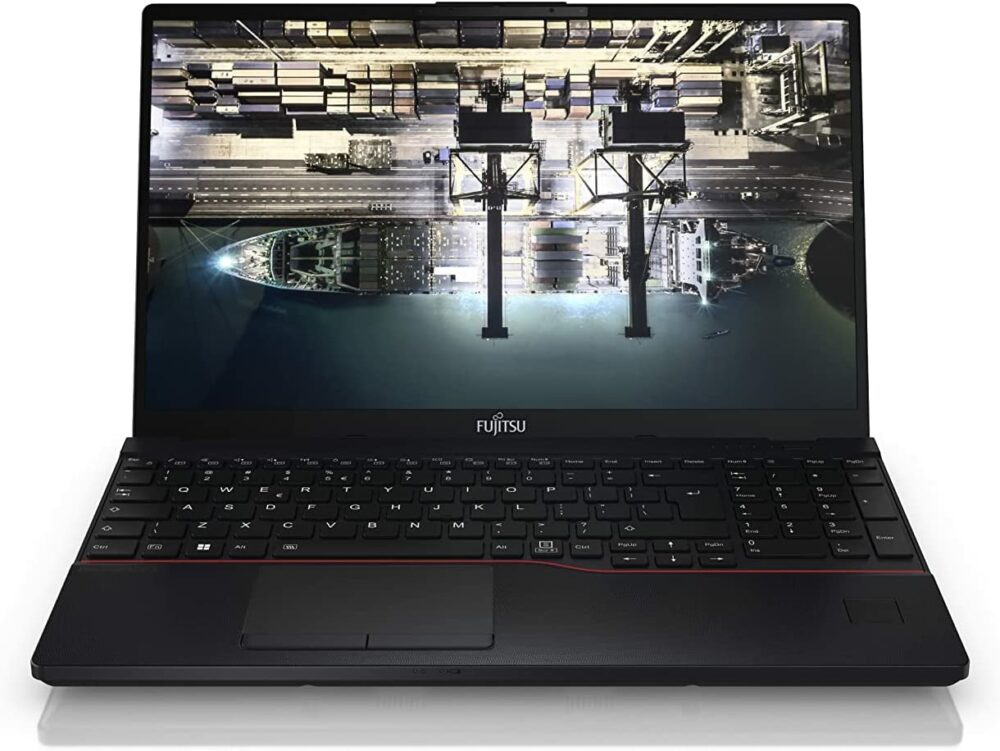 Specifications and features
In terms of hardware, the LifeBook E5512 uses the Alder Lake U-series, with up to the Core i7-1265U, whereas the LifeBook 7000 series comes with the P-series as well, which is more powerful. The AMD model is powered by last year's Zen 3 refreshed Ryzen 5000U-series CPUs, starting from the Ryzen 3 Pro 5475U and going as high as the Ryzen 7 Pro 5875U, an 8-core, 16-thread part, that can absolutely rival both the Alder Lake U-series and P-series, in terms of performance and efficiency. For upgradeability, you rely on two SODIMM slots for DDR4 memory expansion, as well as one M.2 slot. It looks to us that the LifeBook 5512 and 5512A can be just as good as the 7000-series if you plan on sticking with the Alder Lake U-series or the Ryzen 5000 U-series. If you want more powerful Intel processors, like the P-series, you'll want to upgrade to the higher-tier laptops.
Dimensions
357.4 x 230 x 20.4 mm (14.07" x 9.06" x 0.80")
Dimensions
357.4 x 230 x 20.4 mm (14.07" x 9.06" x 0.80")
All Fujitsu LifeBook E5512 configurations:
All Fujitsu LifeBook E5512A configurations: