[Specs, Info, and Prices] Acer TravelMate Spin P4 (TMP414RN-52) – When will peoeple consider Acer as a serisous business competitor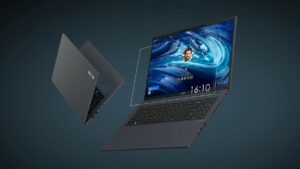 Acer's TravelMate devices are often overlooked when it comes time to select a new business laptop. However, that has only pushed Acer to be better and better, which is how we have the Acer TravelMate Spin P4 (TMP414RN-52), a laptop that looks great on paper, specs-wise, as it includes a 16:10 display, a convertible form factor, and Alder Lake P-series processors, which will certainly put it on the map, performance-wise. There's even more that awaits you with it, however, let's not reveal everything right here.
Today we're giving you a quick overview of the Acer TravelMate Spin P4 (TMP414RN-52).
The Acer TravelMate Spin P4 (TMP414RN-52) is available now with a starting price of $1,049.99.
Acer TravelMate Spin P4 (TMP414RN-52): Full Specs
Design
The TravelMate Spin P4 has made strides to be durable. With an aluminum-magnesium chassis, the device is tough enough to pass the MIL-STD-810H certification tests, which would certainly put it through its paces. The design is about what you would expect from a business machine, with sharp edges, rounded corners, and little branding. The laptop has a lot of sensors around it, with the top bezel housing the webcam, shutter, and IR sensor, which is optional, however, opens the door to faster login with Windows Hello. In terms of portability, the laptop stops the scales at 1.57 kg and has a profile of 17.78 mm, which translates to a decently light machine. Weight matters even more in convertibles, if a laptop is too heavy, it kind of defeats the purpose of using it as a tablet, as you'll constantly have to hold it, most of the time with one hand.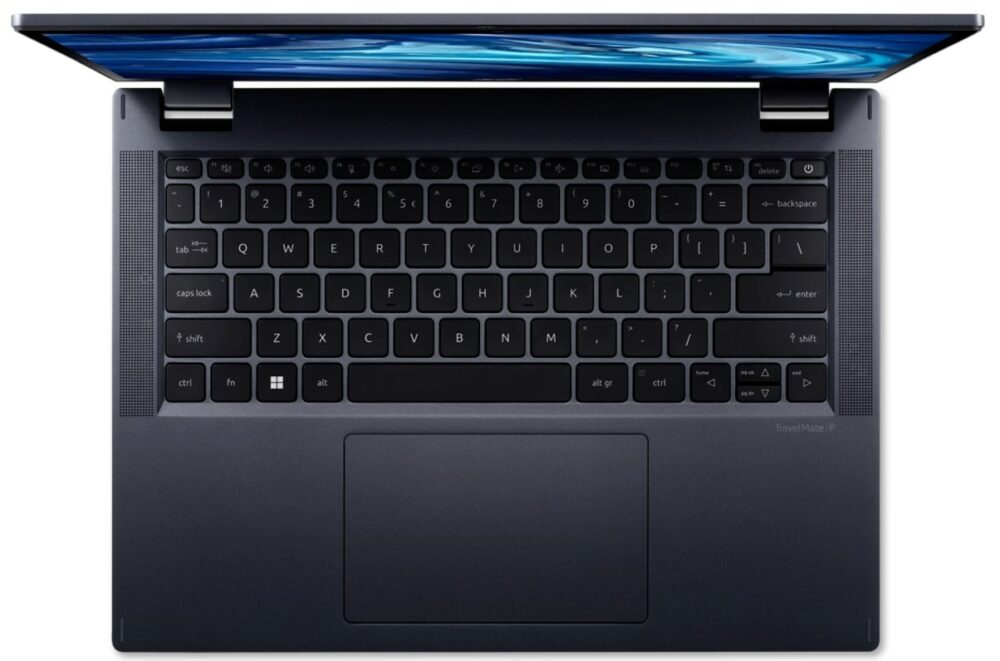 On the sides, the port selection includes two USB Type-A 3.2 (Gen. 1) ports, two Thunderbolt 4 ports, an HDMI 2.0 port, an Ethernet port, and a 3.5 mm audio jack. The base itself has a lot to offer as well. Taking a look at it, we see front-firing speakers, with 4 total units. A backlit and spill-resistant keyboard is also present. Finally, the touchpad is covered by Gorilla Glass, mimicking the display.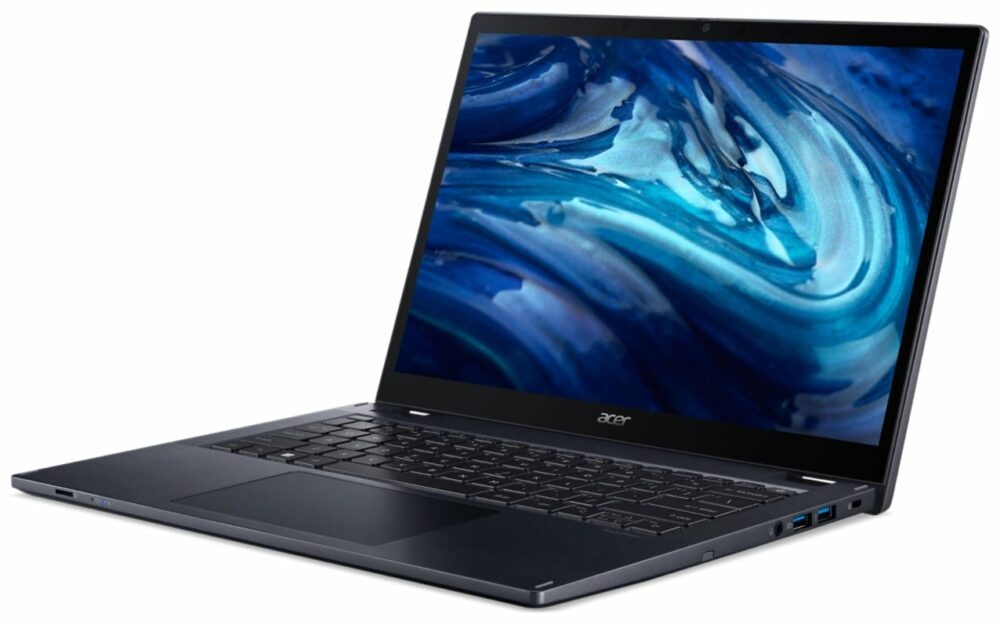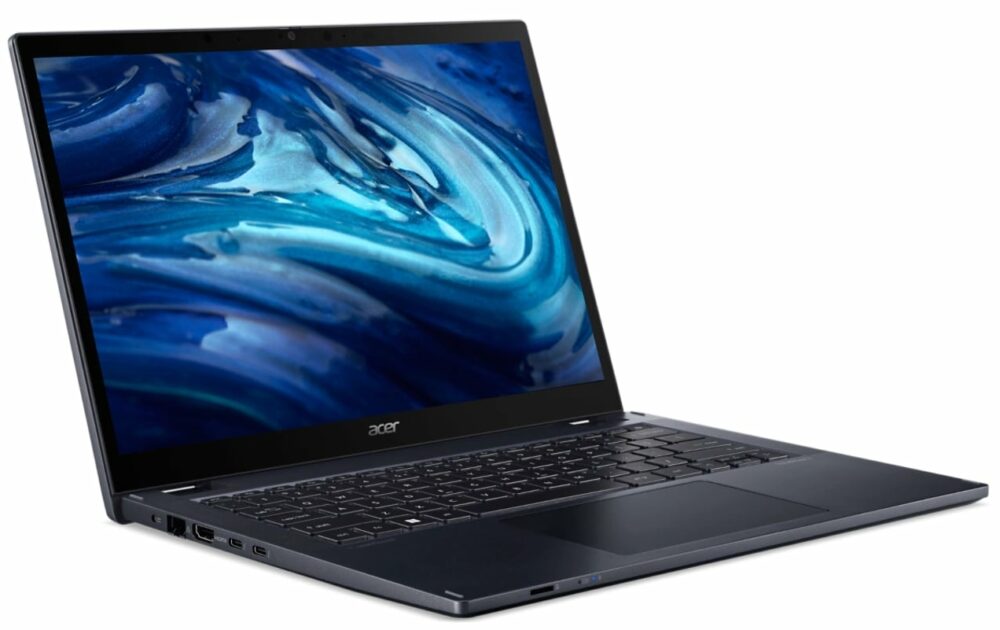 Display
There's only one display available, a Full HD+ IPS panel. The resolution is high enough for this screen size, while not burdening it with powering extra pixels. Acer is certainly marketing the laptop towards professionals, but if the screen isn't up to the task, it might fall flat on its face. We really want to see good color coverage and accuracy, in order to make full use of the Stylus Pen that you're given. It has its own enclosure as part of the I/O, which means you probably wouldn't forget it anytime soon.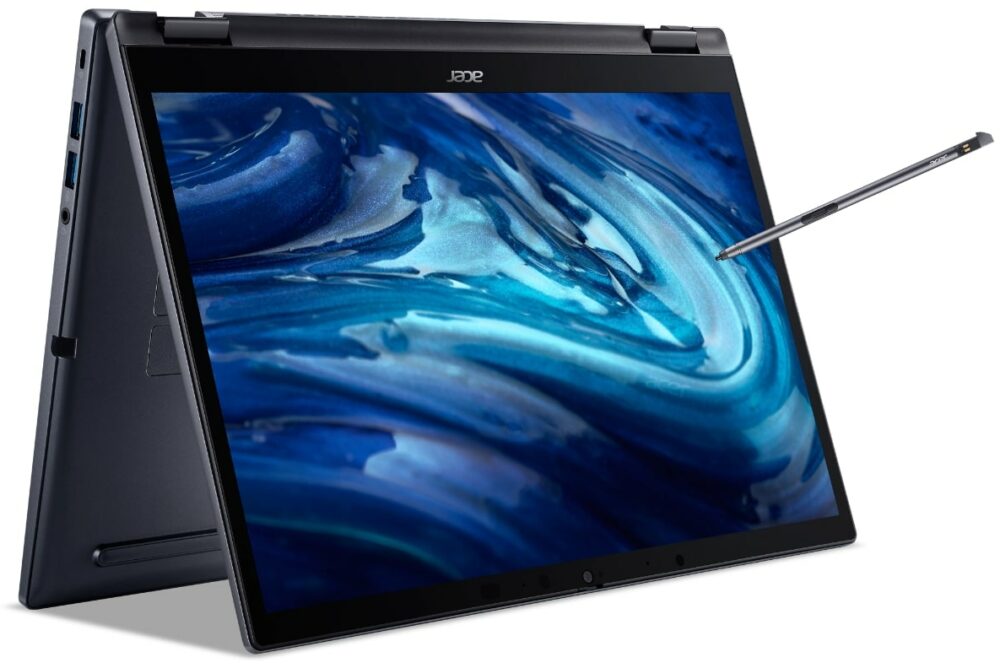 Specifications and features
The TravelMate P4 is powered by two Alder Lake P-series CPUs: the Core i5-1240P and the Core i7-1260P, with 12 cores and 16 threads each. Depending on the cooling, they can be very good performers and handle video editing with no problem, especially thanks to the hardware encoder that's inside the Iris Xe Graphics GPU. For RAM, Acer gives you up to 16GB of DDR4 memory, however, it doesn't say if it's upgradeable, which leads us to believe that it isn't. For storage, Acer does state that there's one M.2 slot for Gen 4 SSDs.
Dimensions
320.4 x 231.4 x 17.78 mm (12.61" x 9.11" x 0.70")
Price
Starting at $1064.14
All Acer TravelMate Spin P4 (TMP414RN-52) configurations: