Top 5 Reasons to BUY or NOT buy the ASUS VivoBook Flip 14 (TP410UR)!
The convertible VivoBook Flip series by ASUS has been on the market for quite some time and in today's article, we shall take a closer look at its latest refresh – the ASUS VivoBook Flip 14 (TP410UR). If you want to find out its top 5 advantages and disadvantages, then keep on reading.
You can check all available ASUS VivoBook Flip 14 (TP410UR) configurations here: http://laptopmedia.com/series/asus-vivobook-flip-14-tp410/

4 reasons to buy ASUS VivoBook Flip 14 (TP410UR)
1. Decent build quality
The ASUS VivoBook Flip 14 has definitely plenty of rigidity to offer in the mid-range segment. Although only the lid is made of aluminum, the notebook's chassis is pretty resistant to twisting. Moreover, the hinges are quite tight and eliminate most of the wobbling when switching to laptop mode. We also didn't notice any inconsistencies or protruding edges which speaks of a decent build quality. In terms of mobility, 19 mm thickness and 1.6 kg weight shouldn't be a problem when carrying the device around throughout the day.
2. Vibrant IPS screen with wide sRGB coverage and high contrast
Another pleasant aspect of the device is its bright Full HD (1920×1080) IPS display that boasts 90% sRGB coverage and high contrast ratio – 1200:1 ensuring vivid and rich colors. You could also install our custom profiles each of which will improve the overall image in certain aspects.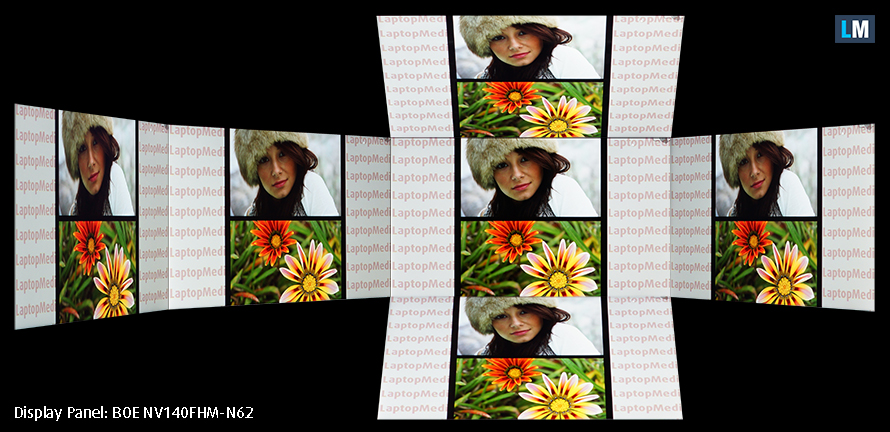 3. Long battery life
Despite the rather modest battery unit of 42Wh, the laptop showed impressive runtimes on the web browsing and video playback test – you get 511 minutes for general surfing and 423 minutes for watching videos. The main contributor to the outstanding battery performance is most probably the Core i5-8250U.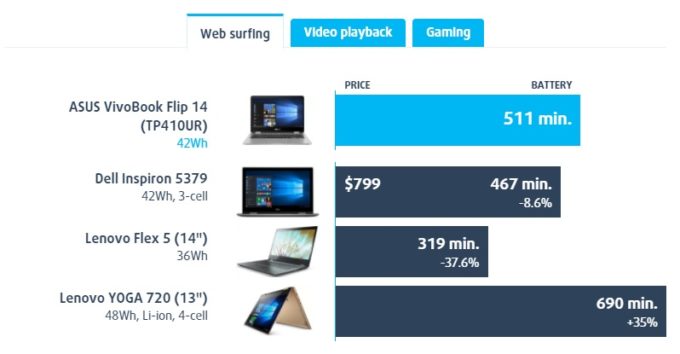 4. Good upgradability for a 14-inch convertible – 2.5-inch HDD/SSD bay, M.2 SSD, and RAM slot
Another strong suit of the convertible is its upgradability –  it sports an M.2 SSD slot + 2.5-inch HDD/SSD bay and a free RAM slot on top of the soldered 8GB DDR4-2400 memory chip.
1 reason NOT to buy ASUS VivoBook Flip 14 (TP410UR)
1. The screen uses aggressive PWM from 0 to 99% brightness (our Health-Guard profile fixes that)
Probably the main drawback of the device is the presence of PWM from 0 to 99% brightness. Our equipment detected an extremely low frequency of the emitted light (200 Hz) which is considered aggressive and that's why we strongly recommend using the display at maximum brightness or installing our Health-Guard profile.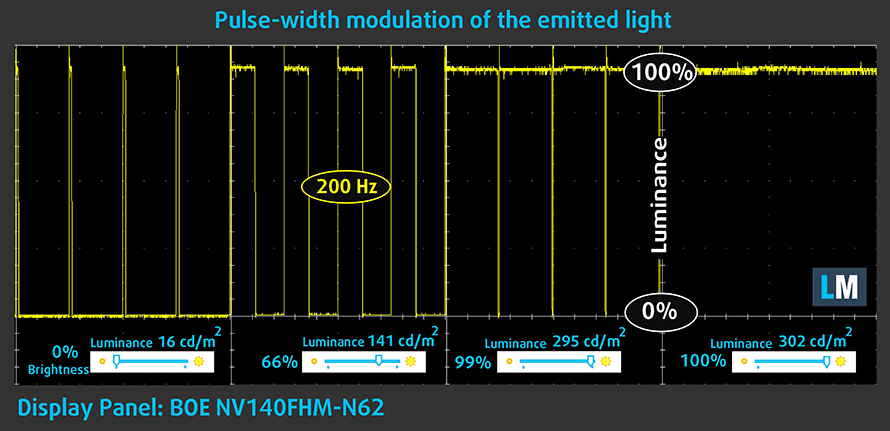 The best competitors
If you haven't made up your mind yet about the device, you may want to check good alternatives to the ASUS VivoBook Flip 14 (TP410UR) such as Lenovo Yoga 520, Lenovo ThinkPad E480, HP ProBook 440 G5 and Acer Swift 3.
Follow this link to read the detailed review.

ASUS VivoBook Flip 14 (TP410) configurations