[Video Review] Acer Aspire 3 (A315-24P) – Is Zen 2 competitive in 2023?
Acer Aspire 3 (A315-24P) in-depth review
Today, we are going to tell you all you need to know about a laptop, which will shatter the entry-level mobile market. Or will it? This question arises with every machine bold enough to make such claims, that's for sure. But there is one particular reason we think this one might fail in its quest (which may be the very reason it succeeds eventually). Precisely, we're talking about the processors of choice. They are the Ryzen 3 7320U, and the Ryzen 5 7520U. Finally, one would say, a Ryzen 7000U CPU to hit the market. As you will learn later on, this is not exactly the case. To make use o[...]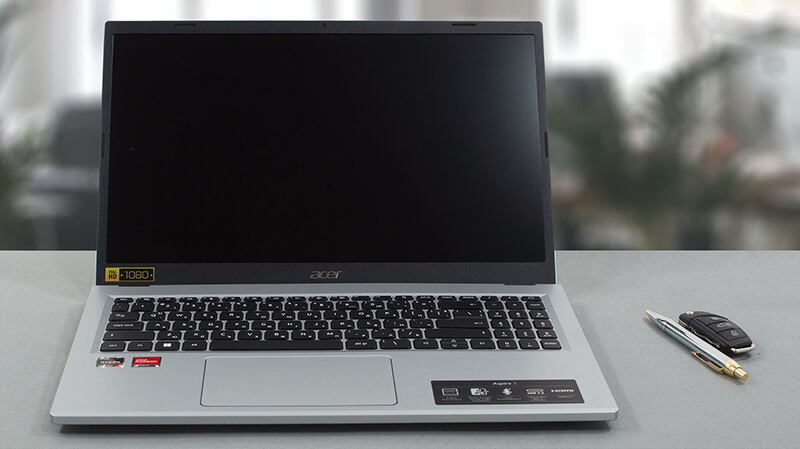 Pros
Great battery life
Comfortable viewing angles and good contrast ratio (BOE NV156FHM-N48 (BOE0A56))
No PWM (BOE NV156FHM-N48 (BOE0A56))
Decent performance
Wi-Fi 6E and fully functional USB Type-C 3.2 (Gen. 2) port
Cons
Covers only 51% of sRGB (BOE NV156FHM-N48 (BOE0A56))
Soldered memory
No keyboard backlight
Lacks an SD card reader
HDD/SSD
up to 2000GB SSD
OS
Windows 11 Home, Windows 11 Pro, No OS, Windows 10 Pro
Body material
Plastic / Polycarbonate
Dimensions
362.9 x 237.5 x 18.9 mm (14.29" x 9.35" x 0.74")
2x USB Type-A
3.2 Gen 1 (5 Gbps)
1x USB Type-C
3.2 Gen 2 (10 Gbps), Power Delivery (PD), DisplayPort
Ethernet LAN
10, 100, 1000 Mbit/s
Audio jack
3.5mm Combo Jack
Backlit keyboard
optional
Speakers
2x Stereo Speakers
Security Lock slot
Kensington Lock
[Intro]
AMD's Ryzen 7000-series is full of rebranded CPUs, with today's Acer Aspire 3 (A315-24P) offering Zen 2-based processors with RDNA 2 integrated graphics, which has the potential to be an incredibly efficient combination.
[Design]
On the outside, the laptop looks like any other Aspire 3, with a boxy shell. There is some metal involved, but despite that, the lid remains flexy. The base isn't that better as well, but such sacrifices are expected with budget machines.
What we feel deserves some serious props is the portability of the laptop, as it's just 18.9 mm thick and with a weight of 1.60 kg.
[Input devices]
The lid has some rubber feet on the back, which lift the base slightly when opened, so typing on the full-sized keyboard is better. Despite the clever addition, the keyboard isn't that good for typing. The travel is shallow and the feedback could be better. The touchpad has a large and smooth surface while being pretty responsive, but the accuracy feels a bit off at certain moments.
[Ports]
You get one USB Type-C 3.2 (Gen. 2) port, an HDMI 2.1 connector, and a USB Type-A 3.2 (Gen. 1) port, all on the left. Switch sides, and you see one more Type-A port as well as an audio jack.
[Display]
Don't expect a great display from the Aspire 3, because there's no way you're getting one. Still, the Full HD IPS panel that we have here does get the job done and is good enough so that videos, movies, and shows look good on it. It's capped at 258 nits of brightness and covers half of the sRGB color gamut. [51%]
For a better experience with it, you should totally check out our display profiles, which overall improve the work of the display by calibrating the colors, in the case of our Design and Gaming profile, while others like our Office Work profile make texts and tables more readable.
We'll have all of our profiles linked down below.
[Sound]
Acer doesn't really get the audio right, as the bottom-firing setup shows deviations across the entire frequency range, as well as low maximum volume.
[Performance]
Now, let's get to the serious stuff, and of course, we mean the Ryzen 3 7320U, a quad-core processor with LPDDR5 memory and a Radeon 610M iGPU. Its CPU performance is a bit low both in 3D and 2D Rendering, as the Ryzen 5500U and the 5625U from last year are able to run circles around it. However, it does outperform the Core i3-1215U and the Core i3-1135G4, which we'd consider to be its competitors.
[Cooling]
On the other hand, the 7230U is very easy to cool down, as with only one heat pipe and one fan, the Aspire 3 is able to maintain 3.56 GHz on all four cores for more than 15 minutes, which is pretty good.
Also, during the stress test, the laptop remains quiet and cool, with a base hotspot of 41.3°C. Keep in mind that this is under an extreme scenario, so most of the time the laptop will run even cooler.
[Battery]
We have to applaud the efficiency of the Ryzen 3, as with only a 43Wh battery, it's able to last for 12 hours and 25 minutes of Web browsing, or 13 hours and 53 minutes of video playback.
[Teardown and upgradeability]
Sadly, we're getting to another negative of the Aspire 3, the soldered LPDDR5 memory. While we have 8GB here, you can get up to 16 GB. There's one M.2 slot, which supports Gen 4 drives, but is limited to Gen 3.
In case you're interested in the internals of the Aspire 3, we'll leave our teardown video in the description below.
[Verdict]
While this review seems to be trashing the Aspire 3, we have to commend its light chassis and long-lasting battery, which are among the most important qualities in a daily driver laptop. Also, if found with the more powerful Ryzen 5 7520U, you can expect even better CPU and GPU performance.
For further testing and benchmarks of the Aspire 3, check out the review on our website.