[Video Review] Acer Aspire 3 (A315-43) – The IdeaPad 3's got some competition
Acer Aspire 3 (A315-43) in-depth review
Today, we're going to return to a time that happened not too long ago. And no, the laptop in for a review is not old, quite the opposite - it is brand new. The case here is that this notebook looks like it is made in 2019. This can only mean one thing - the Aspire 3 (A315-43) is there to appeal to the low-budget spectrum of the market. Perhaps this is why Acer went for Zen 2 refresh processors - enough power, but a significantly more bearable price tag. What will arguably be the biggest game changer, compared to last year (not 2018, but 2021), will be the use of an IPS panel. However, w[...]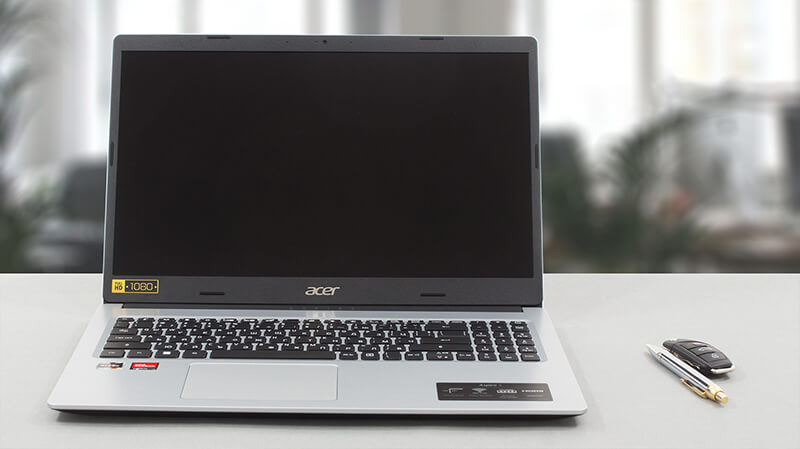 Pros
Simplistic design
Decent battery life
Good performance
Wide upgradability options
No PWM (AUO B156HAN02.1 (AUODF87))
Cons
Not great build quality
No Type-C port, nor an SD card reader
Uncomfortable keyboard and touchpad
52% of sRGB color coverage (AUO B156HAN02.1 (AUODF87))
HDD/SSD
up to 512GB SSD
OS
No OS, Windows 11 Home, Windows 11 Pro
Battery
42Wh, 3-cell, 40Wh, 3-cell
Body material
Plastic / Polycarbonate
Dimensions
363.4 x 250.5 x 19.9 mm (14.31" x 9.86" x 0.78")
2x USB Type-A
3.2 Gen 1 (5 Gbps)
Ethernet LAN
10, 100, 1000 Mbit/s
Audio jack
3.5mm Combo Jack
Backlit keyboard
optional
Speakers
2x Stereo Speakers
Security Lock slot
Kensington Lock
The Acer Aspire 3 (A315-43) is a bit of an anachronism if you simply look at its design hardware, however, its price tag is lower as well, so the people who are looking for a more affordable daily driver will certainly enjoy the touch of old-school. Now, let's see why.
[Intro]
Visually, the laptop looks like any other budget machine. We see a silver finish, while the whole device is made from plastic. However, it doesn't feel bad to the touch and has some flex resistance, which is all you can ask for. For a 15.6-inch machine, it's also fairly portable, weighing 1.81 kg and having a profile of 19.9 mm.
[Input devices]
The lid doesn't open with one hand, and the input devices don't try to be a saving grace at all. The key travel is short, despite there being room for more, while the feedback isn't consistent across the board. As for the touchpad, it's got a smooth plastic cover and a relatively good size, however, the tracking feels sluggish.
[Ports]
Most of the ports are on the left, with a LAN port, an HDMI port, and two full-sized 5-gigabit USB ports. On the right, there's one more full-sized USB 2.0 port and an audio jack.
[Display]
The display is nothing special, however, it gets the job done. The Full HD IPS panel has good viewing angles and gets up to 278 nits of brightness. It doesn't show any significant color coverage, with about 52% of the sRGB gamut. However, it doesn't use PWM to adjust brightness, so you can use it all day without added strain to your eyes. Still, you should track your screen exposure and take one-minute breaks every 20 or 30 minutes.
If you plan to use the laptop for the office, as its nothing wrong with that, we'd recommend our Office Work profile, which makes texts and tables more readable. We'll leave a link to our profiles in the description below.
[Battery]
Despite the small 42Wh battery pack, the Aspire 3 lasts for 10 hours of Web browsing, or 8 hours and 44 minutes of video playback which is a very good result.
[Performance]
This is due to the efficient Zen 2 CPUs, which are part of the Ryzen 5000U series. Essentially, AMD refreshed and rebranded some of its older chips. This is good news for you since you can get powerful components for a good price. Here we have the Ryzen 5 5500U, which stacks pretty well against the Core i3-1215U and the Core i5-1235U.
[Cooling]
The Ryzen 5 is also quite easy to cool down, so you don't really need a robust setup. This means reduced weight and less noise. Here we see two heat pipes and one fan. With it, the laptop maintains a consistent 20W load on the chip with clock speeds of 3.00GHz and above.
On the outside, the laptop remains cool and quiet, with a hotspot of just 33.6°C. The fan can be heard, but it's not annoying at all.
[Teardown and upgradeability]
The Aspire 3 has 8GB of soldered DDR4 memory, as well as an empty SODIMM slot. For storage, there's one M.2 slot for Gen 3 SSDs.
We have a separate teardown video that shows the upgrade procedure, so if you want to check it out, we'll leave it in the description.
[Verdict]
The Acer Aspire 3 (A315-43) makes some sacrifices, but the fairly good build quality, performance, and battery life act as pretty good saving graces. With that said, the keyboard and touchpad can be improved. To finish off on a high note, it runs cool and quiet, while you can also add extra memory and storage if you want, so it's definitely one to consider if you have a shoestring budget, but need a good-performing device.
For more info about the Aspire 3, you can go over our written review, once again linked below, which has extra testing on the screen, as well as detailed specifications and configuration options.