[Video Review] ASUS ROG Zephyrus G14 GA402 – another huge step forward
ASUS ROG Zephyrus G14 GA402 in-depth review
For the past couple of years, ASUS has proven to be the most active player in the innovation field of the mobile market. This year marked another milestone for the brand, as it introduced the tablet for gaming purists - ROG Flow Z13. While it is amazing for what it really is, we can't help but feel that we want a more orthodox gaming experience. And if you are in the market for a small form factor gaming device - the ROG Zephyrus G14 G402 is as good as it gets. You see, the design was so ahead of its time that ASUS decided to retain most of it. You still get the AniMe Matrix external displ[...]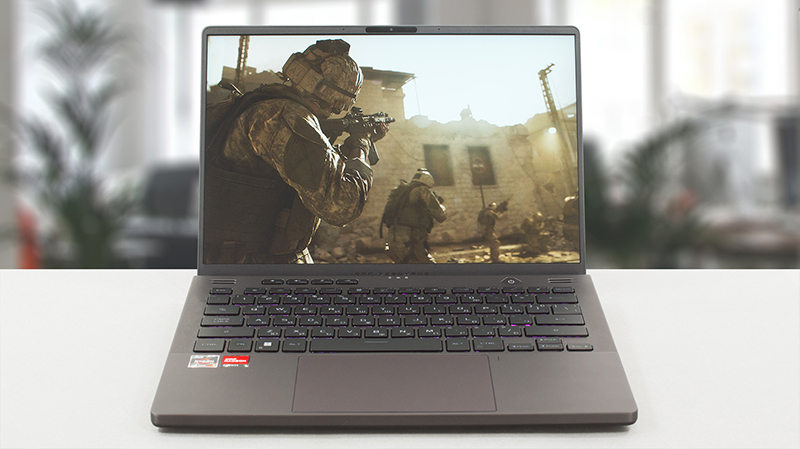 Pros
Good battery life
Gen 4 SSD support
Covers 99% of the DCI-P3 color gamut and has accurate color representation with our Gaming and Web design profile (BOE NE140QDM-NX1 (BOE0A1D))
Snappy panel with quick response times (BOE NE140QDM-NX1 (BOE0A1D))
AniMe Matrix
Great input devices
Noise cancellation
The keyboard remains relatively cool after long gaming sessions
Good build quality
Decent performance jump from last year
BOE NE140QDM-NX1 (BOE0A1D)
HDD/SSD
up to 8000GB SSD
OS
Windows 11 Home, Windows 11 Pro
Battery
76Wh, 4-cell, 76Wh
Dimensions
312 x 227 x 18.5 mm (12.28" x 8.94" x 0.73")
2x USB Type-A
3.2 Gen 2 (10 Gbps)
1x USB Type-C
3.2 Gen 2 (10 Gbps), DisplayPort
1x USB Type-C
3.2 Gen 2 (10 Gbps), Power Delivery (PD), DisplayPort
Audio jack
3.5mm Combo Jack
Fingerprint reader
optional
Web camera
HD IR with Windows Hello
Backlit keyboard
optional
Microphone
3x Microphone Array with Ai noise-canceling
Speakers
4x Speakers, Smart Amp, Dolby Atmos
The Zephyrus G14 has had a passionate following from its first day on the market. We see why that is, as you get powerful processors and graphics inside a portable 14-inch chassis. Today we have the newest 2022 model which is branded as an AMD Advantage laptop and is on a whole new level, compared to its predecessor.
[Intro]
The first thing to get your attention is undoubtedly the upgraded AniMe Matrix with 1449 LEDs for more vivid animations as well as new functions. It can display notifications, show the rhythm of your music, or display a text of your choice. You can also play minigames, and getting high scores will unlock new features for your OMNI virtual pet.
The laptop is very resistant to flex, thanks to the honeycomb reinforcements on the inside.
Lifting the display also acts as a lever, increasing airflow to the cooling system. This is the so-called ErgoLift design which now opens the screen to 180 degrees, but we'll get back to this in a minute.
[Input devices]
This angle also makes typing on the keyboard more comfortable. It doesn't have a NumPad due to the small form-factor but it has long key travel, four programmable hotkeys, and a 50% larger trackpad compared to last year's model.
Despite the almost non-existent borders, the notebook has not only an FHD webcam but also an IR sensor for face recognition.
[91% screen-to-body ratio]
[Ports]
Regarding the port selection, we should highlight the addition of a high-speed MicroSD card reader which was missing in GA401. Besides, there is everything you might need, including an HDMI 2.0b port for 60 Hz 4K gaming on an external screen.
[Display quality]
Of course, the integrated one is also pretty good. Even better than its predecessor – the new QHD variant has a 16:10 aspect ratio and it's much brighter – we measured a maximum brightness of 564 nits in the middle of the screen and 551 nits as an average for the whole area. To put that into perspective – this is one of the brightest laptop displays we've ever tested, it is more than 50% brighter than the one in the previous generation. Huge upgrade. The contrast ratio is also very good – 1040:1.
The colors look amazing, as there is 100% sRGB and 99% DCI-P3 coverage.
We tested the accuracy in both color spaces, using the stock settings and our Design and Gaming profile. We got the best results with the DCI-P3 color space and our profile, which lowers the dE value to 0.9. The panel has a great response time of 8.5 ms, and while it does use some PWM, it's only up to 140 nits, so you'd be fine in most cases.
We'll link our profiles in the description.
[Battery]
With such a screen and powerful internals, keeping the device alive without a charger is not an easy task. Still, the 75Wh battery pack lasts for 9 hours and 27 minutes of Web browsing, or 8 hours and 29 minutes of video playback.
[Performance]
The laptop is powered by up to AMD Ryzen 9 6900HS and a Radeon RX6800S. The CPU has a 35W TDP, a bit lower than most H-series, but it can be better for stability and ensuring reliable prolonged performance.
The GPU department is more interesting. The 105-watt Radeon RX6800S is about 50% faster than the RTX 3060 used in GA401! It performs similarly to the 100-watt version of the RTX 3080.
We chose to test a configuration with Radeon RX 6700S since it's similarly priced to GA401 with RTX 3060, and we're more than happy with the results. It's about 25% faster in most games but some titles run with more than 50% better FPS rate! For example, Battlefield V runs at 103 FPS on 3060, while we get 156 FPS on Radeon RX 6700S.
What's very interesting is that the GPU continuously pushed 10W past its 80W TGP, and even higher in certain games, as with Shadow of the Tomb Raider, we saw a power draw of up to 94W!
[Cooling]
The main suspect for these fantastic results is the cooling system so let's open the laptop. Well, here's the upgrade we've been looking for. This is a vapor chamber for much better heat dissipation, plus two upgraded Arc Flow fans, further boosted by the ErgoLift mechanism.
In our stress test, the Ryzen 7 goes way past its 35W TDP, maintaining 80W throughout the whole run. RDNA 2 GPUs are known to clock high, but to see something close to a stable speed of 2.40 GHz from a GPU is unbelievable.
Comfort while gaming is well-thought too, as one of the fans sits right below the WASD area.
[Teardown and Upgradeability]
For a 14-inch laptop, the Zephyrus G14 has good upgradeability. While there are 8GB of soldered DDR5 memory, there's also one SODIMM slot. Storage-wise, you get one M.2 PCIe x4 slot supporting the ultra-fast Gen 4 drives.
We have a separate teardown video, which shows how to access the RAM and SSD slots inside the G14. It's linked below.
[Verdict]
Thanks to its portability, the Zephyrus G14 could be used for content creation, or as an office device. You've done your work? Switch to the Discrete GPU Mode in Armory Crate and unleash its full graphics power.
If you need a reason to switch to AMD, the G14 is a pretty big one, offering a fully-fledged gaming laptop experience with features up the wazoo. We don't have the time needed to cover them all but be ready for some more surprises.
Or if you don't like surprises, head to our in-depth review where you'll find everything you might need to know about GA402, straight from our laboratory.