[Video Review] HP Pavilion Plus 14 (14-eh0000) – amazing display
HP Pavilion Plus 14 (14-eh0000) in-depth review
HP has a lot of work to do to keep up with the steep development curve of its rivals. Their latest effort is called the Pavilion Plus 14 (14-eh0000). It comes with a 16:10 aspect ratio, which is really useful for pretty much any type of work. On the other hand, it is a bit less comfortable for media consumption, which pretty much sets the expectations from this notebook. So, yes, we get it, HP wants to make the Pavilion more friendly towards professional users - as Lenovo does with its "Pro" IdeaPads. This is the reason for the weird processor pot. You get options from the 15W U-series, 28[...]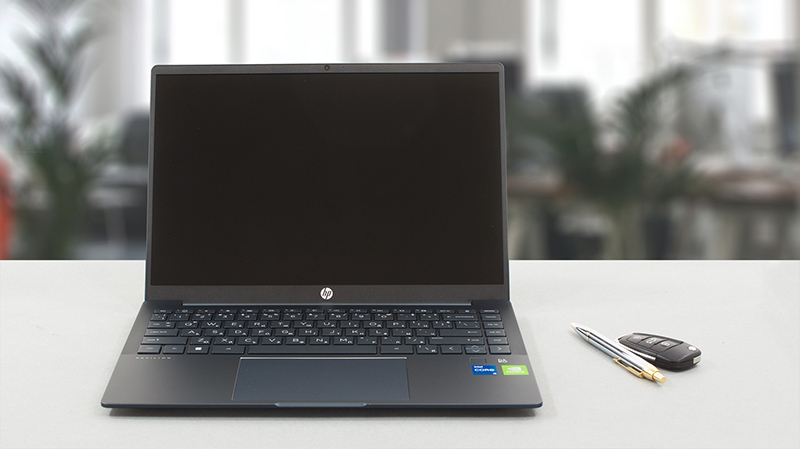 Pros
Doesn't use PWM for brightness adjustment (IVO8C8D)
Uses recycled aluminum
Decent input devices
Populous I/O which includes a MicroSD card reader
Fingerprint reader
Covers 93% of sRGB colors and offers accurate color representation thanks to our Gaming and Web design profile (IVO8C8D)
High-resolution display options with a 16:10 aspect ratio
5MP camera
Cons
No Thunderbolt
Memory is soldered to the motherboard
The processor is not utilized very well
Below average battery life
HDD/SSD
up to 1000GB SSD
OS
Windows 11 Home, Windows 11 Pro, No OS
Dimensions
313.5 x 224.2 x 18.4 mm (12.34" x 8.83" x 0.72")
2x USB Type-A
3.2 Gen 1 (5 Gbps)
2x USB Type-C
3.2 Gen 2 (10 Gbps), Power Delivery (PD), DisplayPort, Sleep and Charge
Card reader
SD, SDHC, SDXC
Audio jack
3.5mm Combo Jack
Fingerprint reader
optional
Web camera
HP True Vision 5MP with temporal noise reduction
Microphone
Dual Array Digital Microphones
Speakers
2x Speakers with Bang & Olufsen
In 2021, HP was the second biggest brand in terms of realized sales, which is quite impressive. However, in 2022 we see competitors innovate more and more, so the US company definitely has its work cut out. The Pavilion Plus 14 is a new addition to the brand's portfolio, finally bringing 16:10 displays to a more affordable price point.
[Intro]
HP is taking sustainability seriously, using 100% recycled aluminum for the whole laptop. This not only lowers the carbon footprint but also makes for a more premium machine. Durability is another story, however, as we saw some flexing from the lid, while twisting the base results in the touchpad registering clicks. However, most of you don't go about twisting lids and bending bases, so overall you will be okay with the Pavilion. Where it shines is with its portability, weighing only 1.40 kg and having a profile of 18.4 mm.
[Input devices]
While the lid is bendy, it opens with one hand revealing the keyboard, which has decently-sized keys, except for the Arrow ones, which are smaller. Despite the thin profile, we get long key travel and clicky feedback, making typing very comfortable. The touchpad is massive and doesn't use glass, however, the material is still very smooth and tracking is accurate.
[Ports]
The port selection is pretty good, considering the smaller stature of the device. Most of the bases are covered, with the left side housing an audio jack, one 5-gigabit USB Type-A port, and a MicroSD card slot. On the opposite end, we see one more USB port of the same type, an HDMI 2.0 port, and two 10-gigabit USB Type-C ports with charging support plus DisplayPort 1.4 and data transfer capabilities.
[Display]
The Pavilion Plus 14 offers quality displays, with either a 2.2K IPS panel or a 2.8K OLED panel with a 90Hz refresh rate. We tested the 2.2K variant, which is a perfect fit for a 14-inch device. It reaches 357 nits of brightness and has an amazing contrast ratio of 1940:1. The panel shows 93% sRGB coverage, along with very good color accuracy with our Design and Gaming profile.
We'll have links to the profile in the description, which you'll want to check out for sure if you're serious about design and color work.
[Battery]
The device has a 51Wh battery pack which lasts for 7 hours and 34 minutes of Web browsing, or 5 hours and 43 minutes of video playback, which isn't ideal, so you might want to bring the 65W charger with you. Thankfully, it's small enough, so it won't be much of a hassle.
[Performance]
We got these results with the Core i5-1235U, which is the least powerful chip that's available. You can go as high as the Core i7-12700H. Going back to the i5, it's a bit lacking in performance when compared to the MSI Modern 14, the Acer Aspire Vero, and the IdeaPad 5 from Lenovo.
On the GPU end, we rely on the MX 550, while the RTX 2050 is also available. Compared to integrated graphics, the MX 550 will do better in games, while it can also work in tandem with the iGPU to accelerate productivity workloads. The 550 will be able to play recent triple-A titles, however, you'd have to adjust the settings accordingly, playing at low or medium at best. It even runs Cyberpunk at sub-50 FPS at low, so gaming isn't out of the question.
[Cyberpunk https://www.youtube.com/watch?v=zwNHdpFYLHw ]
Our new LaptopMedia Benchmarks channel goes above and beyond to put the most popular laptop graphics through numerous games, so it's definitely a viable resource if you want to see how a certain GPU does in a particular game.
[Cooling]
Keeping the CPU and GPU cool is a setup with two heat pipes, two fans, and one long heatsink.
The thermal management is very conservative, as the CPU runs at 65°C and at only 20W. This leads to lower clock speeds, which is generally HP's way with business machines. The GPU performed quite better, keeping a consistent 1400MHz speed even after 30 minutes.
The laptop is very quiet under full load and the base doesn't heat up significantly to cause discomfort.
[Teardown and upgradeability]
While portable, the Pavilion Plus 14 is also not very upgradeable, offering up to 16GB of soldered DDR4 RAM. Accessing the storage is much better, with one M.2 slot which supports super fast Gen 4 drives.
We have a detailed teardown video, which we'll link in the description. It goes step by step, so you're covered if you want to take a look inside the Pavilion.
[Verdict]
The Pavilion Plus 14 is a nice attempt from HP to introduce some modern features to its mostly cookie-cutter laptops. The laptop doesn't have the best battery life, however, we'll excuse it mostly due to the aluminum build and the great display on the front.
If you want a thorough look at the Pavilion Plus 14, go over to our website and read our detailed review.