[Video Review] HP ProBook 440 G9 – Business excellence in a 14-inch chassis
HP ProBook 440 G9 in-depth review
One of HP's most popular laptops - the ProBook 440 G9 has been on the market for quite a while now. However, we don't think its appeal has faded ever so slightly. The reason for that is its low price and the fact that it is a fantastic machine for your home and/or office. In fact, the ProBook series was so good last year, that we send some friends its way, every time they needed advice on a business notebook purchase. The ninth generation of ProBook 400 is powered by Intel processors - either U-series or P-series. The choice here is yours, if your local provider has all options, of cour[...]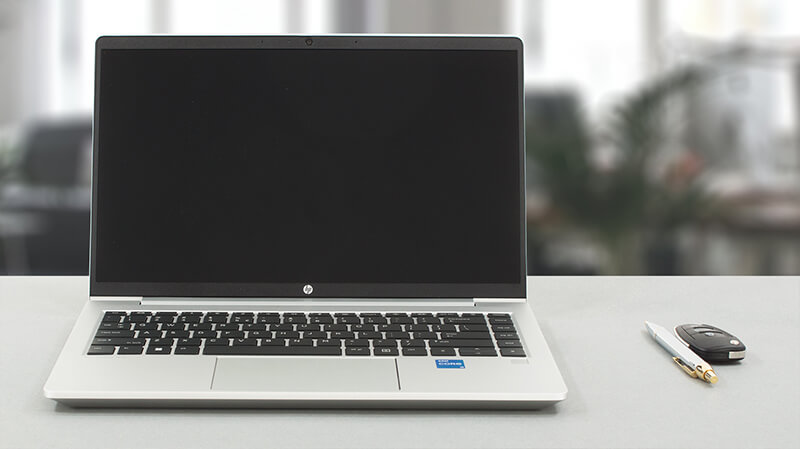 Pros
Its keyboard is backlit, spill-resistant, and great for typing
Optional fingerprint reader and IR face recognition
Good contrast ratio and comfortable viewing angles (AUO AUO818B)
2x SODIMM + optional two M.2 PCIe slots for storage
Doesn't use PWM (AUO AUO818B)
Wide port selection
Great performance
Good battery life
Cons
Covers only 51% of sRGB (AUO AUO818B)
Lacks an SD card reader
HDD/SSD
up to 2000GB SSD
M.2 Slot
1x 2280 M.2 PCIe + 1x 2230 M.2 PCIe See photo
OS
Windows 11 Pro, Windows 10 Pro
Battery
42.75Wh, 3-cell, 42.75Wh, 3-cell , 42.75Wh, 3-cell /, 51Wh, 3-cell, 51.3Wh, 3-cell
Dimensions
321.9 x 213.9 x 19.9 mm (12.67" x 8.42" x 0.78")
1x USB Type-A
Sleep and Charge
2x USB Type-A
3.2 Gen 1 (5 Gbps)
1x USB Type-C
3.2 Gen 2 (10 Gbps), Power Delivery (PD), DisplayPort
Ethernet LAN
10, 100, 1000 Mbit/s
Audio jack
3.5mm Combo Jack
Fingerprint reader
optional
Speakers
2x Stereo Speakers
Security Lock slot
Nano K-Lock
[Intro]
14-inch business laptops have been dominating for a while, with the ProBook 440 from HP being one of the best. The 9th generation wants to be the best one yet, covering everything that you'd ever want in an office machine.
[Design]
While the laptop is part of the mid-range ProBook sub-brand, it gets a fully aluminum chassis with plenty of structural rigidity. It shows a tiny bit of flex, but that's totally okay. The aluminum also keeps it lightweight, stopping the scales at 1.38 kg. If you prefer the bigger 51.3Wh battery option, the laptop gains 40 grams, which we think is justifiable. Nevertheless, the profile sits at 19.9 mm and doesn't change. The lid has smooth hinges, allowing for single-handed opening.
[Input devices]
This exposes the base, with a large speaker grill, a backlit keyboard with spill resistance, a touchpad, and a fingerprint reader. The keyboard is ripe for typing, with long key travel and clicky feedback. The touchpad could have been a tad bigger, but other than that we can only praise it, thanks to its smooth surface and accurate tracking.
[Ports]
Going to the sides, you can see a Jaw-style LAN port and a USB Type-A 3.2 (Gen. 1) port on the left. This leaves the bulk of it on the right, with two more USB Type-A ports, one USB Type-C 3.2 (Gen. 2) port, an HDMI 2.1 port, an audio jack, and an optional SIM card tray.
[Display]
For the displays, there's both a TN panel and an IPS panel that's available. We strongly urge you to pick an IPS unit, which has a better contrast ratio and colors. The Full HD IPS panel of the ProBook 440 G9 has excellent viewing angles, a contrast ratio of 1450:1, and 295 nits of brightness. Its color coverage or accuracy is nothing to write home about, however, you don't need really need them in an office machine. What's more important for us is the 0 PWM usage, which means that your eyes are safe even if you work all day on it. Still, you should take a few minutes of rest every hour or so.
For more clarity when working with tables and documents, our Office Work profile does a fantastic job, so you should check it out, along with our other profiles. They are linked in the description below.
[Sound]
The audio on the laptop isn't very impressive either, as the front-firing setup has deviations across the entire frequency range and the max volume isn't that high as well. Still, it's not essential for business, so we can forgive it.
[Battery]
What can be deemed essential is the battery life. The 51.3Wh battery pack inside lasts for 13 hours and 3 minutes of Web browsing, or 8 hours and 54 minutes of video playback, which is enough for a whole day of mixed-use.
[Performance]
These numbers are when you pair the laptop with the Core i5-1235U, a very popular processor in the business market. The ProBook 440 G9 doesn't utilize it as well as the Lenovo ThinkPad E14 Gen 4 or the MSI Modern 14, delivering less 3D Rendering performance but keeping up pretty well in Photoshop. Keep in mind that there are more powerful P-series chips as well if you need them.
[Cooling]
The Cooling setup might be the culprit behind the less performance, as you can't exactly expect a lot from one heat pipe and one fan. In the stress tests, the Core i5 shows excellent short-burst performance, going as high as to reach 46W. In long runs, however, it settles at 24W, which is still commendable, considering the 15W base TDP. If you use a more powerful charger, you might be able to get even more out of the chip, as the 45W power brick that we have here could be running out of steam. In terms of comfort, the laptop is really quiet during the stress test, while the base reaches 36.1°C, an excellent result.
[Teardown and upgradeability]
What really surprises us are the two SODIMM slots on the inside, as most 14-inch notebooks rely on soldered RAM. With them, you can stick up to 64GB of DDR4 memory inside. For storage, there's one M.2 slot for Gen 4 SSDs.
If you're curious about how to get inside the HP ProBook 440 G9, we have a separate teardown video, which goes in-depth. It's linked in the description.
[Verdict]
The HP ProBook 440 G9 brings business excellency to the masses, with a long-lasting battery and future-proofing thanks to the two RAM slots. Using it is a breeze, with a comfortable keyboard and a snappy touchpad.
Yes, the display and speakers aren't the best, but we don't consider them essential for business, so the laptop passes our office and lab with flying colors. We'd go as high as to say that it's the notebook to look for if you need an affordable and solid machine. If you need any more convincing, go ahead and read our written review, which you can find below.