[Video Review] HP ProBook 450 G9 – balanced between price and features
HP ProBook 450 G9 in-depth review
Imagine it is your first day on a new job, and they tell you that you need to pick your own business laptop on their treat. But the budget is not very big. What would you pick? A ProBook 450 G9 is definitely one of the options you need to consider. Other viable choices would be the Lenovo ThinkPad E15 Gen 4, or even the HP EliteBook 650 G9. In fact, there is very little separating the EliteBook 650 G9 from the ProBook 450 G9. Some of you might argue that one of them was created to boost the sales of the other. There is no way of knowing for certain. However, what we do know is that you [...]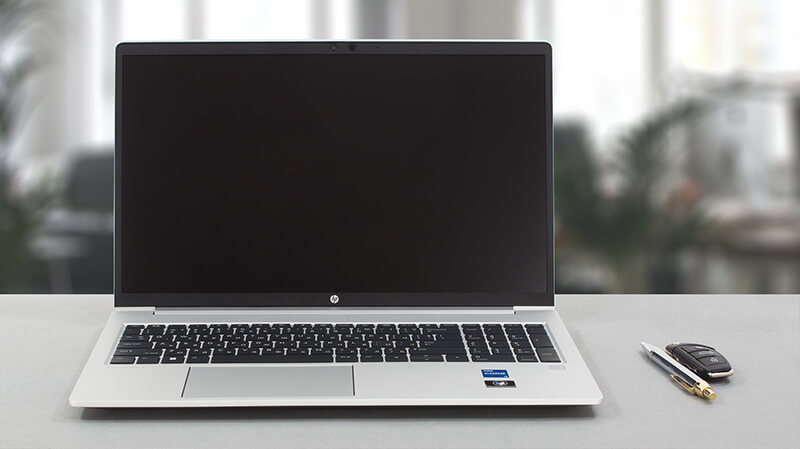 Pros
Its keyboard is backlit, spill-resistant, and great for typing
Optional fingerprint reader and IR face recognition
Good contrast ratio and comfortable viewing angles (LG LGD071E)
2x SODIMM + optional two M.2 PCIe slots for storage
Doesn't use PWM (LG LGD071E)
Wide port selection
Great performance
Good battery life
Cons
Covers only 51% of sRGB (LG LGD071E)
Lacks an SD card reader
Low clocks on the GeForce MX570
HDD/SSD
up to 2000GB SSD
M.2 Slot
1x 2280 M.2 PCIe + 1x 2230 M.2 PCIe See photo
OS
Windows 11 Pro, Windows 10 Pro
Battery
42.75Wh, 3-cell, 42.75Wh, 3-cell
Dimensions
359.4 x 233.9 x 19.9 mm (14.15" x 9.21" x 0.78")
1x USB Type-A
3.2 Gen 1 (5 Gbps), Sleep and Charge
2x USB Type-A
3.2 Gen 1 (5 Gbps)
1x USB Type-C
3.2 Gen 2 (10 Gbps), Power Delivery (PD), DisplayPort
Ethernet LAN
10, 100, 1000 Mbit/s
Audio jack
3.5mm Combo Jack
Fingerprint reader
optional
Backlit keyboard
optional
Speakers
2x Stereo Speakers
Security Lock slot
Nano K-Lock
[Intro]
With our review of the HP ProBook 440 G9 being done and dusted, its time to take a look at its 15.6-inch sibling, the ProBook 45 G9, and see if it's just as good, or if you should stick with its smaller and more compact version.
[Design]
While manufacturers give more attention to its 14-inch products, at least in the business market, the ProBook 450 G9 retains the all-aluminum chassis. It's lightweight, stopping the scales at 1.79 kg as well as having a profile of 19.9 mm, good numbers considering the form factor. Durability-wise, the structural integrity of the laptop is on par, with some flex from the lid and a sturdy base.
[Input devices]
The lid opens with one hand, giving us a view of the base. The keyboard spans almost the entire width of the laptop, coming with a NumPad, spill resistance, and a backlight. Typing on it is great, thanks to the long key travel and clicky feedback. All in all, it's a champ. Above the keyboard, you can see a long speaker grill. Below the keyboard, there's a fingerprint reader, as well as a slightly off-centered touchpad with a smooth surface and exceptionally accurate tracking.
[Ports]
Moving to the sides, the port selection of the notebook is one of the best. On the left side, there's a jawed LAN port and a USB Type-A 3.2 (Gen. 1) port. Switching to the right, there's one USB Type-C 3.2 (Gen. 2) port, two more USB Type-A ports, an HDMI 2.1 port, an audio jack, and an optional SIM card tray.
[Display]
The display options are the same as the ones on the ProBook 440 G9, with one HD TN panel as well as a Full HD IPS display, which is the one we tested. It's a good panel for general use, but it's not suitable for Creator work, covering just 51% of the sRGB color gamut and sporting a dE value of 4.2 with our Design and Gaming profile. Still, it gets bright enough to be usable, at 263 nits, as well as having no PWM usage, so it's safe to use for prolonged periods.
If you work with a lot of text and tables, our Office Work profile is calling for you, making text clearer and more legible. All of our profiles will be linked in the description.
[Sound]
The speakers, despite their great positioning, are a bit too quiet, even at max volume. We also see deviations across the entire frequency range, which isn't good.
[Battery]
The laptop's 51.3Wh battery pack lasts for 12 hours and 13 minutes of Web browsing, or 8 hours and 28 minutes of video playback. That's with the Core i5-1235U, a 10-core 12-thread CPU.
[Performance]
The ProBook 450 G9 delivers good performance with it, however, the Dell Latitude 15 3530 and the Acer TravelMate P2 do have higher Cinebench scores with the same processor. The ProBook does show a better Photoshop score, so not all hope is lost. For graphics, you can stick with the integrated Iris GPU, but we felt adventurous and wanted to see how the MX 570 handles itself.
It's not surprising that the GPU blows past all competitors in the business scene, most of which are powered by integrated graphics. The card is good enough for gaming, as you can see from our Witcher 3 benchmark, showing off 60 FPS at high settings.
[Cooling]
The performance is closely tied to the cooling, which consists of two heat pipes and one fan. Compared to the smaller ProBook 440 G9, we get similar numbers. There's pretty good short burst performance, with the Core i5 reaching 47W and a clock speed of 3.44 GHz. In long loads, the processor settles at 24W, which is very good, considering the 15W base TDP of the chip.
The GPU doesn't do as well as it should, not being able to reach its 30W TGP, instead running at 21W at peak. On the other hand, this makes for a comfortable laptop, which runs quiet and cool, with a hotspot of only 42°C.
[Teardown and upgradeability]
Regardless of the performance, you can't deny that the laptop is looking to the future, offering two SODIMM slots and two M.2 slots for RAM and storage upgrades, respectively.
If you already own the ProBook 450 G9 and are looking for information on how to upgrade it, our teardown video has you covered. It's linked down below.
[Verdict]
The HP ProBook 450 G9 is an ideal business companion that comes on a budget. It covers the basics exceptionally well, opting to sacrifice quality in areas that aren't essential for a business device. Performance-wise, it's just as powerful as the ProBook 440 G9, so if you're deciding between them, focus on if you need the extra screen space and the NumPad, or if you value portability more.
For more information about the ProBook 450 G9, we'll link our written review on our website in the description below.