[Video Review] Lenovo ThinkBook 14s Yoga Gen 2 – Even better than before
Lenovo ThinkBook 14s Yoga Gen 2 in-depth review
As we have said numerous times, the ThinkBook brand is generally a stylish take on the proven ThinkPad formula. Now, we're going to talk about the ThinkBook 14s Yoga Gen 2. A slightly more special device from this family. As you can imagine from the "Yoga" part of the name, it is a convertible. While business 2-in-1 laptops are anything but a novelty, this one has its own reasons to be on your radar. First of all, it comes with a dedicated stylus. One that has its own housing inside the chassis of the device. Then, there is the hardware - Intel's Alder Lake processors are on board with [...]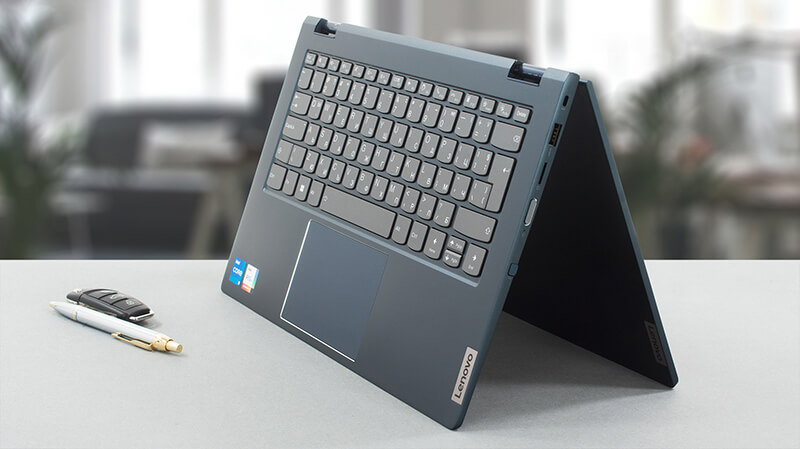 Pros
Thunderbolt 4, Wi-Fi 6 connection, and a MicroSD card reader on board
2x M.2 PCIe x4 Gen 4 slots + RAM-SODIMM slot
Covers nearly 100% of the sRGB color gamut and has accurate color representation with our Gaming and Web design profile (LEN140FHD (LEN889A))
Included stylus
PWM-free display (LEN140FHD (LEN889A))
Great keyboard experience
Good battery life
Cons
Some room for performance improvement
Feels a bit heavy in tablet mode
HDD/SSD
up to 1000GB SSD
OS
Windows 11 Pro, Windows 11 Home
Dimensions
320 x 216 x 16.9 mm (12.60" x 8.50" x 0.67")
1x USB Type-A
3.2 Gen 1 (5 Gbps)
1x USB Type-A
3.2 Gen 1 (5 Gbps), Sleep and Charge
1x USB Type-C
3.2 Gen 2 (10 Gbps), Power Delivery (PD), DisplayPort
1x USB Type-C
4.0, Thunderbolt 4, Power Delivery (PD), DisplayPort
Audio jack
3.5mm Combo Jack
Microphone
Dual Array Microphone with AI Noise Cancellation, switchable audio modes
Speakers
2x 2W Stereo Speakers, Dolby Atmos, Harman Speakers
Security Lock slot
Kensington Nano Lock
[Intro]
When you want a ThinkPad, but you're sick of the repetitive design, Lenovo offers the ThinkBook, a more stylish approach that keeps everything else intact. Today we have the ThinkBook 14s Yoga Gen 2, a portable Alder Lake convertible that's ready for taking on your computing needs from everywhere.
[Design]
Everywhere you touch the ThinkBook, you feel aluminum. It's a magnet for fingerprints, however, it looks and feels good. The two-tone finish on the lid and the glossy hinges really break up the design, giving it some flair. The chassis is very strong, albeit it might feel heavy in your hand when you use it as a tablet, with a weight of 1.50 kg and a profile of 16.9 mm. You get an integrated stylus with its own enclosure, which has 4096 pressure levels of sensitivity and works well with the glass-covered display.
[Input devices]
The hinges are smooth operators, allowing the lid to open with one hand. Once open, you see the keyboard, with grey keycaps, which are also quite large. Typing is good, thanks to the long key travel and clicky feedback. It's also backlit, so if you work during the night, you can keep your words per minute high. The touchpad reigns supreme as well, sporting a Mylar cover while being fast and precise to respond.
[Ports]
Most of the I/O is on the left, with one USB Type-C 3.2 (Gen. 2) port, a Thunderbolt 4 port, an HDMI connector, one USB Type-A 3.2 (Gen. 1) port, and an audio jack. Move to the other side, you find the stylus enclosure, a power button with a fingerprint reader, a MicroSD card slot, and one more USB Type-A port.
[Display]
On the front, the Full HD IPS panel is protected by Gorilla Glass. While not having the more modern 16:10 aspect ratio, it's still an amazing display. The viewing angles are great, and with a peak brightness of 356 nits, outdoor use won't be a problem even in well-lit conditions. The contrast ratio is very high, at 2020:1, so blacks look especially great, almost OLED-like … almost. It covers 100% of the sRGB gamut, providing a punchy and vibrant image.
The color accuracy doesn't win any awards with the factory settings, offering a dE value of 4.1. However, applying our Design and Gaming profile lowers it down to 1.0, which is perfect.
In the description, you'll find links to all of our profiles.
[Sound]
We like bottom-firing speakers on convertibles since when you fold them for tablet use, the sound will be firing toward you. The setup on the ThinkBook delivers quality audio with no deviations across the entire frequency range.
[Battery]
Moving onto the battery, a 60Wh battery pack turns out to be enough, with 10 hours and 27 minutes of Web browsing, or 8 hours and 28 minutes of video playback when paired with the Core i5-1235U. Even if you go for the higher-end Core i7-1255U, since both CPUs have the same core and thread count, there shouldn't be a big hit to the battery life.
[Performance]
As for the performance of the two Alder Lake U-series CPUs, they are much better than the 11th Gen Tiger Lake units, while being competent enough to trade blows with AMD's 5000 and 6000 U-series chips as well.
[Cooling]
With only 15W as the base TDP, the ThinkBook doesn't have a hard job ahead of itself in terms of cooling, so a simple setup with two heat pipes and one fan gets the job done easily. In the CPU stress test, the Core i5 maintains a TDP of 24W in long runs, like a video render, while spiking up to 32W in short and medium bursts. That's all the while keeping a low temperature of only 75°C, which we consider to be great.
On the outside, everything looks normal, as there's very low noise from the single fan, while the base gets slightly warm, with a hotspot of 38°C.
[Teardown and upgradeability]
Taking a look inside the ThinkBook, you see up to 8GB of soldered DDR4 RAM, as well as one SODIMM slot for further expansion. Storage-wise, there are not one, but two M.2 slots for Gen 4 SSDs.
We have a separate teardown video, which shows how to access both the RAM and storage slots inside the ThinkBook 14s Yoga Gen 2.
[Verdict]
It's almost impossible to find a perfect laptop, but the ThinkBook 14s Yoga Gen 2 comes exceptionally close to being one. The design and build quality are great, implementing one of the best keyboards that we've seen on a convertible, as well as a long-lasting battery and a surprising amount of slots on the inside for upgrades. Despite the ever so slightly suboptimal performance, the ThinkBook 14s Yoga Gen 2 is one of the best business convertibles for the money.
As always, the review on our website goes further in-depth, so check it out in case you need more convincing to splurge some cash on the ThinkBook 14s Yoga Gen 2.