[Video Review] Microsoft Surface Laptop 5 (13.5″ inches) – Microsoft's Macbook
Microsoft Surface Laptop 5 (13.5") in-depth review
Microsoft is obviously known for its software products. But there is one major issue with them - they are not made for one particular type of hardware. This is why the integration of Windows for example is not as good as that of the macOS and the Apple products. This prompted Microsoft to invest heavily in hardware and create its own devices. Today, we're going to review the Microsoft Surface Laptop 5 (13.5"). What they were not able to do, unfortunately, is to create their own processor and chipset. The next best thing, however, was the special edition CPUs made by AMD, specifically fo[...]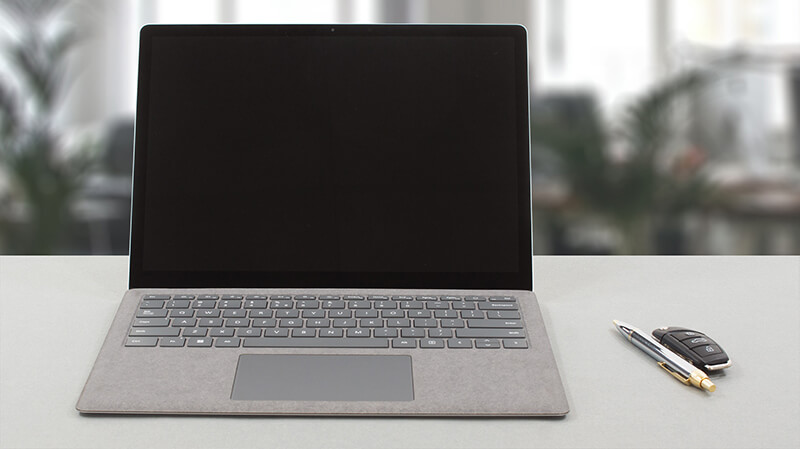 Pros
Great performance
Decent battery life
Covers 90% sRGB (Sharp LQ135P1JX51 (SHP14B3))
Doesn't use aggressive PWM to adjust screen brightness (Sharp LQ135P1JX51 (SHP14B3))
Work-friendly 3:2 aspect ratio and a touchscreen usability
Good build quality and optional soft Alcantara base
Cons
No SD card reader
Memory is soldered
Nearly impossible to service
Limited I/O
Sharp LQ135P1JX51 (SHP14B3)
HDD/SSD
up to 1000GB SSD
OS
Windows 11 Home, Windows 10 Pro, Windows 11 Pro
Body material
Aluminum (Optional Alcantara base)
Dimensions
308 x 223 x 14.5 mm (12.13" x 8.78" x 0.57")
1x USB Type-A
3.2 Gen 1 (5 Gbps)
1x USB Type-C
4.0, Thunderbolt 4
Audio jack
3.5mm Combo Jack
Web camera
HD front-facing camera with Windows Hello Face Authentication
Microphone
Dual Far-Field Studio Microphones
Speakers
Omnisonic Speakers with Dolby Atmos
This video is a recap of our in-depth review on our website. Click the link in the upper right corner to see Microsoft Surface 5's current price, some comparisons, and more cool stuff!
Or if you're short on time, just stick around here.
[Intro]
There's a MacBook 13 that runs Windows? Well, not exactly, but we've got something pretty close. The Surface Laptop 5 has a 13.5-inch model, which is very portable and comes with what Microsoft hopes to be enough uniqueness to stand out against the ruthless competition.
[Design]
The Surface Laptop is definitely well-built, utilizing metal for its entire construction. You do get to have some say in the appearance, as there are four color variants, along with an option for an Alcantara base, which feels very much like suede. Here we've got the Platinum model, however, you do have Sage, Black, and Sandstone.
Despite the thin profile of the machine, at 14.5 mm, we'd say that durability is good, overall. Weight isn't a problem too at 1.28 kg and the device isn't a burden to carry around at all.
[Input devices]
Its lid opens easily with one hand, showing off the Alcantara base, the keyboard, and the touchpad. The material feels good and doesn't get plastered with fingerprints, which is great. The keyboard could have done with some more key travel, however, it's still plenty clicky, which is a total savior. The touchpad is smooth and snappy as well.
[Ports]
Going to the sides, we don't have the widest I/O coverage, however, you have to subdue your expectations with a smaller machine. You get one Thunderbolt 4 port, a full-sized 5-gigabit USB port, and an audio jack. Charging is done through the magnetic Surface Connect port, which minimizes the risk of damage if the device is yanked with force while being quicker to plug in and out.
[Display]
Hiding behind a Gorilla Glass 3 cover and some chunky bezels is a 13.5-inch PixelSense display with a resolution of 2256 x 1504 pixels, which comes to an aspect ratio of 3:2. The panel gets up to 409 nits of brightness and has a decent contrast ratio of 1290:1. It covers 90% of the sRGB gamut, which makes is good enough to be used for design and color-grading.
The color accuracy is close to being excellent, but even with our Design and Gaming profile, we got the Delta E value down to 2.3, close enough to the 2.0 standard. There's also some Screen flickering below 104 nits of brightness, however, the pulsations are at a high enough frequency to not be tiring to your eyes. Our Health-Guard profile eliminates it while keeping the colors accurate.
We'll leave links to our profiles in the description below.
[Sound]
The Surface Laptop 5 doesn't have room on the base for the speakers, so they're mounted on the bottom. Nevertheless, they do deliver quality audio with high-enough volume and no frequency deviations across the range.
[Battery]
With a higher resolution screen, battery life's always a bit of a concern, as more pixels require more power. The laptop manages to squeeze out 8 hours and 25 minutes of Web browsing, or 8 hours and 56 minutes of video playback from its 47.4Wh unit, which is alright, considering the capacity.
[Performance]
The CPU options include the Core i5-1235U and Core i7-1255U, which are pretty well-known at this point. Compared to the previous Surface Laptop 4 with Tiger Lake processors, this one is a massive upgrade, with a lot more power, while having similar if not better efficiency.
[Cooling]
However, having the hardware is one thing, keeping it well-running is another, which is where the cooling comes in.
With that said, we're pretty impressed with how the laptop is handling the Core i5-1235U, boosting to 3.35 GHz and going as high as 44W in the stress test. The high speeds and wattage last for about a minute, after which the CPU comfortably runs at 2.24 GHz with a TDP of 22W.
That's also reflected on the outside, as the base has a hotspot of 46°C, which is a bit on the high side.
[Teardown and Upgradeability]
The RAM is soldered onto the motherboard, so you get only one M.2 slot for storage expansion, but accessing it isn't an easy task at all.
[Verdict]
The Surface Laptop 5 is an exquisite machine with a great design. It's portable enough and has uncharacteristically good performance for its size, which is definitely great. The display and battery life are good too, however, you do sacrifice upgradeability for all of the aforementioned. If that's enough for you, go ahead and order it, but not before going over to our website, where we have the most in-depth review possible, with all kinds of tests and benchmarks. You can check it out down below.