ASUS ROG G752VS with NVIDIA GeForce GTX 1070 shows up for pre-orders on a retail website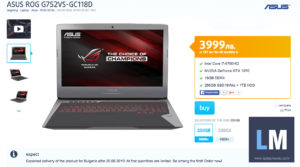 Shortly after the information about ASUS ROG G752VS has come to our attention, an online retail shop has listed the notebook for pre-orders and the price seems to be similar to what we've predicted/anticipated.
The notebook is currently on sale in two variants with the only difference being the storage configurations. For a price of nearly €2 000, the refreshed G752 offers a Core i7-6700HQ CPU, 16GB of DDR4-2133 RAM, NVIDIA's upcoming GTX 1070 (8GB GDDR5) GPU and a Full HD IPS panel with native G-Sync support. The internal storage is provided by a 1TB of HDD @5400 rpm along with a speedy 256GB PCIe NVMe M.2 SSD without an OS installed on it.
You can find the current's notebook price and configurations here: http://amzn.to/29RM1qs
For around €2 400, the store is selling almost identical config but with bigger 512GB M.2 SSD stick, again supporting the latest PCIe NVMe standard. The last model doesn't have an OS either and it's again pretty close to what our leak suggested. Don't hold your breath, though, because as we already mentioned several times, the notebook is expected to start shipping by mid-August. You can clearly see on the website that the expected date of delivery for Bulgaria is sometime after 20.08.2016, which means that the rest of the world market can expect the device a bit sooner.
Source: Laptop.bg