Dell Vostro 3559 shows just about average battery performance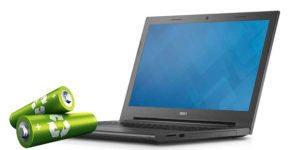 Dell's ultra-affordable business solutions – the Vostro 15 3000 series notebooks – hasn't really surprised us with outstanding battery life but holds up pretty well compared to other similarly priced notebooks.
You can find some of the available configurations here: http://amzn.to/2fNjIyG
We got 332 minutes (5 hours and 32 minutes) of non-stop web browsing and 291 minutes (4 hours and 51 minutes) of video playback. That's just about the average we get on every notebook at this price range. For instance, the HP ProBook 450 G3 scored 375 minutes of web browsing and 379 minutes of video playback while the Dell Inspiron 5555, which isn't a business-oriented notebook by any means, offers considerably less battery up time with 246 minutes of browsing and 200 minutes of video playback.
Of course, all tests were performed using the same settings as always – Wi-Fi turned on, Windows battery saving feature turned on and screen brightness set to 120 cd/m2.