The new Dell Inspiron 7370 (13 7000) – specs, features, configurations and prices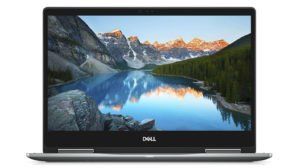 The last notebook of Dell's series equipped with a Kaby Lake Refresh (8th gen) processor is the Inspiron 7370 (13 7000). It's a small and light device very similar to the Inspiron 7373 but it is not a 2-in-1 notebook. However, it can be optionally equipped with a touchscreen panel.
The 13.3-inch screen no matter touch sensitive or not features Full HD (1920 x 1080p) resolution. The non-touchscreen model is lighter than if you opt for a touch panel -1.50 kg (3.31 lbs) vs 1.63 kg (3.59 lbs) but it lacks some features that we will talk about in a minute.
Performance-wise you can expect quite some horsepower from this small bad boy as it is configured with either the Core i5-8250U or Core i7-8550U 8th gen chips. They provide performance similar to last year's HQ CPUs while preserving the battery. Speaking of battery, the Inspiron 7370 is equipped with a 3-cell 38WHr "smart" lithium-ion battery unit.
The maximum amount of system memory is 16GB and you have two slots for easy upgrade. Storage options are limited to M.2 SSDs. The notebook is compatible with PCIe NVMe drives with up to 512GB capacity.
In the beginning, we mentioned that the non-touchscreen model is lighter (and a tiny bit slimmer in that matter) but it lacks some special feature. Well, it is time to say a few words about these features. The Inspiron 7370 is equipped with an infrared camera used for face recognition with Windows Hello. There is also an infrared light emitter that emits infrared light which helps the camera sense depth and movement thus enhancing its security capabilities.
You can check out all configurations of the Dell Inspiron 7370 in our Laptops Specs system. The notebook should already be available in certain regions at a starting price of around $799.