Dell Precision 17 7770 review – its cooling needs a revamp
Disassembly, Upgrade options, and Maintenance
The first thing we see in this laptop is the service door. Pry it open with a plastic tool, and you'll get access to one M.2 PCIe x4 slot.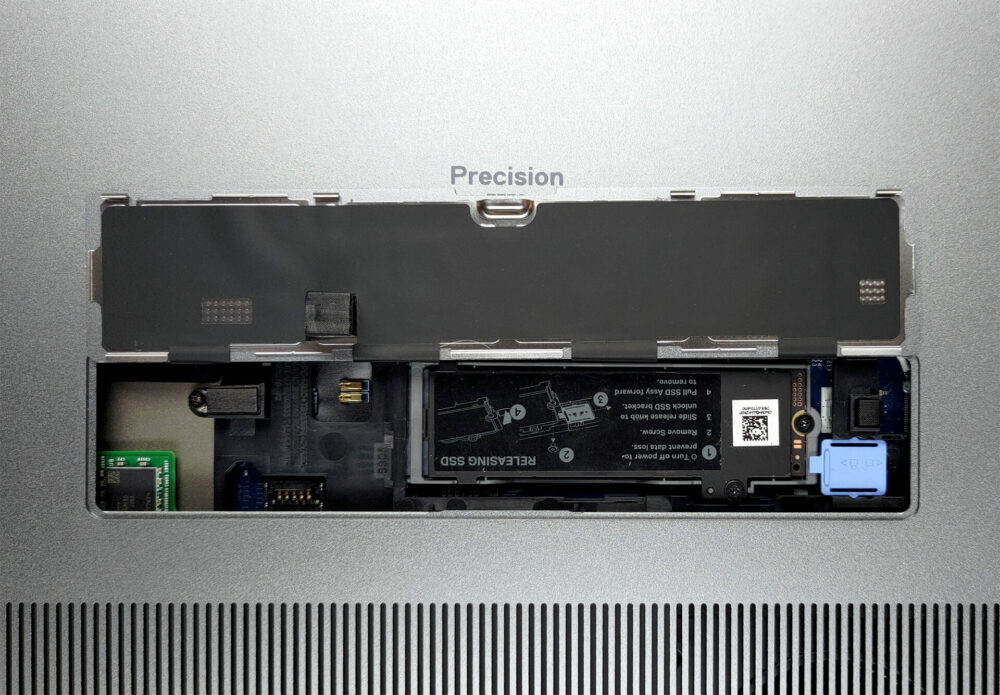 To continue with the disassembly, undo the six captive Phillips-head screws. Then, pry the bottom panel with a plastic tool, starting from the front corners.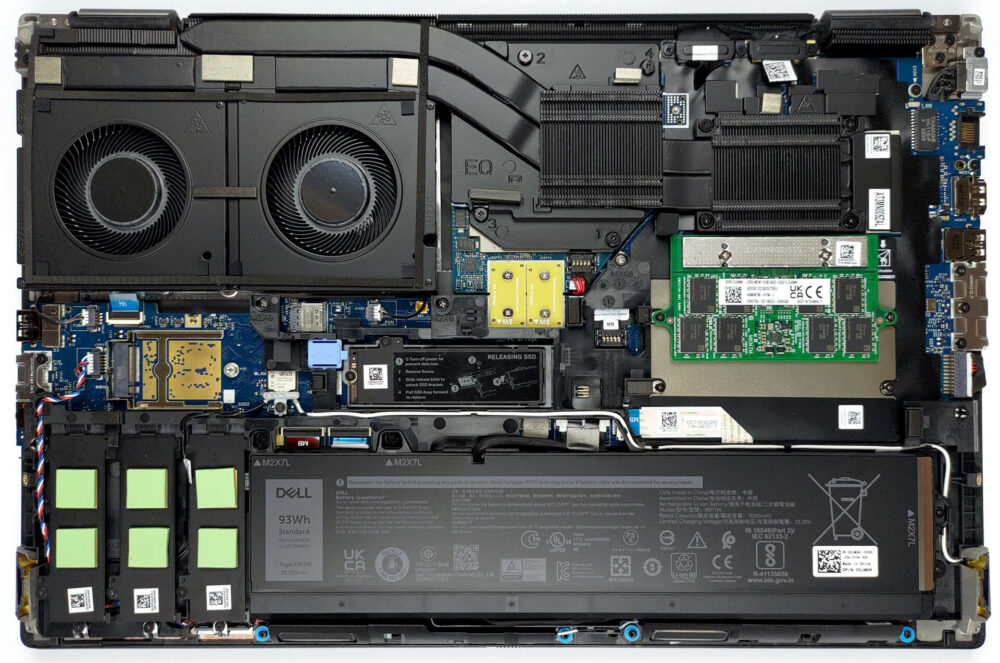 Inside, we find a 93Wh battery pack. It got us through 13 hours of Web browsing or more than 10 hours of video playback. To remove it, unplug the connector from the motherboard, and undo the three Phillips-head screws that secure it in place.

Next, there is the new CAMM memory Dell introduced to replace SODIMM. It takes less space but is considerably more difficult to upgrade. That's because it is held in place by four screws. Two of them are used to mount the CAMM connector module to the system board. Interestingly, the same connector is used to put a SODIMM adapter, if you prefer to use the traditional memory type.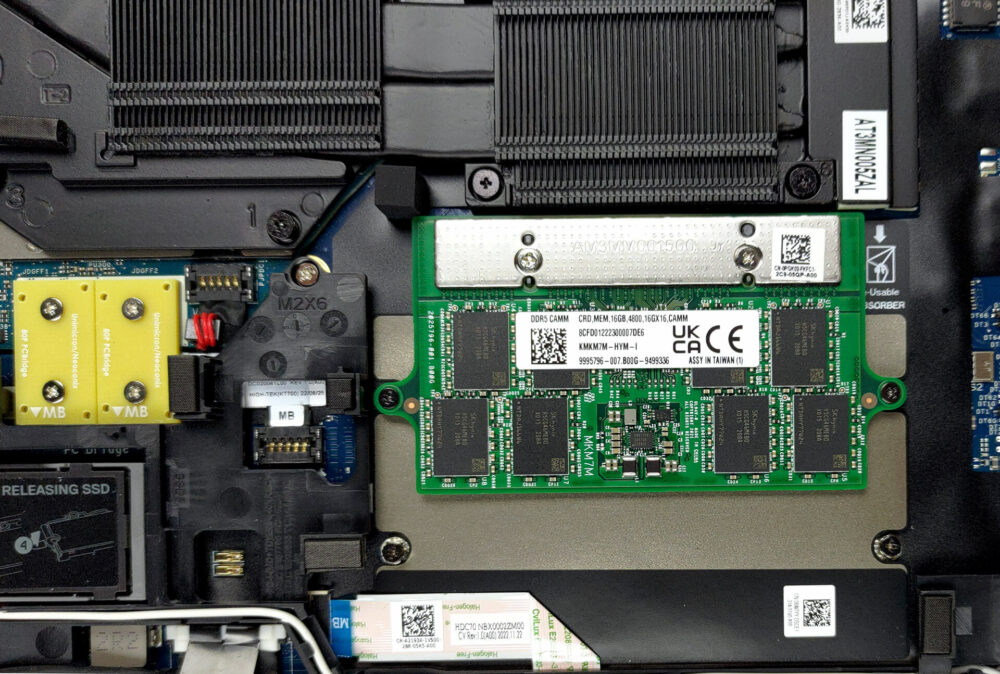 The difference between the two is that you can put up to 128GB of CAMM DDR5 RAM inside the laptop, while SODIMM memory is limited to 64 GB. On the flip hand, it supports ECC RAM. As far as the storage goes, you get a total of four M.2 PCIe x4 slots, which fit Gen 4 SSDs and support RAID mode.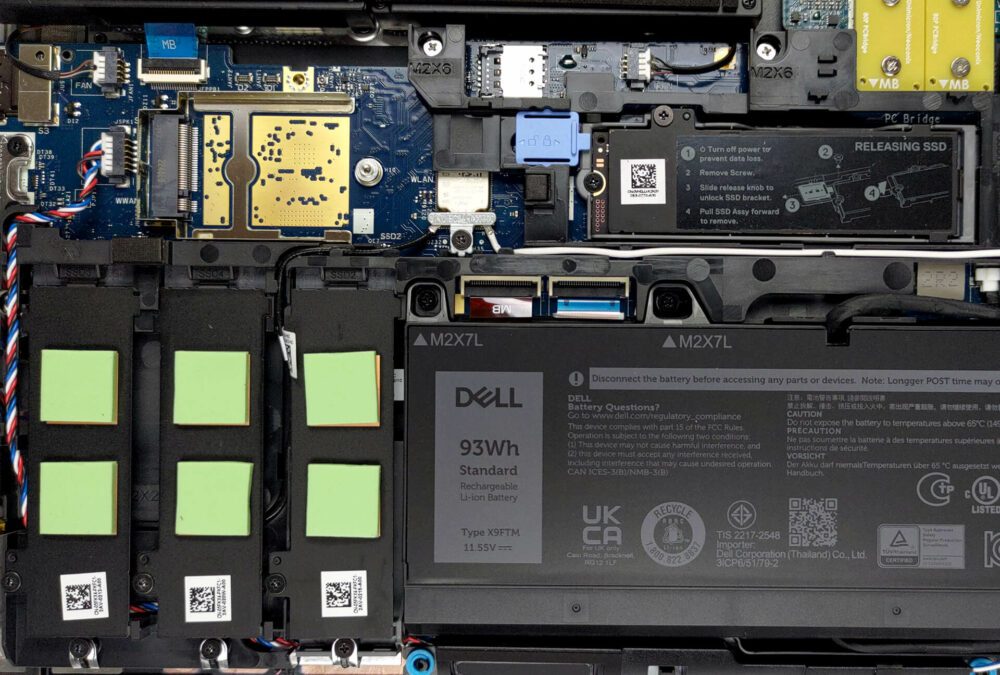 Lastly, the cooling comprises two heat pipes, shared between the CPU and the GPU. They are attached to a long heat sink, which is being cooled down by two beefy fans. Furthermore, you get two heat sinks directly above the processor and the graphics card. Thankfully, the graphics memory and the VRMs are managed by a couple of heat spreaders.