Dell Precision 17 7770 review – its cooling needs a revamp
Verdict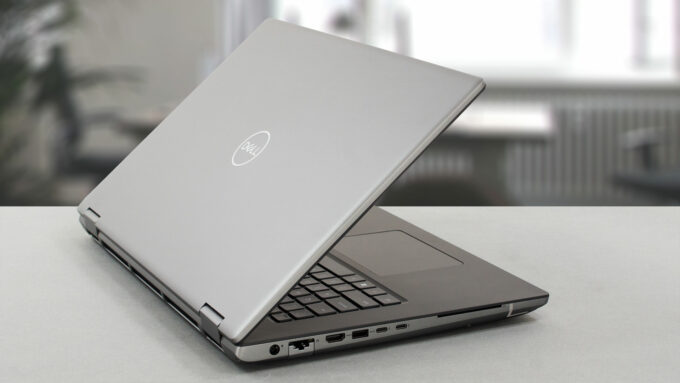 If you're looking for a workstation of this class, you shouldn't really think about what it costs. However, this doesn't mean that you should neglect its ability to sustain its performance potential. Quite the opposite.
Unfortunately, if your workflow consists of large 3D projects, that need constant rendering horsepower, your Dell Precision 17 7770 will need to throttle its GPU down. As a surprise, your fingers will get quite warm, due to the fact that some of the hot air escapes through the keyboard.
While the last thing we mentioned might be an issue isolated to the product we got, you will be glad to hear that the battery life should stick with every unit produced. The 93Wh package lasts for 13 hours of Web browsing, or 10 hours of video playback.
Dell Precision 17 7770's IPS panel has a Full HD resolution, comfortable viewing angles, high maximum brightness, and a good contrast ratio. To further enhance the image quality, the product covers 99% of the DCI-P3 color gamut, while the backlight doesn't use PWM for brightness adjustment.
This device comes with a dedicated app – Dell Premier Color, which allows you to choose between different color spaces. Thankfully, the color accuracy in each space is pretty close to the ultimate standards.
Another super strong field here is upgradeability. There is a service lid, which gives you access to one M.2 PCIe x4 slot, but if you open the entire bottom panel, you will find three more slots of the same type. All of the support Gen 4 SSDs.
In addition, Dell uses CAMM for memory. This gives you support for up to 128GB of DDR5 RAM. If you are a bit more of a traditionalist, you can buy yourself an adapter, that fits SODIMMs. Only then, the maximum memory will be limited to 64GB.
Since we covered the situation on the inside, let us tell you about the outside ports – there are two Thunderbolt 4 ports, an HDMI connector, an SD card slot, a LAN port, and plenty of other USBs. Some models even feature 5G support, but the SIM card slot is on the inside.
Dell really needs something up its sleeve to cover the shameful cooling. Enter the IR face recognition, the optional fingerprint reader, the privacy shutter, and the array of sensors, that enable the magical Awake and Log out functions.
To be completely frank, we can't recommend you a laptop that can't deliver on its promises. In our opinion, it would be a good idea to check out the ASUS ProArt Studiobook 16 OLED (W7600).
You can check the prices and configurations in our Specs System: https://laptopmedia.com/series/dell-precision-17-7770/
Pros
Up to 128GB of DDR5 (CAMM) + four M.2 slots
Capable hardware
99% DCI-P3 coverage and accurate colors/li>
No PWM
Fingerprint reader + optional IR face recognition and 5G connectivity
SD card reader + 2x Thunderbolt 4 + HDMI 2.1
Packs good security features
Great keyboard and touchpad
Good battery life
Cons
High price
Cooling is not great
No mention of spill-resistance