Lenovo Legion Y530 review – worthy successor to a best selling laptop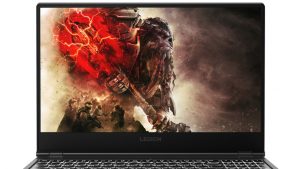 Our Lenovo Legion Y520 review turned out to be one of the most read LaptopMedia reviews, its display profiles – the top selling ones, and its configurations – the most visited in our Specs system. Well, we can't miss paying attention to its successor that has already arrived in our office.
Legion Y530 is the new Lenovo product which aspires to become a top model, and after the success of Y520, we have every reason to think that the company is on the right track again. The remarks we had about the Y520 were as regards its cooling system and display, but now it seems that Lenovo has listened to our advice and upgraded namely these two areas in Y530 which are also its key innovations.
Additionally, the design section has also undergone changes – the new Y530 is lighter, thinner, and, at the same time, its battery is bigger. Let's see how all this affects the overall performance.
You can check the prices and configurations in our Specs System: http://laptopmedia.com/series/lenovo-legion-y530/
Contents
Specs Sheet
Lenovo Legion Y530 technical specifications table
Display
15.6", Full HD (1920 x 1080), IPS
HDD/SSD
256GB M.2 PCIe NVMe SSD + 1TB HDD
Dimensions
360 x 267 x 24.9 - 23.9 mm (14.17" x 10.51" x 0.98")
Body material
Plastic / Polycarbonate
Ports and connectivity
2x USB Type-A 3.2 Gen 1 (5 Gbps)
1x USB Type-A 3.2 Gen 1 (5 Gbps)
1x USB Type-C 3.2 Gen 1 (5 Gbps)
HDMI 2.0
Displayport mini
Card reader
Ethernet lan Gigabit Ethernet
Wi-Fi 802.11ac
Bluetooth 4.1
Audio jack combo audio / microphone jack
Features
Web camera 720p HD
Backlit keyboard
Microphone Dual-Array Microphone
Speakers 2x 2W Harman Kardon
Security Lock slot
What's in the package?
In the Legion Y530 package, we found the ordinary – the laptop itself plus its 135 W power adapter.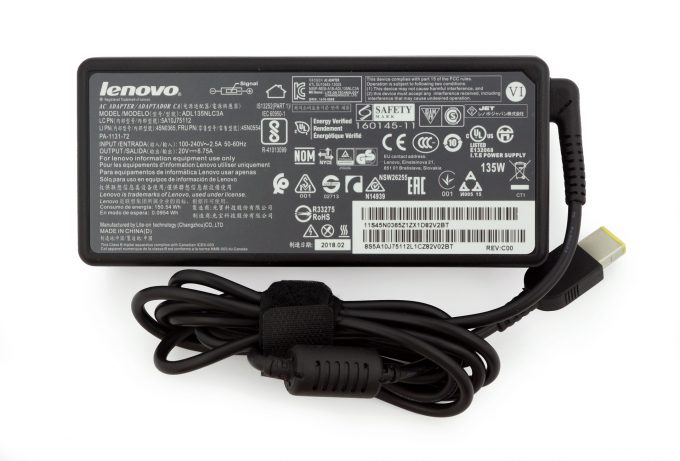 Design and construction
At first sight, the Legion Y530 did no make a particular impression on us. Actually, even though it's marketed as a gaming notebook, its appearance does not suggest this in any way – the body is in matte black and comes with no RGB lights, aggressive strips, and other shiny elements inherent to regular gaming devices. The model looks more like a mainstream laptop.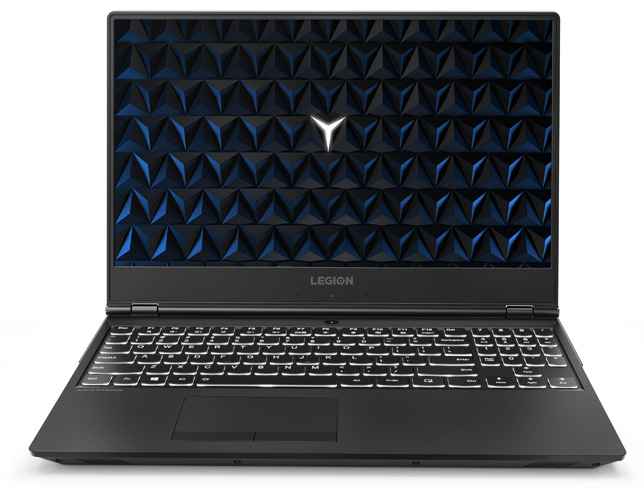 Of course, this is not a drawback by any means – it is a subjective thing that depends on one's taste. Even the keyboard backlight is in the elegant white color. We are sure that many users will appreciate the simple design, although there will be those who want a more flashy appearance. What will appeal to all though is the physical size of this machine – it is sensibly smaller than most 15.6-inch offers on the market, and the reason for this is the super thin screen bezels.
In comparison, the width of Y530 is 360 mm, and that of Y520 – 380 mm. Legion Y530 also surpasses its predecessor in terms of height and weight – the new model weighs 2.3 kg and is 23.9-24.9mm thick, whereas the Y520 weighs 2.4 kg, and is 25.8 mm thick.
Width
Length
Height
Weight
Lenovo Legion Y530
360 mm (14.2″)
267 mm (10.5″)
23.9 – 24.9 mm (0.94″ – 0.98″)
2.30 kg (5.07 lbs)
Lenovo Legion Y520
380 mm (15.0″) (

+6%

)
265 mm (10.4″) (

-1%

)
25.8 mm (1.01″) (

+ ~5%

)
2.40 kg (5.29 lbs) (

+4%

)
Moving on, the keyboard of Y530 is completely identical to that of Y520. This is good because the keyboard was one of the strong points of last year's model.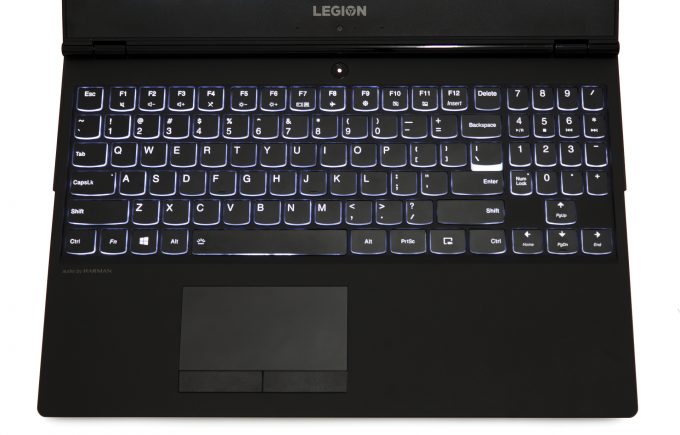 What's more, the fans of racing games that use the arrow keys will be really satisfied with these keys' size in the Lenovo product in question. In comparison, in one of the competitors to Y530, Dell G5 15, the entire arrow module is as long as only one arrow button in Legion Y530.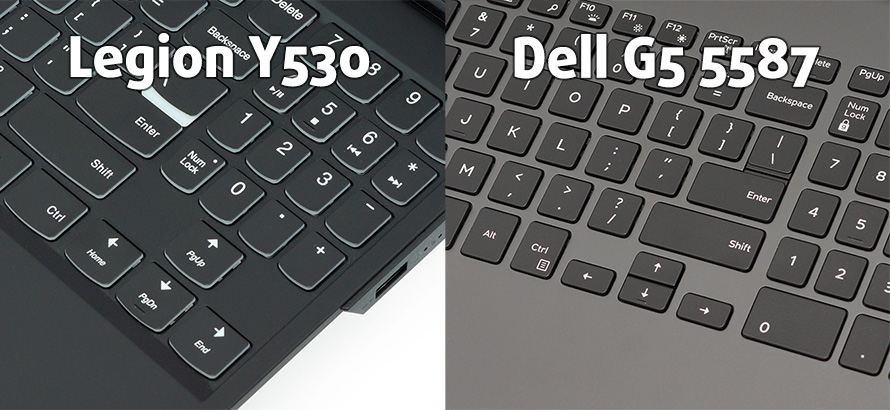 Legion Y530: Convenient big arrows. / Dell G5 5587: What are these? Arrows for ants?!
As regards the materials used in this construction, just like Y520, Y530 employs only plastic. The stability of the chassis is quite decent although the looks are not as classy, as they would have been, had Lenovo used aluminum.
Ports
Almost all ports in Legion Y530 are located along its back. This appeals to us because there won't be any cables interfering with the use of an external mouse. To be on the safe side, Lenovo's engineers have placed a full-sized USB Type-A port on the left and right (3.0 standard). Next to the one on the right, there is a hardware reset opening, and beside the one on the left – an audio jack.


Along the back, you will find a USB 3.0 Type-C, Mini DisplayPort 1.4, USB 3.0 Type-A, HDMI 2.0, Gigabit Ethernet (RJ-45), charging port and a lock slot.

Disassembly, upgrade options and maintenance
Here's some good news for those who like upgrading and cleaning their own machines – Legion Y530 is really easy to disassemble. To uncover its internals, you just need to unscrew 11 Philips screws.
Among the components you'll see are a 52.5Wh battery, a cooling system with two fans, a 2.5-inch slot for an HDD/SSD, 2280 M.2 slot for PCIe 3.0 x4 NVMe SSD and an M.2 Bluetooth / Wi-Fi module. After you pry up the DIMM EMI shielding you will find the two RAM slots(DDR4-2666 MHz).
Display quality
Lenovo Legion Y530 has a Full HD screen with an IPS panel, model number LG LP156WF9-SPK1 (LGD0563). Its diagonal is 15.6″ (39.62 cm), and the resolution 1920 х 1080 pixels. The screen ratio is 16:9, and we are looking at a pixel density of – 142 ppi, and a pitch of 0.18 х 0.18 mm. The screen turns into Retina when viewed at distance equal to or greater than 24″  (from this distance one's eye stops differentiating the separate pixels, and it is normal for looking at a laptop).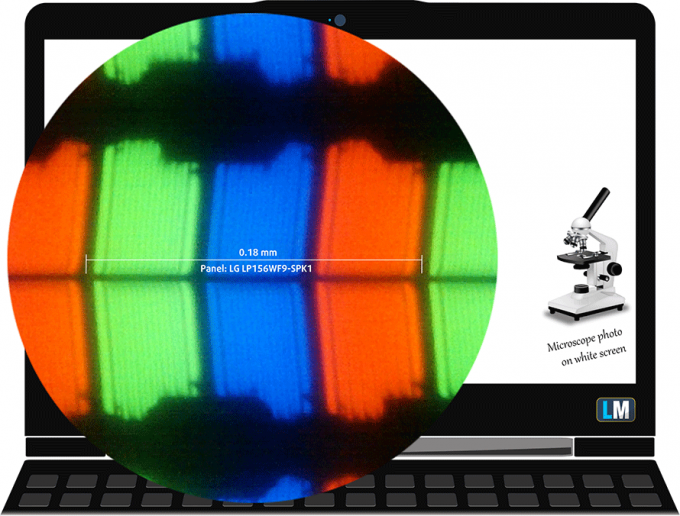 The viewing angles are comfortable. We offer images at 45° to evaluate image quality.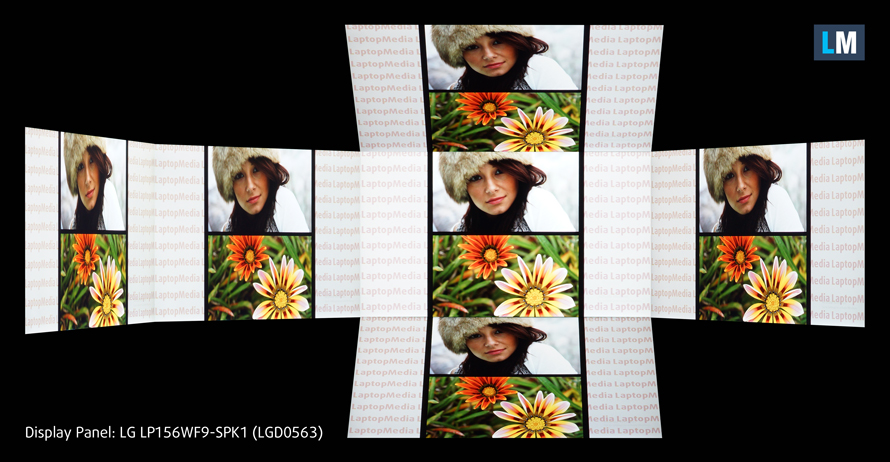 The measured maximum brightness of 265 nits in the middle of the screen and 258 nits as an average for the whole area, with a maximum deviation of 9%. The Correlated Color Temperature on a white screen is 7760K – very close to the optimal for the sRGB standard of 6500K. The average color temperature through the grey scale before profiling is 7630K.
In the illustration below you can see how the display performs from uniformity perspective. In other words the leakage of light from the light source.
Values of dE2000 over 4.0 should not occur, and this parameter is one of the first you should check if you intend to use the laptop for color sensitive work. The contrast ratio is okay – 1100:1.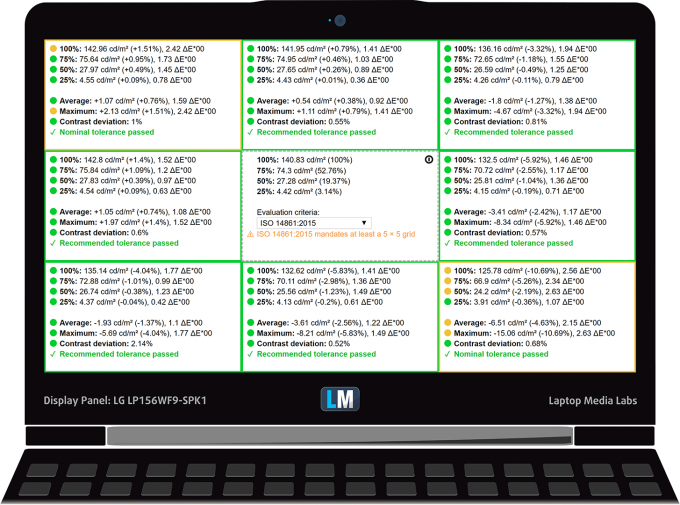 To make sure we are on the same page, we would like to give you a little introduction of the sRGB color gamut and the Adobe RGB. To start, there's the CIE 1976 Uniform Chromaticity Diagram that represents the visible specter of colors by the human eye, giving you a better perception of the color gamut coverage and the color accuracy.
Inside the black triangle, you will see the standard color gamut (sRGB) that is being used by millions of people in HDTV and on the web. As for the Adobe RGB, this is used in professional cameras, monitors etc for printing. Basically, colors inside the black triangle are used by everyone and this is the essential part of the color quality and color accuracy of a mainstream notebook.
Still, we've included other color spaces like the famous DCI-P3 standard used by movie studios, as well as the digital UHD Rec.2020 standard. Rec.2020, however, is still a thing of the future and it's difficult for today's displays to cover that well. We've also included the so-called Michael Pointer gamut, or Pointer's gamut, which represents the colors that naturally occur around us every day.
The yellow dotted line shows Lenovo Legion Y530's color gamut coverage.
Its display covers 55% of the sRGB/ITU-R BT.709 (web/HDTV standard) in CIE1976.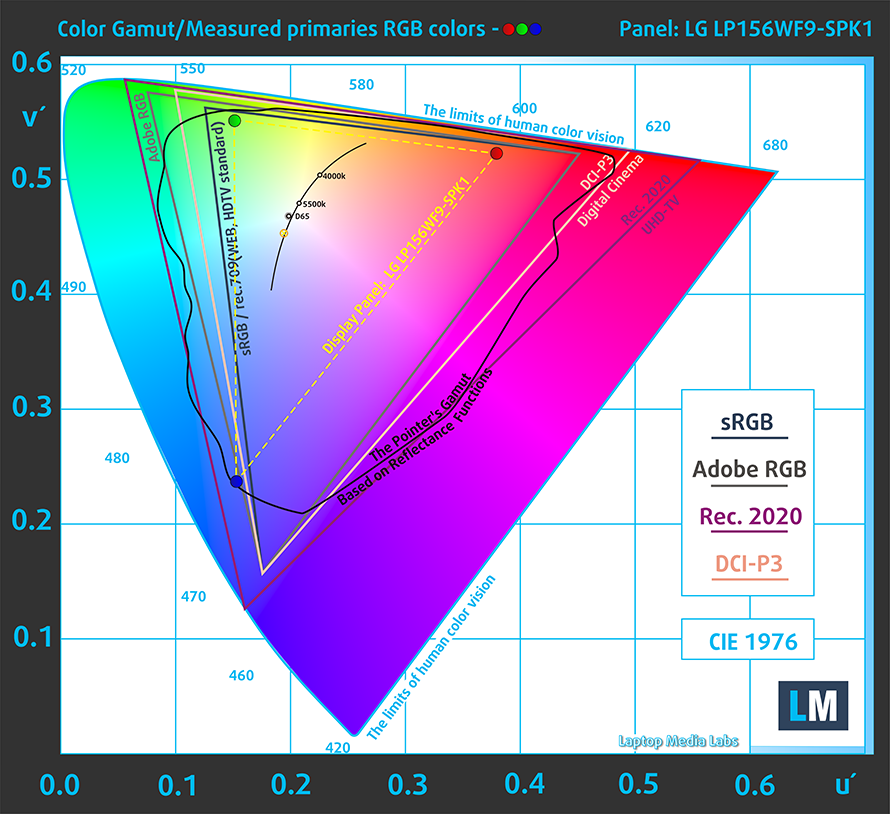 Our "Design and Gaming" profile delivers optimal color temperature (6500K) at 140 cd/m2 luminance and sRGB gamma mode.
We tested the accuracy of the display with 24 commonly used colors like light and dark human skin, blue sky, green grass, orange etc. You can check out the results at factory condition and also, with the "Design and Gaming" profile.
Below you can compare the scores of Legion Y530 with the default settings (left), and with the "Gaming and Web design" profile (right).
The next figure shows how well the display is able to reproduce really dark parts of an image, which is essential when watching movies or playing games in low ambient light.
The left side of the image represents the display with stock settings, while the right one is with the "Gaming and Web Design" profile activated. On the horizontal axis, you will find the grayscale and on the vertical axis – the luminance of the display. On the two graphs below you can easily check for yourself how your display handles the darkest nuances but keep in mind that this also depends on the settings of your current display, the calibration, the viewing angle and the surrounding light conditions.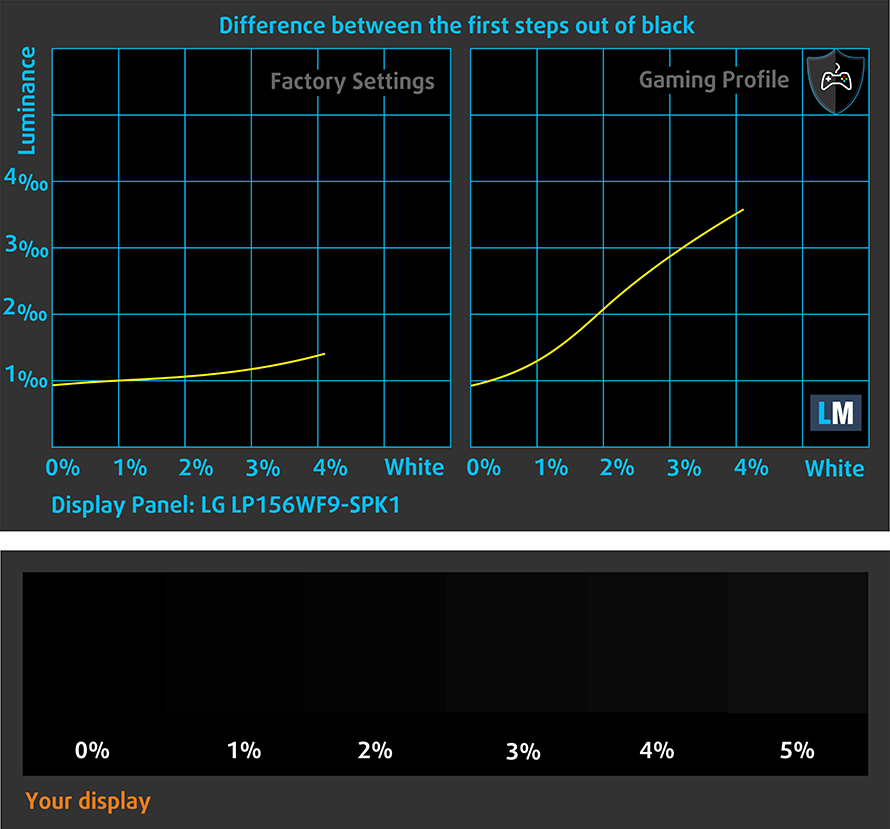 Response time (Gaming capabilities)
We test the reaction time of the pixels with the usual "black-to-white" and "white-to-black" method from 10% to 90% and vice versa.
We recorded Fall Time + Rise Time = 25 ms.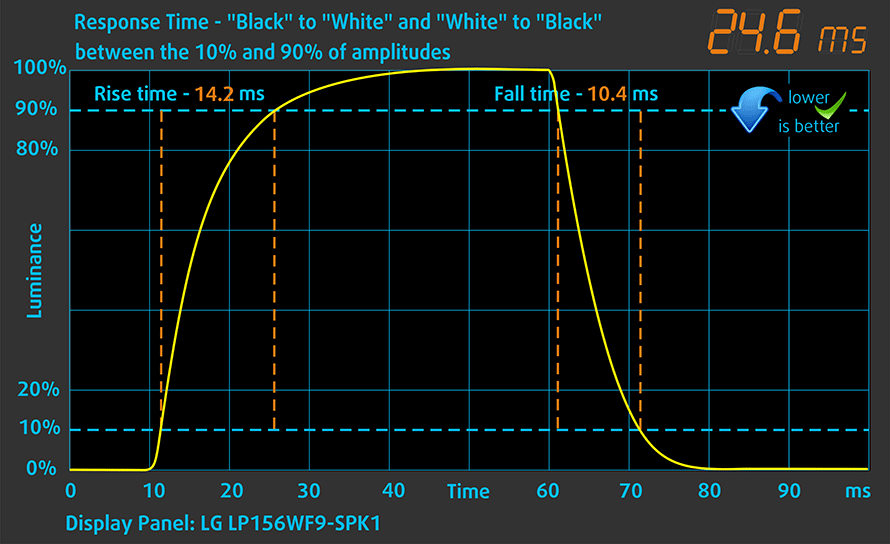 PWM (Screen flickering)
Pulse-width modulation (PWM) is an easy way to control monitor brightness. When you lower the brightness, the light intensity of the backlight is not lowered, but instead turned off and on by the electronics with a frequency indistinguishable to the human eye. In these light impulses, the light/no-light time ratio varies, while brightness remains unchanged, which is harmful to your eyes. You can read more about that in our dedicated article on PWM.
Lenovo Legion Y530 does not use PWM to control monitor brightness which makes it safe to use in the viewed aspect.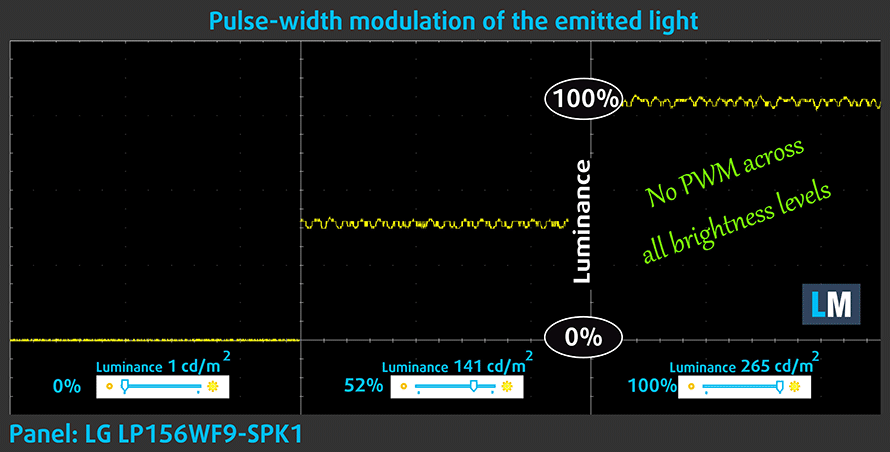 Blue light emissions
Installing of our Health-Guard profile not only eliminates PWM but also reduces the harmful Blue Light emissions while keeping the colors of the screen perceptually accurate. If you're not familiar with the Blue light, the TL;DR version is – emissions that negatively affect your eyes, skin and your whole body. You can find more information about that in our dedicated article on Blue Light.
You can see the levels of emitted blue light on the spectral power distribution (SPD) graph.
Conclusion
The display of Lenovo Legion Y530 has an IPS panel with Full HD resolution, comfortable viewing angles, good contrast ration, not bad max brightness, and it also lacks PWM. As a drawback, we can point the poor color gamut coverage.
Buy our profiles
Since our profiles are tailored for each individual display model, this article and its respective profile package are meant for Lenovo Legion Y530 configurations with 15.6″ FHD IPS LG LP156WF9-SPK1 (LGD0563).
*Should you have problems with downloading the purchased file, try using a different browser to open the link you'll receive via e-mail. If the download target is a .php file instead of an archive, change the file extension to .zip or contact us at bg.laptopmedia@gmail.com.
Read more about the profiles HERE.
In addition to receiving efficient and health-friendly profiles, by buying LaptopMedia's products you also support the development of our labs, where we test devices in order to produce the most objective reviews possible.
Sound
Lenovo Legion Y530 has a very good quality sound. The tone has slight diversions in the lows, mids, and highs.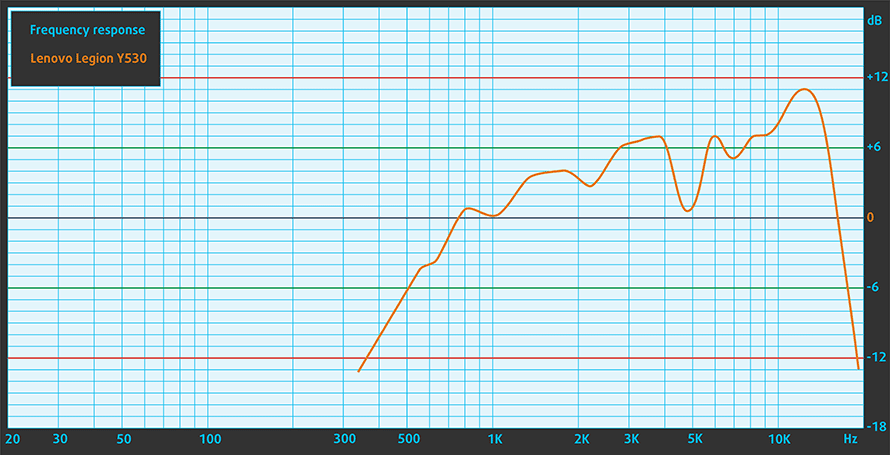 Drivers
In some countries, Legion Y530 may be sold without an OS for the sake of lower product price. If this is your case or you decide to install an OS anew, you can find all required drivers here:
https://support.lenovo.com/
Battery
If the table comparing the thickness and weight of Y530 and Y520 has lead you to believe that Lenovo has simply sacrificed the battery – you are wrong. On the contrary, the Y530 has a battery unit of 52.5Wh, which is 17% more in comparison to the case of Y520 (45Wh).
As always, the battery tests were run with Windows power saving setting turned and Wi-Fi turned on, and the screen brightness adjusted to 120 nits.
In order to simulate real-life conditions, we used our own script for automatic web browsing through over 70 websites.
For every test like this, we use the same video in HD.
We use F1 2017's built-in benchmark on loop in order to simulate real-life gaming.
Storage performance

Our configuration of Y530 was equipped with an Intel SSD 760p / PEKKW256G8L (256GB) M.2 PCIe NVMe module which performs pretty well in our read tests. When it comes to write speeds, it's not so commendable but the result is not bad either. You should also bear in mind that your laptop may come with a different SSD make and model.
| | | | | | | |
| --- | --- | --- | --- | --- | --- | --- |
| SSD model (240-256GB variants) | Max.Seq.Read (GB/s) | Max.Seq.Write (GB/s) | IOPS 4K Read | IOPS 4K Write | Latency Read (ms) | Latency Write (ms) |
| Intel SSD 760p / PEKKW256G8L (NVMe) | 2.35 | 1.03 | 13340 | 24671 | 0.047 | 0.048 |
| Toshiba THNSN5256GPU7 TO (NVMe) | 2.58 | 1.20 | 9521 | 27646 | 0.069 | 0.037 |
| Samsung SM951 (NVMe) | 2.24 | 1.29 | 11320 | 28450 | 0.057 | 0.034 |
| Samsung PM951 MZVLV2560 (NVMe) | 1.58 | 0.31 | | | 0.121 | 0.035 |
| SK Hynix SC300 (NVMe) | 3.19 | 0.91 | 11000 | 26180 | 0.060 | 0.053 |
CrystalDiskMark – Max.Seq.Read/Write; AS SSD – IOPS 4K Read/Write, Latency Read/Write
CPU options
At this point, Lenovo has prepared only two processors for Legion Y530 – the Core i5-8300H and i7-8750H chips. We won't be surprised, however, if in the future we see an AMD configuration but these two models are more than enough to satisfy the needs of gamers. Their performance is considerably higher than their predecessors' i5-7300HQ and i7-7700HQ, so it's unlikely that in the foreseeable future a game would have any issues with these chips.
Results are from the Cinebench 20 CPU test (the higher the score, the better)
Results are from our Photoshop benchmark test (the lower the score, the better)
Results are from the Fritz chess benchmark (the higher the score, the better)
GPU options
While Legion Y520 came with GTX 1050, 1050 Ti, or 1060 Max-Q, the new Y530 skips on the last, most powerful option. That is why we expect a GTX 1160 model soon. The configurations with GTX 1050 and GTX 1050 Ti will be available first, the latter being nearly 25% better in performance.
Both GPUs are typical representatives for mid-range machines, and their power is good enough for almost all 2018 games at Full HD and high details.
Apart from the GTX 1050 / 1050 Ti, Legion Y530 also features an Intel UHD Graphics 630, integrated into the Core i5-8300H and i7-8750H chips. It kicks in when there are not so graphically demanding operations to be made – this is how Y530 saves battery.
Gaming tests
Like we said, the Y530 has GTX 1050 and GTX 1050 Ti versions (when a Y530 with GTX 1160 appears on the market, we will add its results here). The GTX 1050 Ti is around 24% faster than GTX 1050 in our gaming tests. The greatest difference is at low settings in CS:GO, and the smallest – with Normal graphics in Far Cry 5.
Here is how games perform with these cards:




Grand Theft Auto V (GTA 5)
Full HD, Normal (Check settings)
Full HD, High (Check settings)
Full HD, Very High (Check settings)
GeForce GTX 1050 (approx.)
121 fps
62 fps
38 fps
GeForce GTX 1050 Ti
150 fps (

+24%

)
81 fps (

+31%

)
42 fps (

+11%

)
Far Cry Primal
Full HD, Normal (Check settings)
Full HD, High (Check settings)
Full HD, Very High (Check settings)
GeForce GTX 1050 (approx.)
50 fps
44 fps
35 fps
GeForce GTX 1050 Ti
60 fps (

+20%

)
54 fps (

+23%

)
44 fps (

+26%

)




Rise of the Tomb Raider (2016)
Full HD, Lowest (Check settings)
Full HD, Medium (Check settings)
Full HD, Very High (Check settings)
GeForce GTX 1050 (approx.)
80 fps
52 fps
24 fps
GeForce GTX 1050 Ti
108 fps (

+35%

)
64 fps (

+23%

)
32 fps (

+33%

)
Tom Clancy's Ghost Recon Wildlands
Full HD, Medium (Check settings)
Full HD, High (Check settings)
Full HD, Very High (Check settings)
GeForce GTX 1050 (approx.)
39 fps
36 fps
32 fps
GeForce GTX 1050 Ti
48 fps (

+23%

)
44 fps (

+22%

)
38 fps (

+19%

)
Temperatures and comfort
We have a new way of torturing laptops, and for gaming machines, it comprises of 100% CPU load plus real gameplay test (Rise of the Tomb Raider).

Max CPU load
In this test we use 100% on the CPU cores, monitoring their frequencies and chip temperature. The first column shows a computer's reaction to a short load (2-10 seconds), the second column simulates a serious task (between 15 and 30 seconds), and the third column is a good indicator of how good the laptop is for long loads such as video rendering.
Average core temperature (base frequency + X); CPU temp.
| | 0:02 – 0:10 sec | 0:15 – 0:30 sec | 10:00 – 15:00 min |
| --- | --- | --- | --- |
| Lenovo Legion Y530 [Sample] | 3.24 GHz (B+47%) @ 94°C | 3.20 GHz (B+45%) @ 94°C | 2.97 GHz (B+35%) @ 94°C |
| Acer Nitro 5 | 2.89 GHz (B+31%) @ 72°C | 2.71 GHz (B+23%) @ 78°C | 2.52 GHz (B+15%) @ 74°C |
| ASUS TUF FX504 | 2.59 GHz (B+18%) @ 71°C | 2.64 GHz (B+20%) @ 82°C | 2.46 GHz (B+12%) @ 74°C |
| Alienware 15 R4 | 2.86 GHz (B+30%) @ 93°C | 2.32 GHz (B+5%) @ 74°C | 2.31 GHz (B+5%) @ 66°C |
| ASUS ROG GL503GE | 2.89 GHz (B+31%) @ 66°C | 2.89 GHz (B+31%) @ 69°C | 2.53 GHz (B+15%) @ 71°C |
Legion Y530 did great in terms of performance. However, there is something causing us to doubt. The unit we have is a review sample, and it's clear that the low CPU temp is sacrificed for the sake of higher frequency. In other words, this leads to higher performance and lowered reliability. The scenarios are two:
1. The sample has been modified so that it would perform better than its competitors, and the retail units will be with somewhat lowered performance and lower temps.
2. Lenovo has figured that the processor will be put to the extreme rarely and for a short period of time, and that's why they've allowed for higher temps with the idea of quicker performance in short tasks.
The first scenario is not quite fair and might cause disappointment. The second one we liked – few are the people who would depend on a laptop for video rendering, and 99.9% of the time its tasks would take seconds.
We intend to purchase a retail unit when Y530 appears on the market and put it to the same tests. Then we will update this part of our review.
Real gameplay
The test here is longer. The GPU is engaged at its max performance, trying to process as many frames per second as possible.
| | GPU frequency/ Core temp (after 2 min) | GPU frequency/ Core temp (after 30 min) |
| --- | --- | --- |
| Lenovo Legion Y530 [Sample] | 1696 MHz @ 72°C | 1683 MHz @ 75°C |
| ASUS ROG GL503GE | 1696 MHz @ 74°C | 1671 MHz @ 83°C |
In comparison to the previous test, everything seems quite normal here. The temps and performance are okay. Leigon Y530 surpasses the ASUS ROG GL503GE in both aspects.
Gaming comfort
After continuous gaming, you will find the hottest point along the surface to be around the O and P buttons where the temp reaches 55°C – not a low value but it won't cause any problems.
Verdict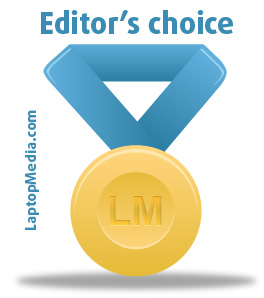 Lenovo Legion Y530 surprised us pleasantly in many respects. Firstly, we were fascinated with the small form factor – albeit with a plastic body, the machine is lighter, thinner and smaller than its predecessor (and most competitors). Despite this, Lenovo has managed to integrate a decent number of ports and has positioned them cleverly. As it is traditional for Lenovo series, we were presented with a good keyboard that has big keys, long travel, and enough space for the arrows.
Legion Y530's display is very good for gaming but not suitable for color editing, so if the latter is a priority, it's good to consider an external monitor too. A good news here is that there is no PWM for brightness control, and if you want even better care for your eyes, you could use our Health-Guard profile.
Additionally, Legion Y530 also impressed us with its bigger battery despite the smaller size. The unit holds up for almost 6 hours after a single charge.
The cooling system allows for very high CPU performance which goes together with high internal temperatures, but like we said, we would like to test a retail unit so as to express a final opinion on this question.
You can check the prices and configurations in our Specs System: http://laptopmedia.com/series/lenovo-legion-y530/
Pros
Lightweight, compact with thin bezels
Comfortable port distribution
Comfortable keyboard with big arrows
IPS display with high contrast and good viewing angles (+ 144 Hz display panel option)
Lack of PWM
Long battery life
Good cooling system
Cons
Plastic body
Poor sRGB coverage, inaccurate colors (for the LGD0563 version)