Toshiba Satellite Click Mini (L9W-B-102) review – budget tablet that brings laptop-like experience

With the ever growing interest in convertible and 2-in-1 devices, it's nice to see some budget variant surfacing on the market for a change. We say this because we've got the new Toshiba Satellite Click Mini with us, which will surprise you with an affordable price and compelling features. It's practically a tablet with an external docking station that has an extra USB port, small physical keyboard, and secondary battery when needed.
Despite its low price, the Satellite Click Mini features 8.9-inch IPS LCD display, long battery life, and lightweight, compact design. The best thing about this device is that you have the choice carrying only the tablet when you don't need the keyboard or bring it along if you need to get some more work done. As usual, we've tested the Satellite Click Mini to see how it handles the various battery tests, performance tests, screen tests and see how it performs under real-life conditions as a daily driver.
Contents
Retail package
The device comes in a small package that has the usual AC adapter, USB cable for charging and connection as well as the usual user manuals.
Design and construction
Toshiba Satellite Click Mini features all-plastic exterior in two main parts – the main tablet body and the docking station. Due to its price is quite obvious that Toshiba can't take the luxury of using more premium materials and we fully understand that.
Let's begin with the tablet and more specifically – the back side. It's covered in white, matte plastic with nothing out of the ordinary, whatsoever. There's the usual Intel sticker reminding you that it's an Atom CPU inside the machine, Toshiba's logo, and 5MP camera sensor. The other side of the tablet is placed the 2MP front-facing camera and the 8.9-inch Full HD display which leads us to our main complaint – huge screen bezels. The screen to body ratio is so bad that the bezels around it can easily distract you when watching a video or working. Just by looking at the device you can easily draw a conclusion that a 10.1″ panel will fit perfectly. However, this might be due to some design limitations or keeping the cost of the device as low as possible.
The sides of the tablet, however, are relatively thin measuring at 9.8 mm or 19.9 mm for the whole system. The left side packs the Windows power key, microSD card slot, mini HDMI, loudspeaker at the bottom, 3.5 mm jack for headphones and micro USB port for charging and file transfer. The other side has the power button, volume rocker, and loudspeaker. The bottom profile features only three little holes – two of them are for the docking station and the middle one connects to the docking station.
Speaking of which, the docking station also has its perks and flaws. It's relatively thin and contains an extra USB 2.0 port, that would have been better if it was 3.0. Next to it is the full-sized SD card reader. The interior, on the other hand, is much more appealing. It seems that Toshiba is being true to its design signature, judging by past portable devices and we are talking about the keyboard. Indeed, it's small and can't provide comfortable typing experience for long periods, but the designers have done their best. The keyboard extends to both sides of the docking station in order to fit bigger keys. We do noticed, however, that the keyboard is more flexible than it should. The chassis bends even under the smallest pressure.
Despite its touch capabilities, though, Toshiba has included a fully functional touchpad which feels responsive and has great mouse button clicks without excessive wobbling. In fact, there's no wobbling at all and we found it to be even better than most of the low-end notebooks we have reviewed. Right above the keyboard is located a small button that releases the tablet from the docking station. It's easy to detach both parts, but not as easy as the Aspire Switch 12, which needs no releasing buttons at all. The hinge, on the other hand, feels a bit tight and the mechanism that keeps the tablet in place is a bit loose, but nothing too frightening.
We are overall happy with the construction and build quality. It is absolutely what we've expected from a budget device and we didn't find any major irregularities, dents, spaces and etc. Toshiba could have done a better job with the flexible keyboard, though, as some of you may find this a big drawback when traveling around with the docking station.

Display and sound
Toshiba Satellite Click Mini uses Full HD IPS (1920×1200) multi-touch display with 8.9-inch panel and screen ratio of 16:10. The pixel density is 254 PPI (pixels per inch) and the space between each pixel is 0.0998 x 0.0998 mm. The screen becomes "Retina" when viewed from at least 36 cm.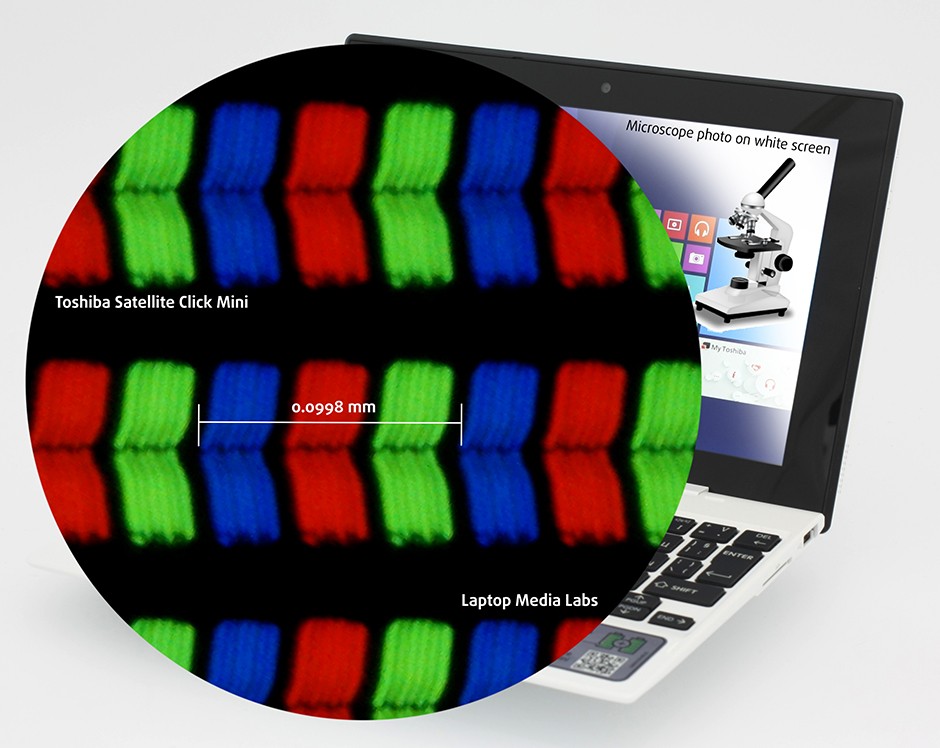 Here is the image quality when viewed from 45-degree angle.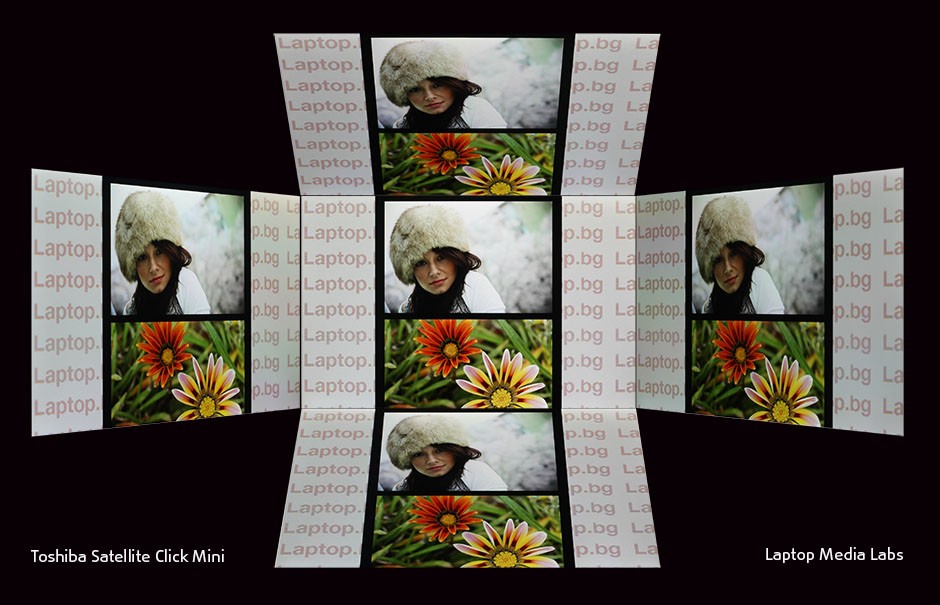 The average value of the maximum brightness is 326 cd/m2 with a maximum deviation of just 6%. The color temperature we were able to measure is 7254K which is relatively close to the optimal one of 6500K (D65) – images will appear a bit cold. There aren't any unacceptable deviations on the surface.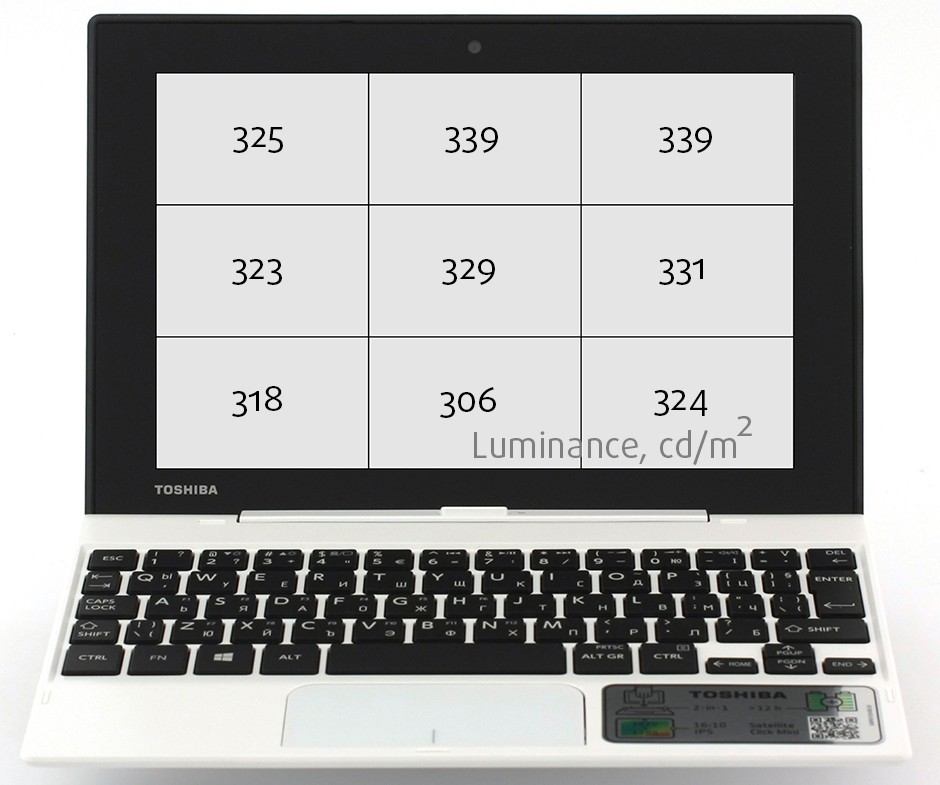 Color gamut coverage (CIE)
The panel provided here covers 67% of the sRGB and 48% of the Adobe RGB color gamut. This is surprisingly low for an IPS panel, though.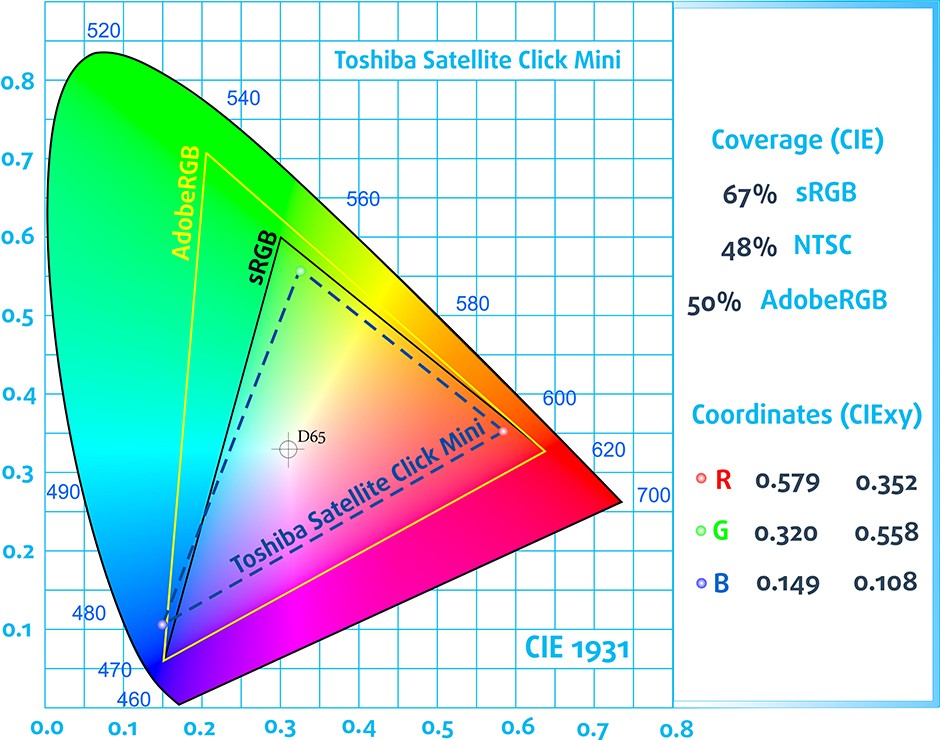 The measured tone response curve (gamma) has an insignificant deviation from the optimal one (2.20). Medium dark images will appear a bit brighter than usual.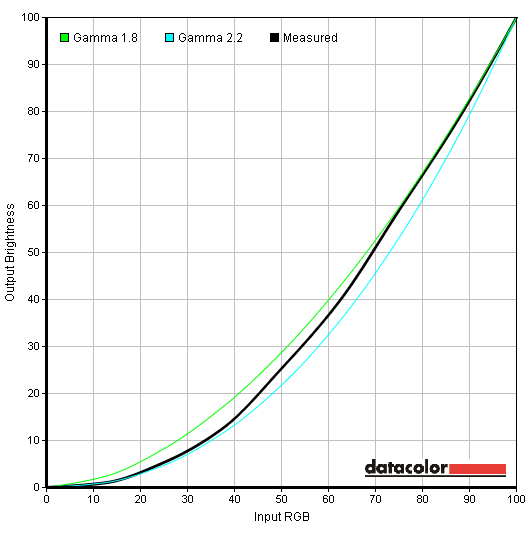 Color reproduction
We calibrated the display at 140 cd/m2 (37%) and measured the contrast – 800:1. The calibration has been done with two different software (X-Ritei1Display Pro and Datacolor Sypder4ELITE).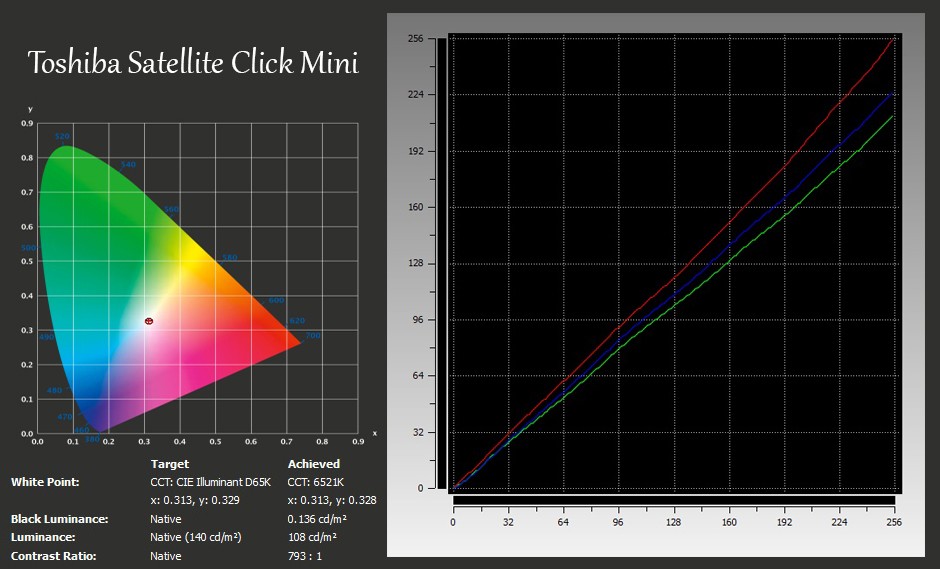 Colors appear to be quite accurate.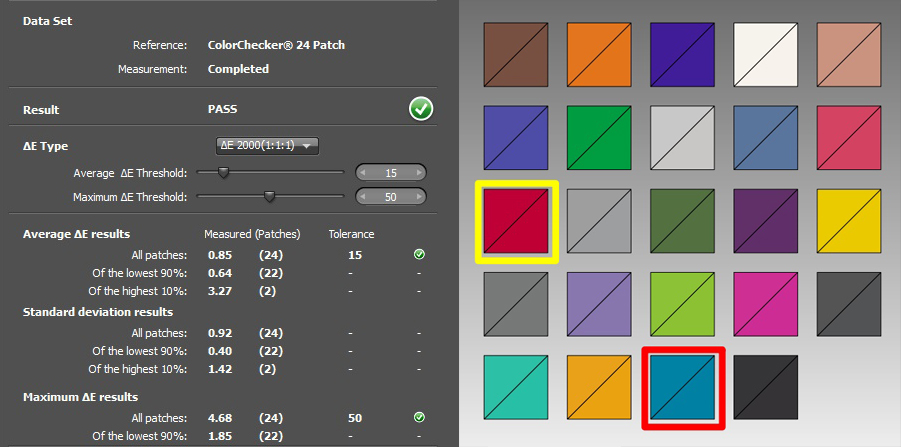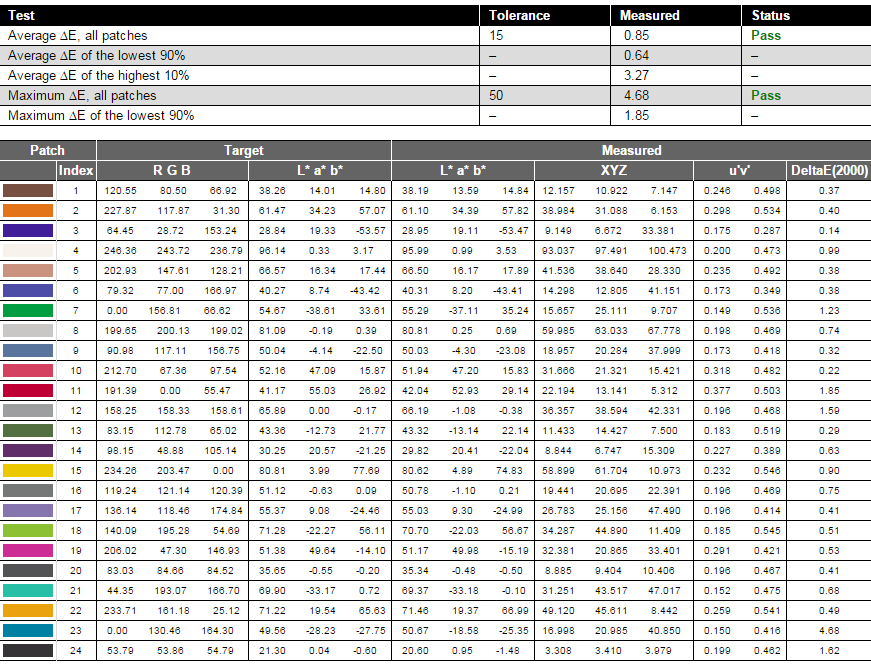 You can see the results from the second calibration.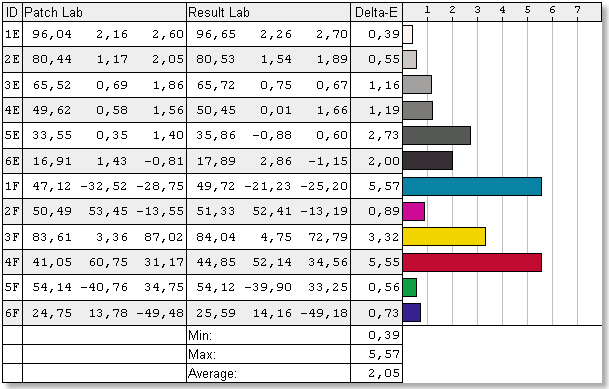 All color reproductions can be seen on the color map below.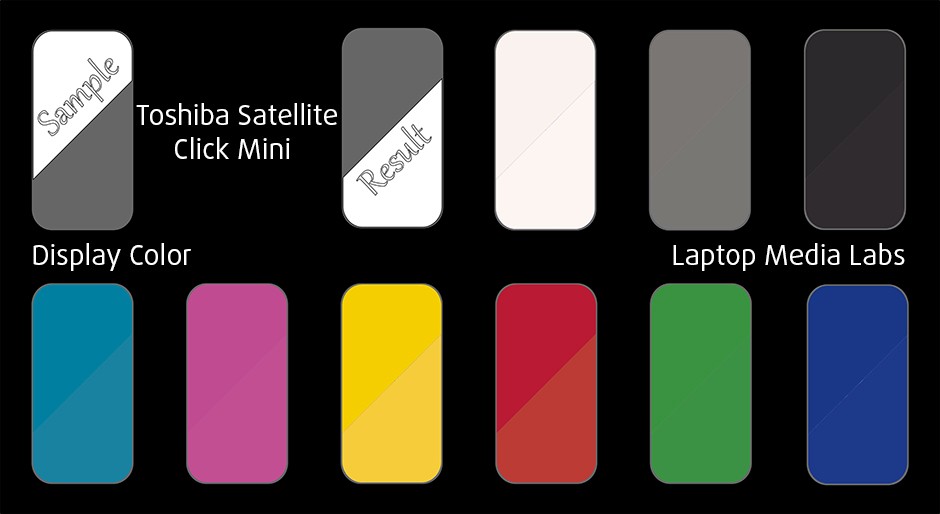 Pulse-width modulation (PWM, Screen flickering)
The emitted light from the screen isn't aggressive and can be considered as harmless to the user. The frequency is undetectable to the human eye, despite the brightness level.

Gaming capabilities (Response time)
We recorded the refresh time of the pixels from black to white and white to black for 10 to 90%. So we were able to measure Fall Time + Rise Time = 24 ms, which is more than 3 times the response time a TN panel would reach. But the TN panel cannot be compared to an IPS panel in terms of image quality.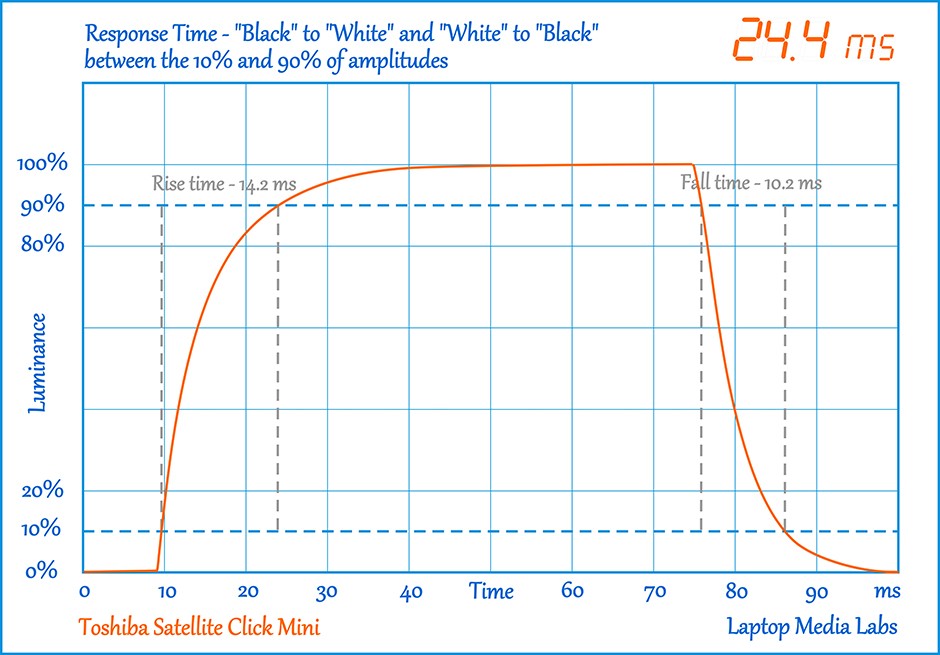 Conclusion
Toshiba used a relatively good budget IPS panel for the tablet. It has good properties like wide viewing angles, it's harmless to your eyes, it's bright enough and has relatively good contrast ratio. Our only complaint, however, is the poor sRGB color gamut coverage.
Sound
Toshiba Satellite Click Mini offers good sound quality due to its stereo Dolby Digital Plus loudspeakers. High pitch sound frequencies are clear and it supports lower frequencies too. It produces sound waves from +/-6 dB and has a peak at 4 kHz.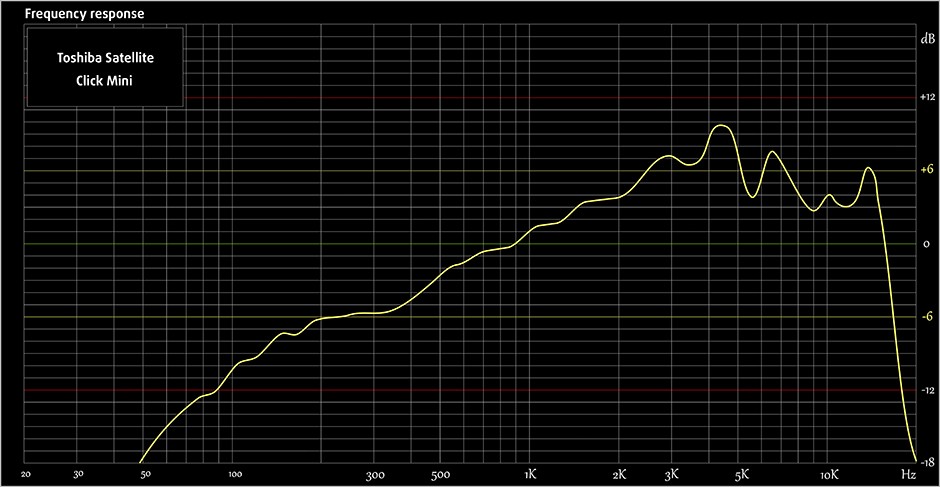 Specs sheet
The technical specifications listed below are for the current model we've tested and may vary depending on your region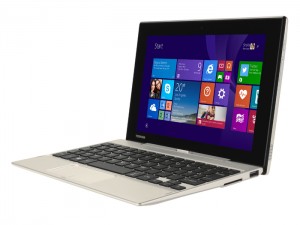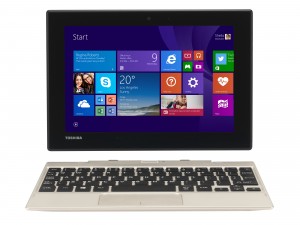 Processor
Intel Atom Z3735F (4-core, 1.33 – 1.83GHz, 2MB cache)
RAM
2GB (1x 2048MB) – DDR3, 1333MHz
Graphics card
Intel HD Graphics (Bay Trail)
HDD/SSD
32GB SSD
Display
8.9-inch (22.6 cm.) – 1920×1200 (Full HD), multi-touch
Optical drive
–
Connectivity
Wi-Fi 802.11b/g/n, Bluetooth 4.0
Other features

1x USB 2.0 (docking station)
1x micro USB 2.0 (tablet)
5 MP Full HD camera
2 MP Full HD camera (front-facing)
built-in microphone
1x micro HDMI (tablet)
1x 3.5 mm jack for headphones and microphone(stereo)
1x SD card reader UHS-I (docking station)
1x micro SD card reader (tablet) with UHS

Battery
19.5Wh Li-Polymer Battery in the tablet + 19.5Wh Li-Polymer Battery in the docking station
Thickness
9.8 mm (0.39″)
Weight
0.99 kg (2.18 lbs)
Toshiba Satellite Click Mini (L9W-B-102) configurations
Software
As this device comes with pre-installed Windows 8.1 (32-bit version) and Toshiba doesn't provide the needed drivers, so you cannot perform a clean install of the operating system.

Battery
The tablet is equipped with a 19.5Wh battery that should be enough for a full day with normal use like browsing, typing and etc. The display, as well as the SoC, shouldn't be too demanding when it comes to power consumption, but at least you can rely on at the docking station as it also has a built-in battery – again 19.5Wh. That being said, we can easily say that you will double your battery performance if you bring along the docking station. The downside, however, is that the battery takes too long to recharge, because it gets its juice from a micro USB 2.0 port on the tablet. Furthermore, the AC adapter seems to charge slower due to the 2.0 A output power. We ran our usual tests with all of them sharing the same conditions – Wi-Fi turned on, Bluetooth is off, and screen brightness is set to 120 cd/m2.
Web browsing
In order to simulate real-life conditions, we used our own script for automatic web browsing through over 70 websites.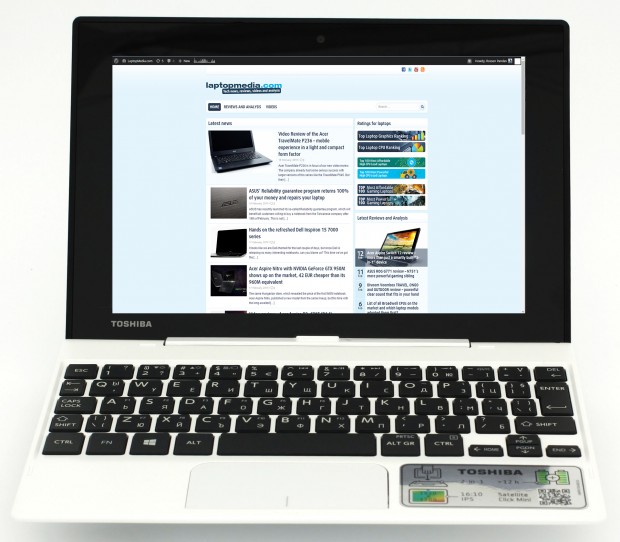 We were expecting a bit better result somehow – just 339 minutes of web browsing including both batteries (5 hours and 39 minutes).
Watching a movie
For every test like this, we use the same video in HD.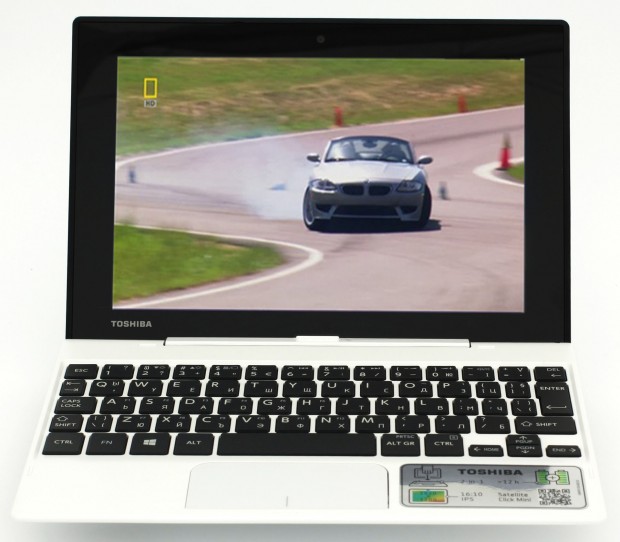 Similar result – 362 minutes (6 hours and 2 minutes).
The results above are somehow subpar and despite the energy-efficient hardware and two batteries the Toshiba Click Mini didn't show good battery performance. If you rely only on the tablet, divide the results given above by two. It is interesting to note that when using the device, the first battery to discharge is the one in the docking station and when charging the tablet goes first.

CPU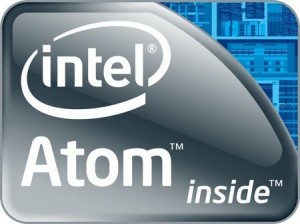 The Intel Atom Z3735F is power-efficient quad-core SoC by Intel and it's aimed to be used for budget tablets or 2-in-1 devices. The SoC supports both Android and Windows operating systems and it's part of the Bay Trail-T platform. It is produced on a 22nm manufacturing process. The CPU is clocked at 1.33GHz and can go up to 1.83GHz due to the Burst frequency technology, but it also lacks the so-called HyperThreading feature we saw in the previous generation Atom processors, so users can rely only on the 4 physical cores instead of the additional 4 virtual.
The SoC also comes with Intel HD Graphics (Bay Trail) GPU based on Gen 7 architecture from Intel. It's important to note that the graphics processor supports DirectX 11 and has 4 EUs (Execution Units). The clock speed is set to a maximum of 646MHz. The entire SoC is rated ar little less than 4W and the SDP is 2.2W and this makes it perfect for tablets or other devices that use passive cooling system.
You can browse through our top CPUs ranking: http://laptopmedia.com/top-laptop-cpu-ranking/
Here you will find other useful information and every notebook we've tested with this processor: http://laptopmedia.com/processor/intel-atom-z3735f-2/
Results are from our Photoshop benchmark test (the lower the score, the better)
Results are from the Fritz chess benchmark (the higher the score, the better)
GPU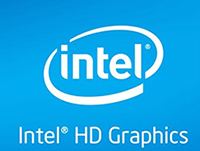 Intel HD Graphics (Bay Trail) is a graphics controller, integrated into some Atom chips (e.g. Atom Z3740) but is mostly targeted at tablets. It is based on the Ivry Bridge architecture but only has four execution blocks.
When compared to mobile graphics solutions, HD Graphics (Bay Trail) performs much like the Adreno 320 or the Tegra 4. Compared to laptop graphics, Bay Trail would be placed just below the HD Graphics (Sandy Bridge).
The performance of the Bay Trail graphics is sufficient for a 2560×1600 resolution, allowing for gameplay of some older titles or just less graphically intense titles like FIFA 13.
You can browse through our top GPUs ranking: http://laptopmedia.com/top-laptop-graphics-ranking/
Here you will find other useful information and every notebook we've tested with this GPU: http://laptopmedia.com/video-card/intel-hd-graphics-bay-trail-spodelena-pamet/
Results are from the 3DMark: Fire Strike (Graphics) benchmark (higher the score, the better)
Verdict
Toshiba Satellite Click Mini is a really lucrative 2-in-1 budget device that has some considerable features. The overall build quality is good, but nothing too special as the Japanese company has kept the costs low as possible to deliver the device at around €300. Judging by the hardware, a significant amount of your money is going for the license fees for the pre-installed Windows 8.1. The SoC has been introduced last year, but yet meets the expectations the average users would expect. The internal memory isn't a lot, but the device does offer two different SD card slots (microSD on the tablet and full-sized SD card reader on the docking station). One a side note, the docking station accommodates an extra USB 2.0 port and a capable touchpad with flawless performance. Not to mention the additional battery. However, we weren't happy with the too flexible keyboard – the build quality there is subpar. Also, the keys offer shorter travel than they should for a comfortable use.
The screen quality is also good and rarely matched at this price range. The budget IPS panel is harmless to your eyes, it has wide viewing angles, it's bright enough and has a good color reproduction. Nevertheless, the whole visual experience is ruined due to the huge screen bezels. The 8.9-inch diagonal could have easily been 10-inch. So our final thoughts on the device are mainly positive and, to be honest, for €300 you get a bonus docking station with extra battery and physical keyboard – something you can rarely see in budget tablets.
Pros
Docking station with physical keyboard and extra battery
IPS panel with good properties
Useful peripherals and ports like mini HDMI, two SD card slots, and full-sized USB port
Lightweight and compact design
Cons
Too big screen bezels
Flexible keyboard
Slow battery charging