[Comparison] AMD Ryzen 5 4600H vs Intel Core i7-1065G7 – the Ryzen is nearly two times better in 3D Rendering but slightly worse in Photoshop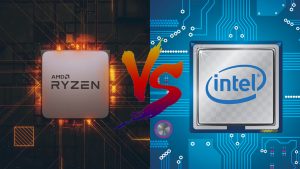 In the old days, a 7-series processor was always better than a 5-series processor. Today we are presenting an interesting comparison, we are putting a mid-range CPU in the AMD Ryzen 5 4600H against a more high-end Intel Core i7-1065G7, in order to see if the old rules still apply.
Ryzen 5 is sporting the Zen2 microarchitecture and has 6 cores and 12 threads, while the Core i7 is a little bit more old school, featuring the same 4-core, 8-thread design. In terms of clock speeds, the AMD offering has a base clock of 3.00 GHz that can go up to 4.00GHz when needed. On the Intel side, the Core i7 has a way smaller base clock of 1.30GHz, but it comes fairly close with its boost clock of 3.90GHz.
You can learn more about both CPUs here: AMD Ryzen 5 4600H / Intel Core i7-1065G7

Specs table
| | AMD Ryzen 5 4600H | Intel Core i7-1065G7 |
| --- | --- | --- |
| Cores / Threads | 6 / 12 | 4 / 8 |
| Base / Max frequency | 3.00 – 4.00 GHz | 1.30 – 3.90 GHz |
| Cache | 8 MB Cache | 8 MB Cache |
| TDP / up / down | 45W / 54W / 35W | 15W / 15W / 15W |
| Memory support | DDR4-3200MHz, LPDDR4-4266MHz | DDR4-3200MHz, LPDDR4-3733MHz |
| Integrated graphics | AMD Radeon RX Vega 6 (Ryzen 4000) | |
CPU benchmark
For our first test, Cinebench 15 rendering, the Ryzen 5 came swinging and managed to defeat its Intel rival by being nearly twice as fast. In our second test, we run both processors through Adobe Photoshop rendering. Here the Core i7 won, albeit by a negligible 3%.
Results are from the Cinebench 20 CPU test (the higher the score, the better)
Results are from our Photoshop benchmark test (the lower the score, the better)
Conclusion
Both CPUs are great for productivity, with the Ryzen winning clearly when it came to 3D Rendering and the Intel being slightly better when it came to Photoshop. At the end of the day, you have to decide for yourself which you value more. Also keep in mind, that the Ryzen 5 4600H has a significantly higher TDP limit, and will be able to keep it boost longer. However, it will need a better cooling solution.
You can take a look at both CPUs in our Top Laptop CPU Ranking.

All laptops with the AMD Ryzen 5 4600H:
All laptops with the Intel Core i7-1065G7: