Best GTX 1070 Gaming Laptop Deals – Black Friday / Christmas 2017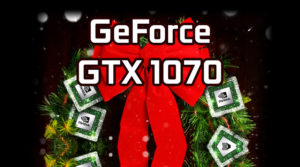 The holiday season is on its way and all the usual sales that come with it are already appearing. We did another article on some of the best deals on budget gaming notebooks equipped with a GTX 1050 Ti or GTX 1060 and now it is time to step thing up a notch and move to more serious gaming machines.
Today we are going to present you with a list of some of the best offers on notebook featuring the NVIDIA GeForce GTX 1070 graphics cards. Note that the prices and availability change from day to day and sometimes even more frequently than that so the information we display might not be 100% accurate.
You can check the detailed specs of the following and other notebooks in our Laptops Specs system.

15.6-inch models
MSI GE63 RAIDER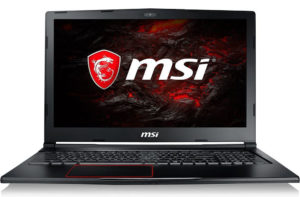 We have divided the article into two sections. One for the 15.6-inch models and one for the larger 17.3-inch ones. Starting off with the 15.6-inch models, the first one to make it on our list is the MSI GE63 RAIDER.
Its best selling point is the GTX 1070 which should not be much of a surprise. It is equipped with the Core i5-7300HQ processor which is plenty for casual gamers but other models will offer a Core i7 CPU. The CPU is backed by 8GB of DDR4 RAM while some competitors offer double the amount but nonetheless, the price compensates.
Something cool about the MSI GE63 RAIDER is its weight – 2.20 kg (4.9 lbs) including the big 51Wh battery making it quite portable.
ASUS ROG GL502VS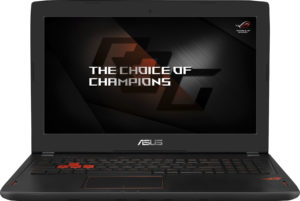 Second on our list is the ASUS ROG GL502VS. This one comes at a little bit higher price but offers the Core i7-7700HQ and 16GB of RAM. It is a bit heavier than the GE63 RAIDER but offers a bigger 62Wh battery.
The ASUS ROG GL502VS uses an IPS panel with Full HD (1920 x 1080p) resolution and 88% sRGB coverage. It uses PWM to regulate the brightness levels but the frequency is very high so the negative effect is brought down to a minimum.
The GL502VS is a model that we have tested and reviewed so you can take advantage of our custom-tailored display profiles to further enhance your experience.
Acer Predator 15 (G9-593)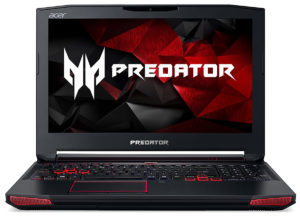 Nex on our list is the Acer Predator 15 (G9-593). It is a bit older device equipped with a 7th generation Core i7-6700HQ. It was one of the first gaming notebooks to ship with the GTX 10 series GPU and it is still a viable option. One good feature of the Predator 15 is the amazing keyboard and trackpad it provides.
Like most other older models, the Predator 15 is a bit to the heavy side measuring at 3.70 kg (8.2 lbs) which is just too much compared the sub 2kg models on the market. However, it packs a huge 88.8Wh battery unit.
You can check further details in our detailed review.
17.3-inch models
ASUS ROG GL702VS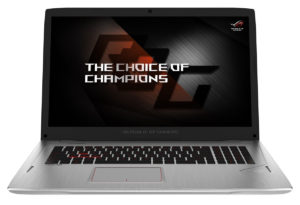 The first 17.3-inch model that we will take a look at is the ASUS ROG GL702VS. it comes equipped with an Intel Core i7-7700HQ processor and 16GB of DDR4 RAM. All this is housed in a 2.90 kg (6.4 lbs) aluminum chassis including a large 76Wh battery making the notebook rather portable for a 17.3-inch device.
The ASUS ROG GL702VS comes with an IPS panel with Full HD (1920 x 1080p) resolution with 88% sRGB coverage and NVIDIA G-Sync technology support for a better viewing experience during gaming.
Another likable feature is the addition of a Thunderbolt 3 port. You can check out our detailed review over here.
Acer Predator 17 (G9-793)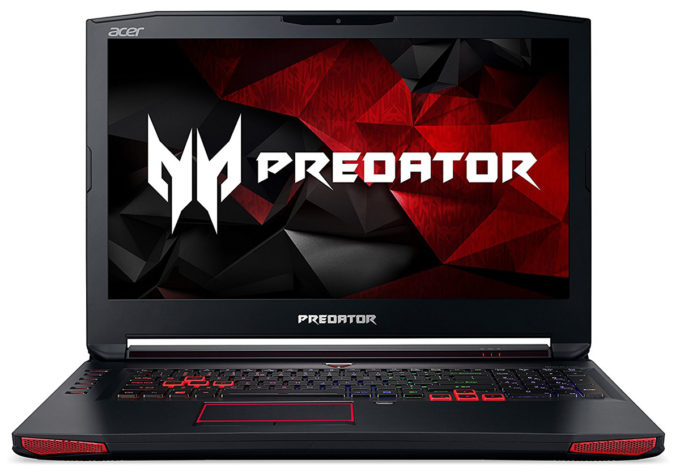 Second in the 17.3-inch category is the bigger brother of the Predator 15 (G9-593) – the Predator 17 (G9-793). Unlike its brother, the Predator 17 comes with a more modern 7th gen Intel Core i7-7700HQ processor. The other hardware is the same but the Predator 17 strikes with its display.
The 17.3-inch IPS panel covers not only 100% of the sRGB color but also the full range of the Adobe RGB space too. It is also completely PWM-free thus making it ideal for long periods of use and even color-sensitive work. Of course, it also has a native G-Sync support. You can read further analysis and check out our display profiles in the detailed review.
HP Omen 17 (GTX 1070)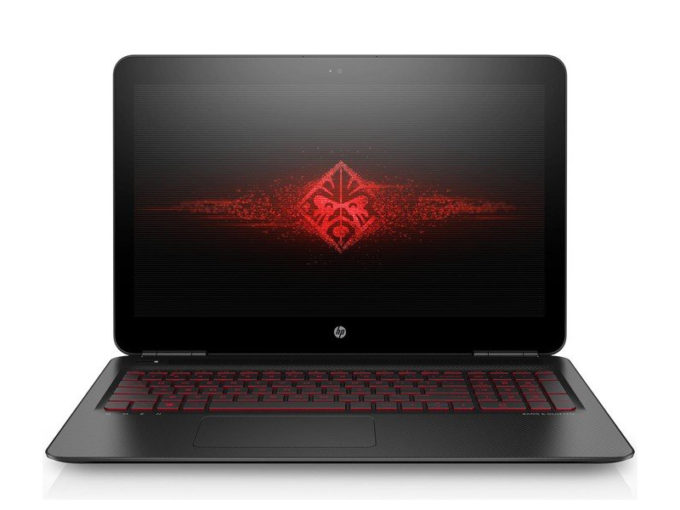 HP does not have such a good reputation in the gaming segment as other manufacturers but lately, it has shown that its Omen line is perfectly capable of gaming.
The Omen 17 is a lightweight 17.3-inch gaming notebook – just 2.75 kg (6.1 lbs) including a monstrous 95Wh battery. Other than that, the Omen 17 features the usual hardware. The screen has a decent color coverage and quality but one of its features is something to consider.
It has a slightly higher refresh rate than most other competitors. While the usual refresh rate we see it 60Hz, the Omen 17 features 75Hz which combined with the G-Sync technology will provide tear-proof gaming experience even in fast-paced titles.
Gigabyte P57X v7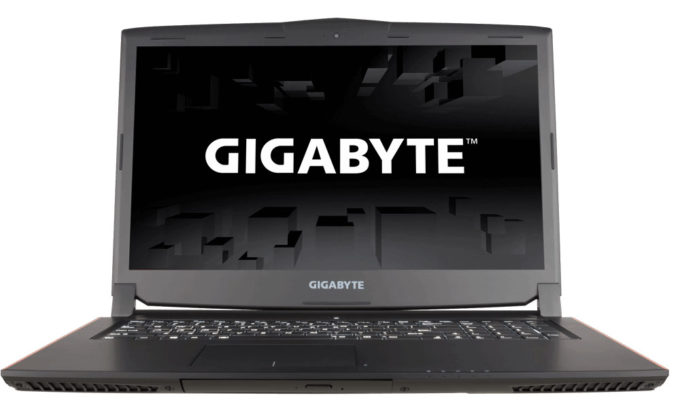 Gigabyte is a brand which notebooks are not very popular but offer some high-end specifications. The P57X v7 is no exception. It offers the usual hardware in a good-looking chassis at an affordable price. One interesting offer is the free 3-month XSplit Gamecaster + Broadcaster Premium license you get with the notebook. This way live streaming and gameplay recording has never been easier. A free 90-day TriDef SmartCam License is also listed. However, check with the manufacturer about further details about the promotions.
The P57X v7 gives you all the storage options you need. You get one M.2 slot that supports NVMe SSDs and not one but two 2.5-inch SATA slots that support up to 2TB HDDs each. One of the 2.5-inch slots is swappable so you can swap in a DVD or other optical drive.