[Video Review] HP 470 G9 – Great screen, bad performance
HP 470 G9 in-depth review
The 470 G9 has always been a laptop that arrives at a slightly higher price than everyone expects. However, its strongest advocate is the fantastic display it has historically arrived with. It has to be said that HP still offers the device with a 1600x900 TN panel as a base option, and a Full HD IPS unit with unenviable color coverage as a compromise solution. On the other hand, it always gets the latest hardware available. In this case, it is the 15W Alder Lake processors. And if you want the large 17.3-inch display to play games, you can configure the laptop with the NVIDIA GeForce MX[...]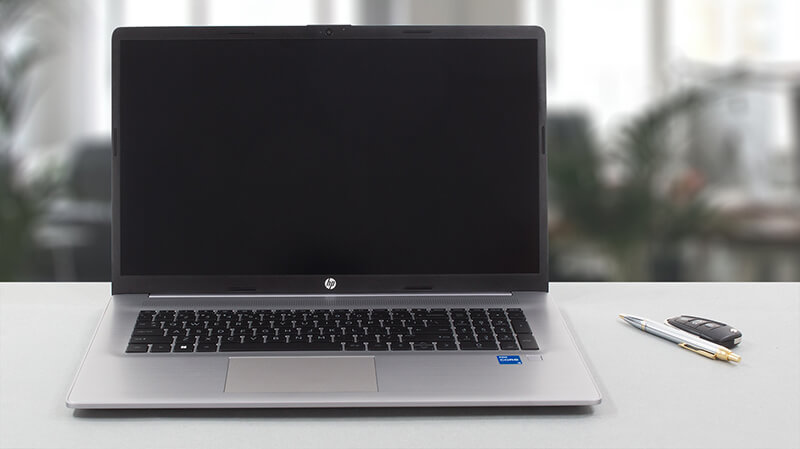 Pros
2x SODIMM, 1x M.2 PCIe x4, 1x 2.5-inch SATA (optional)
Optional fingerprint reader
98% sRGB coverage and accurate colors with our Gaming and Web design profile (AUO B173HAN04.3 (AUO439D))
No PWM (AUO B173HAN04.3 (AUO439D))
Thin and light
Cons
Plastic build with mediocre quality
No SD card reader
USB Type-C without DisplayPort output
Unimpressive battery life
The CPU can't Turbo
AUO B173HAN04.3 (AUO439D)
HDD/SSD
up to 4000GB SSD + up to 1000GB HDD
OS
Windows 11 Pro, No OS, Windows 11 Home
Body material
Plastic / Polycarbonate
Dimensions
400.7 x 257.8 x 19.9 mm (15.78" x 10.15" x 0.78")
2x USB Type-A
3.2 Gen 1 (5 Gbps)
1x USB Type-C
3.2 Gen 1 (5 Gbps)
Audio jack
3.5mm Combo Jack
Fingerprint reader
optional
Web camera
HD with Temporal Noise Reduction
Backlit keyboard
optional
Microphone
Dual Array Microphones
All HP 470 G9 configurations
#CommissionsEarned
The HP 470 G9, not the ProBook 470 G9, can be used for business work, however, with the large 17.3-inch display, we think it's more suitable as a daily driver. While not the most affordable out there and with some questionable display choices, including a 1600 x 900p TN panel, it still has three great reasons for you to buy it, Stay with us to find them out!
[Intro]
On the outside, the laptop comes with an all-plastic design that's entirely painted in silver, which is the standard color for any laptop, along with black. It certainly looks good when paired with sharp edges and rounded corners. As for build quality, there is some flex from both the lid and the base, but we wouldn't worry much. Lastly, this is one of the most portable 17.3-inch devices on the market, weighing only 2.08 kg and having a profile of just 19.9mm.
[Input devices]
The lid can't be fully opened with one hand, but it does act as a lever, raising the backside by a little bit, which does help the cooling and ergonomics. The keyboard is fantastic, offering long key travel and clicky feedback. As for the touchpad, it's not the biggest, despite the free real estate that's available.
[Ports]
The port selection does cover most of what you might need. The left side has a 5-gigabit full-sized USB port, an HDMI 1.4b port, a 5-gigabit Type-C USB port, and an audio jack. On the right, there are some status LEDs, one more full-sized USB port of the same speed, and a power plug.
[Display]
While a TN panel is available, we want to go for something better, which in this case means an FHD IPS panel. The unit reaches 310 nits of peak brightness while covering 98% of the sRGB color gamut and delivering excellent accuracy with our Design and Gaming profile, with a delta E value of just 1.0.
Our profile can be purchased through the link in the upper right corner or in the description below the video.
[Battery]
Despite there being a decent amount of space in this 17.3-inch laptop, HP stuffed a relatively small 41Wh battery pack. When paired with the Core i5-1235U, it lasts for only 5 hours and 41 minutes of Web browsing, or 4 hours and 44 minutes of video playback.
[Performance]
The Core i5 doesn't do well inside the laptop, getting outperformed by the Ryzen 5 5500U, a Zen 2 CPU, while the newer Ryzen 5 5625U puts it in the mud. Even some quad-core models from last year's Tiger Lake family run past it.
[Cooling]
Once we put the device through our stress tests and we see why that is. The single heat pipe and one fan setup should be alright, however, HP doesn't allow the CPU to turbo boost beyond its 15W base wattage, which means there's lost performance on the table, as temps are really low at just 64°C
On the other hand, that makes it really comfortable, as there's almost no noise and heat coming off from the base.
[Teardown and upgradeability]
One area where the laptop excels is upgradeability. There are two SODIMM slots for DDR4 memory, along with one M.2 slot and space for a 2.5-inch SSD.
We have a separate teardown video that shows how to access both the RAM and storage slots.
[Verdict]
The HP 470 G9 can be a fantastic offering with a simple tweak to the power management, so HP better catch up on this review, it might just make them a new best seller. Still, for people who want a laptop to watch movies and enjoy the precious display, a device in this form is more than suitable. Plus, it has an excellent keyboard and it's really portable for its size!
For more information about the HP 470 G9, go to our website where we have price listings and more test results for you to see.