[18 April 2019] The new laptops on the market today – feat. Chimera G703 with i9-8950HK, RTX 2080, 64GB RAM and 6TB SSD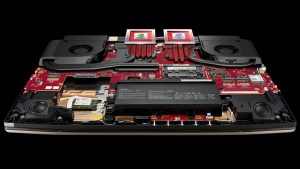 We're scanning the laptop market every day, we find all new offerings, we check their specs and we add them to our Spec System. They're sorted by price and clicking the button "More info" will lead you to their in-depth model pages.
If you want to learn more about the performance of their CPU or GPU, just click on their model names and you'll go straight to their dedicated pages with tests, benchmarks, gameplay videos and more.
The title has already spoiled the best one but let's start from the cheapest addition – Dell Inspiron 11 3180. This little friend has an AMD A6-9220 CPU proudly shining in Top 200 on our Top Laptop CPU Rankings (okay, okay, at the #199 place). The 11-incher also has 32GB of eMMC storage and an impressive amount of RAM – 8GB, given the price of $248.
It's much more interesting at the bottom of this list – there you'll find the ASUS ROG Chimera G703 in a configuration with Intel Core i9-8950HK, NVIDIA GeForce RTX 2080, 1TB HDD + 6TB SSD, and 64GB RAM. What a beast.

All new laptops in LaptopMedia [18 April 2019]