Dell XPS 15 7590 review – new hardware, same thin, light, and rigid chassis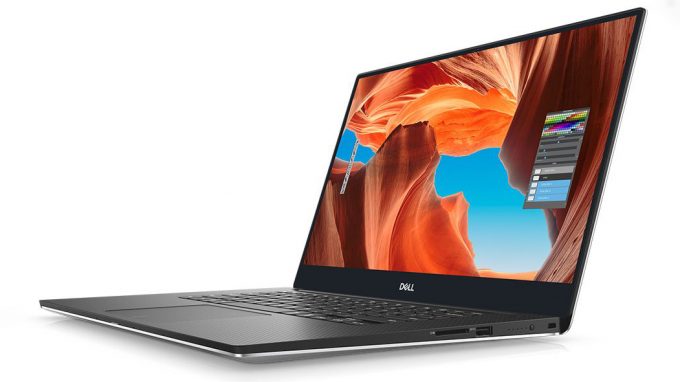 Okay, guys, we are sorry for being late on this one, but we were just able to take the XPS 15 7590 into our grasps. In the tomorrow of CES 2020, we will take some of your precious time by talking about the last-year XPS 15. Indeed it is a very popular device in the world of content creation. However, there are a lot of new models hitting the shelves in a couple of months, so it is interesting to see how a well-overused design is going to compare with them.
First off, this notebook has a lot of iterations. Starting at 1200-1300 bucks for a decent model, equipped with a Core i7-9750H and a GTX 1650, it can go up to $3-4000 if you want the entire Core i9-9980HK + 4K OLED display treatment. So, instead of traditionally speaking of a laptop that belongs to one market group, we actually keep in mind the wide price variations of its models, in order to build our verdict on the notebook.
Now back to the point – the XPS 15 7590 has a lot to offer, but the new design is not amongst it. Instead, Dell has decided to maintain the well known rigid carbon-fiber/aluminum mixture that everyone is used to for better or for worse.
You can check the prices and configurations in our Specs System: https://laptopmedia.com/series/dell-xps-15-7590/
Contents
Specs Sheet
HDD/SSD
up to 8000GB SSD
OS
Windows 10 Home, Windows OS, Windows 10 Pro, Windows 11 Home
Battery
97Wh, 97Wh, 6-cell, 56Wh, 4-cell, 96Wh, 6-cell
Body material
Aluminum, Carbon
Dimensions
357 x 235 x 11-17 mm (14.06" x 9.25" x 0.43")
1x USB Type-C
3.2 Gen 2 (10 Gbps), Power Delivery (PD), DisplayPort
2x USB Type-A
3.2 Gen 1 (5 Gbps)
Card reader
SD, SDHC, SDXC
Audio jack
combo audio / microphone jack
Fingerprint reader
optional
What's in the box?
Inside the notoriously blank packaging, there is a black box, non-overwhelmingly labeled by a simple, small Dell logo. Open it up, and you will see your brand new XPS 15 7590, protected by a plastic letter-like bag. In another compartment, you will find the 130W power adapter.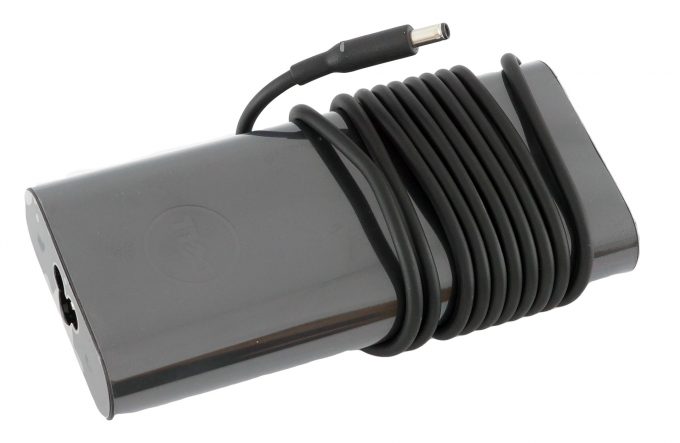 Design and construction
Not only does it look exactly like its predecessor – the XPS 15 9570, but it also shares the same measurements – 11.2-17mm thickness, 1.80 kg weight (for the 56Wh unit and non-touch display) and 2.00 kg weight (for the 97Wh unit with a touchscreen display). This means that the device remains portable enough while retaining a very strong and resistant body. This is not the only thing about it, however. Dell is proud with 25% of its packaging trays are made out of ocean plastics, while the 75% that remain are recycled from other plastics. Keeping an eye on the environment, they state that over 90% of the notebook (by weight) can be easily recycled or reused.
Putting the likes of Greta Thunberg and Greenpeace aside, let's talk about its lid, which cannot be opened with a single hand – at least that's the case for the unit we got. We wish to remind you that we have a retail unit, that we purchased from a store, so it is very possible that the unit you got, behaves similarly to ours. On the bright side, the lid of the XPS 15 7590 is incredibly sturdy and is extremely hard to bend or twist.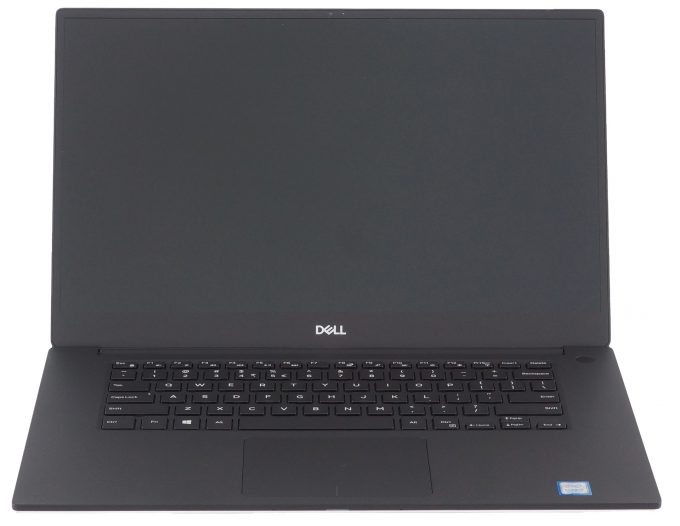 Next, let's turn our heads to the base compartment. Clearly seen on the image below, and later confirmed by our disassembly, it is made out of carbon fibers. They possess incredible strength, while keeping the weight down, which makes them perfectly suitable for a laptop. As of the keyboard – it has a decent travel, clicky feedback, and a backlight. What we don't like, however, is the size of the keys and the layout of the "arrows". We think that for a 15-inch device, the XPS 15 7590 is equipped with a too-small keyboard, which first – makes it look silly, and more importantly, can be slightly uncomfortable, especially comparing it to a MacBook Pro 15 or 16.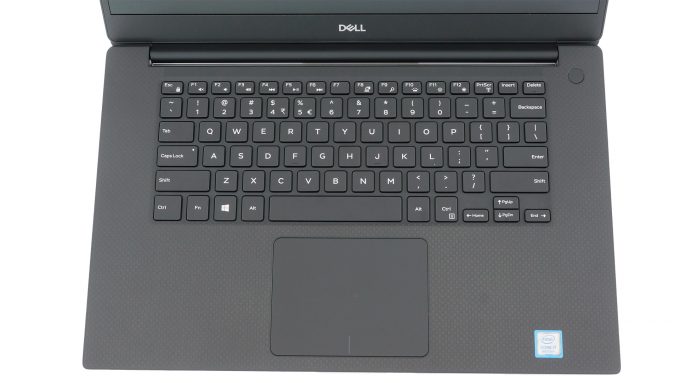 On the other side, the touchpad is one of the best in the Windows world, in terms of gliding capabilities, speed, and accuracy. However, once more, we feel that it could have been made bigger – something we witnessed with the latest Dell XPS 13, shown at CES 2020 in Las Vegas.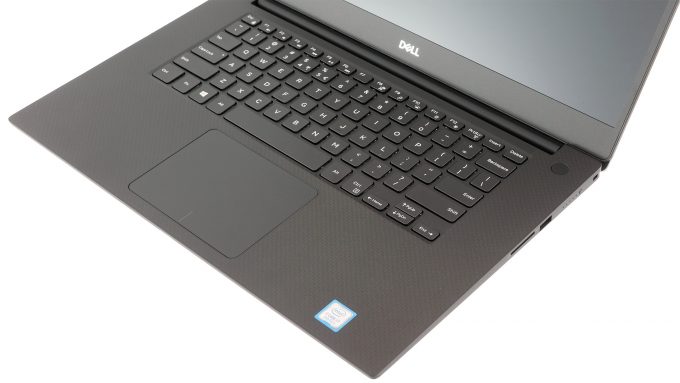 Turning the laptop upside-down shows us a great view of the speaker cut-outs, as well as the ventilation grill. One that is actually smaller than that of a gaming laptop with similar specs. Additionally, the hot air is exhausted from in between the lid and the base, which can naturally lead to less airflow, especially when used with its screen closed.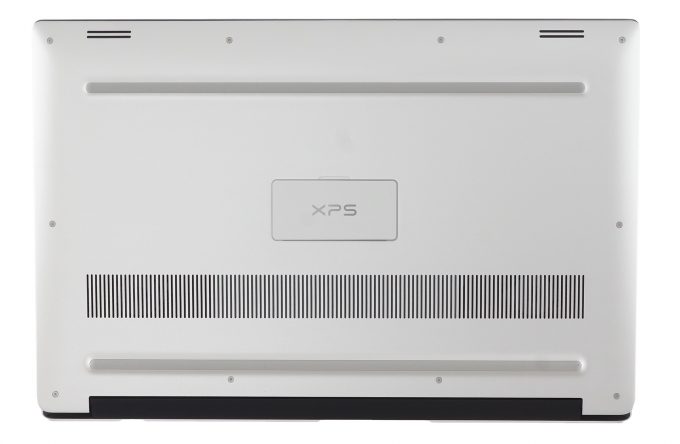 Ports
On the left side, you can see that the computer charges with a barrel-style plug. Additionally, here you can find a USB Type-A 3.1 (Gen. 1), an HDMI connector, as well as a Thunderbolt 3 port and a headphone jack. Then on the right, there is another USB Type-A 3.1 (Gen. 1) port and an SD card reader. This site is also populated with the security-cable slot, a battery-charge status button and a battery-charge status lights, which are activated by… you guessed it right – the aforementioned status button.
Disassembly, upgrade options and maintenance
In order to access the internals of this notebook, you need to remove its bottom plate, This can be done by unscrewing all 10 Torx-head screws that you see, and then further two, that are hidden by the "XPS" labeled plate in the middle of the panel. After that, you would want to start the prying process from the backside – around the hinges. This will give you enough force, yet will be the most protective method for the materials.
After you've done that, you can see the cooling solution, which comprises two heat pipes, that cool both the CPU and the GPU. We must say that there are two metal plates put on top of each chip, while the chipset had its own thermal conductive pad that sticks to the bottom panel.

Following that, there are two RAM DIMMs, which support up to 64GB of DDR4 2666 MHz memory – that's 32GB per slot! While on the storage side, there is only one M.2 PCIe x4 slot, that supports up to 2TB drives. By the way, the model that features the smaller battery has a 2.5″ SATA slot, as well.

Speaking of battery there are two options – a 56Wh one and a 97Wh one. Our unit shipped with the latter, which is nearly the maximum you are legally allowed on an airplane.

Display quality
Dell XPS 15 7590 is equipped with a Full HD IPS panel, model number SHP14BA (MWP1T-LQ156M1). Its diagonal is 15.6″ (39.62 cm), and the resolution – 1920 х 1080p. Additionally, the screen ratio is 16:9, the pixel density – 142 ppi, their pitch – 0.18 x 0.18 mm. The screen can be considered Retina when viewed from at least 60 cm (from this distance, the average human eye can't see the individual pixels).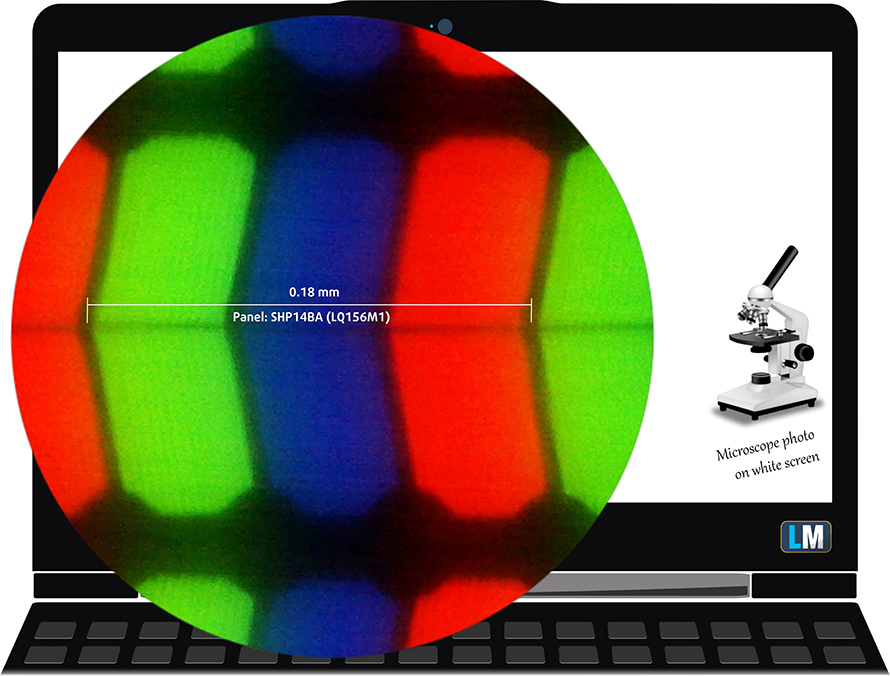 Viewing angles are good. We offer images at different angles to evaluate the quality.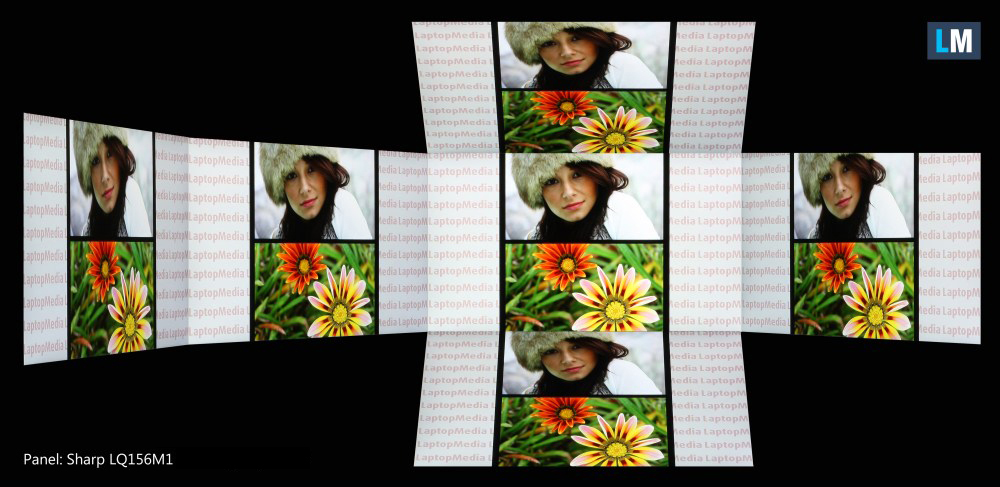 One of the key features of the XPS 15 7590 is its Cinema Color app. It provides you with four presets – movie, sports, evening and animation. Sadly, none of them falls beneath the Average gamma of 2.0 – they go as follows 2.60, 2.90, 3.10 and 3.80 in the same order as listed.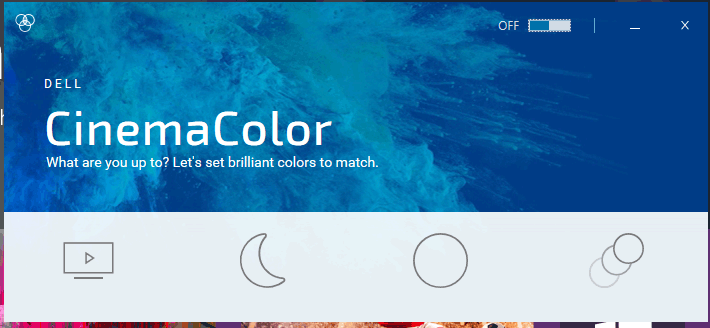 The maximum measured brightness is extremely high – 584 nits (cd/m2) in the middle of the screen and 556 nits (cd/m2) average across the surface with a maximum deviation of 12%. The Correlated Color Temperature on a white screen and at maximum brightness is 7400K (average) – colder than the 6500K optimum for sRGB. The average color temperature through the grey scale before profiling is 7560K.
In the illustration below you can see how the display performs from uniformity perspective. The illustration below shows how matters are for operational brightness levels (approximately 140 nits) – in this particular case at 24% Brightness (White level = 142 cd/m2, Black level = 0.105 cd/m2). We detected a noticeable Nonuniformity of the screen around its upper edges, both in terms of brightness and color.
Values of dE2000 over 4.0 should not occur, and this parameter is one of the first you should check if you intend to use the laptop for color-sensitive work (a maximum tolerance of 2.0 ). The contrast ratio is very good – 1350:1 (1200:1 after profiling).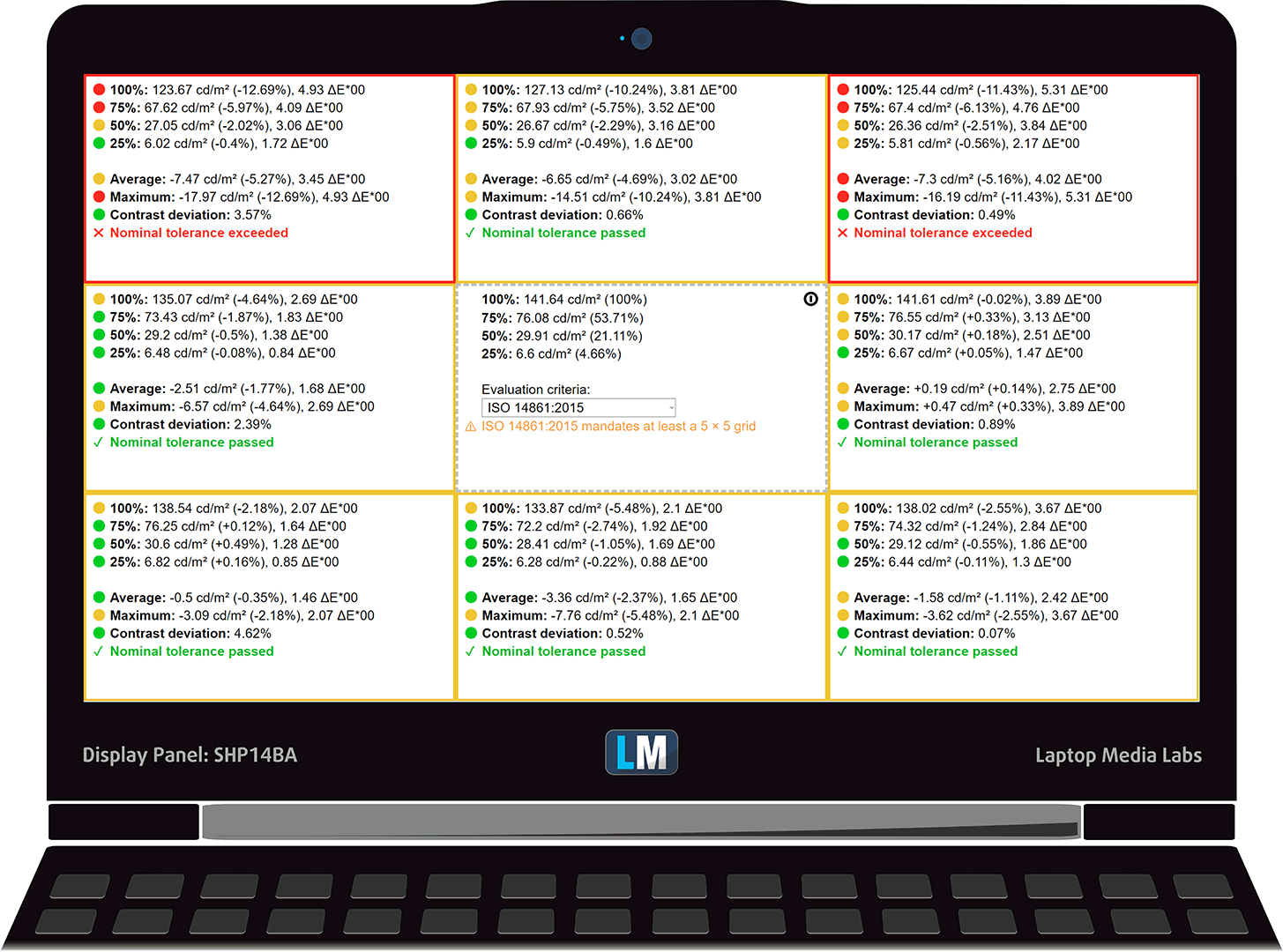 To make sure we are on the same page, we would like to give you a little introduction to the sRGB color gamut and the Adobe RGB. To start, there's the CIE 1976 Uniform Chromaticity Diagram that represents the visible specter of colors by the human eye, giving you a better perception of the color gamut coverage and the color accuracy.
Inside the black triangle, you will see the standard color gamut (sRGB) that is being used by millions of people in HDTV and on the web. As for the Adobe RGB, this is used in professional cameras, monitors, etc for printing. Basically, colors inside the black triangle are used by everyone and this is the essential part of the color quality and color accuracy of a mainstream notebook.
Still, we've included other color spaces like the famous DCI-P3 standard used by movie studios, as well as the digital UHD Rec.2020 standard. Rec.2020, however, is still a thing of the future and it's difficult for today's displays to cover that well. We've also included the so-called Michael Pointer gamut, or Pointer's gamut, which represents the colors that naturally occur around us every day.
The yellow dotted line shows Dell XPS 15 7590's color gamut coverage.
Its display covers 94% of the sRGB/ITU-R BT.709 (web/HDTV standard) in CIE1976.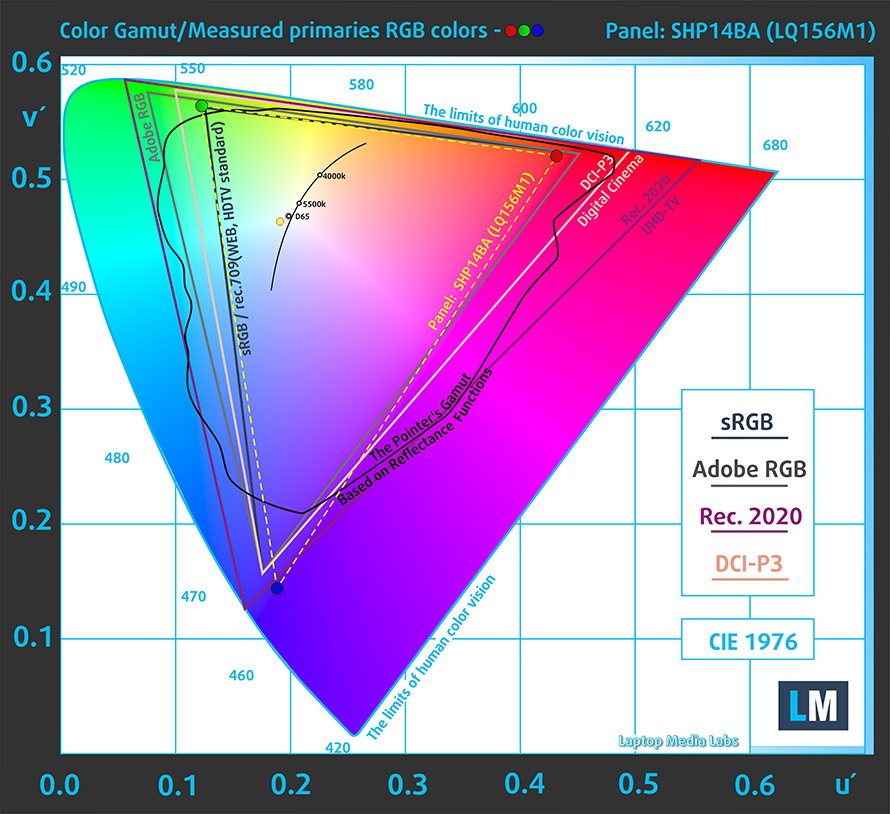 Our "Design and Gaming" profile delivers optimal color temperature (6500K) at 140 cd/m2 luminance and sRGB gamma mode.
We tested the accuracy of the display with 24 commonly used colors like light and dark human skin, blue sky, green grass, orange, etc. You can check out the results at factory condition and also, with the "Design and Gaming" profile.
Below you can compare the scores of Dell XPS 15 7590 with the default settings (left), and with the "Gaming and Web design" profile (right).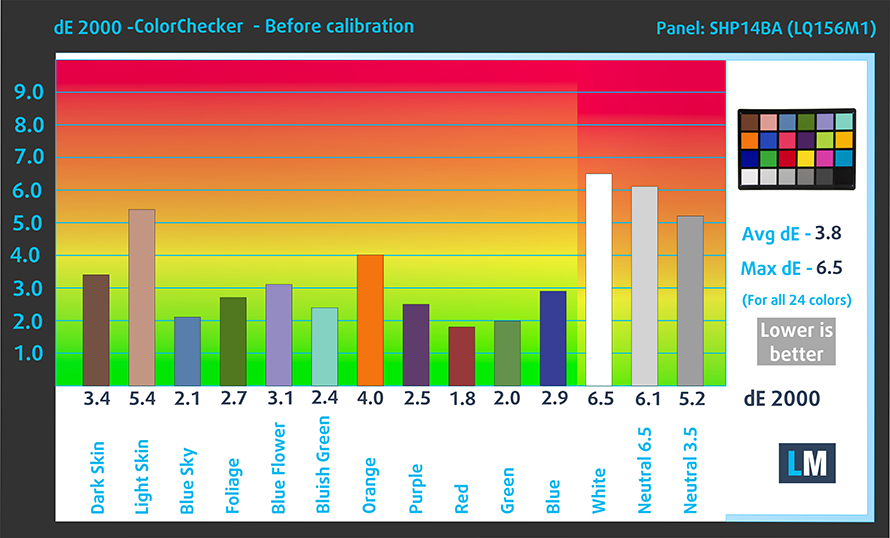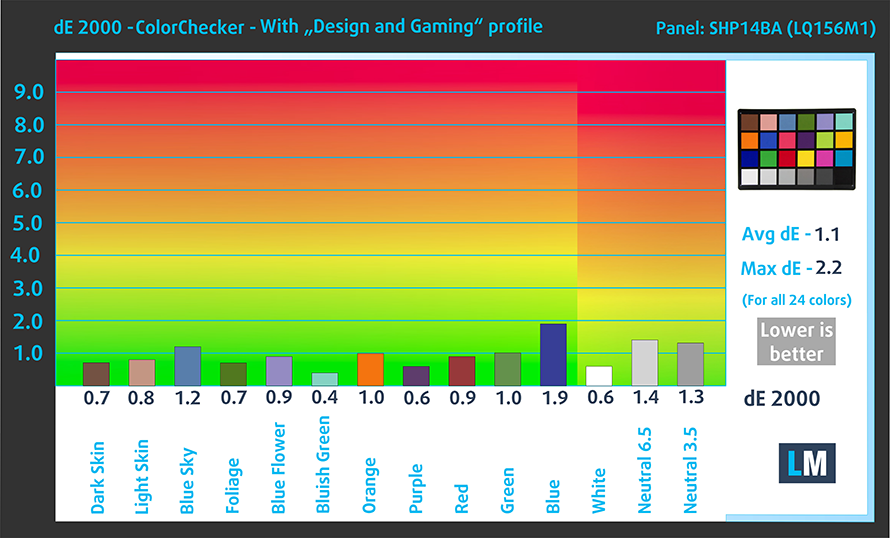 The next figure shows how well the display is able to reproduce really dark parts of an image, which is essential when watching movies or playing games in low ambient light.
The left side of the image represents the display with stock settings, while the right one is with the "Gaming and Web Design" profile activated. On the horizontal axis, you will find the grayscale and on the vertical axis – the luminance of the display. On the two graphs below you can easily check for yourself how your display handles the darkest nuances but keep in mind that this also depends on the settings of your current display, the calibration, the viewing angle, and the surrounding light conditions.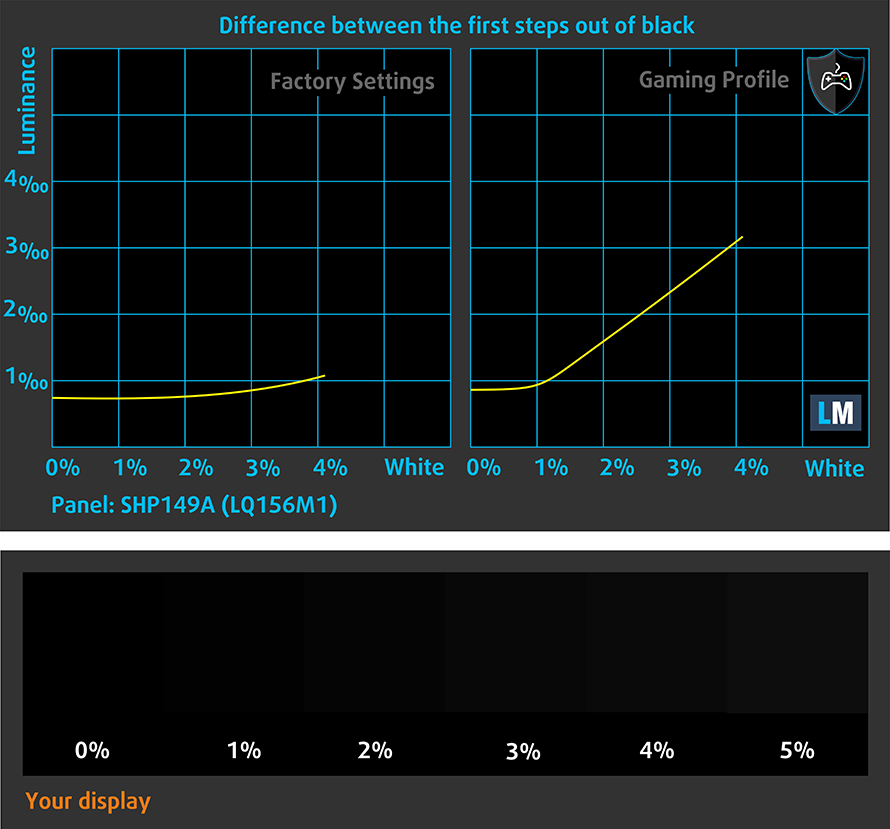 Response time (Gaming capabilities)
We test the reaction time of the pixels with the usual "black-to-white" and "white-to-black" method from 10% to 90% and vice versa.
We recorded Fall Time + Rise Time = 36 ms.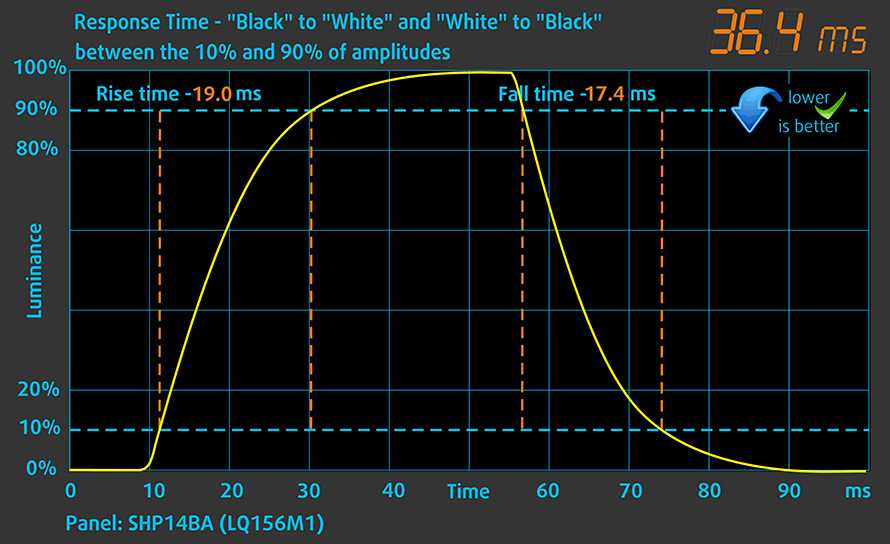 Health impact – PWM / Blue Light
PWM (Screen flickering)
Pulse-width modulation (PWM) is an easy way to control monitor brightness. When you lower the brightness, the light intensity of the backlight is not lowered, but instead turned off and on by the electronics with a frequency indistinguishable to the human eye. In these light impulses, the light/no-light time ratio varies, while brightness remains unchanged, which is harmful to your eyes. You can read more about that in our dedicated article on PWM.
Dell XPS 15 7590's display backlight doesn't flicker at above 150 nits. Moreover, the flickers have a relatively low frequency, which is not great for the user. Thankfully, our Health-Guard profile fixes the issue.

Blue light emissions
Installing our Health-Guard profile not only eliminates PWM but also reduces the harmful Blue Light emissions while keeping the colors of the screen perceptually accurate. If you're not familiar with the Blue light, the TL;DR version is – emissions that negatively affect your eyes, skin and your whole body. You can find more information about that in our dedicated article on Blue Light.
Conclusions
Dell XPS 15 7590's display has an IPS panel with a Full HD resolution. Its viewing angles are comfortable, contrast – high and maximum brightness – extremely high. On the downside, the display uses PWM to adjust its brightness levels up until 150 nits. However, it covers 94% of sRGB and with the help of our Gaming and Web design profile, the color representation becomes accurate enough for professional use of photographers and designers. Sadly, our retail unit had a fair amount of deviations across the surface, when it comes to brightness and color uniformity. Ultimately, this makes it inappropriate for color-sensitive workflow.
Buy our profiles
Since our profiles are tailored for each individual display model, this article and its respective profile package are meant for Dell XPS 15 7590 configurations with 15.6″ SHP14BA (MWP1T-LQ156M1), (FHD, 1920 × 1080) IPS.
*Should you have problems with downloading the purchased file, try using a different browser to open the link you'll receive via e-mail. If the download target is a .php file instead of an archive, change the file extension to .zip or contact us at bg.laptopmedia@gmail.com.
Read more about the profiles HERE.
In addition to receiving efficient and health-friendly profiles, by buying LaptopMedia's products you also support the development of our labs, where we test devices in order to produce the most objective reviews possible.
Sound
Dell XPS 15 7590's speakers have good quality. Its low, mid and high tones are clear
of deviations.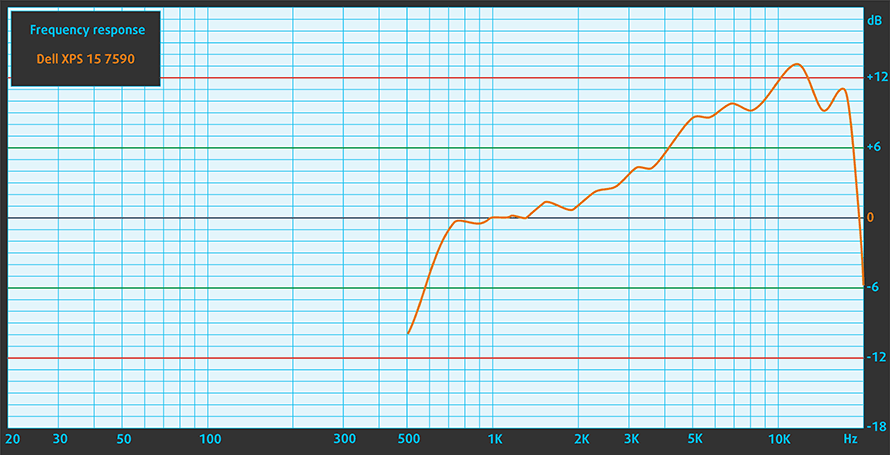 Drivers
You can find all of the drivers and utilities for the XPS 15 7590 here: https://www.dell.com/support/home/us/en/19/product-support/product/xps-15-7590-laptop/drivers
Battery
Now, we conduct the battery tests with Windows Better performance setting turned on, screen brightness adjusted to 120 nits and all other programs turned off except for the one we are testing the notebook with. This device features a 97Wh battery pack.
We were able to get more than 16 hours of Web browsing and around 14 hours and 20 minutes of video playback.
In order to simulate real-life conditions, we used our own script for automatic web browsing through over 70 websites.