List of all GeForce GTX 1080 laptops – specs and prices (Updated: December 2017)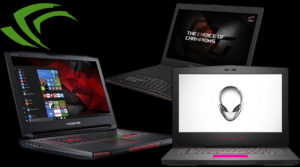 Christmas is just around the corner and pretty soon everybody will be let off work/school for a few days to celebrate with their loved ones. A big part of the Christmas holidays is played by the gifts that we all share.
In that manner, we at LaptopMedia would like to present you with a list of all notebooks equipped with an NVIDIA GeForce GTX 1080 GPU to help out the enthusiastic gamers out there with their last minute shopping list.
Keep in mind that stocks are usually low right before the holidays and prices might jump up and down so don't hesitate too much if you want to grab a good deal.
You can check out the full specs and feature of these and many other notebooks in out Laptops Specs System over here: http://laptopmedia.com/specs/
Contents
Acer
Acer Predator 17 X (GX-792)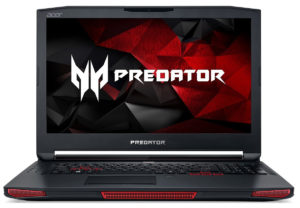 We start off our list with Acer's only representative – the Acer Predator 17 X (GX-792) – a quite well-known model we may say.
For the hardware part, you can opt for the Core i7-7700HQ or  Core i7-7820HK unlocked processor. One of the best features of the Predator 17 X is the display if offers. We are talking about the 4K variant which has great color reproduction with its 100% sRGB and Adobe RGB gamut coverage as well as 97% DCI-P3 coverage which makes it excellent for both media consumption and color-sensitive work. Check out our detailed review for more information. Of course, you can opt for a more basic Full HD IPS panel. Both panels support NVIDIA's G-Sync.
The Acer Predator 17 X is full of great features such as a Killer Ethernet E2400 and Killer Wireless-AC 1535 network controllers and 4.1 stereo system. However, the notebook is heavy and bulky by today's standards even for a 17.3-inch model – 4.55 kg (10 lbs) and 45 mm (1.77″).
Alienware
Alienware 15 R3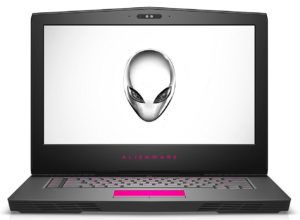 Let's continue with the Alienware 15 R3 – 15.6-inch gaming notebook that packs a lot of features in a slim yet heavy body.
Inside this bad boy, you can find up to a 7th generation Core i7-7820HK processor which is unlocked for overclocking.  As we mentioned above, the 15 R3's chassis is slim measuring just 25 mm (0.98″) but it is rather heavy especially for a 15.6-inch device with its 3.49 kg (7.7 lbs).
As for the display, you get a few options – an IPS 60Hz panel with Full HD resolution, a fast 120Hz TN panel with Full HD resolution, or a 4K IPS panel – your choice. Our review unit came with the first one. You can check out our review over here where you will get a chance to purchase our custom-tailored display profiles that enhance the viewing experience.
Alienware 17 R4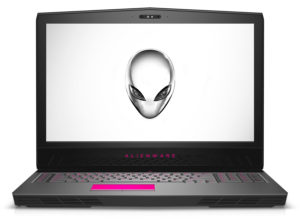 Next up is the larger Alienware 17 R4 – a 17.3-inch gaming beast.
For the most part, the Alienware 17 R4 shares the characteristics of its smaller brother. You get the Core i7-7820HK CPU and the exclusive Alienware features such as an external graphics port for Alienware Graphics Amplifier through which you can connect a desktop GPU for even better performance.
However, there are some exclusive features too. There are three display options – two of which are very common – a Full HD and 4K UHD IPS panels respectively. The third option is the particularly interesting one – a 120Hz QHD panel with G-Sync support. Unfortunately, it is a TN panel but you can check out our in-depth review before jumping to conclusions.
The Alienware 17 R4 also features Tobii's Eye Tracking technology which is rarely seen making it desirable. For those of you who are not aware, the Tobii's Eye Tracking technology helps to create a more immersive gaming experience by tracking the movement of your eyes thus aiding you during gameplay.
AORUS
AORUS X5 MD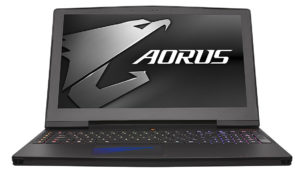 The AORUS X5 MD is one of the most interesting models on this list as it offers the Max-Q version of the GTX 1080 which was released earlier this year.
One of the best aspects of the Max-Q GPUs is that they allow high-end performance while retaining a compact size. That is exactly what we see in the AORUS X5 MD – a GTX 1080 Max-Q and Core i7-7820HK CPU inside a 23 mm ( 0.91″) chassis weighing only 2.5 kg (5.5 lbs).
In case you have missed out, you can check out our comparison between the GTX 1080 and its Max-Q version to see what the differences are.
With the AORUS X5 MD you get a 4K IPS panel with G-Sync support and X-Rite Pantone certification for color quality. The notebook also features Killer DoubleShot Pro network controllers and ESS Sabre Hi-Fi Audio DAC and a free one-year subscription for XSplit Gamecaster + Broadcaster.
AORUS X7 DT v6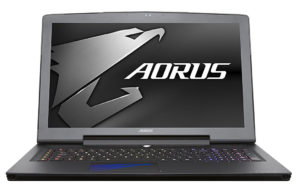 The AORUS X7 DT v6 is a 17.3-inch notebook with a little bit outdated but still quite powerful hardware.
Of course, you get the GTX 1080 otherwise it won't be on this list but for the CPU you are stuck with the 6th generation Core i7-6820HK which is still a very powerful and unlocked for overclocking CPU so you should not run into any problems. The thing is that it is just not the latest and greatest which is a factor for some users and with the 8th generation rolling out the Core i7-6820HK becomes more and more outdated.
The AORUS X7 DT remains slim and rather light for a 17.3-inch notebook. It is just 23-25 mm (0.91″) thick and only 3.2 kg (7.1 lbs) heavy. Another one of its great features is the display – you get a QHD panel with 120Hz refresh rate and G-Sync support and it is actually the same panel as in the Alienware 17 R4 so you can make use of our custom-tailored display profiles.
ASUS
ASUS ROG G701VI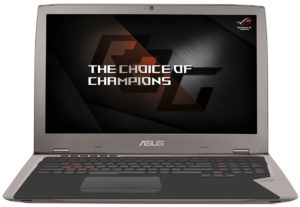 The first ASUS that we will take a look at is the ROG G701VI.
The ASUS ROG G701VI is a 17.3-inch with a variety of hardware options. For the CPU, you can go for the 6h gen Core i7-6820HK or the 7th gen Core i7-7820HK. For the display, you choose between three Full HD panels – two 120Hz panels one IPS and one TN and another 60Hz IPS panel.
With the AORUS models, we made a transition to lighter and more compact gaming notebooks but now we take a step back to the bulky beasts with the ROG G701VI which weighs 3.80 kg (8.4 lbs) and measures 33-35 mm (1.30″). However, the ROG G701VI has something in common with the AORUS X5 MD other than the powerful hardware – good audio.
The ROG G701VI features ESS Sabre headphone DAC and amplifier to provide you with high-quality audio with a high dynamic range (DNR) and rich 384Hz/32bit output. You also get exclusive software like Sonic Studio and Sonic Radar. The first of the two gives you control over every sound specification and the second aids you during gaming through an on-screen overlay that shows the relative position of gunshots, footsteps, and others.
ASUS ROG G702VI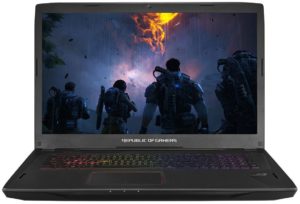 Next up is the ASUS ROG GL702VI – another 17.3-inch model.
We can look at the ASUS ROG GL702VI as a successor to the  ROG GL701VI because of the nomenclature and on one hand, we will be right as they have much in common but on the other hand, there are some major differences too. For instance, the ROG GL702VI strips half a kilogram of weight now measuring at 3.30 kg (7.3 lbs).
One major difference is the design. While the ROG GL701VI has that silver aluminum finish, the ROG GL702VI has a black/graphite look to it. The ROG GL702VI lacks the five macro keys found on the keyboard of the ROG GL701VI but now has an Aura RGB backlighting rather than a single-color one.
Hardware-wise, the ROG GL702VI offers only up to the Core i7-7700HQ so no easy overclocking here. There are two options for the display – both are IPS panels with Full HD resolution but one of them offers fast 120Hz refresh rate. G-Sync technology is also present.
ASUS ROG Zephyrus (GX501V)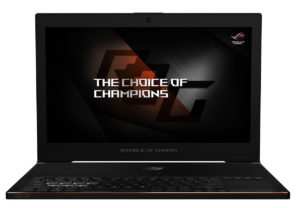 The ASUS ROG Zephyrus (GX501V) is one of ASUS' best models this year. It was the first notebook to feature the GTX 1080 Max-Q and it introduced the whole Max-Q lineup to the world.
The ROG Zephyrus is the definition of what a Max-Q notebook should be – ultra-thin and light with no compromises in performance. It weighs only 2.22 kg (4.9 lbs) making it by far the lightest notebook equipped with a GTX 1080 even lighter than the AORUS X5 MD. And the profile of the Zephyrus is merely 17 mm (0.67″) which easily compares it to some ultrabooks.
The ROG Zephyrus is not the most powerful gaming notebook (compared to some aforementioned models) with its HQ processor and Max-Q GPU but it is probably the most interesting offer on this list. You can check out our in-depth review to get more information about some issues that come to mind when considering the thin profile like cooling or to see how it performs in benchmarks and gameplay.
ASUS ROG Chimera (G703)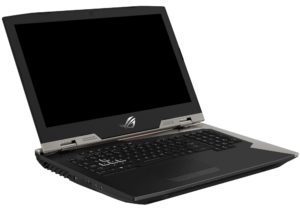 The ASUS ROG Chimera (G703) is another model which dragged a lot of attention at the end of the summer. However, this time the hype was about all the premium features rather than an ultra-thin design.
The most notable feature of the ROG Chimera is the ultra-responsive screen. The panel has an extraordinary fast 144Hz refresh rate which is hardly ever seen on a notebook and combined with NVIDIA's G-Sync technology you are bound to have a buttery-smooth tear-free gaming experience even in the most intense and fast-paced moments.
The ROG Chimera integrated XBOX Wireless which lets you connect up to eight XBOX controllers without any cables. The dedicated XBOX button added to the keyboard fires up the Xbox Game bar for easy access.
The ROG Chimera features incredible audio with the ESS Sabre Hi-Fi DAC which can provide 32-bit 384Hz output. The included Sonic Studio III can emulate 7.1 surround-sound audio signal. You get four built-in 3W speakers which can be boosted up to 200% thanks to the smart amplifier.
HP
HP OMEN X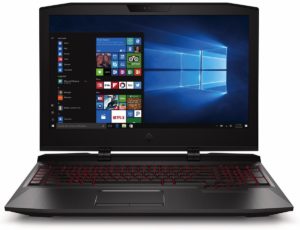 With a risk to repeat ourselves from other articles, we have to say that HP is usually not associated with high-end gaming gear but recently the company has released some high-quality products and one of them is the HP OMEN X which does not lack any features. In fact, it offers some features that no other laptop on this list does.
The HP OMEN X is designed for easy upgrading and overclocking with its one-panel access to all the slots and optional Intel XMP to push the memory to its limits.
With the HP OMEN X, you get great audio thanks to the Bang & Olufsen stereo speakers. The built-in DTS Headphone:X technology lets you experience immersive surround sound when playing with a headset.
Connectivity-wise you are very well equipped with the OMEN X. You get the usual for this class Thunderbolt 3 port but you also get an HDMI 2.0a with HDR support.
And finally, what might the most intriguing feature – the mechanical keyboard. The OMEN X sports mechanical switches with 2.5mm key travel and individual RGB backlight. The keyboard features N-key rollover, independent macro keys, and customizable light patterns.
However, all these amazing features come at a certain price – the OMEN X is one of the heaviest on the list with its 4.85 kg (10.7 lbs).
MSI
MSI GT73VR TITAN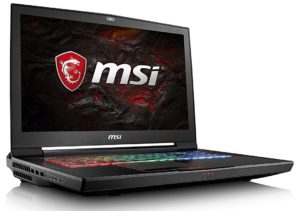 Back to brands well known for their gaming notebooks, we present you the MSI GT73VR TITAN.
Every MSI notebook can be praised for its exclusive gamer-centric features and the GT73VR TITAN is no exception. We can start with the Nahimic 2 Sound Technology, move onto the SteelSeries-branded keyboard and continue with all the software you get such as the True Color Technology that provides accurate colors, MSI SHIFT which is used for easy overclocking and more.
You get great audio with the ESS SABRE HiFi DAC and Dynaudio system with two speakers and one subwoofer combo. Killer DoubleShot Pro network controllers with Advanced Stream Detect 2.0 and Killer Shield are also present to make sure you have a fast, stable and secure Internet connection which will go very well with the WTFast private network that you get a two-month free subscription for.
MSI GT75VR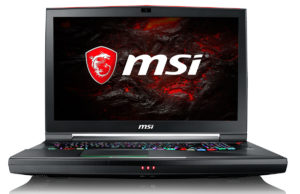 The MSI GT75VR is equipped with all the best components and all provides all the greatest features. However, it is maybe the least portable notebook on this list with its 58 mm (1.22″) profile in the back of the device which is due to the large cooling system.
Just about everything that we said about the GT73VR TITAN is also true for the GT75VR. It features all the same software, technologies, and powerful hardware.
One particularly great feature is the keyboard. Similar to the HP OMEN X, the GT75VR features mechanical switches on its keyboard with is, of course, SteelSeries branded and includes per-key RGB illumination.
One of the display options is a Full HD panel with 120Hz refresh rate which is regularly seen on this list but what is special about it is the response time of just 3ms rather than the standard 5ms we see on other models.